Putting The 1390-91 Crusade Beer Buying Notes Through A Latin Translator
Now, as you know, I did take one year of Latin in undergrad but it's not like I learned anything. So, the other day, when I found the notes from the provisioning of the English forces in the 1390-91 crusade eventually against the Lithuanians, I knew it was provisioning notes in Latin but there were plenty of assumptions. For example, when I read this from the 10 September 1390 provisioning records:
Clerico buterie super beer, pro iij barellis de beer emptis ibidem, xxx scot. Et pro ij barellis beer emptis ibidem, xxij scot. Et pro portagio dicte beer…
I made at least one error in relation to "emptis" and its variant conjugation siblings as well as the various declinations of "ibid…" "Emptis" is not related to empty beer barrels. It's the verb for purchasing. And the final "j" in numerals is just a "i" like the rest. I thought it might be another indicator for a five. So, the translator give us this:
Clerk buterie the beer, the beer purchased for three barellw place, thirty Scot. He bought beer for two barellw place, twenty Scot. And portagio said beer …
Which I might clean up as:
The Clerk of the Buttery bought three barrels from the same place. He bought two barrels from the same place. And delivery for the beer…
I left out the price. Notice that the three barrels cost "xxx" thirty currency units but the two barrels cost "xxij" or twenty-two units. Different grades of beer? The currencies are also odd. Nearby we read "Clerico buterie super beer pro iij barellis beer emptis ibidem, j marc. vj scot." which seems to suggest three barrels were bought at the same place for one marc and six Scots – which means one mark is worth 24 of those Scots thingies if the price for three barrels were stable. Consider this note of wine and beer purchases on 26 August 1390 which may give a hierarchy of currency units:
CLERICO buterie super vino per manus eorundem pro vino ibidem empto, ij marc. xxij scot. ij s. pr. Clerico buterie super beer, pro beer empta ibidem ix scot., viij d.
Marc. > scot. > s. > d.? The last are likely shilling and penny but what are "marc." or "scot."? All seem to be abbreviations given they are followed by a period. Crack that question and this document is a playground for anyone trying to work out beer prices on the eastern Baltic markets in the 1390 during an inflationary setting such as a crusade.
Oh… that might be just me.
OK – various sources of the currencies must be being described. A Hanseatic  League mark? Or a Scottish merk? "Scot." could well be the Scottish pound which was worth 1/12th of an English pound and 150% of a merk – and made up of 20 shillings with 12 pence each.  Which makes it more sensible as the price point of a barrel of beer. But were they are actually using Scots money? No. Here is a helpful table from the introduction to 1894's hit text Expeditions to Prussia and the Holy Land Made by Henry Earl of Derby (afterwards King Henry IV.) in the Years 1390-1 and 1392-3: Being the Accounts Kept by His Treasurer During Two Years, Volume 52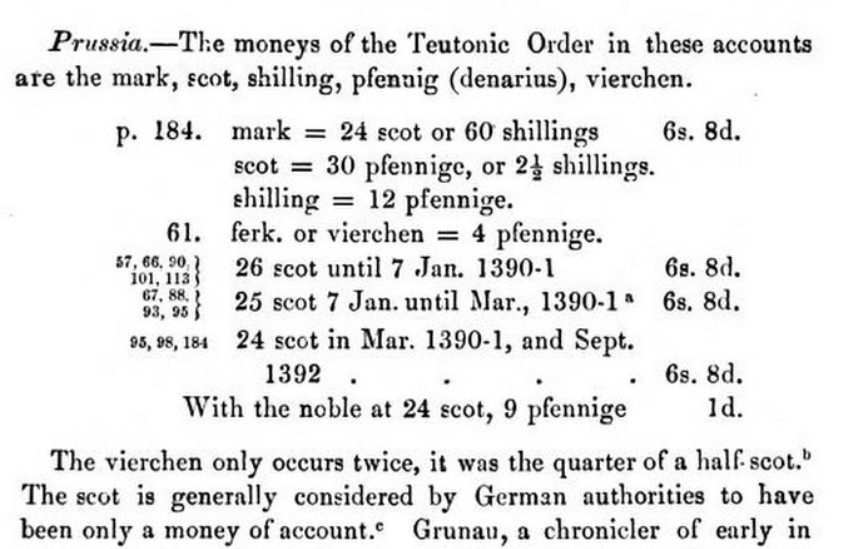 So, they are using local money as they are fighting along side the Teutonic Order against then mighty Lithuania just prior to the formation of the very mighty Polish-Lithuanian alliance.
Going to leave it there for now. Internet getting dodgy. Wind storm and thunder in February. Odd doings.
UPDATE: Interesting chat on Twitter pointed out that "cervisia"* would have referenced ale, not hopped beer.  This is more directly illustrated by the contemporary Dunster Castle household accounts kept by John Bacwell, Steward, from 27 June 6 Henry IV, to 27 June 7 Henry IV (or 1405-1406) in which the word is included in this record from 11 June 1406:
In factura 6 barelles pro cervisia imponenda 2s, Et pro 1 eerda et 2 citulis' prope novum fontem faetum emptis 2s.
So, if that word ceruisia was ale and that word appears in the accounts for the 1390 expedition, then the same account kept by the same clerk of the buttery using the word beer should be expected to mean another substance. And logically that substance would… beer. Local hopped beer.
*Or as Martyn noted a decade ago, a variant of that spelling.
Putting The 1390-91 Crusade Beer Buying Notes Through A Latin Translator