Get into woodcarving with the Morakniv 120 Carving Kit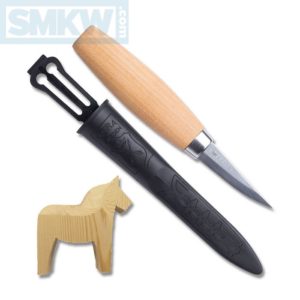 If you're like us, you love Mora. Morakniv makes high quality knives at amazing prices, and the Morakniv 120 Carving Kit is no exception. If you're thinking about getting into woodcarving, this is the way to go. The carving kit includes a Morakniv 120 Carving Knife, a sheath, and a wooden, unfinished Swedish Dala Horse for your carving adventures.
The Morakniv 120 Carving knife is no joke. This full tang, laminated steel knife features a 2.4″ blade and a 4.1″ oiled birch wood handle. As Morakniv tells us, "[The] 120 has a narrow and pointed knife blade made of laminated steel, which gives it superior toughness and edge resiliency. The full tang, which runs the full length of the handle, gives it strength and stability. Together with the flexible blade you can work with precision and really get to all the details."
One of the biggest issues in woodcarving is hand fatigue. Some knives just wear your hand out. Mora says, "The barrel shaped handle made of oiled birch wood is slightly larger for a proper grip. The wood also gives it a natural feeling and also gives you the possibility to form the handle for optimal shape."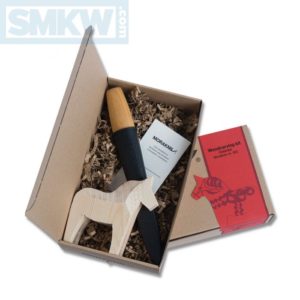 This knife is super sharp right out of the box. Be careful when you're working on your Dala Horse that's included in the kit. That's right. They give you an unfinished (roughed out) wooden horse that you can practice your woodcarving on. In Sweden, carved Dala Horses are a rich tradition. They're often intricately carved, hand painted and given as gifts.
The entire set, including the standard Mora tube sheath comes in a presentation box, which makes it perfect to give as a gift.
Morakniv 120 Carving Kit Details
Morakniv 120 Carving Knife
Full Tang Laminated Steel Blade
Oiled Birch Wood Handle
2.4″ Blade
6.5″ Overall
Roughed out Wooden Dala Horse
Sheath
Presentation Box
If you're interested in woodcarving, the Morakniv 120 Carving Kit runs just about $33. If you'd like to learn more, click any link in this article or the button below.


Get into woodcarving with the Morakniv 120 Carving Kit