Ombre All Day: A New (FREE!) Quilt Along
So many quilt alongs have been popping up in my instagram feed & it can be overwhelming. Sometimes, I think maybe I shouldn't add to the melee, but then a quilt like this pops into my mind & I just have to share. I made my Ombre All Day quilt from pieces of Liberty Tana Lawn I've been collecting for the last couple of years. If you've been part of my little shop's Liberty Lawn monthly club, you should have a lot of what you need for this quilt already. I love the feel of this quilt in the super fine tana lawn.
(Shameless plug! Our fabric club has less than one yard's worth of openings right now but we'd love to have you join! We have sizes ranging from fat 16ths to fat quarters. for more details click here.)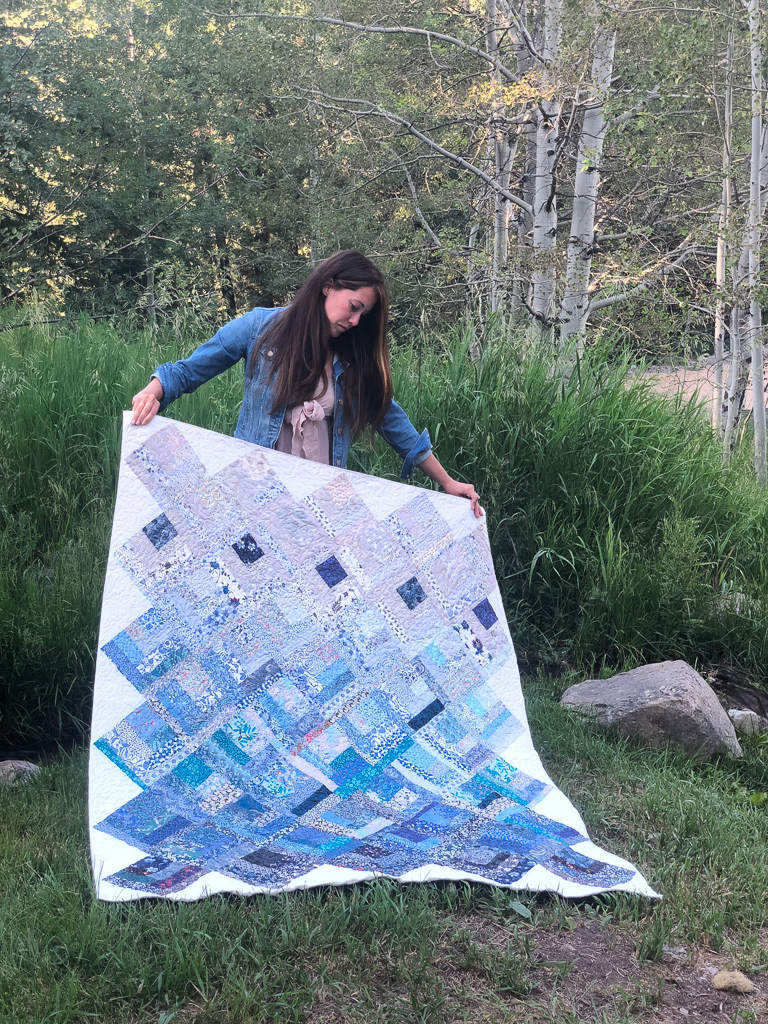 Whatever fabric you choose, this quilt is SCRAPPY. It takes pieces as small as 1.5″ x 4″ and it's largest pieces are about 3.5″ x 8.5″ or . This makes it extremely affordable if you've been stitching for awhile, want to upcycle other fabric, have odd sized scraps or (my favorite option!) have been subscribed to our Westwood Acres Liberty Tana Lawn fabric club.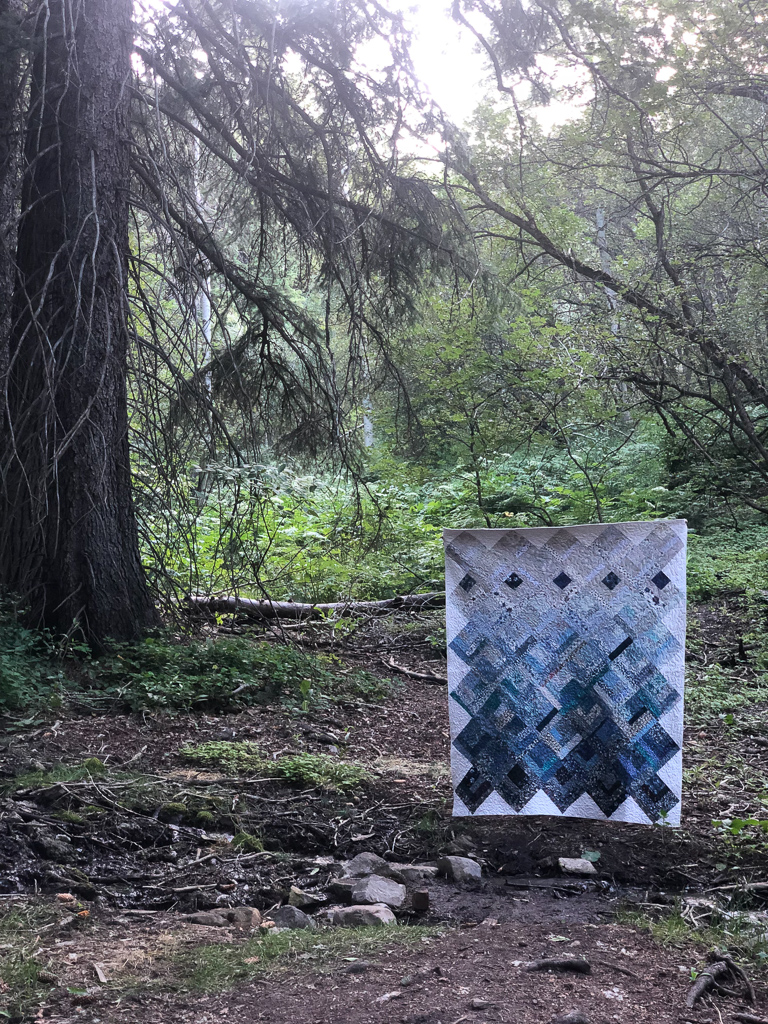 As part of today's kickoff, I'm sharing the fabric requirements & pertinent details of this pretty quilt. I'll be showing you how I made a pink version as we go along & if you follow me on Instagram (@a.crafty.fox) I'll be sharing a live demonstration on Thursday evenings where I piece that week's portion of the quilt. 
The quilt along will be 6 weeks long starting with today's post. This week's assignment is just to gather your supplies. You will need about 14 ounces of Liberty Lawn scraps & strings. If you plan to use regular quilting cotton, I'd recommend probably 1.5-2 lbs of fabric scraps. Don't worry about trimming down your strings, they are great for quick piecing. You'll also need 2-1/2 yards of white (or your favorite!) solid for the zig zag borders. I used 2 yards of minky for my backing & a 1/2 yard of Liberty for binding.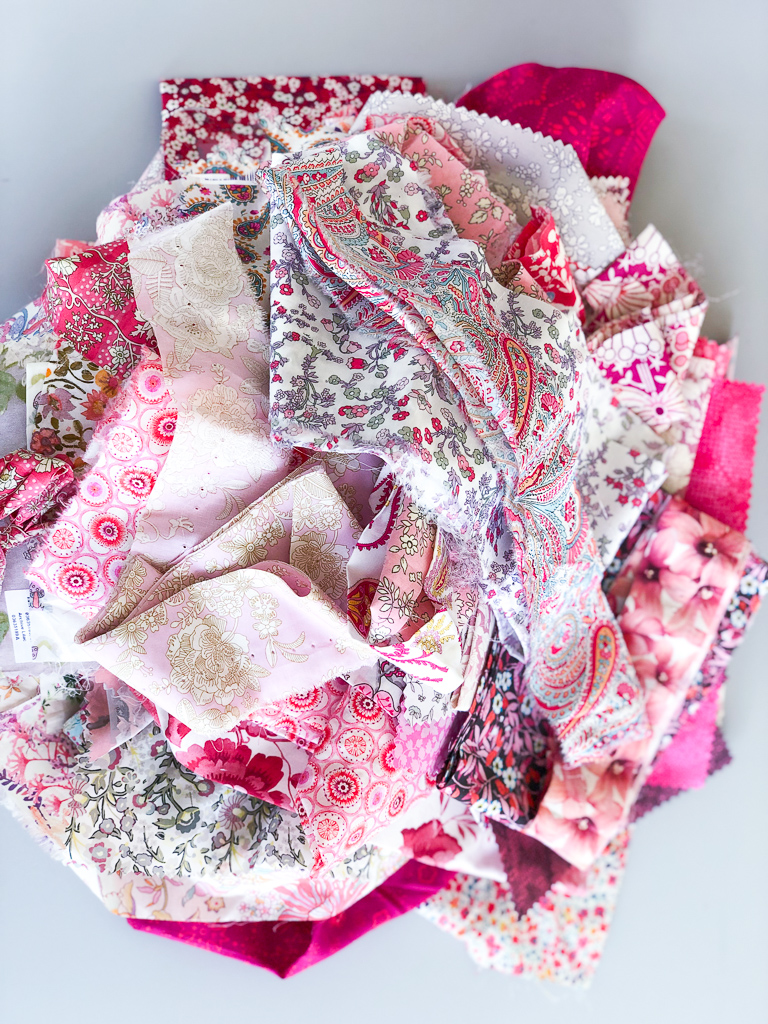 Materials in list format:
14 ounces of Liberty Lawn in varying hues of a single shade (I had about 2.5 ounces/shade of blue)
OR
2 lbs of quilting cotton scraps
2-1/2 yards of white solid (I used Bella 98)
3 yards minky-type fabric for backing
1/2 yard Liberty Lawn for binding
The schedule: 
August 19, 2019: Intro, materials. 
August 22, 2019: Instagram story going over materials
August 26, 2019: Cutting instructions, Sorting instructions
August 29, 2019: Instagram story showing how I sort my fabrics
September 2, 2019: Piecing Low volume & transition blocks
September 5, 2019: Instagram demonstration on how to piece the basic block, & how to create a 'transition' block.
September 9, 2019: Piecing the rest of the blocks (No video this week)
September 16, 2019: Assembling your quilt top
September 19, 2019: Instagram story sharing my methods for assembly/keeping rows straight/trimming
September 23, 2019: Basting/Quilting/Binding
September 26, 2019: Instagram story with my tips & tricks for quilting a Liberty/Minky quilt. 
Feel free to ask questions in the comments! 

The post Ombre All Day: A New (FREE!) Quilt Along appeared first on A Crafty Fox.
Ombre All Day: A New (FREE!) Quilt Along