Deplorable Dates – Whatever had possesed him?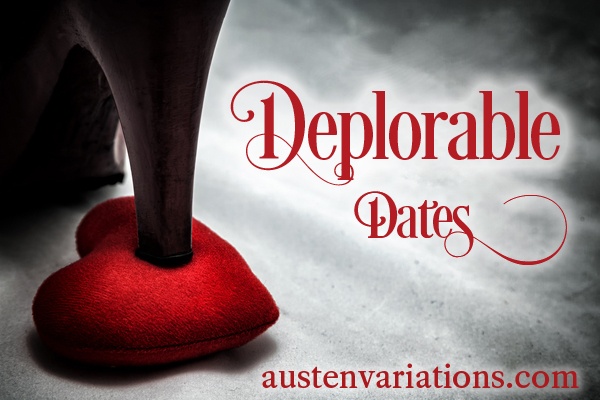 I love this month's theme! I think it's a great way to celebrate an author whose best-loved novel hinges on a deplorable first date.
Would Elizabeth have been quite so up in arms against Mr Darcy if he hadn't insulted her on day one?
I'm probably biased here, but I can't help thinking that Jane Austen wrote the template for the modern romantic novel as we know it. Controversies abound, of course. People love her work in different ways and appreciate different aspects. Some say that too much was made of the romantic element, and in fact she wrote brilliant social satires. Others say her novels are just about rich white people falling in love. I think the best part about the debate is that it's still going on. No matter what people see in her work, 200 years on we're still talking about it.
At first, I thought of writing a different post. I was toying with the idea of an earlier first encounter. Somewhere in London, perhaps, when a teenage Elizabeth goes out and about to see the sights with her aunt and uncle? Or maybe in Lambton, if Mrs Gardiner can be tempted to visit her Derbyshire friends a few years earlier? Or in Bath, or at the seaside, or at the races or some regatta?
I had great fun imagining a different deplorable first encounter in The Darcy Legacy. Mr Darcy is struggling to find his way to Netherfield and gets some help from a young woman skipping along a country path in an old pelisse, with some tenant farmer's children in tow. He mistakes her for the children's elder sister, assumes she is in service somewhere nearby, and tips her for her assistance – only to run into her at the Meryton assembly and discover she's not a servant at all. The part where he's staring at her from the opposite end of the set to ascertain if it's the same person, loses track of the dance and turns in the wrong direction simply had to be written too. It was just too tempting to make Miss Bingley call out "The other way, Mr Darcy!"
There was no "She's tolerable, but not handsome enough…" in this scenario. I thought that after the 'Here is a half-crown for your efforts,' he simply would not dare.
But never mind the half-crown. How would you like to have a chat about the original goings-on at the Meryton Assembly – the deplorable first date where it all began? I hope you'd like to share your thoughts.
So, Mr Darcy's shocking rudeness.
What do you think?
Why did he do it?
I think we can safely assume he was in a pretty bad mood. He had a dreadful summer (unplanned visits to Ramsgate etc). He does not like to associate with the hoi polloi at the best of times. It was bad enough that his friend persuaded him to attend the rustic affair, but actually dance with one of the country bumpkins? The horror! He would not even dance at St James. What was Bingley thinking?  Why on earth should he pay the compliment of his attention to these nobodies – 'a collection of people in whom there was no beauty and no fashion'?
No beauty, that is, except the fair-haired angel Bingley stood up with – twice! By the way, I love the twist on Darcy noticing Jane's beauty in Nicole Clarkston's Nefarious! Gosh golly with a cherry on top!! If you haven't started following this amazing story, treat yourself to it! You can find the opening post here.
But to get back to Mr Darcy's antics in Meryton – what was he thinking? Did he imagine he would not be overheard over the loud music and the chatter? Not very likely. We are told that he was standing 'near enough' to the spot where Elizabeth was obliged to sit with the wallflowers due to the scarcity of gentlemen. And he had certainly made no effort to avoid attracting her attention or disguise the fact that he and Bingley were speaking about her:
'Which do you mean?' and turning round, he looked for a moment at Elizabeth, till catching her eye, he withdrew his own and coldly said…
Well, we know what he said.
Does the 'till catching her eye' mean that he knew she was listening? Did he actually intend to be heard? Why? To teach her a lesson for eavesdropping? Because of the whispers of 'ten thousand a year' going through the crowds? The Mr Darcy we love to read and write about would be perfectly civil to his servants, so why would he be so monumentally rude to a gentleman's daughter? Do we idealise him? I suppose we do, but do we idealise him too much?
I do hope you'll join me for a virtual cup of tea and a cherry scone (sadly, also virtual) and share what you made of that scene.
I can't wait to hear your thoughts!
The post Deplorable Dates – Whatever had possesed him? appeared first on Jane Austen Variations.
Deplorable Dates – Whatever had possesed him?