Pet Sounds
Glen Sather was a man for his time. I don't think any one individual today could handle all of the work, motivate by intimidation, suppress salaries and fleece Lou Nanne like Slats did a lifetime ago. Assuming the Oilers find a general manager who can judge talent like Sather, where will he start and what will he send away? It's a fascinating conversation.
THE ATHLETIC!
The Athletic Edmonton features a fabulous cluster of stories (some linked below, some on the site). Great perspective from a ridiculous group of writers and analysts. Proud to be part of the group.INSANE NEW OFFER IS HERE!
TAKING STOCK
The first thing 'new Glen' is going to do is take stock of his inventory. We've discussed some of these things recently, but let's put them all in one place so we can revisit over the summer.
VALUE CONTRACTS
Minor leaguers: Cooper Marody, Caleb Jones and Tyler Benson.
Free agents: Joel Persson
Signed players: Connor McDavid
DRAFT PICKS
No. 8 overall
No. 38 overall
No. 89 overall
No. 100 overall
No. 163 overall
No. 193 overall
NEEDS
Two scoring wingers (Brett Connolly, Tyler Johnson)
Cap room (buyout or offload with retain)
No. 3 RH center (Riley Nash or internal solution Marody)
Top 4 RHD who can move the puck (Colin Miller)
Backup goalie (Thomas Greiss)
POSSIBLE ASSETS OUT
Adam Larsson
No. 8 overall 2019
Jesse Puljujarvi
First-round pick 2020
Jujhar Khaira
Matt Benning
Buyout/Retain
GETTING VALUE FOR THE PICKS
One of the questions I would ask all of the potential general mangers is "Do you think it's a good idea to trade a pick for this team, this year?" Why would I ask that? Here are the Oilers most recent drafts and the picks dealt (and player chosen).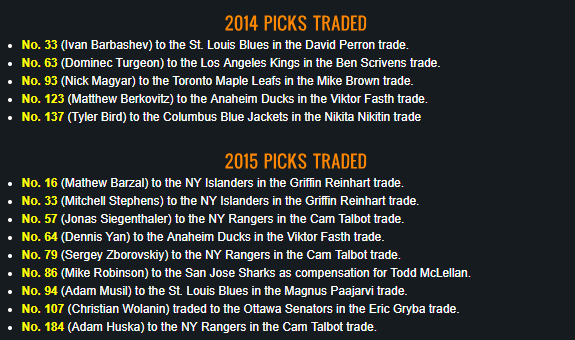 2016 PICKS TRADED
No. 93 (Jack Kopacka) to the Anaheim Ducks in the Patrick Maroon trade.
No. 206 (Otto Somppi) to the Tampa Bay Lightning in the Ziyat Paigin trade.
2017 PICKS TRADED
No. 53 (Jack Studnicka) traded to the Boston Bruins for Peter Chiarelli.
No. 82 (Cameron Crotty) traded to the Arizona Coyotes for Stuart Skinner pick.
No. 126 (Michael Karow) traded to the Arizona Coyotes for Stuart Skinner pick.
2018 PICKS TRADED
No. 71 (Jordan Harris) traded to Montreal for Olivier Rodrigue pick.
No. 102 (Jasper Weatherby) traded to Montreal for Al Montoya.
No. 133 (Samuel Houde) to Montreal for Olivier Rodrigue pick.
2019 PICKS TRADED
No. 65 to Philadelphia for Cooper Marody
No. 69 to Florida for Alex Petrovic
No. 131 to Montreal for Hayden Hawkey
I have no quarrel with trading a draft pick for full value, but if the Oilers don't sign Hayden Hawkey two of the three picks dealt in 2018 won't help this team in the future. A good rule of thumb is one pick for each round, and Edmonton is close at the 2019 draft (six picks, including four inside the top 100 overall).
It's time to play 'a bunch of guys I like' based purely on math. Link is here.
I moved Brian Tracey up from 85 to 48 on my most recent list. Central moved him from 73 to 21. Math must match the visual.
Ron Attard from Sioux City of the USHL moved up from 143 to 76 NA. He's an offensive blue, has a howitzer of a shot. Overager.
I have Blake Murray ranked No. 39. CSB has him NA 104. I bet he's way better than a fifth rounder.
I have Nando Eggenberger No. 65, CSB has him 127 NA. One of us is wrong.
Nathan Staios, Steve's son, is No. 182 CSB NA.
Not much changes on my list between now and the June 1 publish date for my final countdown. I will tell you the tournaments to come impact the Euro rankings in a big way.
WHAT WOULD GLEN DO?
I honestly think Sather would show patience, recognizing that Chiarelli's aggressive plan reaped only short term (and fleeting) results. Grabbing Peyton Krebs in the first round, maybe signing Tyler Ennis or Brandon Pirri instead of a big money addition.
I also think he would allow all of these young blue to rise in competition with each other. There's no doubt in my mind he would take two rookies on blue this fall if he thought they had earned it. I don't know if the current Oilers have that kind of 'outside the box' thinking. Then again, who are the 'current Oilers' anyway?
LOWDOWN WITH LOWETIDE
A busy day with terrific guests! It all starts at 10, TSN1260. Scheduled to appear:
Jonathan Willis, The Athletic. Oilers summer: Who is likely to stay, and who is likely to go?
Andy McNamara, TSN4Downs. Russell Wilson's walking around money, NFL draft.
Ryan Holt, Bakersfield Condors play by play. The Condors won the division, playoffs start Friday.
10-1260 text, @Lowetide on twitter. Talk soon!
Pet Sounds