Savvy Review: Your Happy Heart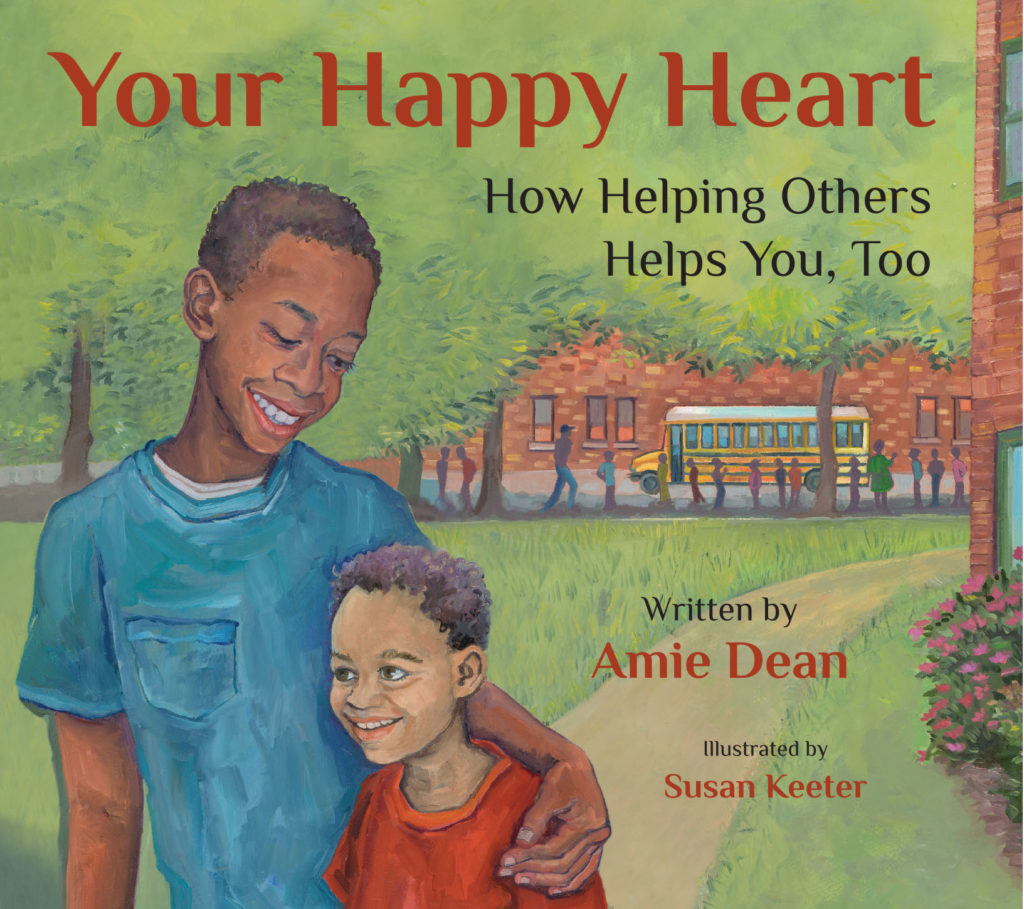 Hello, Savvy Friends! Today I'd like to share a new book with you that I was so excited to receive. It's called Your Happy Heart, and it is written by Amie Dean. The reason I was so excited is because I've had the pleasure of attending two awesome professional development sessions presented by Amie Dean, Behavior Queen: One in my school district and another at my state conference just this past November. When I say she has awesome ideas and strategies, it's an understatement. I only wish she could visit my school. Anyway, when I heard she was the author of this new book, I knew I HAD to get my hands on it, and she did NOT disappoint!
Javon, the main character, is a fifth grade student who was very proud of himself. Why? He'd been picked to be a book buddy for Richard, a kindergarten student in his former teacher's classroom. Unfortunatley, he didn't get the response he'd hoped to get when he met Richard. It seemed that Richard was a lot like Javon used to be a few years back. Javon had a difficult time connecting with him on that first day because Richard didn't respond to anything he asked or said. Javon read a book to him. Before leaving, he tried to get a fist bump, but Richard still wasn't responsive. Javon spent the next few days thinking about Richard.
When I sat down to read the book, I wasn't expecting the emotional response I would have. I typically read new books aloud to myself, but I found my voice beginning to waver as Javon began to think about his past as an angry kid because of his sad life experiences. The memories he shared of his teacher reminded me of how important it is to build relationships with our students. Ms. Sammons made an impact on his life by connecting with him in a way he never forgot. I had to stop reading for a moment.
Once I started again, I was loving Javon! He was determined to make a connection with Richard, and I loved that about him. During his next visit, he used his similar experiences in Ms. Sammons' class to connect with Richard. This time, Richard actually spoke and even laughed a little. Even though Richard didn't think he had any, Javon convinced him to think about his gifts so he could write them on a piece of paper.
The boys continued to connect as they met every week. Soon, the last day for Reading Buddies came, but when Javon walked in, Richard wasn't there. Richard was having a rough morning and had to leave the classroom. Javon asked to go to the school counselor's office where Richard was so he could talk with him. Javon went in there and continued to make me love him! He told Richard about an art activity he did in 4th grade where he made a heart and drew things inside the heart that made his heart happy. He had an empty heart made for Richard to draw in. Can you guess what Richard drew inside his heart? That along with the special keepsake Javon gave him made me grab my tissue once again. Javon learned "that helping someone find their happiness can make your own heart happy, too."
Amie included an excellent list of steps to help children calm down in the back of the book using the acronym BREATHE along with tips for helping children find their gifts in order to build their self-confidence.
You've GOT to read this book. I LOVE it! It made me think of so many of my students. As school counselors, you all know how much we carry inside of us on a day to day basis. The things we hear and discover about our students can be heartbreaking sometimes. Richard reminded me so much of a little friend at my school this year who's having a hard time right now. Thus, the emotional response.
Your Happy Heart officially released on February 19. I am giving away a copy of Your Happy Heart on Instagram. Be sure to check it out for your chance to win! The giveaway will end on Tuesday, February 26 at 8PM EST.
Stick around!  You can follow Savvy School Counselor with free email updates.  You can also follow my TpT Store to keep up with my latest products and freebies.  Additionally, I do giveaways through My Facebook Page with my new products.  Be sure to like Savvy School Counselor on Facebook and click to receive notifications so you don't miss them!
Follow @svyschcounselor
The post Savvy Review: Your Happy Heart first appeared on Savvy School Counselor.
Savvy Review: Your Happy Heart