Most US Pastors Speak Out in Response to George Floyd's Death
Survey finds many still worry discussing race is "too political."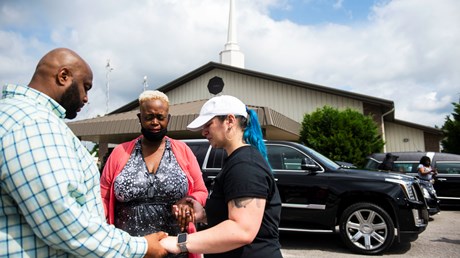 As protests continue across America, Christians may be shifting their views of the church's role in addressing racism, becoming more outspoken and involved in the current movement for racial justice.
Nearly all US pastors (94%) agree that "the church has a responsibility to denounce racism," and most (62%) say their church has made a statement on the unrest stemming from the May 25 death of George Floyd, according to a Barna Church Pulse Poll released today.
The poll, conducted over the past week, also found that 76 percent of pastors say the church should support peaceful protests occurring in response to Floyd's killing.
More research is needed to be sure Christians' attitude toward racism is changing, said David Kinnaman, president of the Barna Group. "But there are a couple of indications that pastors are as open as they've ever been" to addressing racial discrimination.
Nearly two-thirds of pastors say they have spoken out to address the moment, and about the same "strongly agree" that it's important for church leadership to publicly show support for people of color. Many churches, denominations, and ministries released statements on Floyd's death, along with resources on racial reconciliation.

In a sample of the statements from some of the biggest evangelical organizations—groups like the Assemblies of God, InterVarsity Christian Fellowship, and several of the largest megachurches in the country—most appealed to Christian teachings on justice, the imago Dei, and lament.
Many pastors also took the opportunity to preach on race. A Pew Research Center survey conducted earlier this year showing that white evangelicals were far less likely than ...
Most US Pastors Speak Out in Response to George Floyd's Death