Vital Farm's Blockbuster IPO, Explosion Destroys Lebanon's Grain Reserves + More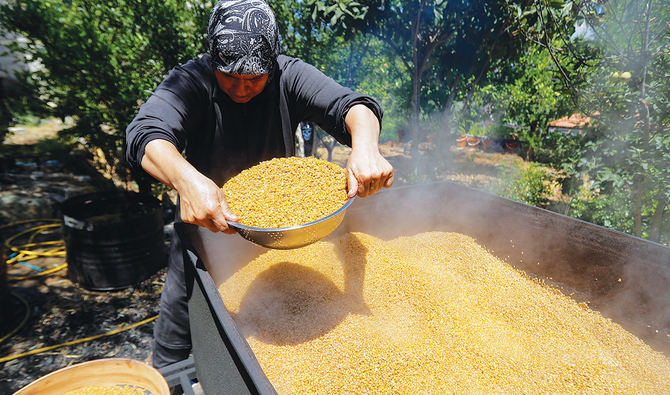 Source: Arab News
Every week we track the business, tech and investment trends in CPG, retail, restaurants, agriculture, cooking and health, so you don't have to. Here are some of this week's top headlines.
Tuesday's massive explosion in Beirut destroyed Lebanon's main grain silo at the port, which held tons of Lebanon's food stocks. The nation is now left with just six weeks worth of grain reserves.
In other news, Vital Farms raised $200 million in its public offering last Friday, valuing it at $1.3 billion.
One-third of U.S. restaurants, or 231, 000, are expected to permanently close this year as a result of the hardships caused by COVID-19. In New York alone, 80% of restaurants weren't able to make rent in July and 40% didn't pay rent at all.
We need your support as well. Producing our newsletter takes a lot of time and resources, and we need to change our business model to keep it going. To date, we've funded our work through our events, sponsorships and consulting, which are all on hold due to the pandemic. If you find our newsletter to be a valuable resource, we hope you will consider making a one time or monthly contribution, so we can keep the newsletter going and free for those who can not afford a subscription fee. Whether it's $5 or $500 every bit helps and shows us that you value our work. Not able to contribute right now? You can help by sharing our newsletter with friends and colleagues. 
---
Check out our weekly round-up of last week's top food startup, tech and innovation news below or peruse the full newsletter here.
---
Lebanon's main grain silo at Beirut port was destroyed in a blast, leaving the nation with less than a month's reserves of grain. Beirut port silos had capacity for 120k tons.
The company raised $200m in its public offering on Friday, valuing it at $1.3b. Its shares soared 60%, closing at $35. The company's success proves that more ethical standards are appealing to consumers and investors.
As many as 231k of the nation's roughly 660k eateries will likely shut down this year.
As coronavirus cases explode at US farms and food factories, foreign migrants who pick fruit, clean seafood and sort vegetables are getting trapped in tightly packed bunkhouses where illness spreads like wildfire. Often, they can't leave – unless they're willing to risk deportation.
The $250m round was led by BlackRock. FBN plans to expand its agritech platform with new funds.
Among the most significant risk factors for hospitalization and death in Covid-19 are the presence of diet-related chronic diseases. Nearly three out of four American adults are overweight or obese. Half have diabetes or pre-diabetes.
Starbucks, McDonald's and Chipotle all have in-store mask policies and guidance, which is more than the federal government can say.
The NYC Hospitality Alliance recently surveyed 471 establishments in the city and found more than 80% did not pay full rent.
While a handful of farmers received hundreds of thousands of dollars, more than 300 received less than $10.
With lawsuits and the civil rights complaints, advocates are taking concrete steps to prevent risking workers' lives for the sake of company profits.
Check out our list of resources to learn about systemic racism in the food and agriculture industries. We also highlight Black food and farm businesses and organizations to support.
Sales soared 194.9% during the quarter ended June 27.
The digital storefronts are available in eight cities throughout the US and plans to launch in additional cities over the next few months. They are essentially micro-fulfillment centers for delivery workers.
Weeks after admitting that some of its international-themed product labels might have fallen short of an "attempt at inclusiveness," the grocery store chain is rejecting criticism of the labels.
---
Our newsletter is the absolute easiest way to stay on top of the emerging sector, so sign up for it today and never miss the latest food tech and innovation news and trends, Already signed up? Share the love with your friends and colleagues!
---
The post Vital Farm's Blockbuster IPO, Explosion Destroys Lebanon's Grain Reserves + More appeared first on Food+Tech Connect.
Vital Farm's Blockbuster IPO, Explosion Destroys Lebanon's Grain Reserves + More