Your Thursday Beer News Update: Buy-Outs, Bad Press And Bisulfite Bother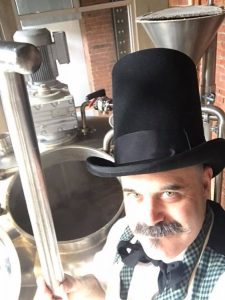 Ah, April. As lilacs breed out of the dead land, we watch baseball beginning. Seven months ahead of baseball baseball baseball. People get spring fever and, as a consequence, sometime buy very big hats. Craig has been brewing Albany Ale again with local brewers C. H. Evans, fabulously holding up the side for the project. I think that collaboration dates now back over five years when his hat was not so tall. I also captured the moment by celebrating the very nice breakfast that I had the next day. All so excellent.
Best boozy April Fool's Day joke. Best letter to the editor.
I find this bit of craft amnesia really strange. The idea that Allagash White stood alone with haze without reference to Pierre Celis and Hoegaarden is a bit sad. Like people suggesting that sparklers weren't invented as a way to flog poor beer, I suppose.  Or the idea that micro/craft didn't start beyond the USA. But, as an entire counterbalance… an antidote even, consider Nate's incidental beer pictures in the Czech Republic or consider Lars live-baking the mash on so-me or, best of all, consider Martyn finding an ad for US hops being sold in the UK in the 1790s! Wow! I am renewed. Redeemed. You can see that I am a sensitive I might not be alone.
I am not alone. Jeff at Beervana is a bit fed up, too, with some of the latest news. He captured the mood of these buy-out PR notices with his Mad-Libs, fill in the gaps form for any craft brewers planning to take advantage of any moolah-laced opportunities:
[ _______________ ] announced today an agreement to acquire a majority interest in [ ________ ]-based [ __________ ] Brewing Company.
I found this refreshing, especially in the context a so much fretting about "rumours" which seem to the UK blogging English for knowing something but living under slightly less freedom of speech than we enjoy in North America, if we trust (as I do) the theme as illustrated by @totalcurtis. I blame an over concern with the interests of lawyers, as perhaps illustrated by Boak and Bailey. I've never heard of bloggers facing legal problems over sharing trade information but, well, that's what it feels like on my side of the gown and wig.
They do raise another point: "…the question of people's feelings." I usually don't put that much stock into this personally* either but then I was reminded of the thought when I read this in a review in The Guardian of Pete Brown's new book:
Brown moved from advertising into "beer writing", which is not much of a shift. Beer writing purports to be a branch of consumer journalism. Producer journalism would be more apt. He is forever being invited to judge competitions (beer of course, and cider, veg, pies, cakes, anything). He goes to tastings. He opens food festivals. He attends events…  The proximity of writer/critic to maker or artisan is worrying. Beer or wine or food writing often becomes a sort of dissembled advertising, or advertorial, which doesn't announce itself save by its gushing enthusiasm and self-congratulation.
Now, even if I am a sensitive man, I point this out for the general concept not the particular. My copy of Pete's book will come to my house in a few weeks as the release has been delayed in Canada. And I won't review it because it's not a beer book. But I do think the review in The Guardian was extremely mean spirited. And not in the A.A.Gill, a hero of mine, sense of mean spirited. Not even in the Pete Brown sense of a teensie mean spirited.  It was actually a bit cruel. Demeaning even.* But the general observation on beer writing set out above? Not too far off the mark for a sadly significant part of beer writing. As you know I have thought and written about for years so don't… just… OK, fill your boots – what the heck. You gotta be you, too.
In other news, Garrett Oliver made The Sunday New York Times. And then an interesting discussion broke out on Twitter between him and Matt C. on the meaning and value of "local" including this comment:
It's complicated for sure. But there is an extent to which asking a brewery to "double-down on local" is like asking a 12 yr old to "double-down on adolescence." These days "local" can mean only breweries from your own neighborhood. I can walk to five breweries from my house…
I like the point. But is it what people want today? And isn't that the only point? The discussion started with this from Matt C and goes along through a large number of threads. Worth thinking about.*** And worth thinking about in the context of all the above and below which is really about how a wide range of writing about beer takes many forms. It's all fairly robust even if we collectively have not caught up to that realization.
Picking hops in 1800s Wisconsin.
Confession time. I am down to maybe having one or two beers a week. Work pressures? Health concerns? Nope. Allergies. Now I am a sensitive man so I am comfortable sharing with you that more and more I am having histamine reactions from beer like many folk get with red wine. The problem has always been there but I managed it by avoiding naturally high sulfate beers like Burton IPAs or anything Burtonized.  For example, I get a headache during the first Sleemans. Always have. Hard water brewery. Then, as with one really good eastern Ontario Porter,**** I started noticing a reaction from some craft breweries that I put down to smaller newer places using sodium metabisulfite (the pink powder home brewers use) as part of the cleaning regime. That one gives me a set of thrilling achy reactions down the throat. But, recently, I have noticed a new class of randomly sulfate laced beers: some of the ones with fruity flavours added. For decades, I avoid anything that is a flaky pastry treat  that's foil wrapped  for freshness and boasts of "real fresh fruit filling" because that stuff has actually put me in the hospital a few times. Has anyone else noticed this? I know… I am a sensitive man. And it's not that I mind. Good for the wallet and the waist. Great sleeps, too.
That must be enough for this week. This busy week. The week that BeerAdvocate magazine wrapped it up for good. Where will we end up? Back here?
But the bartender is not quite
so sensitive as I supposed he was
the way he looks at me now
and does not appreciate my exquisite analogy
Now, it was brought home to me a long time ago that beer poems and beer history and critical essays about drinking culture will not really buy beer or flowers or a goddamn thing…
and I was sad
for I am a sensitive man
Uncertain how to cope with it all? Read Boak and Bailey on Saturday and Stan on Monday. That might help.
*Honestly, without being the slightest bit pointy fingery, I could not imagine writing "imagine how those team members feel learning the news from Twitter, or on some poxy beer blog" myself but that is why they are they and I am me and, beyond that, there are far more vulnerable voices out there. Too sensitive. But what can you do. Beer is made of flowers.
**Compare to this review in The Observer. Covers the same ground but seems to have no grudge. Odd. And, as I say, cruel.
***And worth hauling out again when someone once again says with a vapid flourish that you can't explain thing in detail or have a civil discussion on Twitter.
****Which I mention only after I have had the reaction corroborated by someone else I recommended the beer to who had the same odd response.
Your Thursday Beer News Update: Buy-Outs, Bad Press And Bisulfite Bother