OFFER: Buy Avios bonus, Hilton new bonus points & offer and Emirates sale and miles offer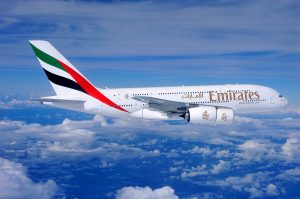 Hilton new bonus points offer and buy points offer
Hilton's next bonus offer has been released. As usual, they alternate between double points and 2000 bonus points. If you do lots of stays at cheaper Hiltons you are better off with the 2000 point offer. The latest offer is a fairly straight forward 2000 point bonus per stay with an extra bonus after 10 nights. From 6 January 6–3 May 2020, you get 2,000 Points every stay PLUS 10,000 Points every 10 nights. The offer applies to existing bookings provided you have registered for the offer by the time you stay. 
You can register for the offer here.

Hilton have also rolled out their regular 100% buy points bonus. The offer is valid for points purchases until  28 December 2019. They have also doubled the yearly purchase limit to 160,000 points before the bonus. 
If you bought the maximum 160,000 and got the 100% bonus this would give you 320,000 points for $1600 = £1230. 320,000 points would be enough for 5 nights at an 80,000 a night hotel if you used the buy 5 nights for 4 offer as well. At this price, it would work out at around £240 a night which could very likely save you money on a premium hotel. For example, you could get 5 nights at the Hilton Moorea in French Polynesia for £240 a night. This property often sells at £300+ a night.
You find the buy points page here.
Emirates sale and buy miles bonus
Emirates have a sale on until 31 January 2020 from the UK. You can travel until 9 November 2020.
Here is a selection of the best business class prices from London:
Dubai £1869
Jakarta £1969
Muscat £1989
Nairobi £2069
Kathmandu £2069
Mumbai £2109
You can find the sale page here.
Emirates are also offering a surprise discount when you buy at least 5000 miles before 31 December 2019. My discount was 25% so I would not generally bother at that price.
You can find the offer page here.
Buy British Airways Avios 30% bonus
British Airways have a bonus on buying Avios but I really don't recommend using it unless you really have to. The bonus is usually 50%, so you would be much better waiting until the next bonus offer as they happen very frequently. The maximum you can buy or gift is 200,000 plus you would get a bonus of 60,000. If you used it with a BA Amex 2-4-1 voucher for First class (except some of the East Coast of the States) you could still get decent value out of it even at 30%. An average BA fare to the Far East is usually a minimum of £3500. If you bought the maximum at £3215 and then included taxes of around £600 it would still work out at £2207 per person which is a decent saving. Obviously, the issue could be getting availability.  
Purchased Avios can be refunded within 14 days of purchase providing the Avios have not been used. Contact the British Airways Executive Club via BA.com or by telephone to cancel. Payments will be reimbursed no later than 14 days after the date of which the Executive Club was informed about the decision to cancel.
The offer is available until 23:59 (GMT) Thursday 30 January 2020 only. You can find the offer page here. 
The post OFFER: Buy Avios bonus, Hilton new bonus points & offer and Emirates sale and miles offer appeared first on Turning left for less.
OFFER: Buy Avios bonus, Hilton new bonus points & offer and Emirates sale and miles offer