A Must-Do In Kamakura! Try Mameya's Delicious Sweets And Treats
Sample Traditional Snacks at Mameya in Kamakura!
Kamakura Mameya is on Komachi Dori (Komachi Street), a shopping street leading visitors to Tsurugaoka Hachimangu Shrine and sightseeing destinations in Kamakura. Specializing in nuts and beans, this shop incorporates mouthwatering Japanese flavors like matcha and cherry blossom into its treats.
There are many food and drink vendors in Kamakura, but what truly sets Mameya apart from other shops are the free samples you can try before you make a purchase. This article introduces this candy shop of rainbow-colored sweet and savory snacks that will make you feel like a child again.
Kamakura Mameya on Komachi Street: A Popular Shop for Delicious Gifts
Kamakura Mameya opened in 1988 with the idea of providing delicious and healthy nut and bean-based snacks. The name "Mameya" is straightforward and in accordance with their concept: "mame" means bean, or nut, in Japanese, and "ya" means "merchant." They have offered samples free of charge since they opened, drawing in curious visitors passing by and helping people find their favorite snacks.
A majority of the snacks have a peanut in the center, encased in a shell made of flour, which is then flavored. This is a type of otsumami (snack) in Japan that is delicious with beverages, such as tea or beer.
The store is popular and bustles with visitors, especially on weekends and during seasonal events, like New Year's and the cherry blossom season. Spend a while at the store and try as many flavors as you want before making your purchase!
A Colorful Paradise of Treats
Matching the striking purple and black exterior, the inside of Kamakura Mameya is vibrant and bright from the different colors of snacks. All of the merchandise is made using high-quality ingredients, ensuring nutritious and delicious treats. Visitors can sample nearly all of the goods here, which are perfectly bite-sized! There are English and Chinese signage on many of the snacks, too.
Try Matcha, Wasabi, and Other Popular Flavors
Some of the most popular choices are matcha (270 yen), seaweed wasabi (216 yen), and mayonnaise peanut (216 yen). Another popular choice is the Shonan mix (270 yen). All prices are inclusive of tax. The first three all have a peanut inside the flavor-coated layer, creating a crunchy, satisfying texture. The Shonan mix contains rice crackers, nuts, and dried seafood in addition to the peanut-based treats.
The matcha flavor (top-left) has a fragrant green tea aroma and mild sweetness. Its appearance is beautiful, with a bright and refined green color. Fans of wasabi (Japanese horseradish) will be pleased with the spiciness and bite of the seaweed wasabi. The faint sweetness of the seaweed prevents the wasabi from being overpowering.
Mayonnaise peanut (lower-left) is a combination of the sour flavor of mayonnaise with the mellow taste of peanuts. It is a favorite of many customers! The Shonan mix (lower-right) contains around 20 varieties of beans, nuts, and seafood, inspired by the coastal Shonan region in Kanagawa Prefecture which Kamakura is part of. If you want to try a variety of regional flavors, pick this one!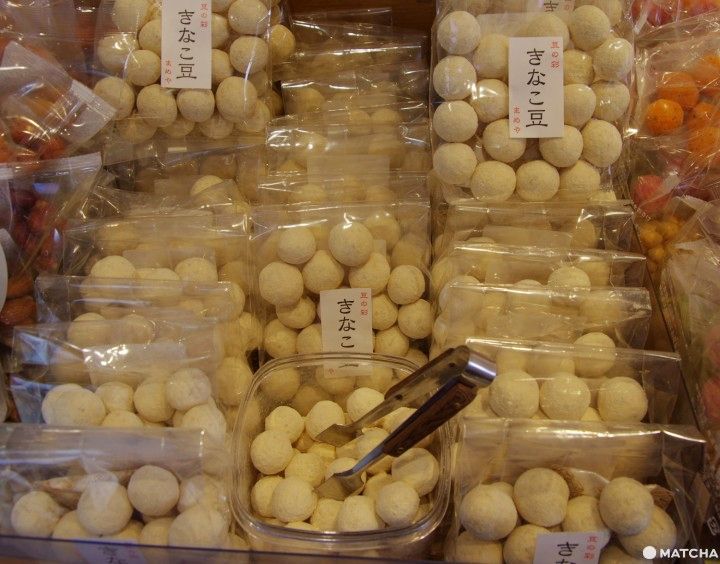 I also sampled kinako, or roasted soybean powder. Kinako is a common ingredient in Japanese confectionery. The kinako has a great balance of sweetness and flavor and is another must-try!
In addition, there are unusual flavors, like miso, coffee, and even takoyaki sauce (pictured above). There are also many chocolate-covered treats you can try, too. This wide variety of treats is only found at Mameya, making it a worthy stop along Komachi Dori!
Kamakura Mameya's inventory also changes by month and time of year with seasonal flavors. Available during my visit were plum chocolate and raspberry, two refreshing choices inspired by early spring. In March 2019, they will start carrying a cherry blossom flavor. Mameya also sells special snacks for traditional events, like Girls' Day (Hinamatsuri). You will also find plain nuts and soybeans if you are looking for something simple.
After trying so many delicious samples, it was very hard to choose what to purchase. I ended up with the seaweed wasabi, black sesame kinako, and dried natto (fermented soybeans). The black sesame kinako is a satisfying combination of creamy black sesame and the delicate sweetness of kinako. The dried natto is well-suited for those who like natto, as it has a distinctive taste and aroma. Be sure to sample these, too!
A portion of these treats is suitable for vegetarians and vegans, like the seaweed wasabi and kinako flavors. However, certain savory treats will contain fish or meat-derived products. Dairy is also used in some of the more popular sweets, like the matcha flavor. The ingredients are on the back of the back of the package in Japanese, so if you are unsure about what something contains, ask an employee!
Getting to Mameya
Kamakura Mameya is in a convenient location and is simple to find. From Kamakura Station, head out the east exit. Look for a large red gate, which signifies the entrance to Komachi Street. Follow the street for about 6 minutes and you will arrive at the shop.
As this location is on Komachi Street, a major shopping area in Kamakura, the shop does fill up with customers. If you want to avoid crowds, try visiting close to 10:00, when the shop opens.
There are two other branches of Mameya in Kamakura. One shop is near Enoshima Electric Railway Hase Station, along the way to the Giant Buddha and Hasedera Temple. The other shop is on the first floor of CIAL, a shopping mall at JR Kamakura Station. These locations are also very convenient and adaptable to your travel plans for the day.
A Fun and Tasty Stop in Kamakura!
If you are sightseeing in Kamakura, don't miss a visit to Mameya. From the colorful and healthy Japanese treats to the free samples, this unique shop is ideal for shopping for souvenirs and enjoying a light snack.
Conveniently close to public transit, major shrines, and travel destinations in this ancient capital, stop in before, after, or during your day of travel. Come try some of the tastiest treats in Japan's ancient capital!
In cooperation with Kamakura Mameya
A Must-Do In Kamakura! Try Mameya's Delicious Sweets And Treats