Hallo, Douglass Bridge Arches!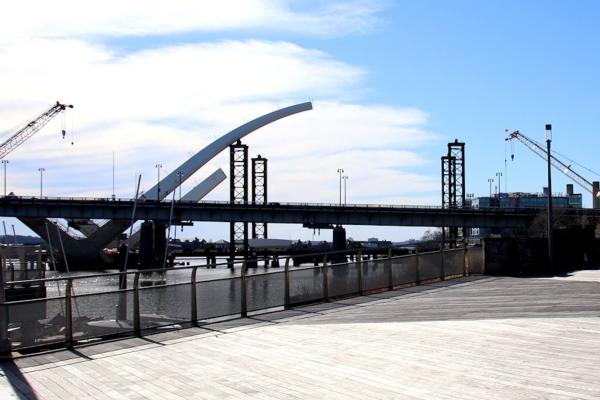 The new
Frederick Douglass Bridge
has been under construction for not quite 11 months, but the showy phase of the project has now arrived, as the beginnings of what will be its signature arches sprouted up within the past few weeks.
Anyone who walks along the Anacostia, or spends time across the way at Buzzard Point, or drives on South Capitol Street south of P, has been watching the progress of the three sets of arches, but of course the JDLand camera wanted to officially document this new stage.
For the record, it's not just from the Riverwalk that these arches will be visible--I caught of glimpse of them from the intersection of at 3rd and I Streets, SE, and I wouldn't be surprised to have the bridge be visible from multiple other locations as it is completed, since the bridge crosses the Anacostia at a southwesterly angle.
As 2020 marches on, the work on the two traffic ovals will get underway, and in fact there is a fence up across the First Base Gate promenade that I think bears some resemblance to where the northeast edge of the oval will eventually be.

Completion is expected in 2021.
Tags:
Douglass Bridge
,
Traffic Issues

Comments
Hallo, Douglass Bridge Arches!