Landscape in Tapestry: Articulating the Personal Response
View of Lake Superior from Bayfield, Wisconsin photo credit: Elizabeth J. Buckley © 2019
I recently taught a Landscape in Tapestry Retreat workshop at Wild Rice Retreat, located in Bayfield, Wisconsin on the south shore of Lake Superior. Geologically, the area is a peninsula, where the Apostle Island archipelago of sandstone deposits and sea caves originally formed over one billion years ago in the Precambrian era, when glaciers covered North America.  They are at the edge of the great rift, or fault, which formed the depression in which the waters of Lake Superior collected.  Some winters are cold enough to freeze the lake to such a depth that ice roads can connect the islands.
At the end of summer, we experienced clouds and storm systems rolling in, rain and wind, then clearing and bright sunshine all in the course of one day. In the main classroom, with its picture windows on all sides, it was like sitting in a tree house in the middle of a forest. 
Classroom at Wild Rice Retreat © 2019 photo credit Elizabeth J. Buckley. Back to front: Sue Bassett , Kristin Majkrzak, and Debra Thomas at their looms.
Two mornings before breakfast, I was able to walk the Woodstone trail from my lodging. The damp ground beneath my feet was spongy, sometimes muddy and puddled in places. I marveled at the lush green of moss and the textures of lichen on tree trunks.  Sunlight sparkled the rainwater droplets dangling on grass seed heads and oak leaves, as well as lit the steam rising along the path.  Periodically I caught a glimpse of  the bright blue water of Lake Superior in between the trees. 
Woodstone Trail near Wild Rice Retreat © 2019 photo credit: Elizabeth J. Buckley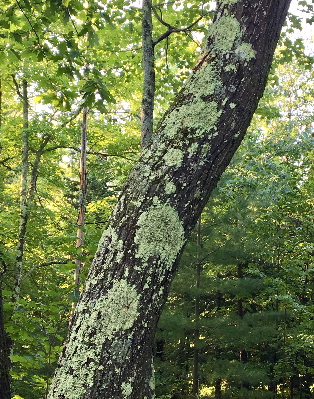 Woodstone Trail, lichen on tree © 2019 photo credit: Elizabeth J. Buckley
Later the first morning of the workshop, as a class, we walked along the beach near the Madeline Island ferry landing, observing, sketching, and taking photos. We noticed the color of the water—grayed as the rain clouds gathered—and the bright white of a sailboat against the dark, blue-green backdrop of Madeline Island.  The shoreline caught the ripples of small waves splashing and foaming.  In the sand, a piece of birch bark rolled up, and bits of driftwood.  Sea gulls dipped and perched on the pier.  Sunshine broke through the clouds, like a hotspot, brightening areas of water constantly rolling and shifting. A wooden rowboat sat anchored, with its casted shadow on the water.
Rowboat anchored at Bayfield, Wisconsin © 2019 photo credit: Elizabeth J. Buckley
Back in the classroom, I talked about bringing our personal response to what we see into what we might say in tapestry.  Rather than copy a photograph, distill it down to essential shapes and values, movement, reflection, color. What do you want to emphasize or exaggerate? What is the mood or impression you want to evoke? Which tapestry techniques will best lend themselves to articulating different aspects of the design?
Lake Superior Wave Foam © 2019 photo credit: Elizabeth J. Buckley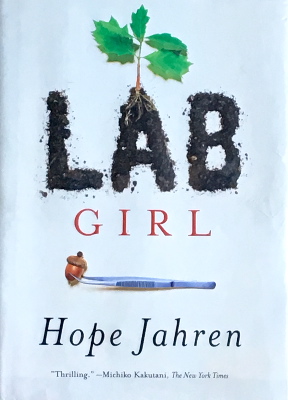 At the end of each day, in the evenings, I read Lab Girl: A Story of Trees, Science, and Love by Hope Jahren, a probing look at plants, trees, paleo-botany, and the human spirit. I found it changing and deepening the dimensions in which I was seeing each tree, flower, seed, and the soil in which it grows.  I felt a kinship with how I observe and respond to the natural world as an artist. My imagination sparked when I read:
A seed knows how to wait….A seed is alive while it waits….
After scientists broke open the coat of a lotus seed (Nelumbo nucifera) and coddled the embryo into growth, they kept the empty husk.  When they radiocarbon-dated this discarded outer shell, they discovered that their seedling had been waiting for them within a peat bog in China for no less than two thousand years.  This tiny seed had stubbornly kept the hope of its own future while entire human civilizations rose and fell.  And then one day this little plant's yearnings finally burst forth within a laboratory.  I wonder where it is right now.
Each beginning is the end of waiting.  We are each given exactly one chance to be.  Each of us is both impossible and inevitable.  Every replete tree was first a seed that waited. pp. 30-31
The process of tapestry-making also requires knowing how to wait for the ideas to percolate and to begin taking shape.  Each tapestry begins as the seed of an idea that waits until the right moment to grow.
Lake Superior shoreline, Bayfield, Wisconsin © 2019 photo credit: Elizabeth J. Buckley
---
Landscape in Tapestry: Articulating the Personal Response