Poetry and Mindfulness on World Mental Health Day
Today- the 10th of October- is World Mental Health Day. It's a chance to raise awareness of mental health but also a chance to check-in with ourselves and those around us. To mark the day we at Loch of the Lowes were joined by the wonderful Caren and Craig Gilbert who led us in a day of poetry and mindfulness out in nature.
Caren started us off with a really simple practice- a poem called 'I am'. For anybody out there who feels they're not a natural poet, this is an easy start. You write or say the words 'I am' and then follow with the first five or six words or phrases that come to mind. It's a great way to check in with yourself and its a poem that you can create and recreate every day- whether that's while sitting in front of a computer screen or out wandering on a hill. The results might take you by surprise.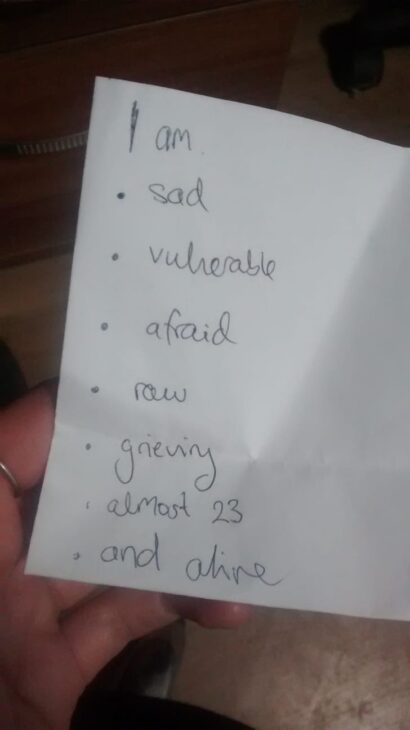 Craig then introduced us to mindfulness-the practice of being in the moment, of bringing your awareness to the present and your immediate surroundings. Mindfulness is a useful practice for reducing stress and taking care of your mental health. It involves finding a place where you're not thinking about the future, the things you have to do, or about the past, only about the moment you're in, which, as we found out- can be easier said than done!
On a walk around the reserve Craig showed us lots of tools we can use to reach a place of mindfulness. Here are some of his top tips and tricks to keep your mind on the here and now.
Inhabit your body– We spent the first part of our walk focussing on our feet, noticing how they felt against the ground, how they sounded, how the earth changed, how we held our bodies as we walked.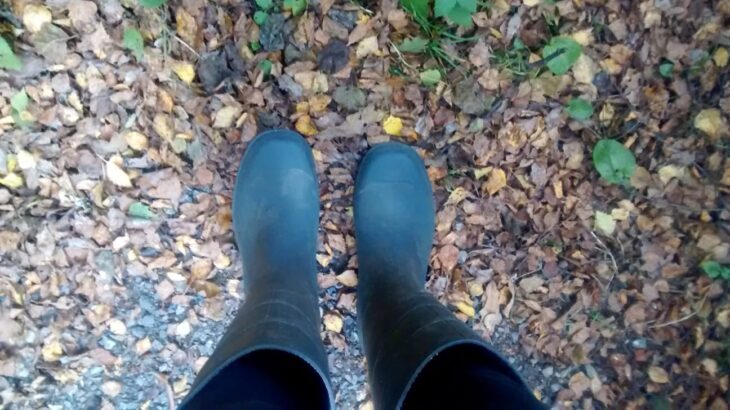 Look up– Sometimes its easy to miss what's happening above your head. Looking up can give you a different perspective.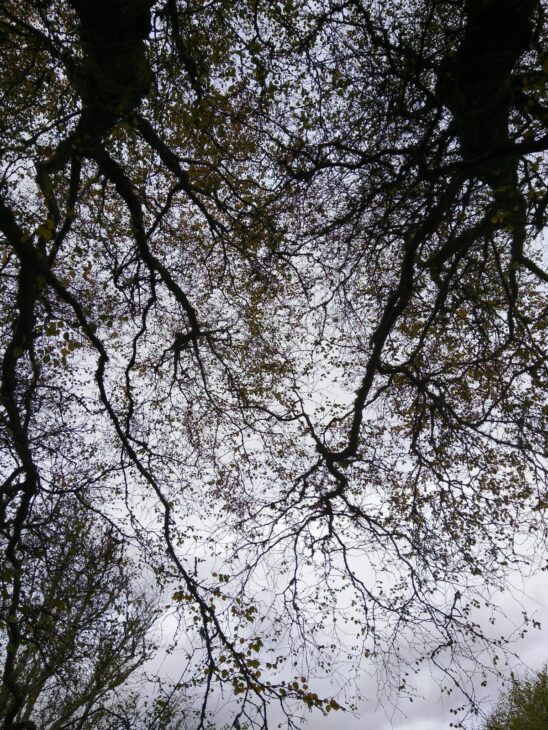 Get in close– Take time to pause and really look at things. When you zoom in you might catch things you would normally walk by- for example, this caterpillar having a feast.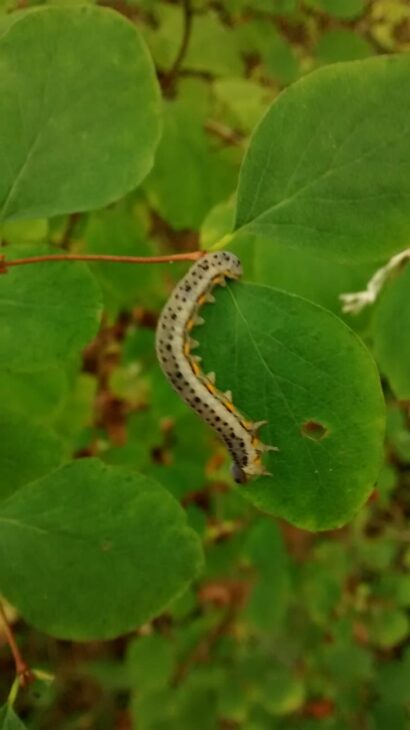 Use all your senses– The sound of wind through leaves, a stream flowing over rocks, bird song, the feel of rough bark or a smooth mushroom-focussing in to all of your senses is a good way to bring yourself back to the present. Give in to curiosity- I've never wondered about the smell of acorns until today. Turns out they smell a bit like cut grass!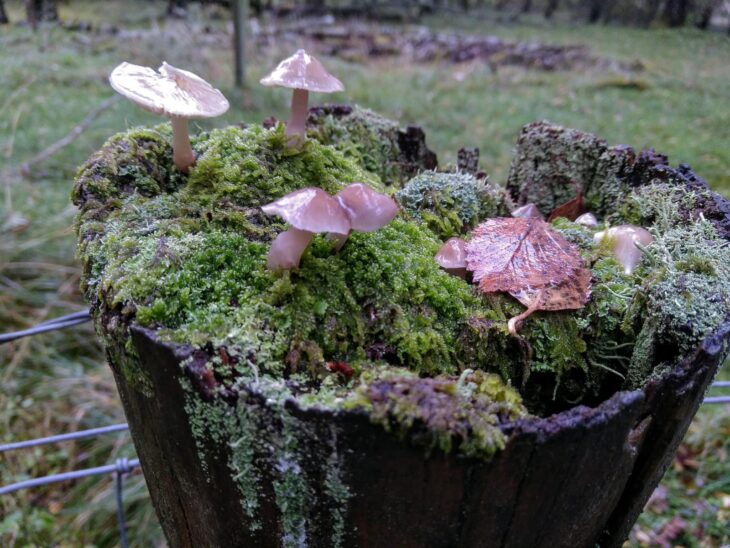 Water– Being by water is a great way to tune in to the moment. It's easy to get drawn into how it moves and sounds and feels.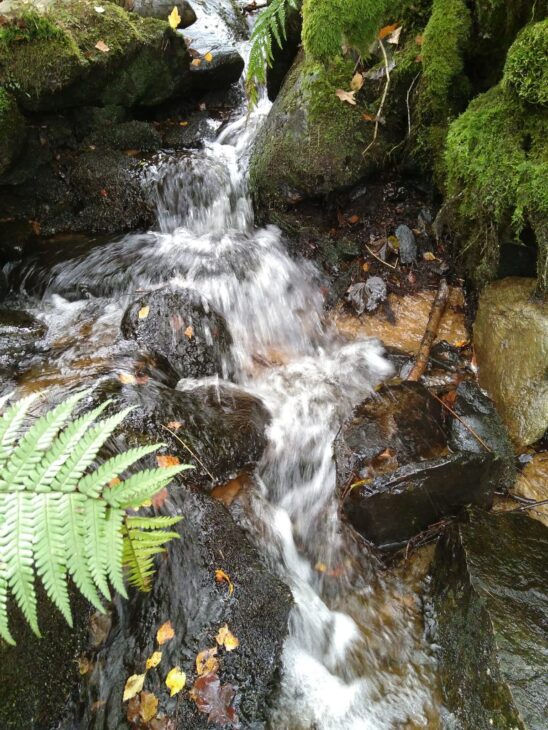 Have something to hold– Pick up an object and hold it. It could be a stone, an acorn shell, a leaf- anything you like. If you can't get outdoors very often this can be a nice way to carry a bit of it with you.
Finally…
Find a spot and sit for a while– Being out in nature is a great place to practice mindfulness, there's usually something to capture your attention. We spent twenty minutes sitting and watching the world around us and it honestly felt like five. Some things that stood out for people were the colours- autumn yellows, and different shades of green, feeling a tree trunk as it swayed ever so slightly in the wind and we even had a vole make an appearance right by one spot.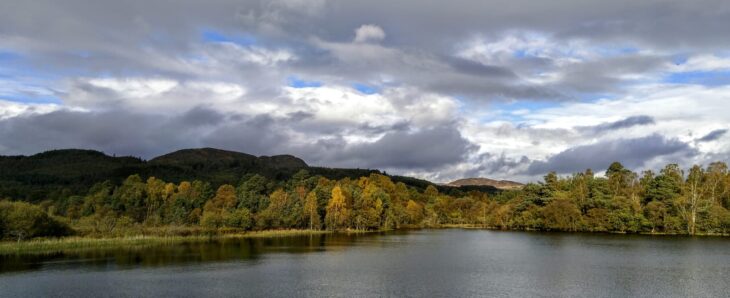 We didn't spend the whole day wondering at acorns and mushrooms though! There was also time to sit under a tree and share some food, good chat and a cuppa together- all also very good things for our mental health!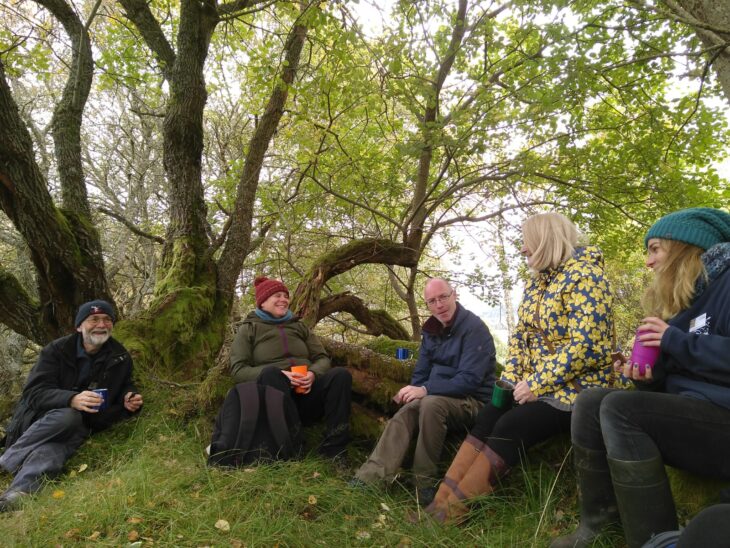 A massive thank you to Craig and Caren for leading the day, and showing us Lowes in a different light! If people would like to explore mindfulness and poetry with Caren and Craig you can get in touch with them here and here.
Finally, the geese were very active on the loch this morning so we'll end this blog with some very apt poetry!
Wild Geese

You do not have to be good.
You do not have to walk on your knees
for a hundred miles through the desert repenting.
You only have to let the soft animal of your body
love what it loves.
Tell me about despair, yours, and I will tell you mine.
Meanwhile the world goes on.
Meanwhile the sun and the clear pebbles of the rain
are moving across the landscapes,
over the prairies and the deep trees,
the mountains and the rivers.
Meanwhile the wild geese, high in the clean blue air,
are heading home again.
Whoever you are, no matter how lonely,
the world offers itself to your imagination,
calls to you like the wild geese, harsh and exciting-
over and over announcing your place
In the family of things.
– Mary Oliver
The post Poetry and Mindfulness on World Mental Health Day appeared first on Scottish Wildlife Trust.
Poetry and Mindfulness on World Mental Health Day