Epcot Festival Calendar and Tips (2020)
If you're a little overwhelmed by the festival scene at Epcot…you're not alone. Whether you're just starting to plan a trip for years down the road or you just discovered there's a festival starting during your trip next week, this post is here to help you navigate the numerous festival seasons at Epcot. Read on to learn about Epcot's Festivals!
Epcot Festival Guides
Here are the links to our posts covering each of the Epcot festivals in detail:
2020 Epcot Festival Calendar
December 31, 2019 through January 16 - No Festival

January 17 through February 24 - Epcot International Festival of the Arts

February 25 through March 3 - No Festival

(March 4 through June 1 - Epcot International Flower & Garden Festival

June 2 through August 28 (approx.) - No Festival

(2020 TBD) August 29, 2019 through November 23, 2019 - Epcot International Food & Wine Festival

(2020 TBD) November 24, 2019 through November 28, 2019 - No Festival

(2020 TBD) November 29, 2019 through December 30, 2019 - Epcot International Festival of the Holidays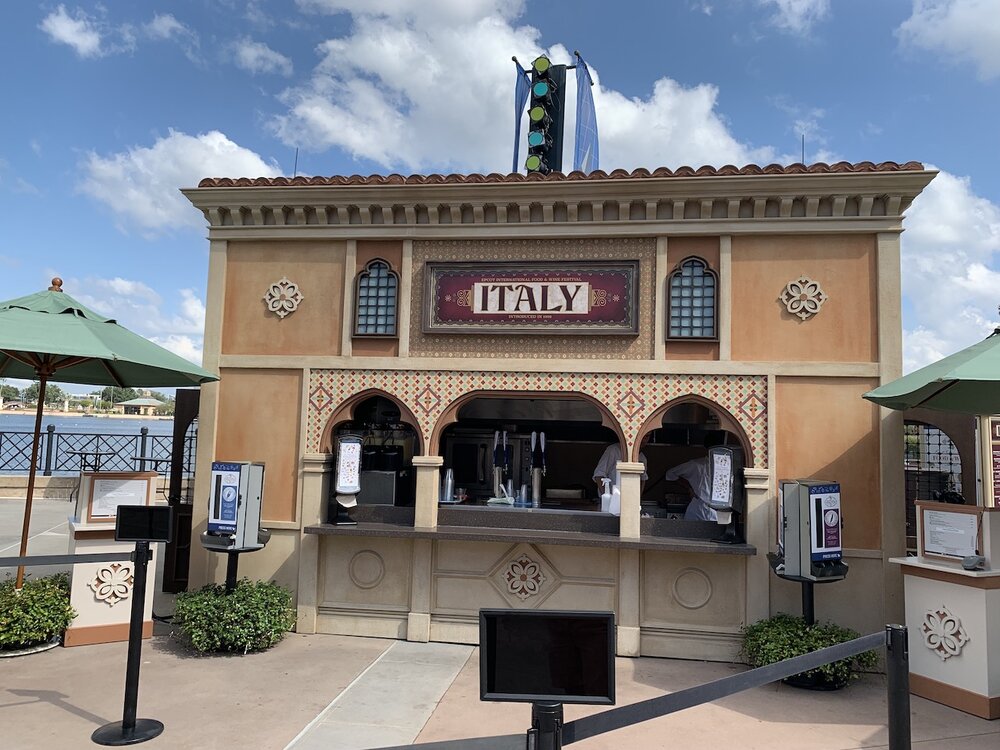 What You'll Find at Every Epcot Festival
Food and Beverage Booths. Epcot has a set of temporary / semi-permanent / permanent booths around the park that are used exclusively for added food and beverage during the festival. These booths sell (mostly) unique items that aren't available the rest of the year. These items are typically a good use of snack credits on the Disney Dining Plans.
A Feature Show at America Gardens Theatre. Each of the festivals has a feature show at the America Gardens Theatre. Access to these shows is limited and can involve multi-hour waits. They all have associated dining packages that guarantee admission, but you might still have to arrive early for a great seat.
Other Entertainment & Activities. These vary greatly by festival, but from free drawing classes to $300+ dinner shows, each festival has unique offerings throughout the park.
Merchandise. Each festival debuts new merchandise each year. Some, like Food & Wine, have several lines with a ton of items, while others (like Festival of the Holidays 2019) might have only a few items.
A paid scavenger hunt. Each festival has a paid scavenger hunt where you purchase a map (usually under $10), search the park for items, and then present your completed map for a small treat or item.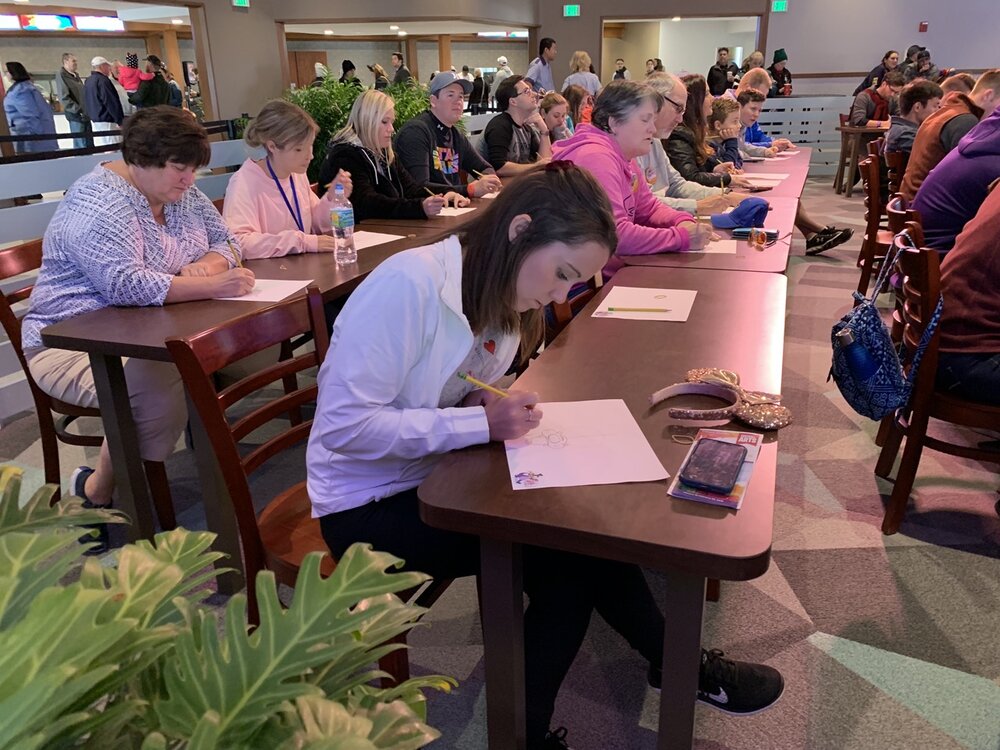 Should I Visit Epcot During a Festival?
Well, if you're already going to be in Disney World then you definitely should visit Epcot regardless of whether there's a festival or not. But if you're deciding whether to plan around a festival…
It's really a mix of pros and cons. The unique offerings of each festival are pretty cool, but how much they appeal to you will be personal. I, for example, don't like Food & Wine, which is the most popular festival.
I would never reschedule a trip to avoid a Festival, but I'm also thrilled everytime I plan a trip and discover there's no festival ongoing because I love taking the time to appreciate the heart of Epcot, particular with lower crowds.
Keep in mind that Epcot's world showcase is a festival unto itself. There are always snack stands at each pavilion. You can always drink around the world. And you'll always find cultural entertainment at most pavilions.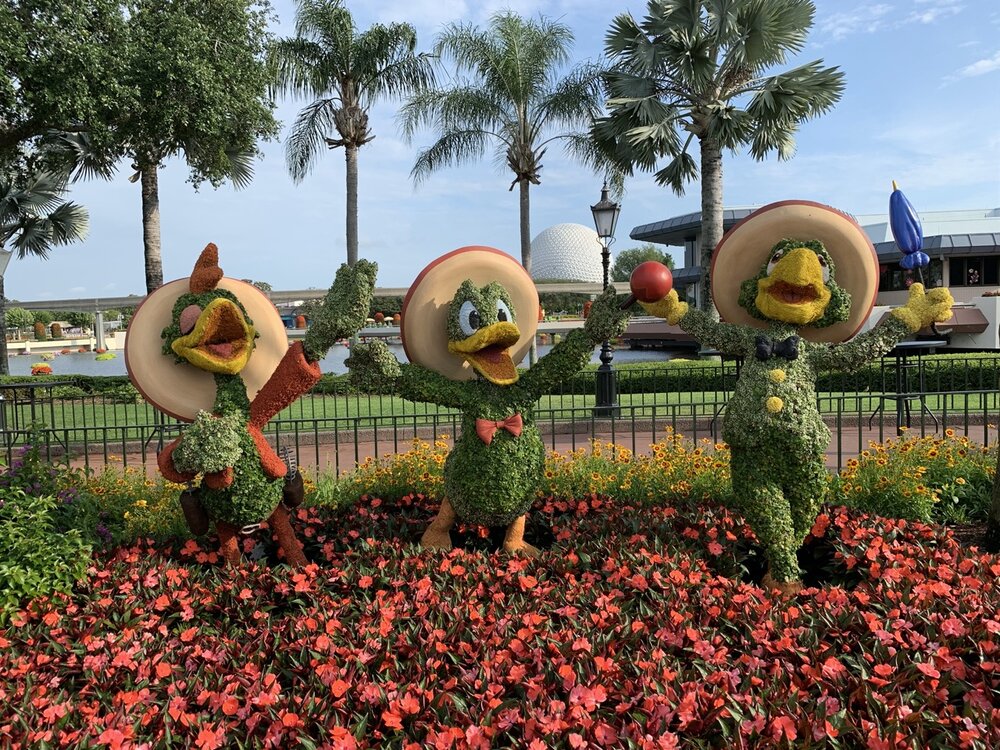 General Epcot Festival Tips
When To Visit
Avoid evenings and weekends. Festivals bring high local crowds, and most locals are free in the evenings and weekends. This leads to the park have disproportionate crowds at those times. And sometimes—like at the Food & Wine Festival—guests coming for the festival might engage in a bit more alcohol consumption than on an average day.
Avoid the first and last days. The first day of a festival will have lots of bloggers and vloggers, and the first and last weekends will have even more locals than usual.
Planning
Begin planning now. Festival activities and shows might fly under your radar. Several activities are required to be booked ahead of time, and the dining packages that guarantee seating at the featured shows often sell out ahead of time.
If it matters to you, research food ahead of time. We don't cover much food here, but there are several sites that review every food item at the festivals. Check out places like easyWDW and Disney Food Blog.
Grab a map, passport, and times guide. The map and times guide are always available at the front of the theme parks and contain essential information for navigating the park. Each festival also has a complimentary passport with details about the festival, including food and beverage menus.
Don't fixate on the booths. If you're a frequent Disney World guest…well you probably aren't reading this post. If you're traveling to Disney World once a year or less, then what does it matter to you if a food item is only available for a few weeks? Plenty of full-time items, like pretzels in Germany or shave ice in Japan, are worth getting even during the festivals.
Odds and Ends
Stay at Crescent Lake or on the Skyliner. If you're a die-hard for a particular festival, consider booking a hotel with convenient access to Epcot. All of Disney's hotels have free transportation to the park, but those on the Disney Skyliner have easy access, and those on Crescent Lake are only a short walk from the park.
Budget for merchandise. The festivals all have unique merchandise, some of which can be quite appealing. Keep this in mind when setting your merchandise budget for the trip.
Use dining plan snack credits. Guests on the Disney Dining Plans should be happy to find that most of the items available at the festival booths count as a single snack credit. These as consistently one of the best uses of snack credits at Disney World.
Best Festival For…
A lot of people ask "What Epcot festival is the best?" and the answer is just that it depends on what you're looking for. All of the festivals have strengths and weaknesses, and our opinion of a given festival might not be how you wind up feeling.
Each has all the elements—food, activities, ambiance, and entertainment—but we find that each of the four excels in one of these areas.
Best Food & Beverage — Food & Wine
No one should be surprised, but the Food and Wine Festival, held in the late summer / fall has the best selection of food and beverage, with over 30 booths compared to under 20 for the other festivals.
That said…were you really going to get through 20, or even ten booths worth food anyways? Each of the festivals has some unique options.
Best Activities — Festival of the Arts
With animation classes, the paint by number mural, paid workshops, unique photo ops, and a new free scavenger hunt in 2020, Festival of the Arts shines with its activities.
Best For a Stroll — Flower and Garden
With its topiaries and gardens, Flower and Garden Festival is meant to be enjoyed with a leisurely stroll around the park. If you're looking for a festival where you won't feel much pressure to do anything, this is a good one.
Best for Entertainment — Festival of the Holidays
Festival of the Holidays offers unique holiday entertainment (and cultural edu-tainment) throughout the World Showcase and the famed, celebrity-hosted Candlelight Processional.
All Your Other Disney World Planning Questions Answered
Don't be overwhelmed by Disney World planning! Take a second to check out our most important content and you'll not only be an expert, but you'll save big $$$ along the way.
Just starting out? Check out our Walt Disney World planning guide! If you're still picking dates, we've got everything you need to know about Disney World crowd calendars. For picking your hotel, check out our Walt Disney World hotels guide.
When it comes time to book we'll help you find discount Disney World tickets. Decide whether you need a dining plan in our Complete Guide to Disney World Dining Plans! And at 180 days out it's time to book those Disney World Advance Dining Reservations!
Don't forget to master your Disney World FastPass+ strategy a few months in advance. We'll keep you out of long lines so you can maximize the magical time in the parks! We've got park-specific guides as well: Magic Kingdom FastPass, Epcot FastPass, Animal Kingdom FastPass, and Hollywood Studios FastPass.
Know what to ride with our guides to: Magic Kingdom rides, Hollywood Studios rides, Epcot rides, and Animal Kingdom rides! Plus learn about the water parks with our guide to Blizzard Beach and our guide to Typhoon Lagoon! And for some some fun prep, check out our Ranking of Every Ride at Walt Disney World.
Finally, before you head out, be sure to check out our to-the-point packing list, 10 essentials you forget to pack for every Disney trip. And if you're interested in saving, there's no better list than our 53 Ways to Save on your Disney trip from start to finish.
Epcot Festival Calendar and Tips (2020)