Early Observations of the 2019/20 Superliga season
The 2019/20 Argentine Superliga is just coming out of the late summer FIFA break. Here's the table after matchday 5: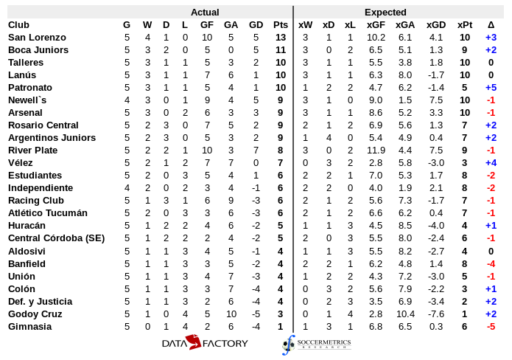 About 20% of the league season has been played (15% if you include the first stage of Copa de la Superliga), which doesn't provide enough context with which to make strong statements, but enough to see some trends emerge. Here are three or four of them:
This could be a closer title race between more teams than in recent years. Boca Juniors won their last two league titles almost wire-to-wire with some challenges by small provincial clubs (Godoy Cruz, Banfield, Talleres). Racing had more of a fight from Defensa y Justicia last season, but it was a two-team race and Racing were never overtaken. This season just might be different. San Lorenzo, who currently lead, have shown themselves to be able to score and defend, qualities that were lacking during the Jorge Almirón era. Boca Juniors have yet to concede a goal this season, which is a positive quality as they seek to replace Darío Benedetto's goals. Talleres, Lanús, Arsenal, and Newell's have all started the season well, something that is especially critical to the latter two teams as they try to avoid the relegation trap. And then we have the big unknown of River Plate.
River can be a contender if they decide to care about winning the league. Last season it was clear that River were prioritizing the Copa Libertadores over the Superliga. When they shifted attention back to the league in January, they lost three consecutive home matches, then went unbeaten in ten until the final matchday. This season they are back in another Libertadores Superclásico showdown, and they have had to alternate between first- and second-string players for their league matches. When their first XI is on the field, River can be awesome and fearsome, as they demonstrated against Racing. Of the top ten players in total expected goals+assists, three play for River: Nacho Fernández, Diego De La Cruz, and Matías Suárez. River have arguably the best manager in Marcelo Gallardo and one of the best goalkeepers in Franco Armani. It's clear that they will prioritize Libertadores for as long as they are in the competition. It's not clear for much of a handicap River will have when they focus back to Superliga.
Racing and Defensa with different fortunes this season. Last year's league contenders are now in the lower half of the table. Put aside Racing's disaster of a match against River, and their season doesn't look that bad. It's not great, with two goalless draws, but they did fight back to get a point against Vélez and beat up on a hapless Godoy Cruz. The problem is that Lisandro López is a year older (he'll turn 37 next March) and there's a big dropoff between him and other strikers on the side. Defensa are dealing with the typical aftermath of a small team being successful and players and staff getting poached. They have struggled to create chances, they have struggled to score, and they have struggled to defend. Relegation won't be a worry for them, but this season will test the directors' commitment to a long-term project.
Diego arrives at Gimnasia, but it won't change anything. The big news, without any doubt, has been the return of Diego Maradona to club management in Argentina, and to Gimnasia de La Plata of all teams. It was the kind of report that seemed ridiculous, then a strange plausibility, then reached a dumbfounded realization that it was going to happen after all. The arrival of Maradona has brought attention to Gimnasia that the club has not had since it was contending for league titles in the 1990s, and it probably surpasses that era. But when the Maradona high wears off, el Lobo will remain in a deeply precarious situation. They are currently ten points behind teams in the relegation table, and even if Central Córdoba (Santiago del Estero) and Arsenal return to the relegation scrap, they'll have to achieve at least three more wins than teams such as Rosario Central, Newell's, Colón, Patronato, or Banfield. That is an extremely difficult task with a team whose expected assists and goals are in the bottom third of the league. No amount of exhortation from Diego to bleed for the shirt will change that. But nonetheless, people will be watching to see if Diego can get Gimnasia out of the trap, and so will I.

Early Observations of the 2019/20 Superliga season