Paleo Peanut Butter Bars (vegan)
These paleo peanut butter bars only use 5 ingredients, are no-bake, super easy to put together and are also vegan.
Before you have any objections to these paleo peanut butter bars, I know full well that peanut butter isn't paleo. These bars are actually made with sunflower seed butter instead of peanut butter, but they taste really close! If you don't believe me, check out the reviews on my paleo peanut butter cookies recipe, where I have done the same thing successfully.
Sunflower seed butter of course doesn't taste exactly like peanut butter but after a few bites of these bars, I forgot that they weren't made with peanut butter. It could just be that I haven't had peanuts in so long but these bars 100% satisfied my peanut butter cravings!
I used homemade sunflower seed butter which is really pretty runny. If you use a different nut butter, you'll likely need less coconut flour.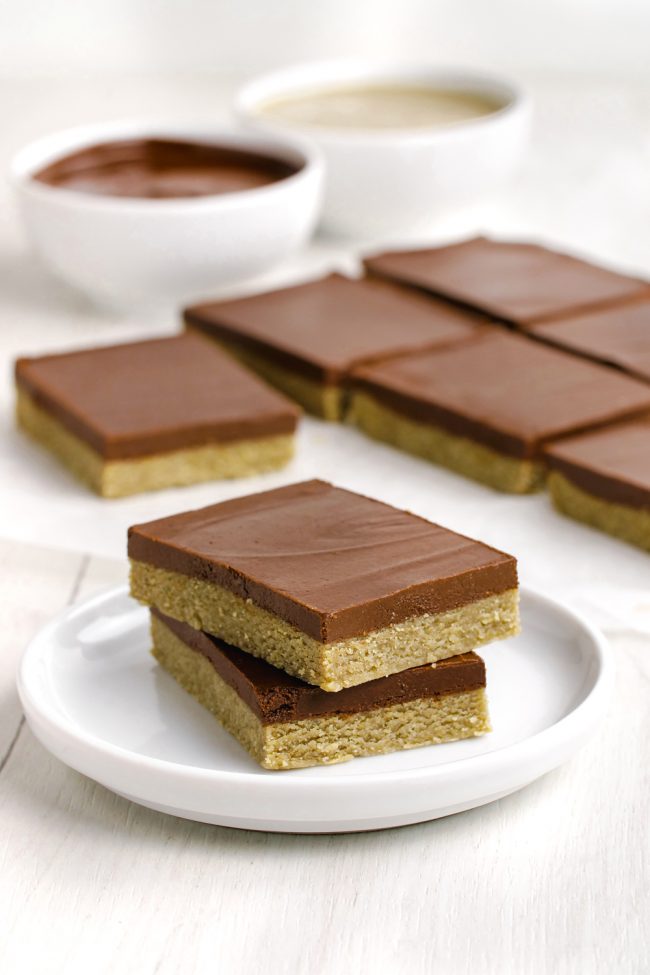 Especially if you use something particularly firm like cashew butter. At least my cashew butter is firm, not so easy to even spread and very far from pourable.
If you add too much coconut flour and the mixture is crumbly, then add vanilla or water, just a little at a time, until the mixture holds together better. The video shows you what consistency it should be.
These vegan peanut butter bars are nice and thick so the 8″x8″ pan will give you plenty to snack on. And they freeze great! If you're worried about portion control, you can hide them deep down in the freezer, a method that I utilize quite often. ;)
When I was young, I often made peanut butter bars with melted chocolate mixed with a little butter on top. This topping is so much better! It uses chocolate + sunflower seed butter.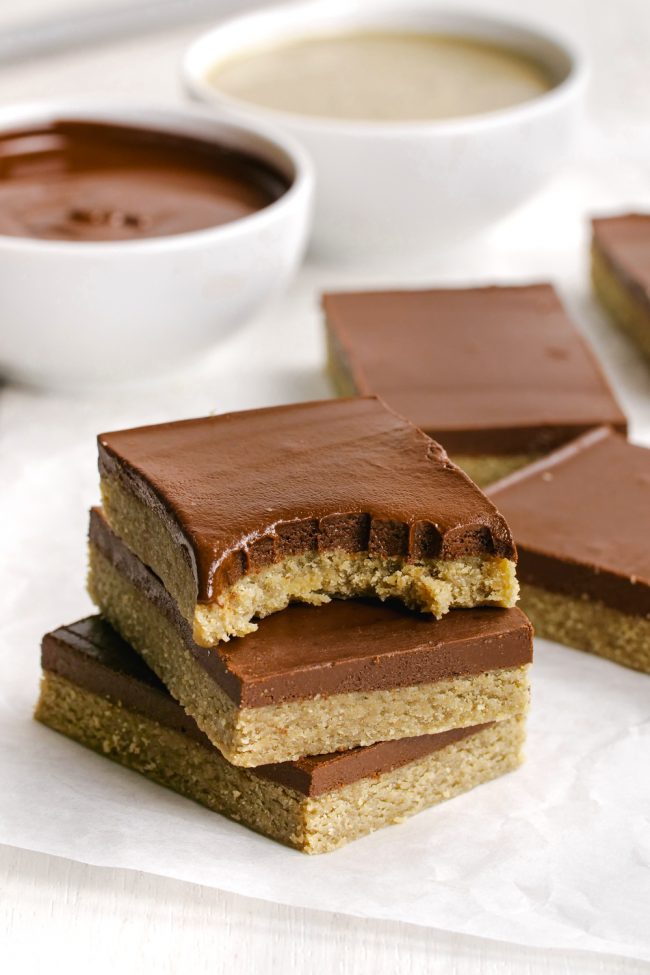 That change makes the topping softer and more fudgy. I thought about using my peanut butter chocolate fudge recipe (which can also be made with sunflower seed butter) but this way was much quicker, easier and I think just as tasty as a topping.
It's been a few weeks since I last posted. In my vegan chocolate cake post, I talked about my lack of posting recently and said that things would change in February.
We were supposed to have some childcare starting in January that would give me some time to work, but that didn't work out.
And the next two attempts didn't work out, either. All for reasons out of our control. Like one person changing professions and one person wanting to return to her home country.
Tomorrow begins attempt #4 with a babysitter. Wish us luck. :D
And sorry to anyone who has commented lately or had a question that I took a long time to answer! I normally try to respond not that slowly but have been having issues with the comments.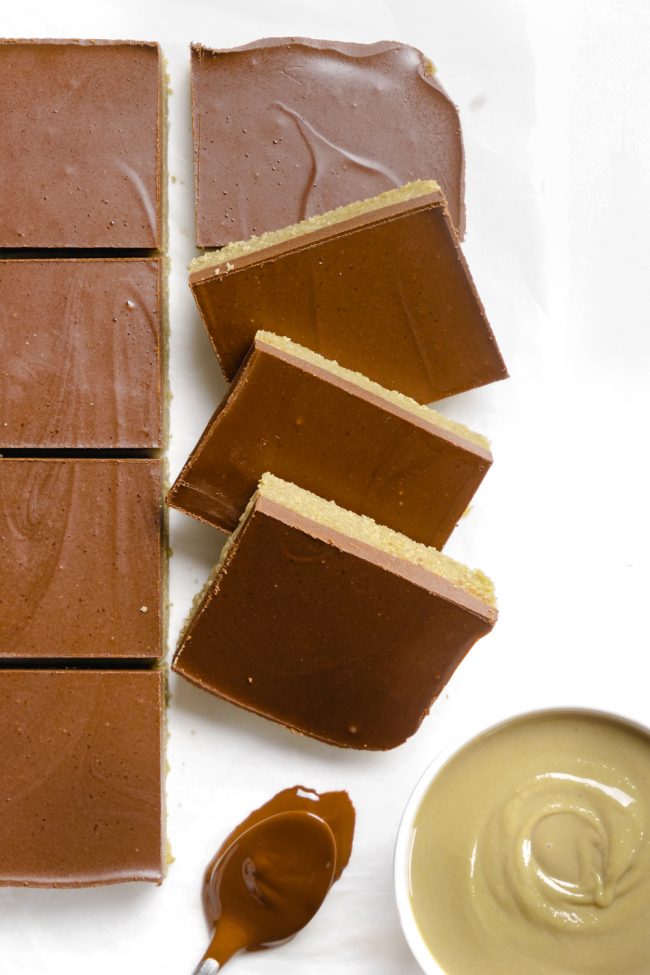 Questions about these paleo peanut butter bars?
Can you taste the coconut flour? Nope!

Can I use something other than sunflower seed butter? Any nut butter should work. Check out the post above for more details. And here's how to make homemade almond butter!

Can I use nut / seed butter with added fat or sugar? You could try if it's really runny and pourable but the result will be sweeter. I don't recommend the firm kind like Jif or Skippy although I guess it might work if you reduce the coconut sugar.

What can I use instead of maple syrup? It needs to be a liquid sweetener. I think using honey would make the bars taste more honeyish and less peanut buttery. I think you'd also need a little less honey or to add a little more vanilla or water.

Date paste might be yummy and I think would go well with the peanut butter flavor but I haven't tried it.

You could also try a granulated sweetener but then you'd need to add some water or milk. I have no idea how much to recommend and I'm not sure if it'd come out well so I suggest sticking to a liquid sweetener.

As for liquid stevia or any other low-carb sweeteners, I have no idea! Sorry.
Can I use a different flour? Unfortunately not. Coconut flour is way more absorbent than any other type of flour.

So you don't need much to get the right texture. If you tried almond flour (or something else), you'd have to add way more and then the proportions of all the ingredients would be off and not taste right.

Oat flour might work but I haven't tried it.

Can I reduce the sugar? I used the least amount that I thought was enough. You could try reducing it by a little, but then add less coconut flour.

If you try these paleo peanut butter bars, I'd love to hear how they come out!

❀

Paleo Peanut Butter Bars (vegan, gluten-free, dairy-free)

Prep Time:
Cook Time:
Ready in:
Yield:

Desserts

Ingredients

Directions

Line an 8"x8" pan with a piece of parchment paper. In a medium mixing bowl, stir together the sunflower seed butter, maple syrup and vanilla until well combined. Add the salt and coconut flour (starting off with 2/3 cup) until well combined. Let sit for 10 minutes to let the coconut flour absorb the moisture. If it's not firm enough (see the video), add the remaining coconut flour. Pat onto the bottom of the prepared pan.
Prepare the topping. Mix together the seed butter and melted chocolate and spread over the bottom layer. Chill for 2-3 hours or until firm enough to cut into bars.
Keeps well at room temperature for a few days if it's not too warm. Otherwise, refrigerate for up to a week or freeze for several months.

Recipe by Texanerin Baking | www.texanerin.com
Paleo Peanut Butter Bars (vegan)