Saffron Red Pepper Oil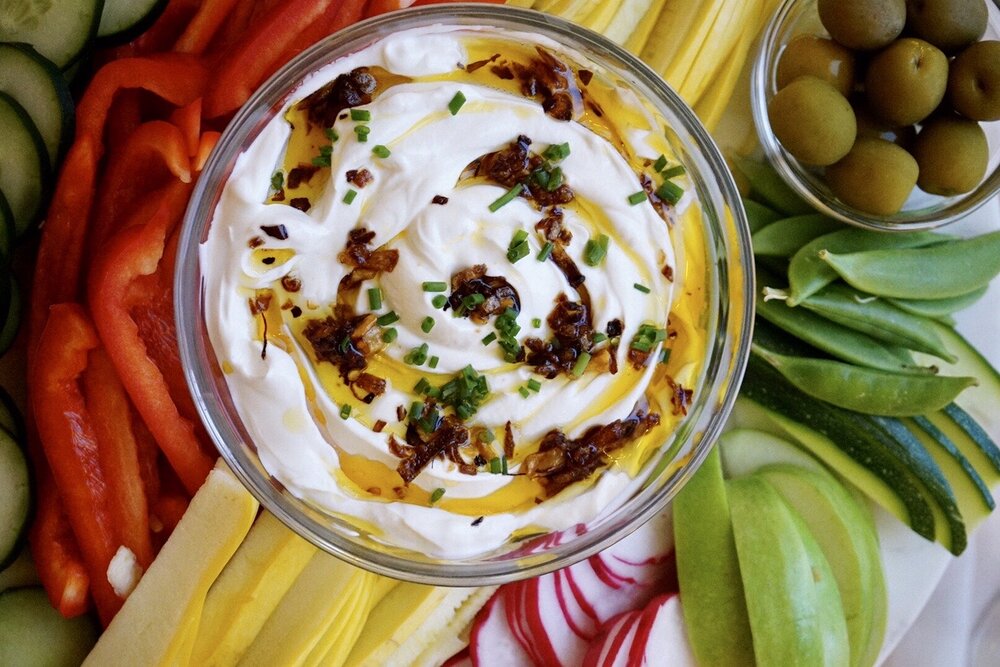 I infused saffron and crushed red pepper flakes in olive oil, and then swirled into Greek yogurt for a spicy, delicious homemade party dip. I served this at my Christmas party with a tray of freshly cut veggies, and it was such a hit that I made it again for New Year's!
The olive oil that I used, Filippo Berio's California Extra Virgin Olive Oil, imparts a natural peppery finish, making it perfect for this spice-infused oil that's cooled off by the creamy, slightly acidic Greek Yogurt and variety of colorful veggies.
To make this dip, I heated a half cup of olive oil in a small skillet with a couple of threads of saffron and a tablespoon of red pepper flakes. I cooked it over low until the oil turned orange from the saffron and pepper flakes. I then added half of an onion, finely diced, and cooked it until the onions were softened, just a few minutes.
I took the oil off the heat and transferred it to a glass container, which keeps covered for a week. But, once it's party time, I added a pint of Greek yogurt to a bowl, and seasoned with some salt, pepper, and lemon juice from 1/2 of a lemon. I then added the oil and swirled it in a design. But, once the party started, I added even more of the oil (all of it, really) to the dip because the oil is that good!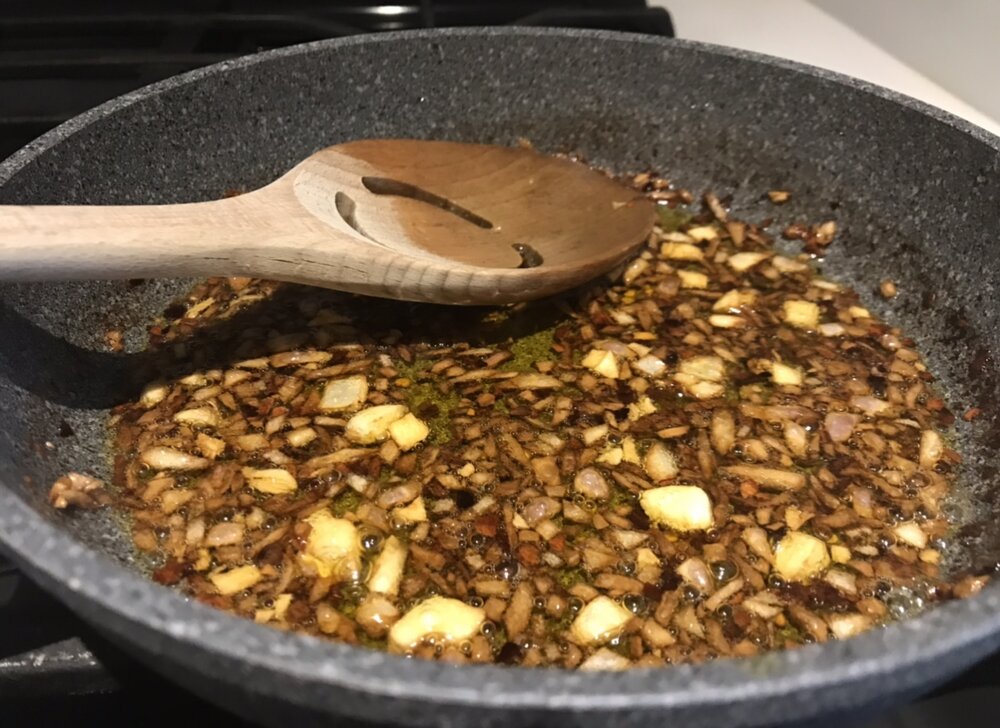 Of course, you can do so much more with this oil—add some seasoning and it will be excellent drizzled on chicken or fish. I topped the dip with some chives to add some green. This is another hit inspired by Alison Roman's Nothing Fancy, and I now make sure to keep a jar of this on hand to jazz up all of the dishes I'm making in the new year!
Saffron Red Pepper Oil Recipe
1/2 cup Filippo Berio's California Extra Virgin Olive Oil
2-3 saffron threads
1 tablespoon red pepper flakes
1/2 onion, finely diced
Add the Filippo Berio California Extra Virgin Olive Oil to a small skillet with the saffron threads and pepper flakes. Heat over low until the oil turns orange.

Add the onion and cook until the onion is translucent—just a few minutes.

Remove from the heat so that the onion does not burn. Transfer to a glass jar and store, covered, for up to one week.
Saffron Red Pepper Oil / Vegetable Dip Recipe
1 pint (16 ounces) Greek Yogurt
1/2 lemon
salt and pepper, to taste
Saffron Red Pepper Oil (see above recipe)
Assorted veggies for serving: squash, zucchini, bell pepper, radishes, cucumber
1 teaspoon chopped chives, for ganish
salt and pepper, to season
Add the greek yogurt to a bowl with the juice from half of a lemon. Stir. Season to taste with salt and pepper.

Swirl in the red pepper oil. Cover and refrigerate until ready to use.

Prepare the assorted veggies by chopping.

When ready to serve, sprinkle chopped chives on top.
This post has been generously sponsored by Filippo Berio.
Saffron Red Pepper Oil