Rick Porcello Should Have A Job By Now
Rick Porcello's time with the Mets in 2020 began by allowing seven runs in two innings to the Braves. A normal season would have offered him many more starts to help his numbers recover from that performance, but as it was, he took to the mound just 11 more times. So despite giving up two runs or fewer in five of his remaining appearances, his ERA for the season landed at an unsightly 5.64 — the second straight year in which it finished above 5.50.
With that in mind, it isn't a huge surprise that Porcello, 32, is still unemployed one week before the regular season begins. Throughout his 12-year career, his value rests more on the quantity of his innings than the quality — over 2,000 in total now, and a pre-2020 average of 185 a year. It makes sense that teams would want to be cautious if his skills seem to be deteriorating. I'm not convinced that's the case. The Porcello of last season bore a lot of resemblance to the Porcello of years before, including the one when he won a Cy Young award. He's still deserving of a big league job. Let's find him one.
It's hard to assess how good or bad Porcello actually was last year. His ERA was the worst of his career, but his 3.33 FIP was his best. At 1.7 WAR, he was just inside of our top 25 pitchers in baseball, tied with Sonny Gray. Mets fans likely thought of him as a disaster, but he actually would have been the most valuable pitcher on 14 different teams.
Rick Porcello vs. Your Team's Best Guy, 2020
So was he one of the worst starters in baseball, or was he a borderline ace? The answer is somewhere in between. He got a little bit lucky on his HR/FB rate, and after accounting for that, his xFIP jumped to 4.38 — still on the right side of league average, but just barely. Everywhere else, he was unlucky. His .373 BABIP was the highest of any pitcher with at least 40 innings, and his 59.5% LOB rate was second-lowest. He was legitimately good at limiting homers and was his typically stingy self when it came to free passes, but when batters put a ball in play, he often got burned.
And when it comes to Porcello, the ball is in play quite frequently. He doesn't miss any bats, and I mean that literally. He had the fourth-lowest swinging strike rate (6.4%) of any pitcher with at least 40 innings pitched last season, and his CSW% — the percentage of his pitches that resulted in either a called strike or a whiff — was baseball's third-lowest, at 24%. Considering those numbers, it's kind of shocking he managed to strike out 20.7% of the batters he faced, a better rate than 40 other pitchers in baseball who threw 40 or more innings in 2020.
How scary is his opponents' contact rate against him? On its face, not very. While Porcello's CSW% did dip to a career low last year, it wasn't a stark departure from his career average of 26.1%. His whiff rates on their own have also been low throughout his career. His deserved strikeout rate is probably below what he actually recorded in 2020, but this is someone who managed to be a valuable pitcher for the first several years of his career despite struggling to drag his strikeout rate above six per nine innings. Getting hitters to flail wildly before walking back to the dugout isn't a requirement for his success.
What Porcello has to do is make sure batters aren't happy with the contact they make against him, and that certainly was not the case last year. Hitters' expected wOBA on contact — xwOBACON, if you're hungry — was .412, the 19th-highest out of 133 pitchers who faced at least 150 batters last season. His real wOBACON of .404 wasn't much better. That isn't necessarily a sign that Porcello is unplayable; among the pitchers with worse xwOBACONs were Jack Flaherty and Max Scherzer. But it is a sign that his crazy-high BABIP can't be chalked up just to bad luck. And while Flaherty and Scherzer strike out enough batters to minimize the impact of bad rate stats on balls in play, Porcello doesn't have that luxury.
The culprit here isn't hard to find. Want to keep your opponents from getting hits on balls in play? Don't let them hit line drives. Liners resulted in a BABIP of .599 last year, while ground balls had a BABIP of .237, and fly balls had a BABIP of .089. Porcello, wouldn't you know it, gave up a ton of line drives; 27.1% of all his batted balls, as a matter of fact. Unlike his low whiff rates, that's not something he's had to overcome in the past.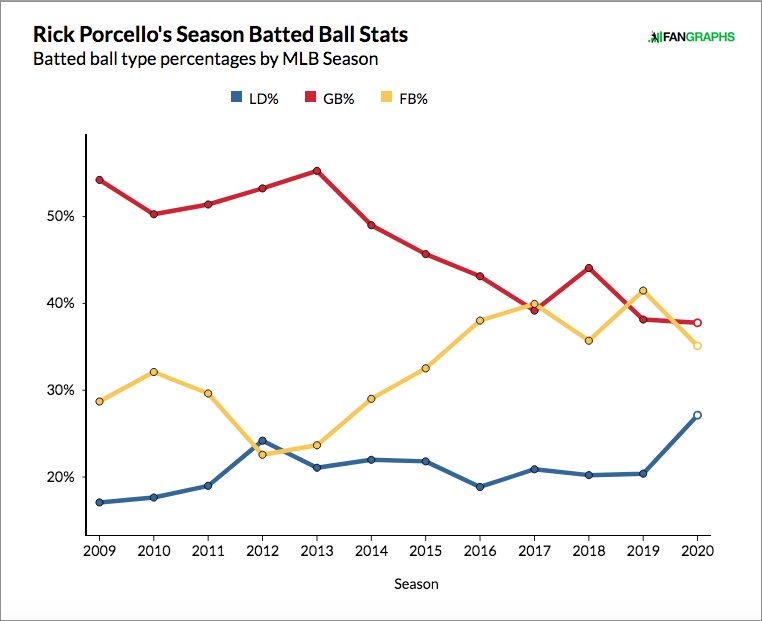 There could be a few different things at work here. It could be short season funkiness, turning what might have otherwise been a typical season into an outlier. Who he faced also likely had an impact: six of his 12 starts came against the Nationals and Braves, who ranked second and third respectively in line-drive rate last year. Maybe, though, Porcello's stuff was just more hittable. He didn't lose any velocity last season, but he did see a drop in his spin rate, as well as some noticeable dips in movement.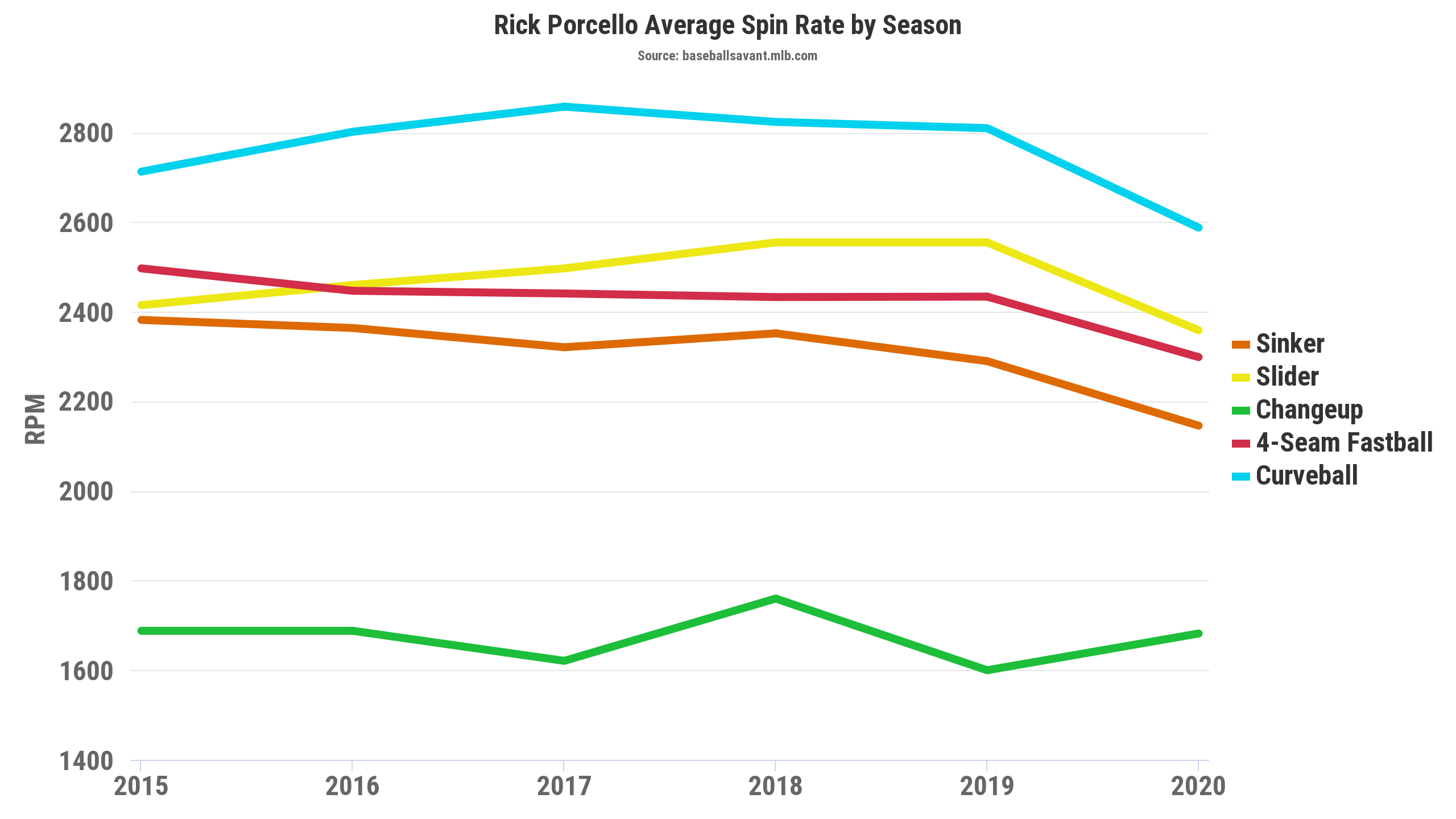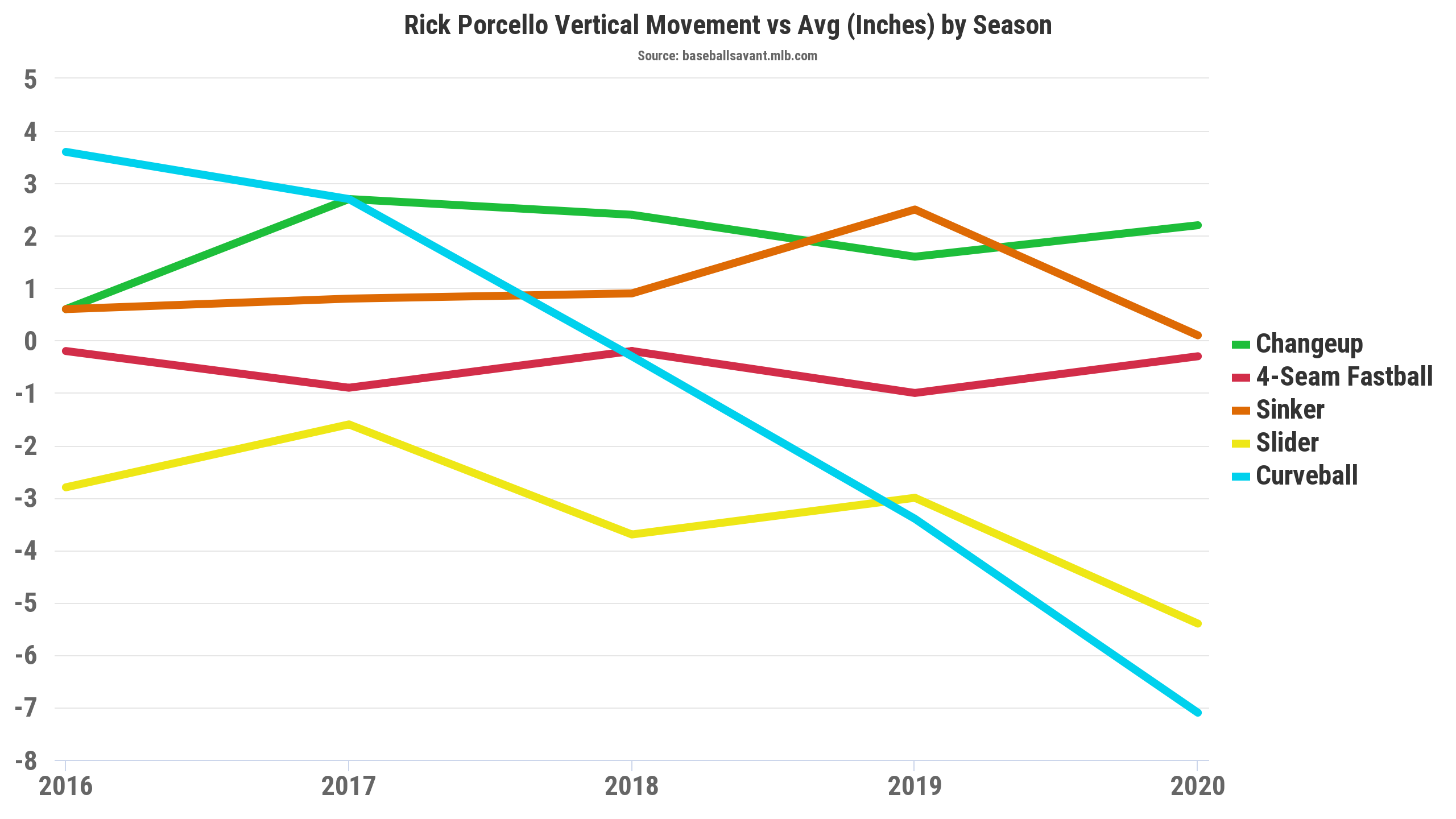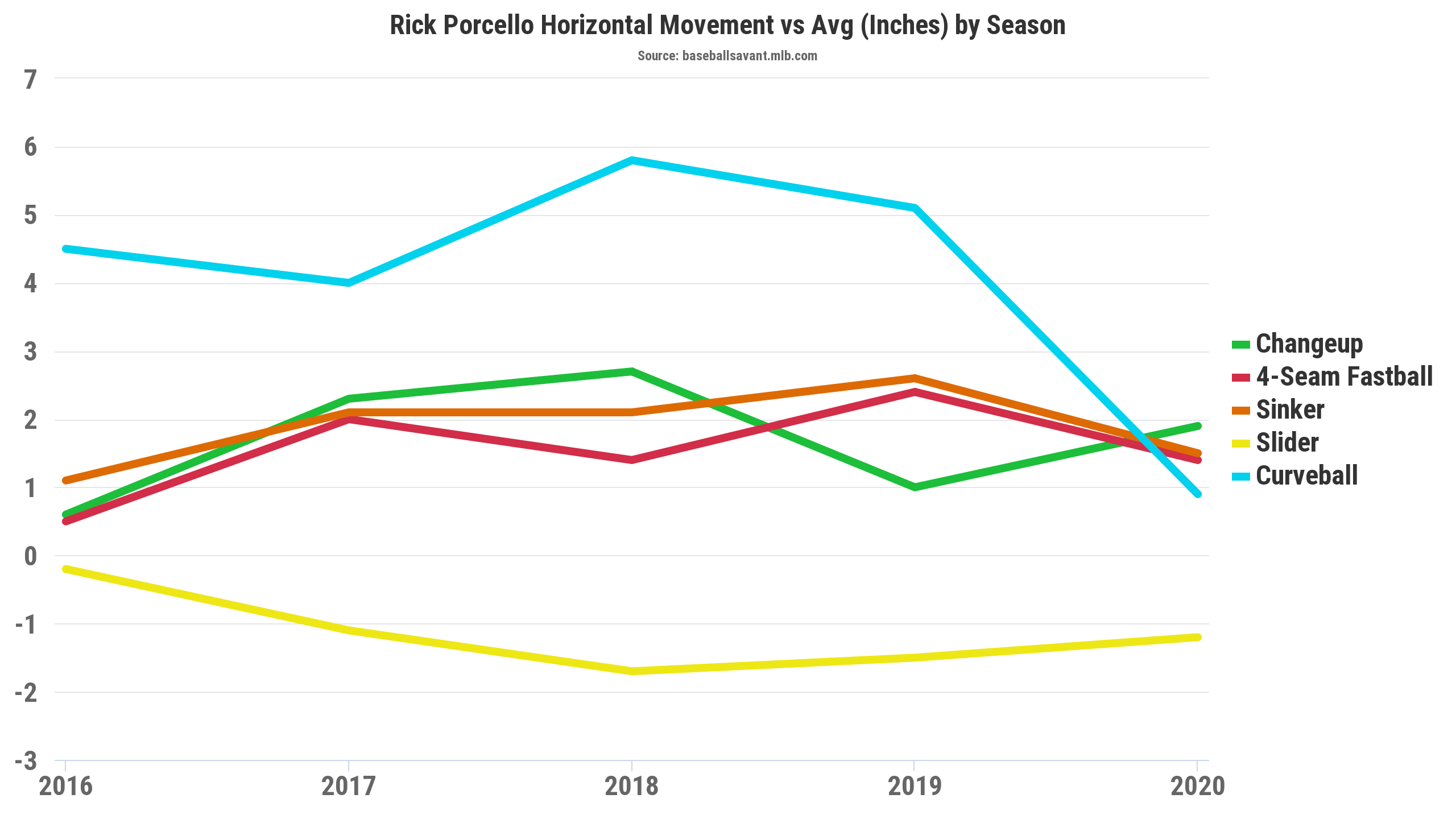 I know the curveball stands out a bit on these charts, but try to ignore those; they were just 5% of his pitches last year. What's more important is the sinker and slider data. Porcello significantly increased the usage of both those offerings last year to a combined 71.8%, making them his two primary pitches. Those happen to be the only two pitches with increased line-drive rates, and the jump for both was significant.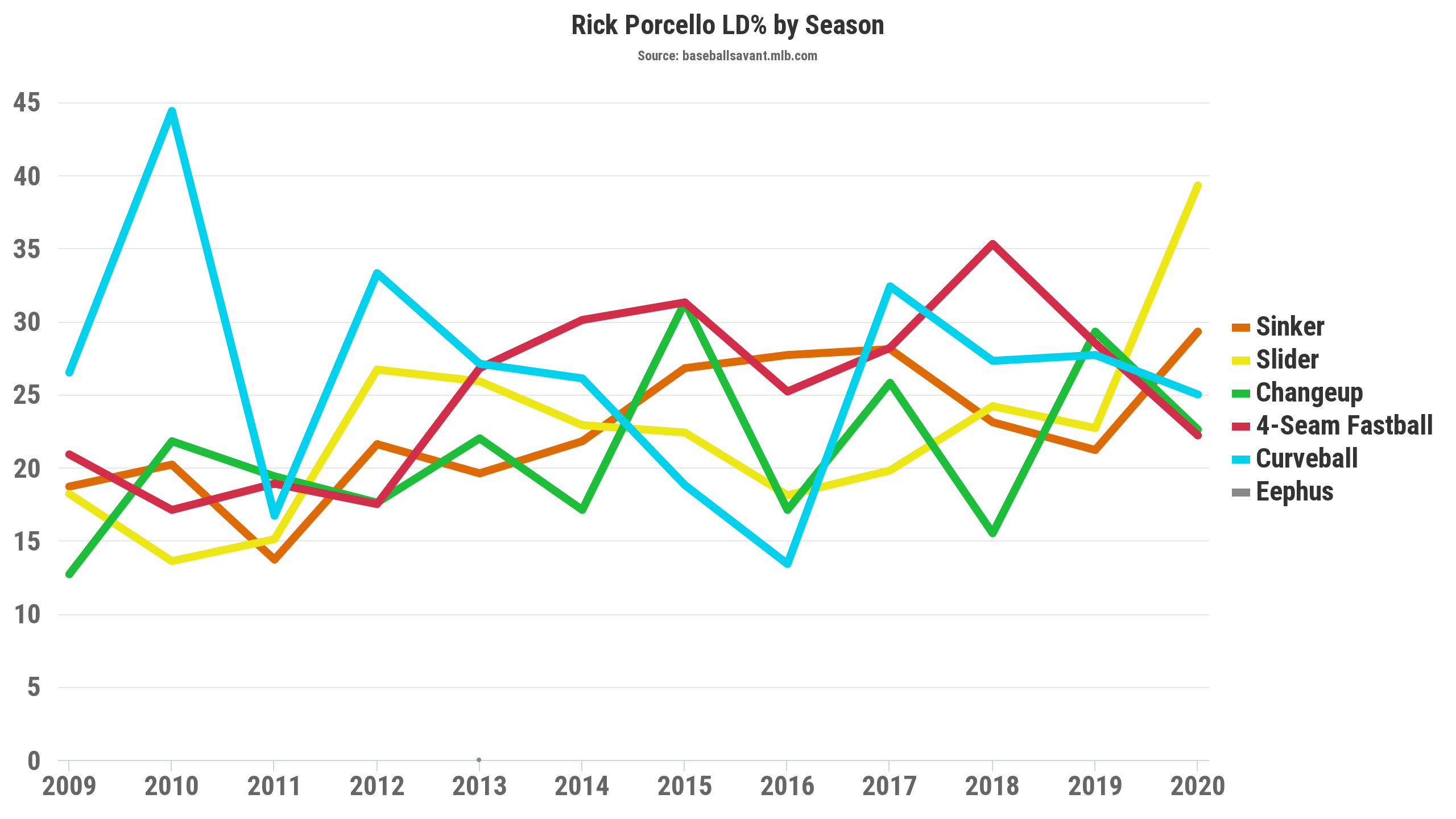 Porcello was throwing a lot of flat pitches last year, and opponents were squaring them up easily. It's not hard to understand why that kept him off teams' shopping lists earlier in the winter.
I think there's something to be salvaged here, though. Porcello still throws a ton of strikes, even with his secondary stuff; his breaking stuff could be more potent if thrown outside the zone more often. He also still has his durability: He's been on the injured list just once in his career, all the way back in 2015. There's a chance that things could get even worse if his strikeouts regress to match his CSW rates and his contact doesn't improve, but I think there's at least as good of a chance he figures out a couple of tricks to bring that ERA back to league-average or better.
That's not the most enthusiastic endorsement of a free-agent pitcher, but it describes someone who could help a lot of teams. The Diamondbacks, Reds, Athletics, Cardinals and Giants have all lost at least one member of their projected rotation to injury this spring. Porcello's presence wouldn't be a quick fix, since he's missed enough of spring training that he would need to build up before appearing in a regular-season game. But some of those holes are will still exist in a month or so, and they aren't the only ones. Hopeful contenders like the White Sox, Red Sox, and Cleveland all have question marks in the back of their rotations, and there enough injury questions with teams like the Yankees, Blue Jays and Angels that a durable pitcher like Porcello could mean a lot down the stretch.
I have no insight into what Porcello has been asking for this winter, or that he and his agent haven't demanded a multi-year deal. But I have my doubts that's the case. He wasn't a great pitcher last year, and chances are he won't be this season either, but it's bizarre that there has been so little interest in him this winter. But while it's too late for Porcello to make a difference to anyone in April, I wouldn't count out him helping in September.
Rick Porcello Should Have A Job By Now