Joseph Smith Papers, Documents Volume 11
Spencer W. McBride, Jeffrey D. Mahas, Brett D. Dowdle, and Tyson Reeder, eds., The Joseph Smith Papers, Documents Volume 11: September 1842-February 1843 (Salt Lake City: Church Historian's Press, 2020).
John C. Bennett, con man, and political insider, and former Joseph Smith confidante, left the Church of Jesus Christ of Latter-day Saints in July 1842. His departure catalyzed a series of changes within Joseph Smith's religious movement, particularly as the Latter-day Saint prophet and his followers scrambled to adjust to the curious media's attention and their neighbor's vitriol.
Those changes are transcribed, annotated, and verified in the 105 documents that comprise the eleventh volume of the Documents series of the Joseph Smith Papers, released in October 2020.  These documents fall broadly into three categories. First, the extradition attempts led by Lilburn W. Boggs, related to an assassination attempt that took place on May 6, 1842. The Missouri governor believed that the Latter-day Saints bore responsibility, and, so his logic went, it must have happened on Joseph Smith's orders. The Latter-day Saint leader won a court case that denied Missouri's extradition attempt—Smith's followers celebrated at parties and in song.[1]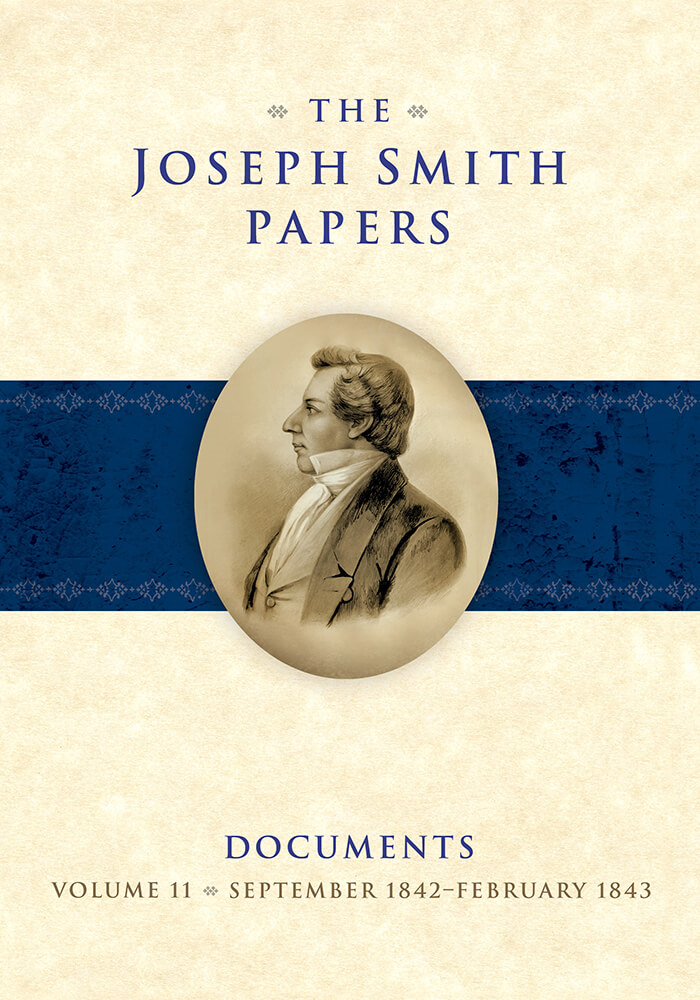 Smith was also busy trying to put out the gossipy blaze that was John C. Bennett's speaking tour. The former Nauvoo mayor and member of the LDS Church's First Presidency had published several letters that shared scandalous details about Joseph Smith's practice of plural marriage. As the JSPP editorial team writes, "Smith was, in fact, secretly practicing plural marriage in Nauvoo by this time." Furthermore, "he had introduced the practice to a small circle of Latter-day Saint, but most church members were not aware of it."[2] Bennett spun some yarns and "seemingly fabricated" several of his claims, but the truth was irrelevant to a hungry public's appetite for salacious details about the Mormon prophet.[3]
Lest readers and historians forget, Joseph Smith was also a religious leader. Documents 11 shows how Smith directed his church, oversaw the temple's construction, wrote editorials for the Church's newspaper, and elaborated on his teachings regarding the practice of vicarious baptism for the dead. Of utmost importance is also remembering that Joseph Smith felt a deep-seeded duty to protect "his family and his fellow Latter-day Saints from persecution." (JSPP Press Release).
---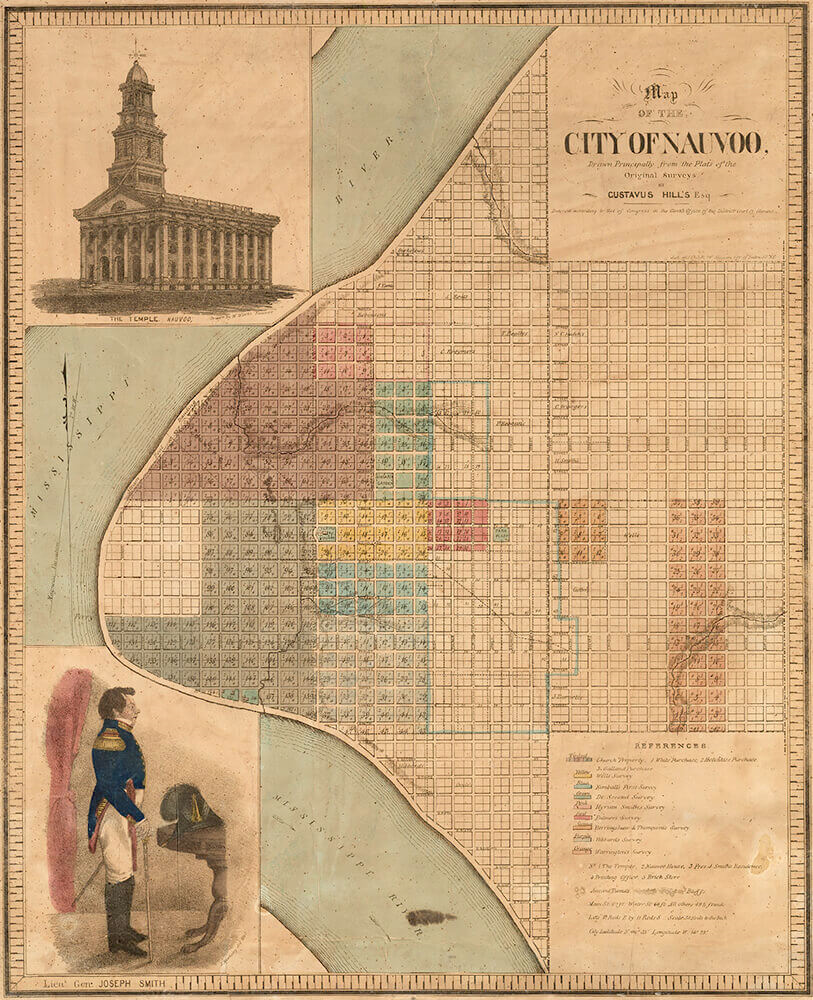 The JSPP volume editors for D11 were gracious enough to meet with scholars and journalists to share a few personal reflections and highlights.
Spencer McBride began with a quote from Joseph Smith's journal from a different JSPP volume to introduce what the Latter-day Saint prophet said about his leadership: that he did not expect perfection from his followers and they should not expect perfection from him. Infallibity was never on the table. Which, McBride reminds us, is important to keep in mind for both devotional members of the Church and scholars. I would add a paraphrased line from O Brother Where Art Thou: one's ideals and one's actions don't always align.
Brett Dowdle introduced a letter from September 7, 1842 on baptisms for the dead. Like Dowdle, I was fascinated by the time that Smith took, while in isolation while evading Missouri's authorities, to dictate such a long letter. Smith included an immense amount of detail, he said that "you may find this very particular," but it's because of his commitment to preserving a record that could be used by God at judgment. Historians everywhere may have different concerns, but I think I speak for us all when I say "thank you for insisting on careful recordkeeping!"
Jeffrey Mahas explained that Joseph Smith spent a lot of this time in hiding while negotiating his way out of Missouri's arrest warrants, related to a murder attempt on Lilburn W. Boggs' life. Mahas calls this likely the greatest legal victory of Joseph Smith's life. When returning home from court, several Saints composed a song, including lines by Eliza R. Snow. MAHAS THEN SANG THE FIRST VERSE. Friends, this was a time never to be forgotten.
After a stirring rendition of the jubilee song, Mahas pointed out that the song praised Thomas Ford, who later becomes notorious in Mormon history. Eliza R. Snow's wrote:

"Protection's wreath again will bloom
Reviv'd by Thomas Ford;
Which under Carlin had become
Like Jonah's wither'd gourd…

Like Freedom's true and genuine son,
Oppression to destroy,
His Excellency has begun
To Govern Illinois…

His 'Mormon' subjects fondly trust,
The citizens will share,
A legislation wise and just,
While he retains the Chair,
While foul oppression's &c.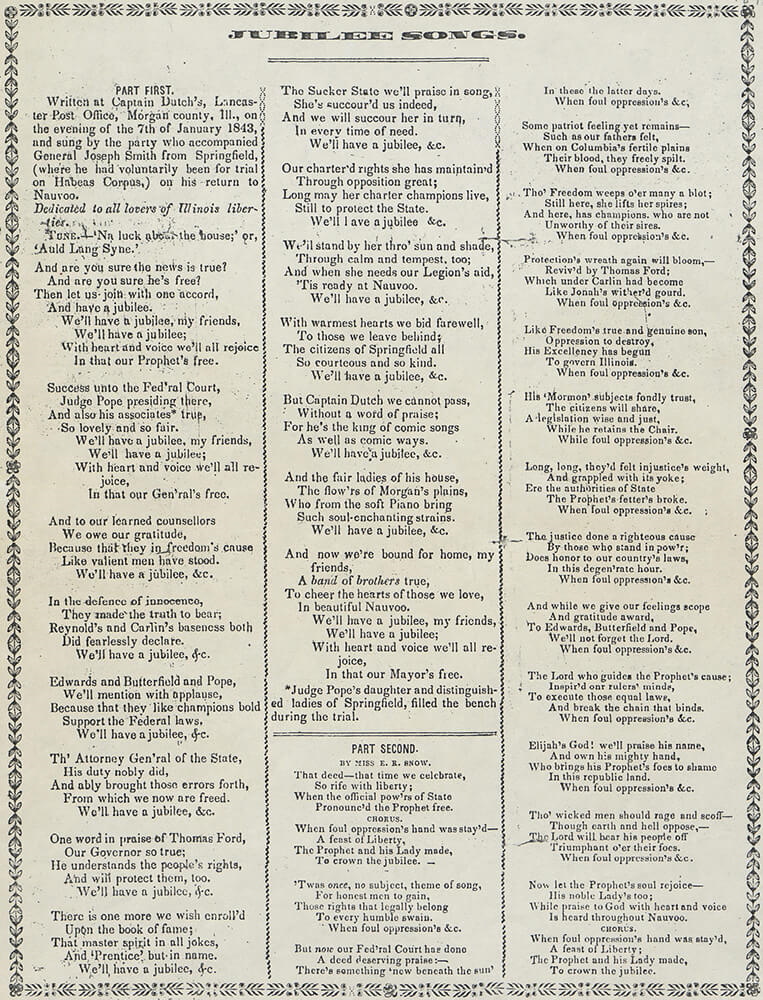 On to the Q&A:
Dowdle noted that the September 7 letter was special because he doesn't necessarily produce long letters or discourses like that document, but that he's still operating with "space" to think. McBride noted that Smith's life was busy at this time (per usual), but that he was still busy. The types of documents are unique in this period because he's not preaching, but he's able to produce a lot of documentation, including on things like currency. Mahas added that he is in hiding, but still near Nauvoo. Smith ends up moving thirty miles upriver from the City of Joseph, where he doesn't have friends, family, or scribes to record his thoughts at this point (Smith preferred to dictate rather than write). A later account by someone who spent time with Joseph Smith at this time remembered a lot of boredom.
In response to a question about Bennett, McBride said that Joseph Smith was on the defensive, but that it's essential to remember that many of Smith's teachings are geared towards assuring converts moving to Nauvoo. Many are coming to Illinois expecting jobs and could be disappointed in what was available. Smith's concern was with the Saints, though it would be oversimplifying to discount Bennett's speaking tour against Mormonism.
A question came in about the consistency in annotation, style, etc. comes from frequent review, collaboration, and a consistent effort to have an authorial voice.

So what are you waiting for? Buy the book!
[1] JSPP, D11, 317, 335.
[2] JSPP, D11, xxiv
[3] JSPP, D11, xxiv
Joseph Smith Papers, Documents Volume 11