DHD: Even More Thoughts During a Pandemic
Greetings,
I'm still alive and glad that you are too! And thank you for reading!
Here's six timely topics that I hope you find encouraging to read.
Status of churches
I read this morning Aaron Earls article "Most Churches Have Stopped Meeting, Few Plant to Meet on Easter." The headline sounds more discouraging than what is being shared in the article.
Because of the COVID-19 crisis, many churches are involved in online worship services, according to Earls, and though nearly half of the churches (47 percent) he surveyed said they will not meet in person for Easter, many are making alternative plans for church members to observe Easter in innovative ways.
Oklahoma Baptists leadership is providing ideas for churches to consider for Easter. You can read about it here.
Giving also is down in churches, which should be expected. But with 52 percent of the pastors saying giving is not what is was before the crisis, it could be much worse. I just read a letter from my pastor who said giving was about 10 percent below projections, yet my pastor said this is "a testimony of God's faithfulness."
Earls reported more churches are being innovative in small group meetings. More than half (55 percent) of the churches surveyed have adult groups meeting online. My church recently reported more than 30 small groups met using Zoom web-based conferencing, including the small group I lead. We had five people in my group meet online last Sunday.
I have more to say in this week's DHD as far as the encouraging responses to the crisis, but what I would say, as far as churches, God is working through the Body of Christ.
Praying through the Psalms in April
I made a change in my Quiet Time this year. For at least five consecutive years, I have used a daily Bible reading schedule, and I recommend doing this. It have been a great process in helping me grow in the faith.
The reason I decided to do something different is I did not want to go through the motions of reading the Bible as if my mind was on autopilot. So I chose a daily devotional by Henry and Richard Blackaby, which I have mentioned in previous DHDs.
What my devotional schedule has allowed me to do this year (by the way, next year, I will probably go back to reading my Bible through the year), is the possibility of adding to my daily Quiet Time, which I will do through the month of April.
I am joining Tevin Wax in praying through the Psalms this month. Trevin gave the invitation in his March 31 blog.
Three times a day, I follow the plan Wax offered as a download. We are supposed to stay at home during the crisis, and this mandate will likely continue through April, so I figured this is a good time to begin praying more each day.
I've enjoyed the format. It includes a call to prayer, praying through five Psalms a day, praying the Lord's Prayer each prayer time and a blessing to conclude each prayer time.
I may give you an update in upcoming DHDs.
What children will think after the crisis
Let's be visionary for moment. Have you thought about what the world will be like once this crisis is over? I don't know when it will be over, but I do believe this crisis will end at some point.
Mark Dance is a great encourager. He joined the Oklahoma Baptists staff this year, as the east central regional ministry partner and director of pastoral development, and he is a great writer.
I'm planning to feature Mark's recent article "4 Things Our Children will Remember About COVID-19" in an upcoming Baptist Messenger print edition. This is a great piece that allows readers to consider how the next generation will continue once this crisis is over.
"For adults," Mark wrote, "this awkward asylum is an excellent opportunity to invest in the most important people in our lives—our family. Our children and grandchildren will probably remember this crisis as being the longest and best Spring Break of their lives. They are likely less concerned about the cancelled vacation than we are because they just want our loving attention."
What is God doing?
I first heard Jackie Hill-Perry at a conference in Nashville about six years ago. She has a clever wit.
Jackie also is very transparent about her spiritual journey, which she shared recently in her article, "What in the World Is God Up To?" She also provides some deep thoughts about God and wondering what He is doing with this pandemic.
It's an excellent piece, and you should definitely read it and see if you share similar thoughts that Jackie offers.
"We were so used to life as usual that it feels unusual to do life this way," she wrote. "But I'd argue that that is exactly where God may want us to be for a season."
Another future application
One of the first things I read this morning was a comment on Facebook from my cousin Amy. It's so good and definitely applicable for everybody. Ponder for yourself what she wrote:
"Just so I NEVER forget….. April 2, 2020
Gas price was $1.55.9
School cancelled – yes cancelled
Self-distancing measures on the rise.
Tape on the floors at grocery stores and others to help distance shoppers (6ft) from each other.
Limited number of people inside stores, therefore, lineups outside the store doors.
Non-essential stores and businesses mandated closed.
Parks, trails, entire cities locked up.
Entire sports seasons cancelled.
Concerts, tours, festivals, entertainment events – cancelled.
Weddings, family celebrations, holiday gatherings – cancelled.
No masses, churches are closed.
No gatherings of 50 or more, then 20 or more, now 10 or less.
Don't socialize with anyone outside of your home.
Children's outdoor play parks are closed.
We are to distance from each other.
Shortage of masks, gowns, gloves for our front-line workers.
Shortage of ventilators for the critically ill.
Panic buying sets in and we have no toilet paper, no disinfecting supplies, no paper towel no laundry soap, no hand sanitizer.
Shelves are bare.
Manufacturers, distilleries and other businesses switch their lines to help make visors, masks, hand sanitizer and PPE.
Government closes the border to all non-essential travel.
Fines are established for breaking the rules.
Stadiums and recreation facilities open up for the overflow of Covid-19 patients.
Press conferences daily from the President. Daily updates on new cases, recoveries, and deaths.
Government incentives to stay home.
Barely anyone on the roads.
People wearing masks and gloves outside.
Essential service workers are terrified to go to work.
Medical field workers are afraid to go home to their families.
This is the Novel Coronavirus (Covid-19) Pandemic, declared March 11th, 2020.
Why, you ask, do I write this status?
One day it will show up in my memory feed, and it will be a yearly reminder that life is precious and not to take the things we dearly love for granted.
We have so much!
Be thankful. Be grateful.
Be kind to each other – love one another – support everyone.
And as my cousin Jennifer says: Be someone's hope today."
'Trusting God: Even When Life Hurts'
I spoke with a longtime friend last Saturday. I've known Scott Crosby since my college years. Since I've been wordy already, I won't go too much into the phone conversation we had.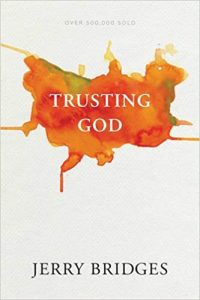 But I do want to mention a suggestion Scott offered. He said I need to start an online study using the book by Jerry Bridges, "Trusting God: Even When Life Hurts." I've led multiple studies with this book, but it's been at least 11 years since I last did one.
"Trusting God" is a powerful book. I dare say, after the Bible, it could be the most important book to read, especially in difficult and trying times.
Bridges has written many great books, and many are familiar with his book "The Pursuit of Holiness." However, "Trusting God" had a great impact on me, when I first read it, which was around the time of my sister's passing in the late '90s.
I will consider leading another study on it, but regardless if I do or not, I recommend you read it, especially with what everybody is experiencing right now. We all need to remember that God is:
Completely sovereign
Infinite in wisdom
Perfect in love
DHD: Even More Thoughts During a Pandemic