How To Use LinkedIn Like A Career Expert
Wouldn't it be nice to…
Constantly get new inMails in LinkedIn from recruiters who want to hire you?
Build a strong network and have the ability to connect with practically anyone?
Be seen? And searched for? And have your profile show up when somebody (like the recruiter at your dream company) is looking for people just like YOU?
Well, you've come to the right place!
All of those things are possible and they're not just reserved for "super connectors" or influencers on the LinkedIn platform. They're something that you can achieve with the right tips and guidance, which is exactly what I'm going to teach you in this article.
How do I know? Because I've done it myself. The strategies I'm going to show you in this post are the exact methods I used to get hired at Google.
I'm constantly getting InMails from Recruiters on LinkedIn asking me if I'm interested in new opportunities. I don't have to lift a finger.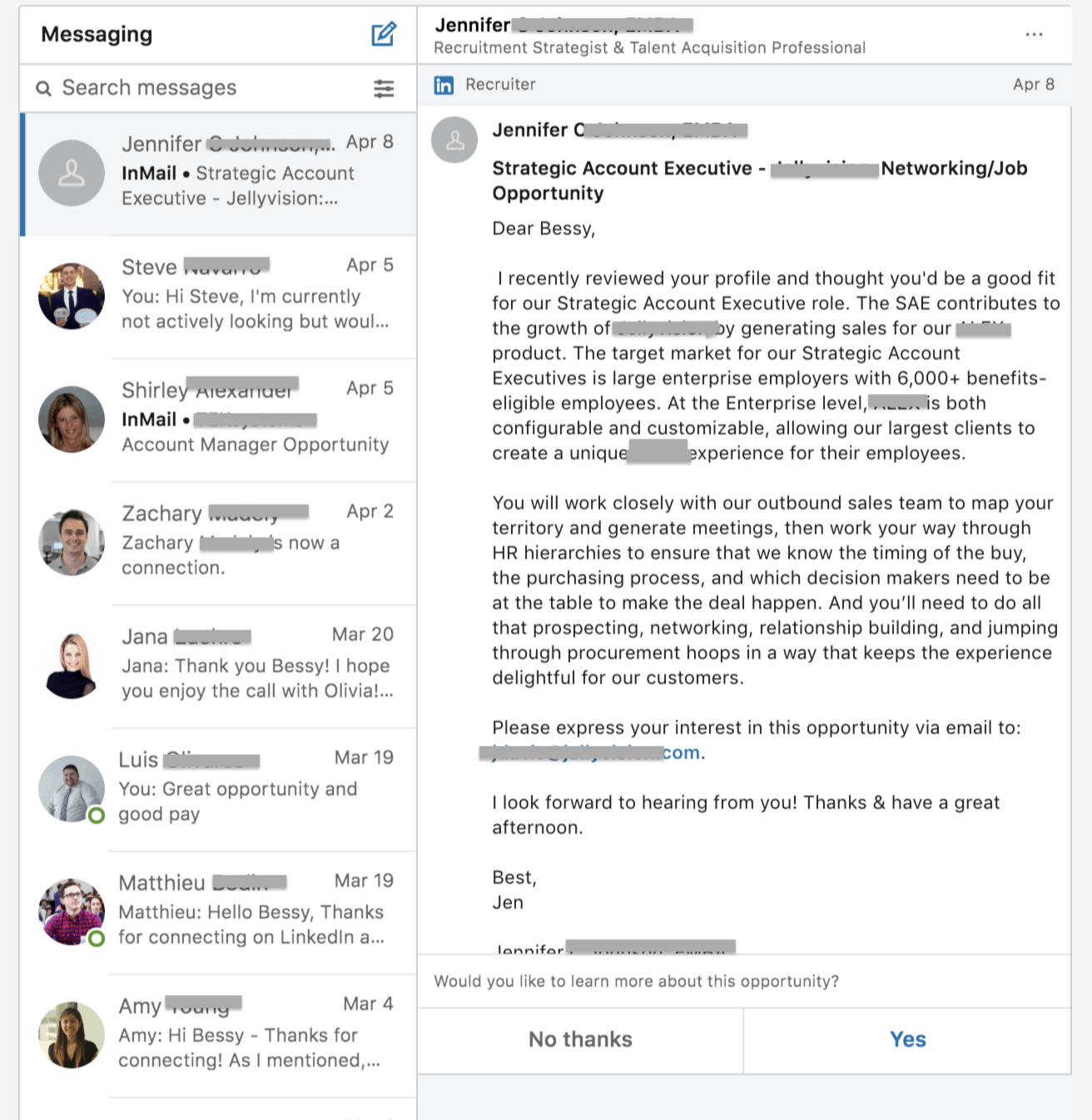 I'm connecting with practically anyone I want to network with, even if I don't have any mutual connections and I've never met them before.

I'm being seen, my name is getting out there, and my profile is showing up in appropriate search results every week at moments that matter: when recruiters/hiring managers want to find people like me!

But, like I said, this isn't reserved for some select group of people. Anyone can get those same results, like my client Anna.
Anna started from zero.
A week ago she didn't even have a LinkedIn profile. Now, 7 days later, she gets hundreds of profile views and shows up in 200+ searches every single week. The best part? She's only scratched the surface.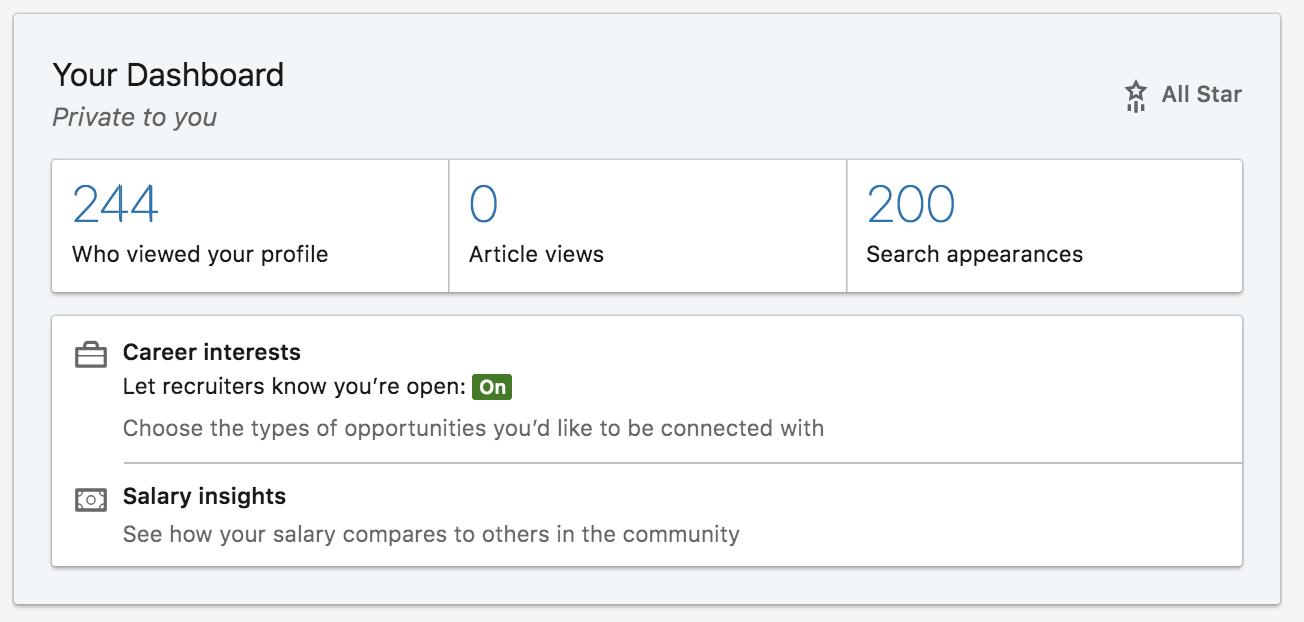 Unfortunately, most people never truly tap into the full potential of their LinkedIn profile. Sure, they have one, but it doesn't generate any views, no recruiters are reaching out, and major opportunities are being left of the table.
How many times have you caught yourself saying:
"Hmm I want to switch jobs, I've been at it for years now."
"I should probably start by building my resume."
"Great, let me research some jobs online and see if something fits."
"I guess I'll just submit my resume online and see what happens!"
Anna was in the exact same boat.
She went for the "spray and pray" approach instead of strategically researching a specific job and tailoring her LinkedIn profile to perfectly align with what the company was looking for.
Applying for jobs can be tedious and disheartening if you do it the wrong way. But if you take the right approach, you can take back control and actually choose your next opportunity.
You won't have to settle for something just because that company decided to take a chance on you. Instead, you can pick and choose the companies that you interview with and negotiate your way into the world's best companies.
What average job seekers don't know is that expert career navigators are approaching the job search process in a completely different way.
Check this out. In today's job market:
82% of employers believe that employee referrals generate ROI more than another other source (Medium)
70% of jobs aren't even listed on an external job board (Business Insider)
87% of recruiters leverage LinkedIn to vet new candidates beyond their applications/resume (Job Vite)
Expert career navigators know this, and they also know that LinkedIn is the key to unlocking those doors.
A killer LinkedIn profile will benefit you and your future career by helping you get referrals, connect with recruiters, and get insider info on jobs that aren't even posted online!
Think of your LinkedIn as an extension of your resume. You LinkedIn should always be linked in your resume so that hiring managers and recruiters can easily click on it.
Think of it like an onion:
Resume and email interaction are the outer layer – this is how hiring managers/recruiters get to know you. How you communicate ( your email interactions and what you're capable of (what they see "on paper") make the difference between a call back and a rejection. Your resumes and email interactions should always be tailored to a specific company or role.
LinkedIn is the second layer. Your profile should function as an extension of your resume and paint a full picture of your professional self. LinkedIn is for selling, not summarizing.
Your LinkedIn page should include anything and everything you've done and accomplished, whether it's relevant to your current role or not. Listing things that you wouldn't include on your resume, like soft skills or organizations outside of work, helps communicate how well rounded you are as a candidate.
Projects and examples are the third layer. Your LinkedIn should include external links to things like pdf presentations, report examples, or information on things like specific courses you've taken or certifications you've received. Allowing employers to see the tangible results you've accomplished is worth much more than a bullet on a resume.
The first Interview is the fourth layer. This is where you really introduce yourself to hiring managers, allowing them to get a sense of your communication skills and understand more about you, your experiences, and your skills.
Deeper interview rounds are the final, innermost layer. They aim to assess how you answer questions and think on your feet, how you interact with others, and take a deeper dive into your skills and abilities.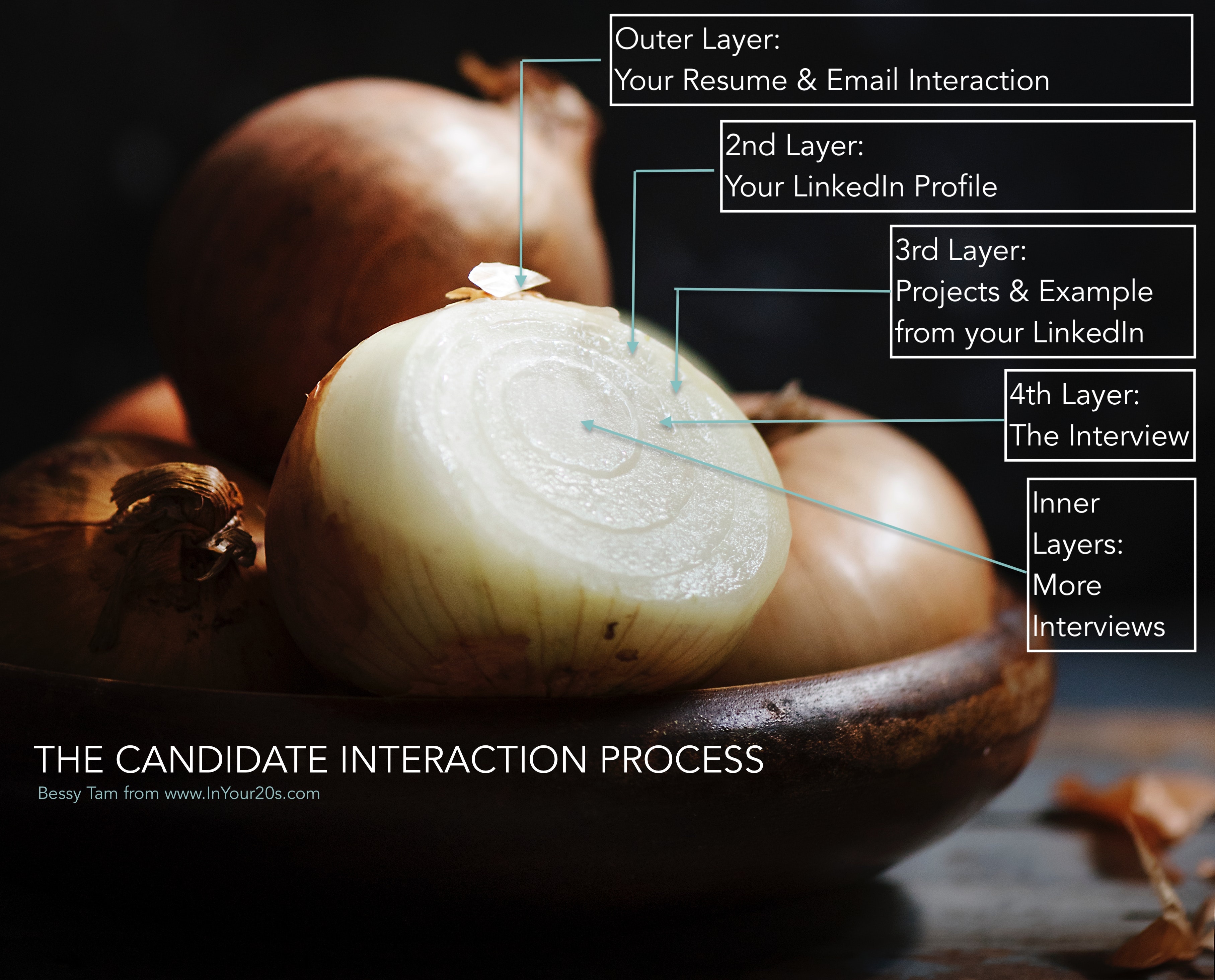 If your LinkedIn isn't strong, you could be missing the opportunity to get to the 3rd, 4th, or 5th layers of the job search/interview process!
Fun Fact: LinkedIn was founded in 2002 – way before MySpace (2003), Facebook (2004) , YouTube (2005), Instagram (2010), and Snapchat (2011) were founded. That's why it's user base is so large at 610+ million users and why it's become the #1 platform that both recruiters and job seekers use in when filling positions and searching for jobs respectively.
In this article, I'll walk you through the 8 Steps I have developed to help my students become LinkedIn experts and use the platforms to control their job search and land more offers. I'll also provide specific next steps you can take to amplify your LinkedIn presence and get the most out of the platform.
Step 1: Extend your Resume: Utilize all of LinkedIn's Features
One of the biggest misconceptions about LinkedIn is that its a carbon copy of your resume or CV. As I mentioned above LinkedIn is for selling, not summarizing and you should take advantage of the unique features the platform offers.
Generally, a resume is a brief (one-page!) summary of your skills and experiences, while a CV is more descriptive and usually extends to multiple pages.
Your LinkedIn should be more robust than either of those documents, and function more like a social media platform.
LinkedIn has sections that can act as add-ons to your resume; showcasing anything and everything that aligns with your personality, accomplishments, skills, and connections. Think of it as a way of exhibiting your "full professional self" online.
Many job seekers don't realize that there are 15 different sections available on LinkedIn that you can leverage organize and display your experiences, interests, skills, and accomplishments. Utilizing all of these features will bolster your profile's readability, search-ability, and overall credibility.
1) Introduction
Your introduction is your "elevator pitch"! It is one of the first things that shows up on the top of your page, below your name, current position, and location.
Introductions are typically high level and easily digestible. They should address your years of experience, industry/product/field expertise, personality, goals, specific work, and notable education/accomplishments.
Pro Tip #1: Anything beyond 6-8 sentences is too long and loses its value.
Pro Tip #2: Some people put a few introduction sentences on their CV/Resume. I usually recommend avoiding this since your CV/Resume should mainly be about your professional experiences. Your LinkedIn is the place to introduce yourself.
Here's an example of a great introduction. You can see that Maris showcases her current role, her experience, skills, personality and a bit about her background without going into too much detail: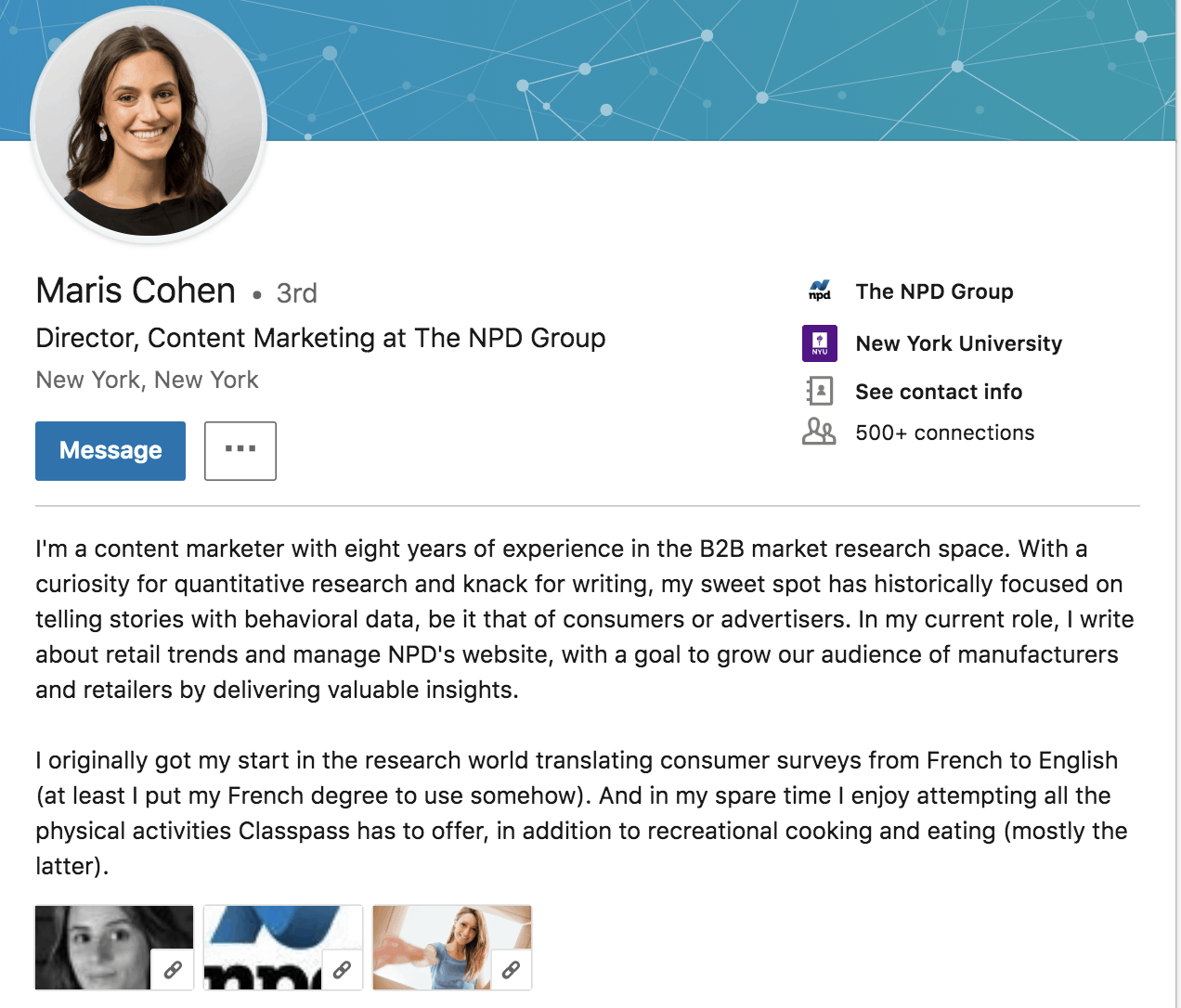 2) Work Experience
The Work Experience section is a detailed outline of all the companies you've worked for, and your role (or roles) at each.
Pro Tip #1: This section is going to overlap with your resume. To help you get started, you can copy & paste what you have from your resume into this section. However, expert career navigators expand what's already written in their resumes by adding:
1 sentence briefly describing the company (or if it's a large, well known company, describing the team instead)
2-3 more "stories" or "bullet points" on your achievements
Specific tools/products you used
Pro Tip #2: Keep it simple, and support your achievements with data where applicable. Each work experience should not be more than 2-3 paragraphs.
Here's an example: Paul included a brief description of what he did in each role, as well as a bit about the company itself. He clearly communicates the size and successes of each company and the impact that he personally made in each role: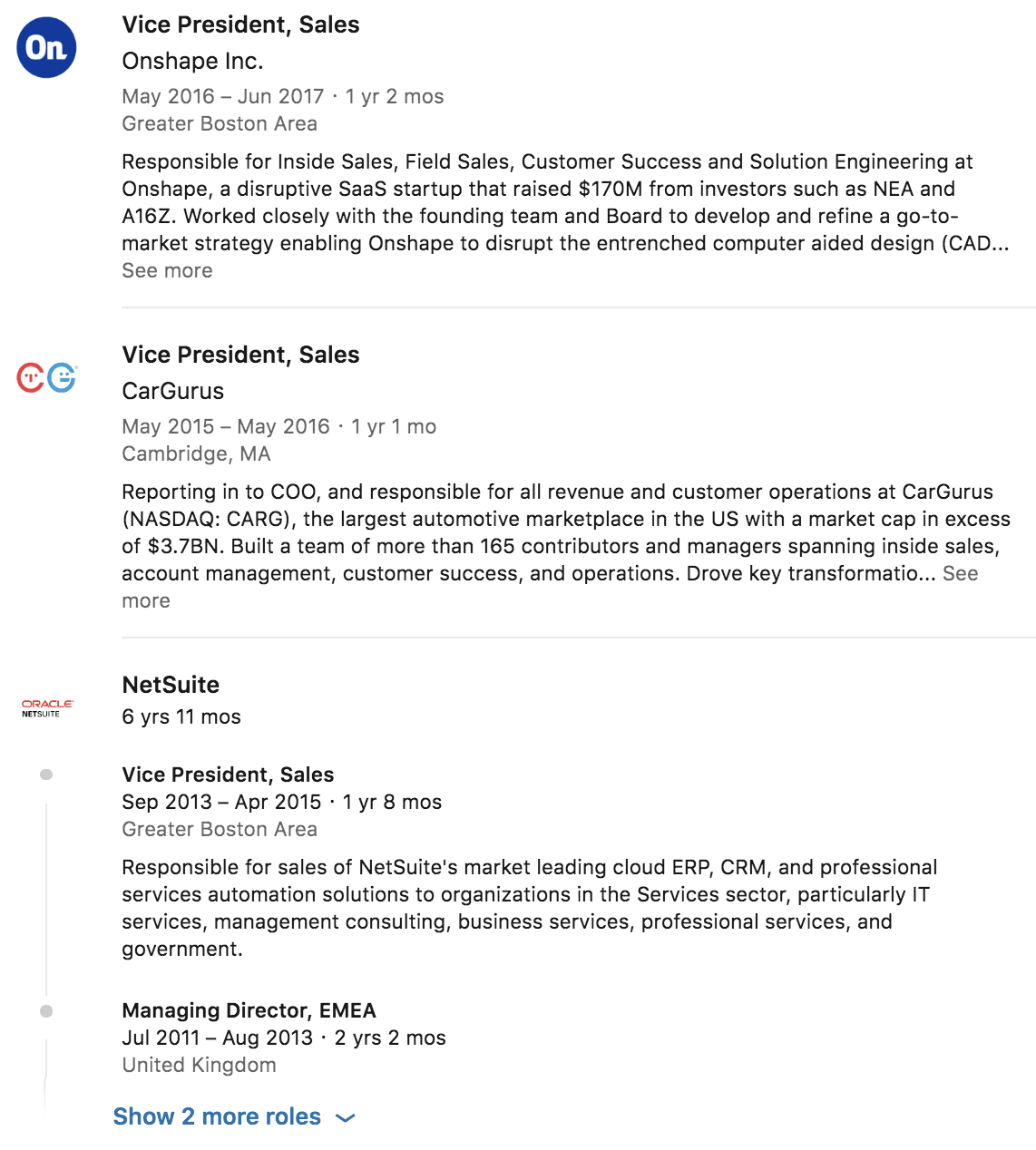 3) Education
Your education section should include your undergraduate degree, any higher education degrees, as well as your high school so that any alumni would be able to find you and vice versa.
Make sure to add any noteworthy experiences, activities, or societies you participated in into each. These could be things like Dean's List, captain of a sports team, specific courses taken, clubs, etc.
4) Licenses & Certifications
At first glance, this section is only applicable if you're in a specialized/professional field – e.g., a real estate license, CPA, certified nutritionist. However, there are courses you can take and certifications you can earn in almost all industries, whether it's a Six Sigma Black Belt or an online course you took on client management.
Pro Tip: Recently, LinkedIn launched a learning platform called "Learning Solutions Business". You can earn certifications directly from LinkedIn or other online resources like Udemy to show that you've taken action to develop specific skills.
Here's an example: Purin's profile showcases the topic of each course he's taken, and when and where he took them: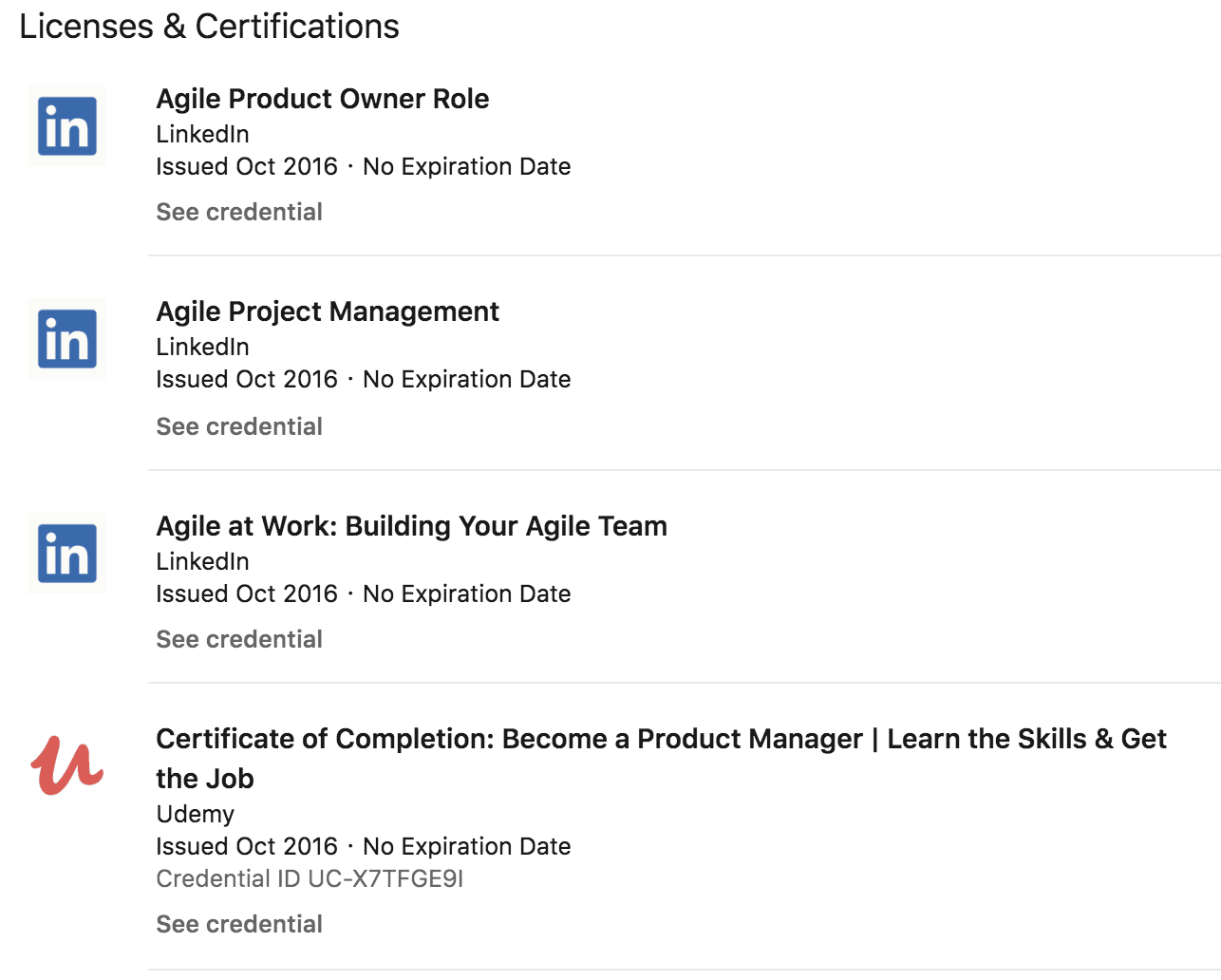 5) Volunteer Experience
The last section under "Background" is Volunteer Experience. This is a great display of your philanthropic endeavors and your personal desire to give back. You can showcase specific organizations you're tied to and explain how you've made an impact.
For example: Alison described both the organization's initiative, as well as her specific involvement: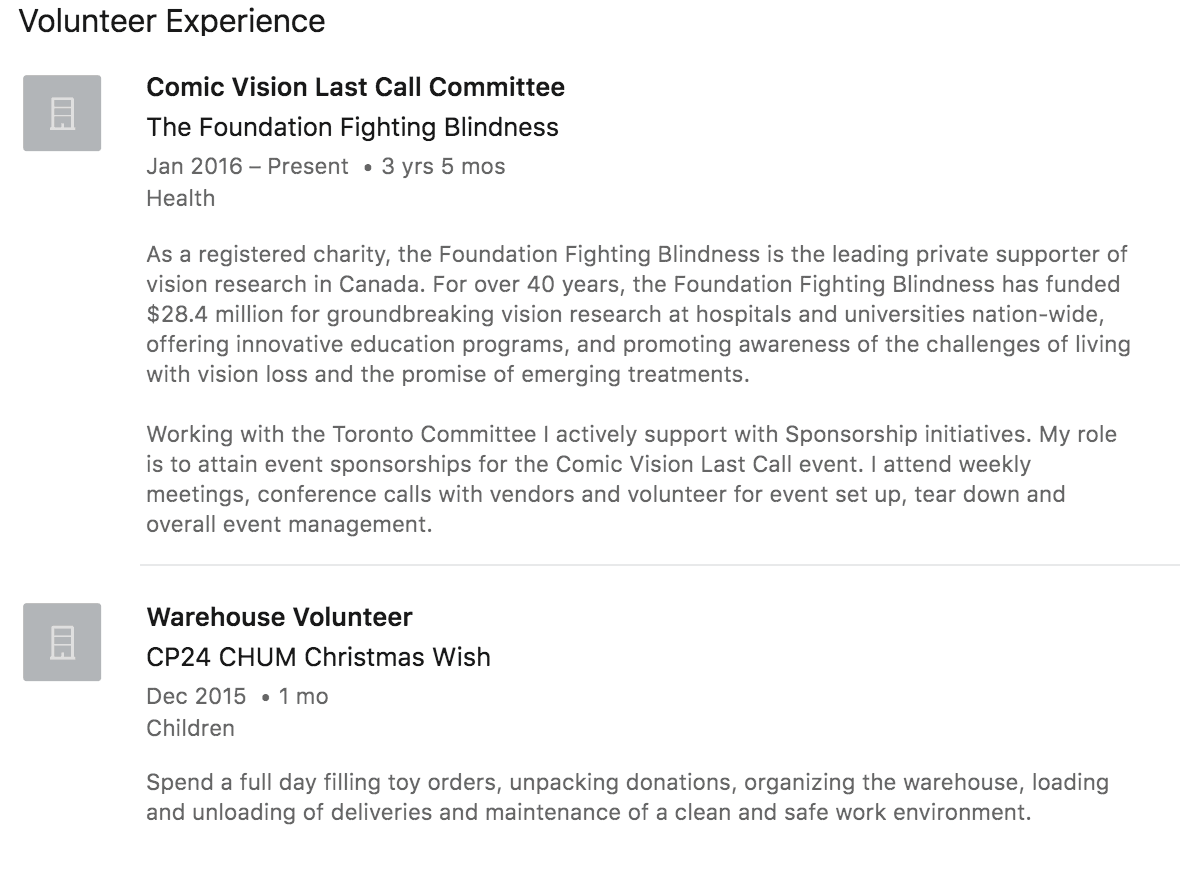 6) Skills & Endorsements
This section is usually at the bottom of your resume, but that doesn't mean it isn't an important piece of both your resume and your LinkedIn profile. On resumes, "skills" are usually "hard skills" defined by technical products and platforms such as C++, Adobe Photoshop, or Google AdWords.
LinkedIn allows you to add 50 skills without "cluttering" your profile. Experts usually extend their technical skills to include 50 skills under 4 categories:
"Industry Knowledge"
"Tools & Technology
"Interpersonal Skills"
"Other Skills"
Listing all your skills – whether "hard skills" (e.g., cloud computing, UX design) or "soft skills" (e.g., time management, analytical reasoning) – enables potential employers, recruiters, or people you hope to network with to find you while searching for specific skill sets they're looking for.
Pro Tip: Your connections can endorse you for skills, which boosts your credibility! If you endorse other people for their skills, they usually endorse you back for yours in return.
Below, Alan lists all of his hard and soft skills in the appropriate categories: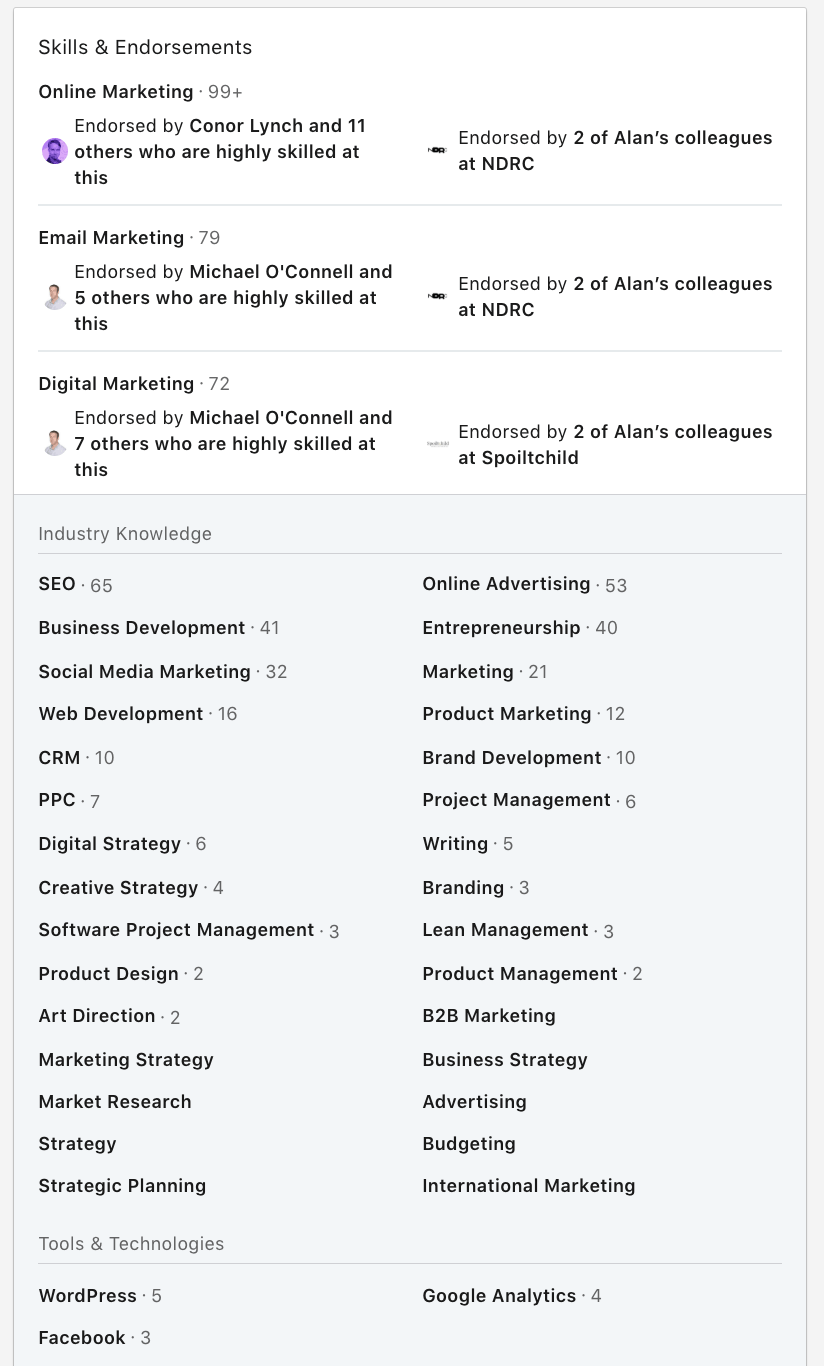 7) Accomplishments
There are a total of 10 sections under "accomplishments" that you can fill in. My advice would be to prioritize the 5 sections below:
Projects – link it to a job as well as web links + project partners as well
Languages
Honors & Awards
Publications
Recommendations – I'll talk more about this in the next section
Other sections under Accomplishments include:
Patents
Courses – add Udemy or any additional courses you've taken with credible providers.
Test Scores
Organizations
Ebony's profile shows how brief, but informative, the accomplishments section can be: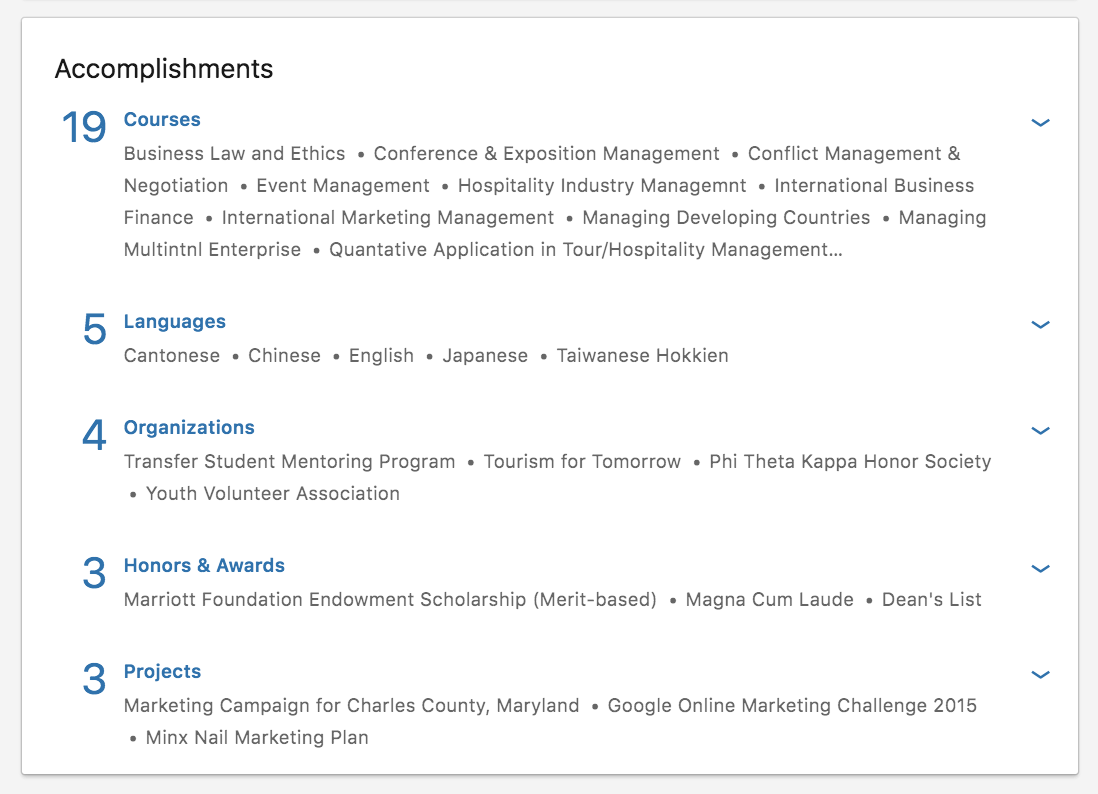 Step 2: Be Clear and Actionable: Avoid Lists!
Average job searchers approach many of the LinkedIn sections I just outlined above like a list: outlining every single project, skill, or experience without much explanation.
Most people don't have time to read and digest huge lists! It's your job to summarize and highlight the list of accomplishments you surely have in order to tell a story. This is particularly true as you get more advanced in your career, these lists can become tedious and unmanageable.
Check out this person. His headline is a great summary, but the laundry list in his introduction negates any potential takeaways – it doesn't tell a story the way his one-liner promises to do so:
The list was SO LONG I couldn't even screenshot the whole thing (eek!). Can you imagine how a recruiter/hiring manager would feel looking at this list?
You can be an expert at all the tools in the world but if you can't solve the business problems by showcasing the situation, challenges, and business results through using these tools, nobody will be able to imagine hiring you to solve their problems in the same setting.
The same concept applies to the Work Experience section.
The following example is a long list of credentials, but without knowing how those experiences and credentials were applied, what impact do they have?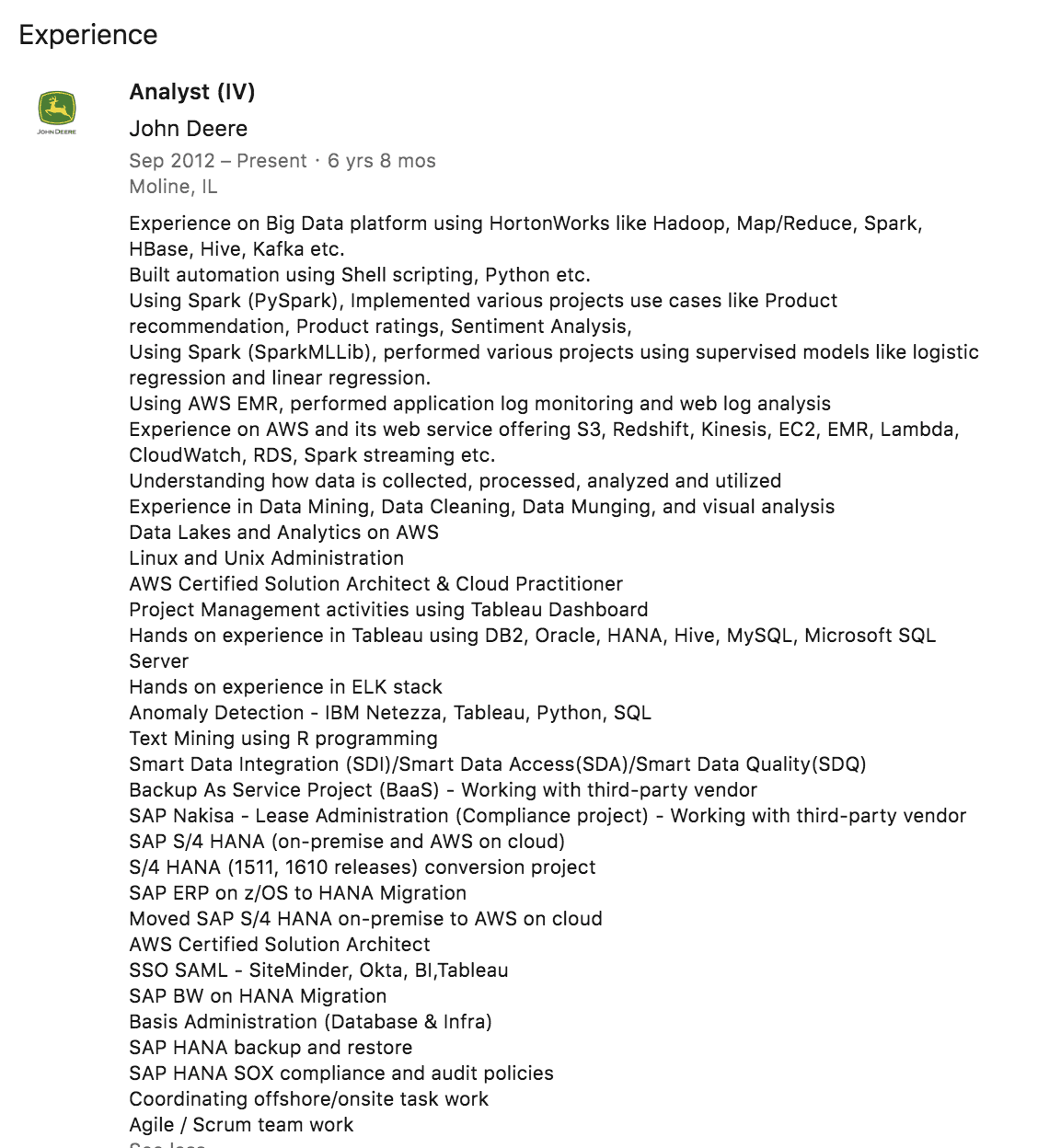 On the other hand, take a look at Robert's profile. His Introduction is a strong, high level summary about what he does, his expertise, and his interests: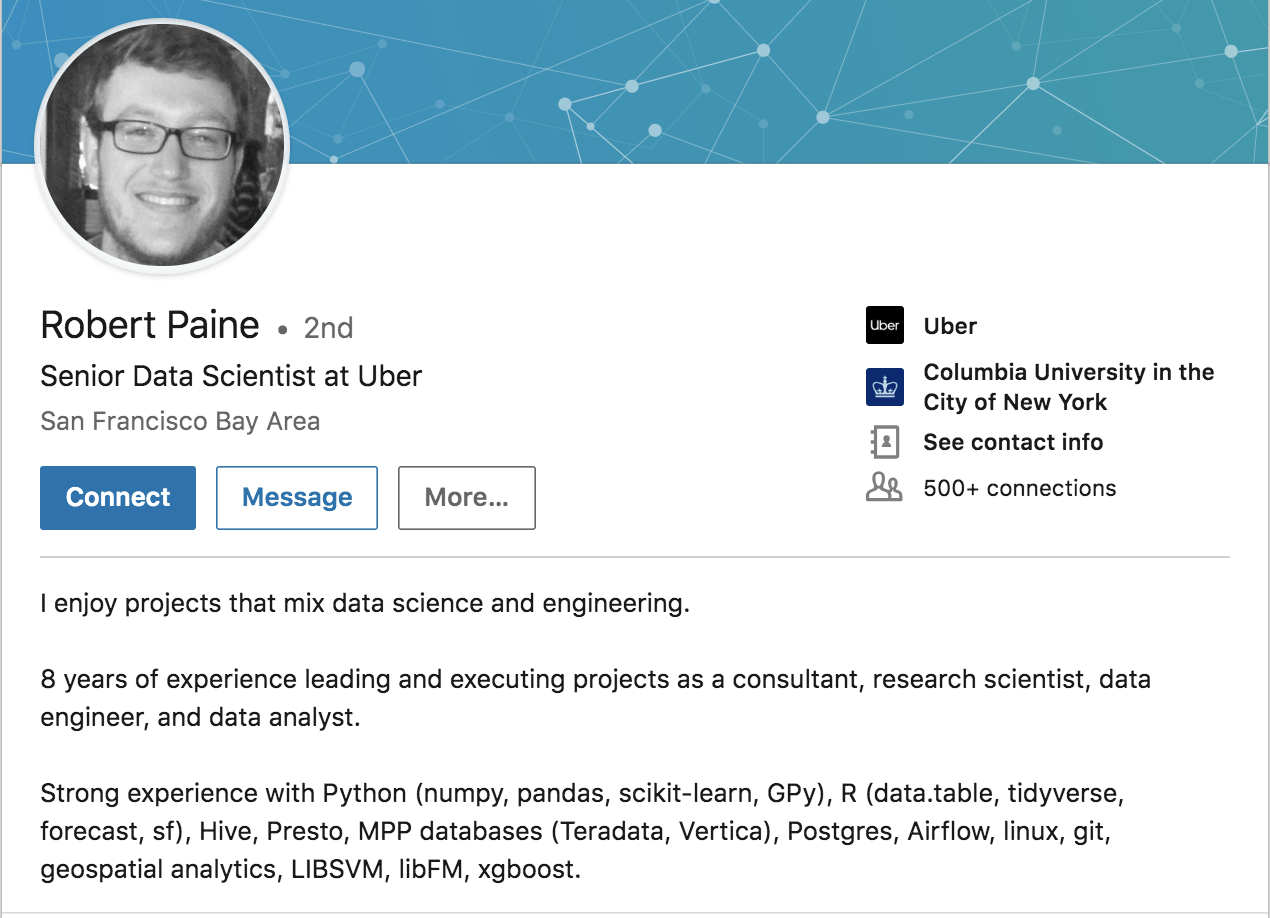 He then went on to tell a great story in his Work Experience section. You can clearly tell that during his time in the Teradata Aster position, he led consulting projects with e-commerce that grew revenue by $4MM!
Any other tech or e-commerce company would want the same thing and thus be intrigued to learn more about his experiences.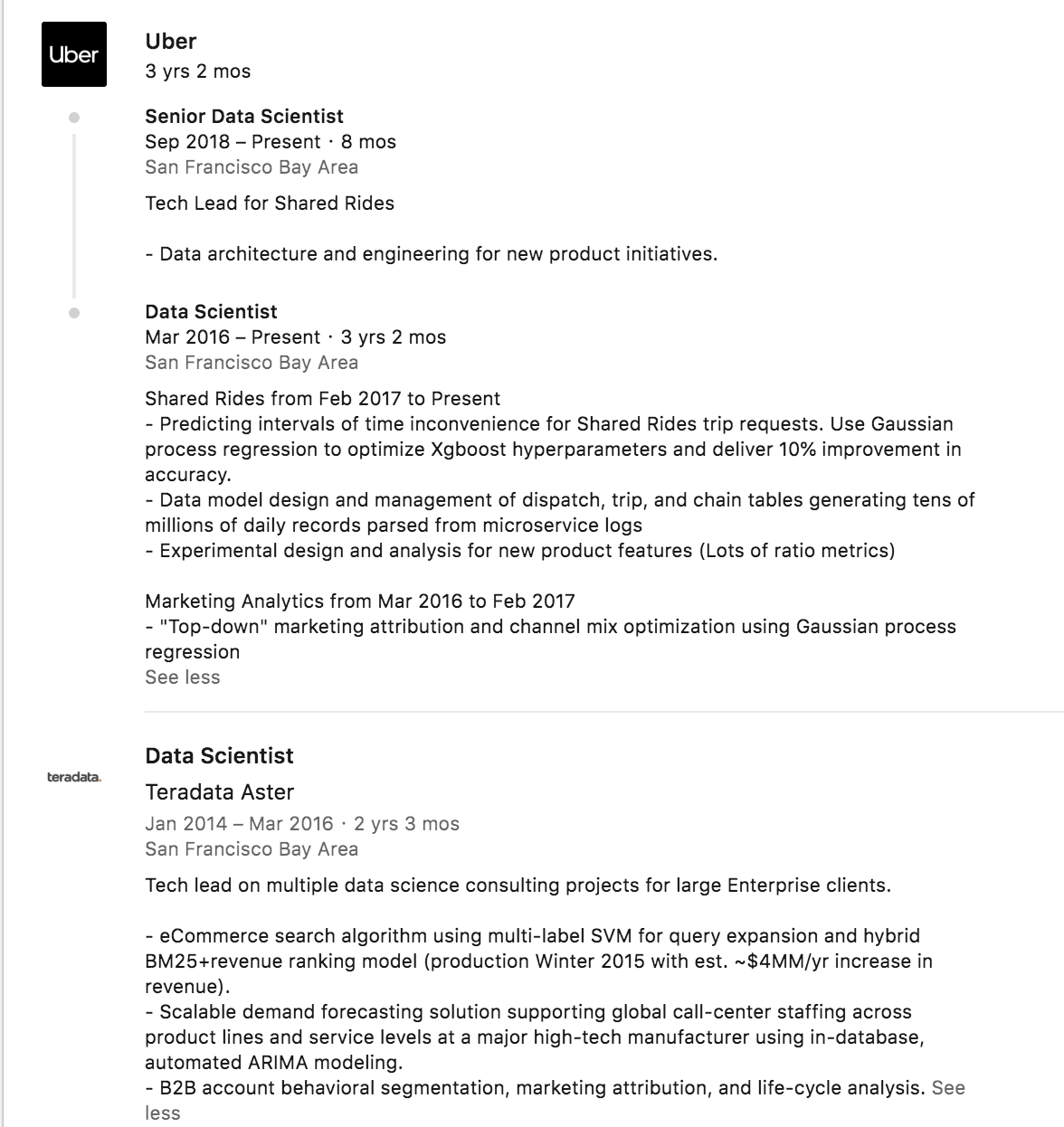 So here are a few tips to provide clear and actionable results:
Use LinkedIn's profile sections as they're intended: list your skills in the skills section!
Listing skills or accomplishments in other sections is okay, as long as you first introduce the list by summarizing it and indicating what the takeaways are.
Include numbers wherever you can, especially when indicating results. Make sure not to share any proprietary company information – use growth indexes instead where necessary.
Pro Tip: Numbers (eg. 15% growth vs fifteen percent growth) are easier to spot among a page full of text (Nielsen Norman Group's eyetracking report). This way, your results can stand out when it matters.
Step 3: Align Your Profile to your Desired Role
Many people make the mistake of getting caught up in their job title.
I've spoken to a number of my students who have been concerned that their title at their current job is going to hinder their opportunities in being considered a future role. They'd say, "What if my job title has nothing to do with what I'm doing or where I want to go?"
Or, "It's so hard to get into tech because the recruiters who reach out to me on LinkedIn are the ones who are already in the industry, and are looking for a specific title."
Job titles typically aren't very descriptive, or even representative of your actual role. This means it's important to expand on your job title and include details that are applicable and true to what you're doing, but also relevant to what you're looking for.
Aligning your resume with your ideal role is crucial as well: you want to communicate and highlight the skills and experiences most relevant to that role. This could include moving certain items higher up, changing the language and terminology to keyword searchable terms that match a specific job description, or summarizing your role through the lens of your desired role.
For example, Ebony's actual title is "Sales Development Manager." However, her day to day responsibilities focus on Marketing and Events work that supports sales and customer acquisition.
She's looking for work in Marketing & Events, so instead of only listing "Sales Development Manager" as her title, she changed her headline to include relevant keywords like "Marketing", "Communications,"and "Event."
In addition, her "Work Experience" section also highlights her skills beyond just "Sales" by adding specific experiences and achievements about business development, marketing, and project and event management. This shows how well rounded and capable she would be in a Marketing or Events role.
Step 4: It's Not What You Know, It's Who You Know
Think about the consumer shopping experience.
Whether online or in-store, brands and products are abundant and consumers have endless options. Marketing is designed to convince you how awesome a product or brand is, but yet we still rely on our own research before blindly forming an opinion.
Before we buy, we read reviews, price shop, and ask friends or family for recommendations, right?
It's the same for the job market – where YOU are the product/brand and the company, hiring team, and recruiter are the buyers.
As much as you can tell your story and showcase your skills and experiences, companies still rely on recommendations and referrals. Think about this just like product reviews on Amazon – the more positive written reviews, the better.
Traditionally, employers use background checks and referrals/recommendations from people in your network. Online, we have LinkedIn connections, endorsements, and recommendations. Your LinkedIn can include your colleagues' reviews and endorsements about you – which adds credibility just like a product review does.
So how can you build your "reviews" and "endorsements" on LinkedIn?
First, build your connections!
While recruiters and anyone who sees your profile can only see "500+" connections (even if you have 2,500+ connections!), maximizing this number widens your network by allowing you to see who your connections are connected to. This feature enables you to reach out to 2nd and 3rd degree connections who are in your desired companies or desired roles.
Additionally, you can continue to build relationships and stay "top of mind", even if you aren't planning to use specific connections as a networking resource for 4-5 years down the line.
Once you stop communicating with somebody, it's easy for them to forget about you. Sad, but true! I consistently make an effort to share and write articles on LinkedIn, as well as staying active on Facebook and Instagram.
When appropriate, texting or calling somebody and staying caught up with their life (professionally, or personally) also ensures my connections stay at an arm's length.
You can start off by uploading your contacts. If you click "Network", you'll see a box on the right for an option to import your contacts. Click "Continue" in blue: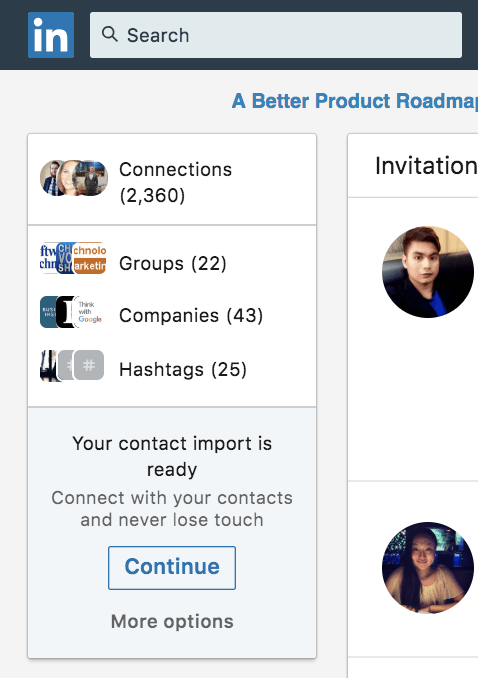 Then, you'll be prompted to upload your contacts, and brought to a page where LinkedIn suggests connections for you: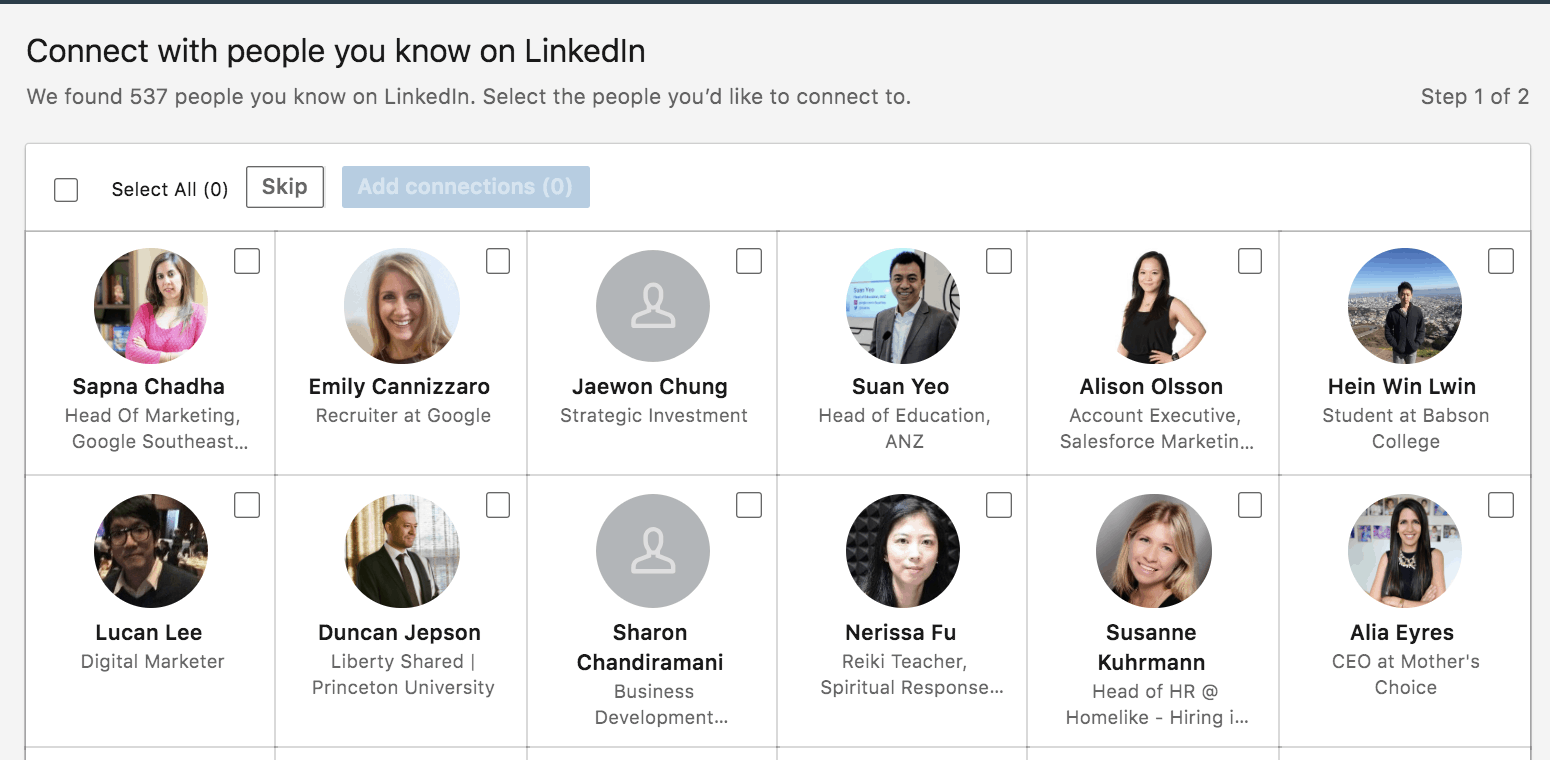 You can also invite people to join LinkedIn if they aren't already on it. I usually don't do this step since for me, the list mainly consists of current connections who I've communicated with through an alternative email of theirs not associated with their LinkedIn. So you can skip it, and then you'll be done!
Pro Tip: Browse mutual connections and "people you may know" after a day or two, once your first round of invites get accepted and the algorithm can start "mapping out" your connections online.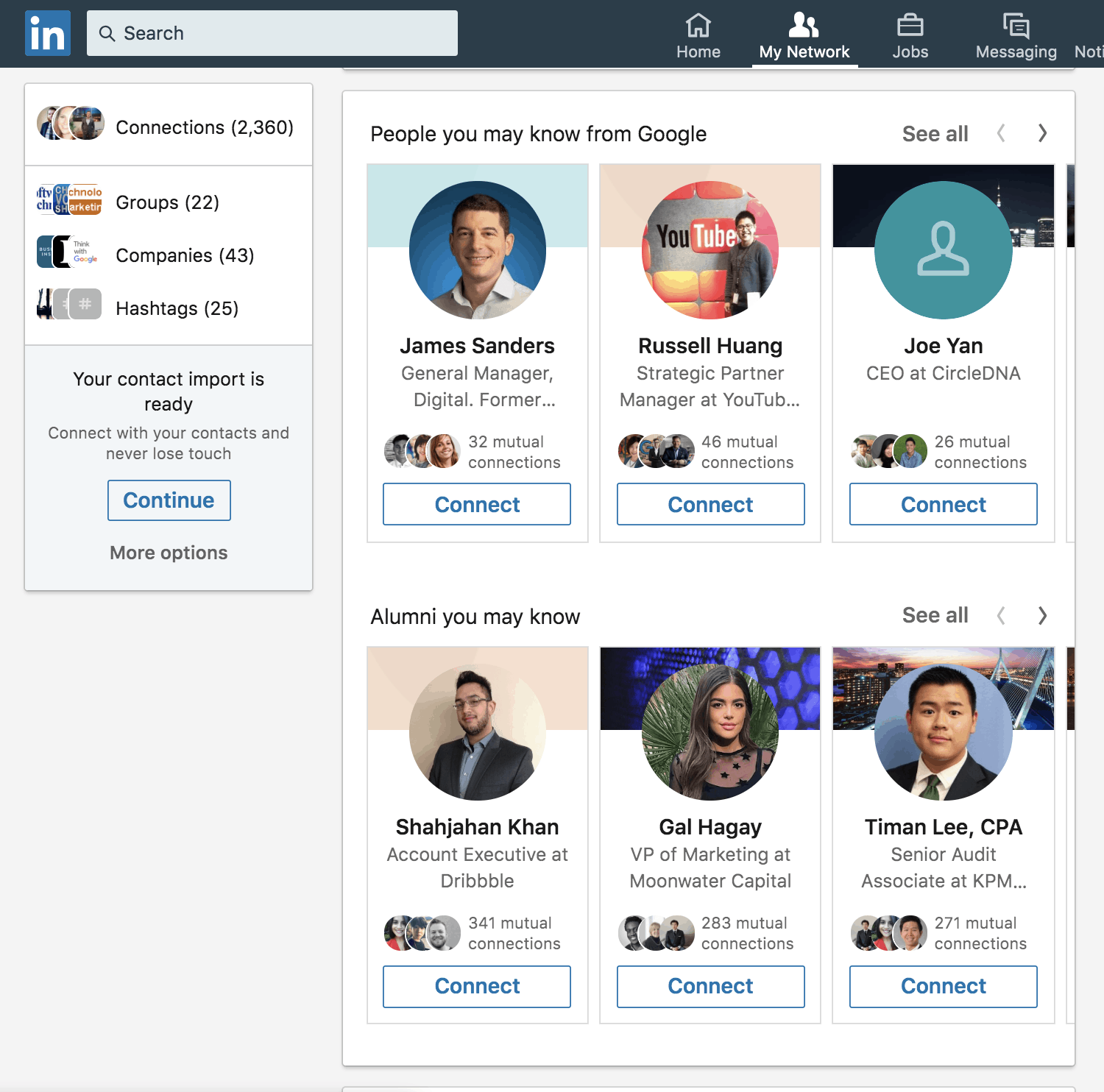 In addition, make sure if you have a very common name that people can search you from your email or phone number.
You can do this through Me > Settings > How LinkedIn Uses Your Data > Manage who can discover your profile from your email address and phone number. Make sure this is on for everyone!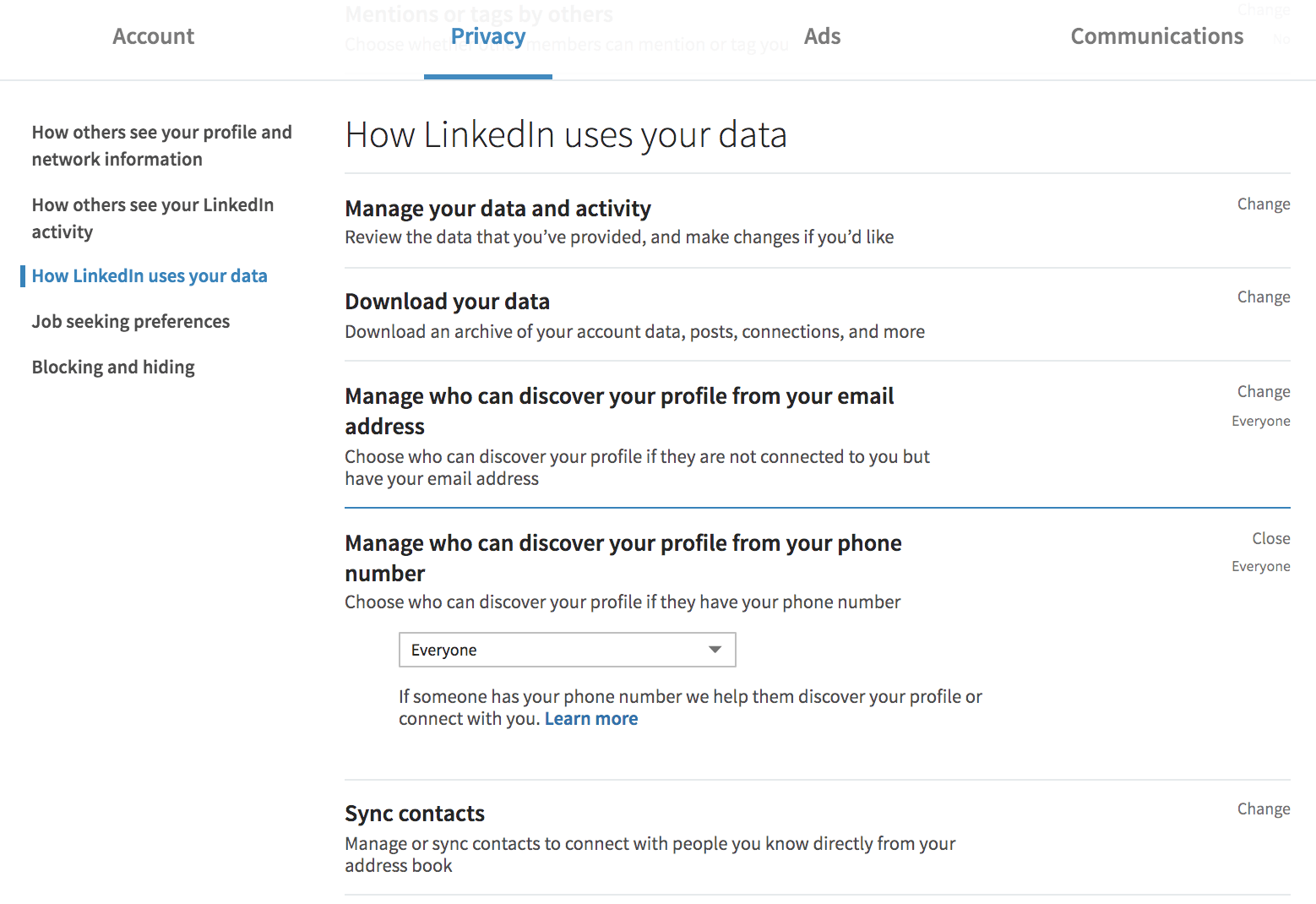 You learned above how important it is to include specific projects and examples of work you've done. Once you've done this, there are a few steps you can take to bolster these sections:
Second, add fellow Project Members to these projects. This way, when people click on "Other Creators", they can get an understanding of who you've worked with. This bodes especially well if you've worked with people high up in your organization, and shows you're a strong team player. Here's an example: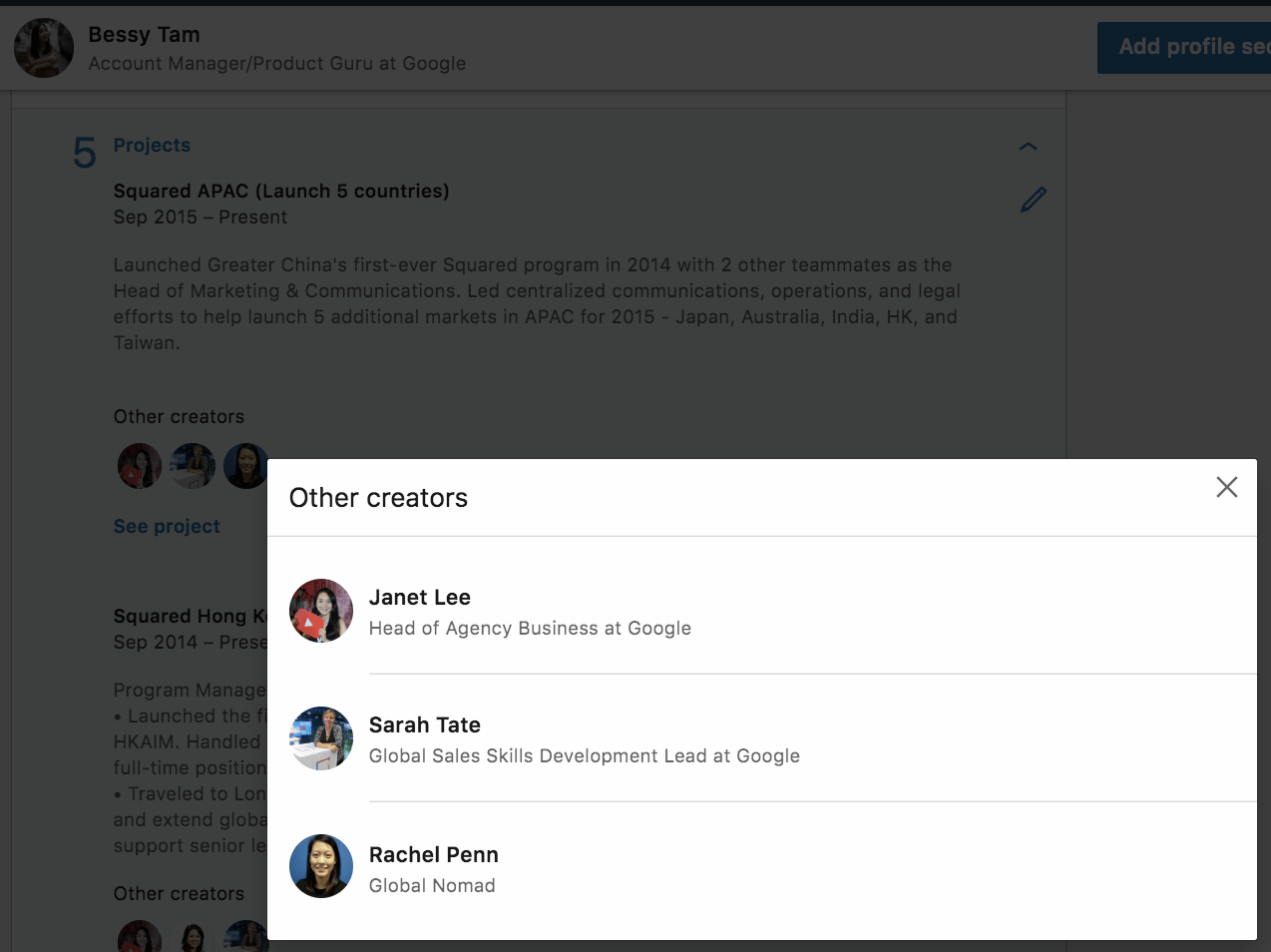 Third, your connections can endorse you for your skill sets. Here is an example from a Ben, a marketer and product lead for Vistaprint: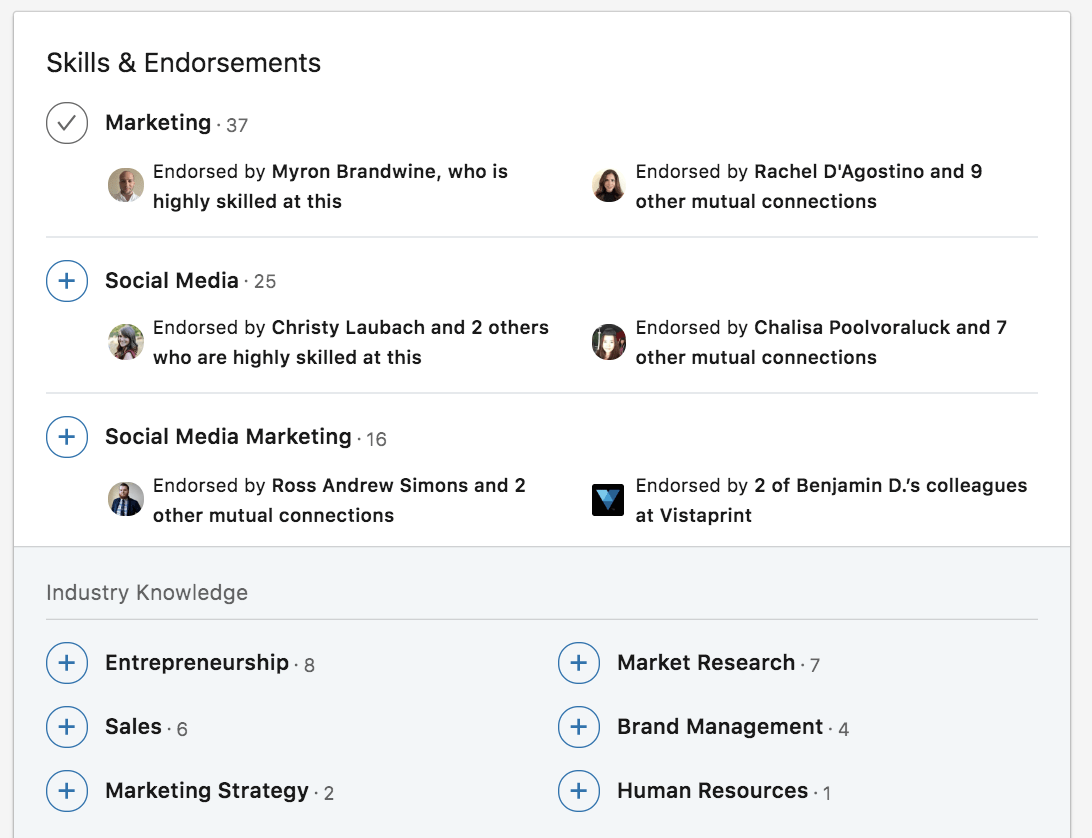 You can see he has endorsements from a large number of people. Of course, the more connections you have, the more you'll get endorsed for your skills.
When people click on the profile pictures, they can see the person that endorsed him! Here we have a CEO who endorsed Ben for his Marketing skills:

This creates credibility and trust – not only by the amount of people who endorses him for a specific skill set, but also for the "status" or "level" of the person who endorses him.
Fourth, you should write, and seek recommendations. Recommendations allow candid quotes from a 3rd Party's voice to endorse your work through opinions and experiences working directly with you. Ben's profile below is a great example of a solid list of recommendations, especially from managers, people he collaborates with at work, and executives.
More importantly, he gave 17 recommendations before he got 5. Recommendations are something that people often reciprocate, and it bodes well for both parties involved!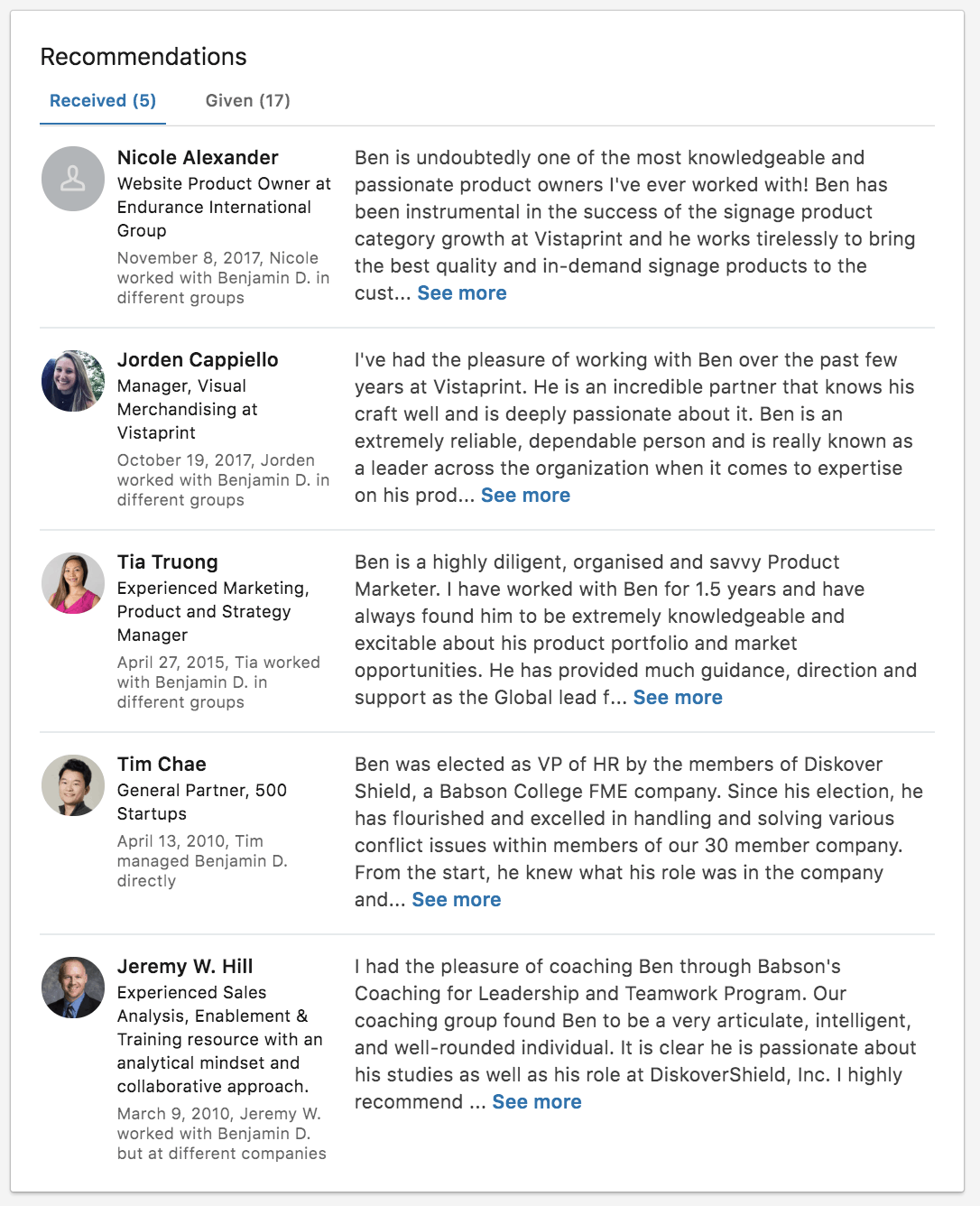 Last, make friends beyond people you've already met. Often, people refrain from connecting with strangers because either they don't see the benefit, or they're hesitant to add somebody who doesn't know them. "Why should I? They don't even know me?"
LinkedIn is a social media platform – you can treat it the same way you would when meeting people at a networking event. When adding people you haven't met, include a message explaining who you are and why you want to connect. Assume they are busy and make sure to keep it relevant, concise, and directive with a specific ask like this example below: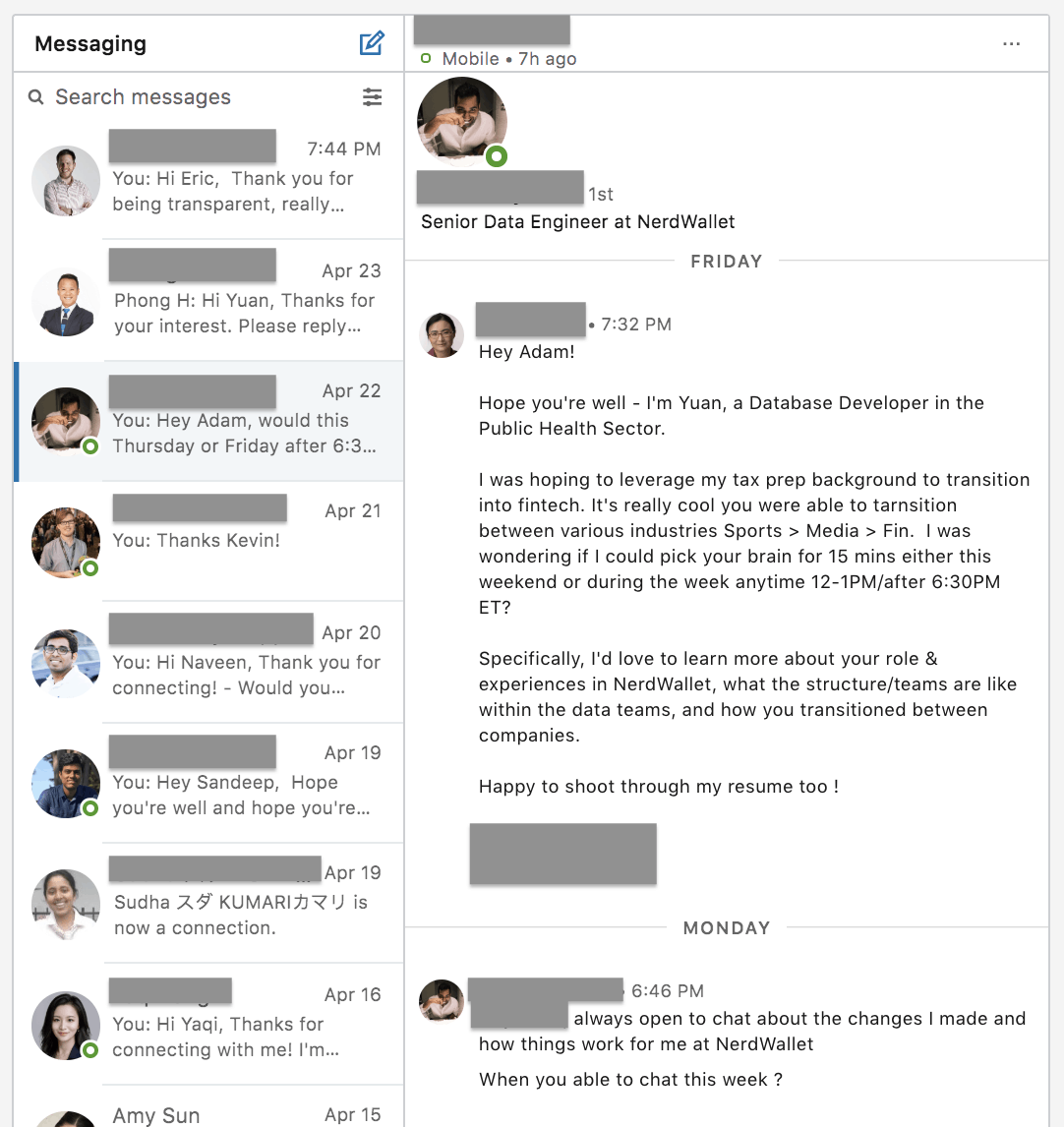 When building up your network, you should aim to have:
500+ Connections
2-3 Projects
50 Skills uploaded with at least 15-30+ Endorsements
2-3 Chats/New contacts per week
Step 5: Add Secret Settings to Boost Your Visibility
There are 3 primary ways LinkedIn is utilized within the job market:
Recruiters looking to scout potential applicants (this feature is called "Linkedin Talent Solutions" and makes up 60% of LinkedIn's sales) and vet candidates
Friends/Acquaintances looking to connect and build an online presence/online network (610mil+ users online, up 6% from 575million+ in 2018, among 200 countries Source)
Companies looking to post jobs/get applicants from LinkedIn users (100mil+ job applications per month and 15mil+ active job listings (Source))
Less common uses include:
Salespeople looking to InMail potential buyers on LinkedIn ("Sales Navigator")
People looking to learn online ("Learning Solutions Business")
Companies looking to advertise online ("Linkedin Marketing Solutions Business")
Now that you know what people are using LinkedIn for, ensure your goals are clear to recruiters.
Recruiters can see whether people on LinkedIn are currently looking for a job or not. This is voluntary information provided by you, that is not shared with people in your network. If you want recruiters to be able to see that you are open, you should edit your Career Interests to "Let Recruiters know you're open."
You can do this by clicking Me (on the top right) > Settings > "Job Seeking Preferences" on the left and >Let recruiters know you're open to opportunities" in the middle: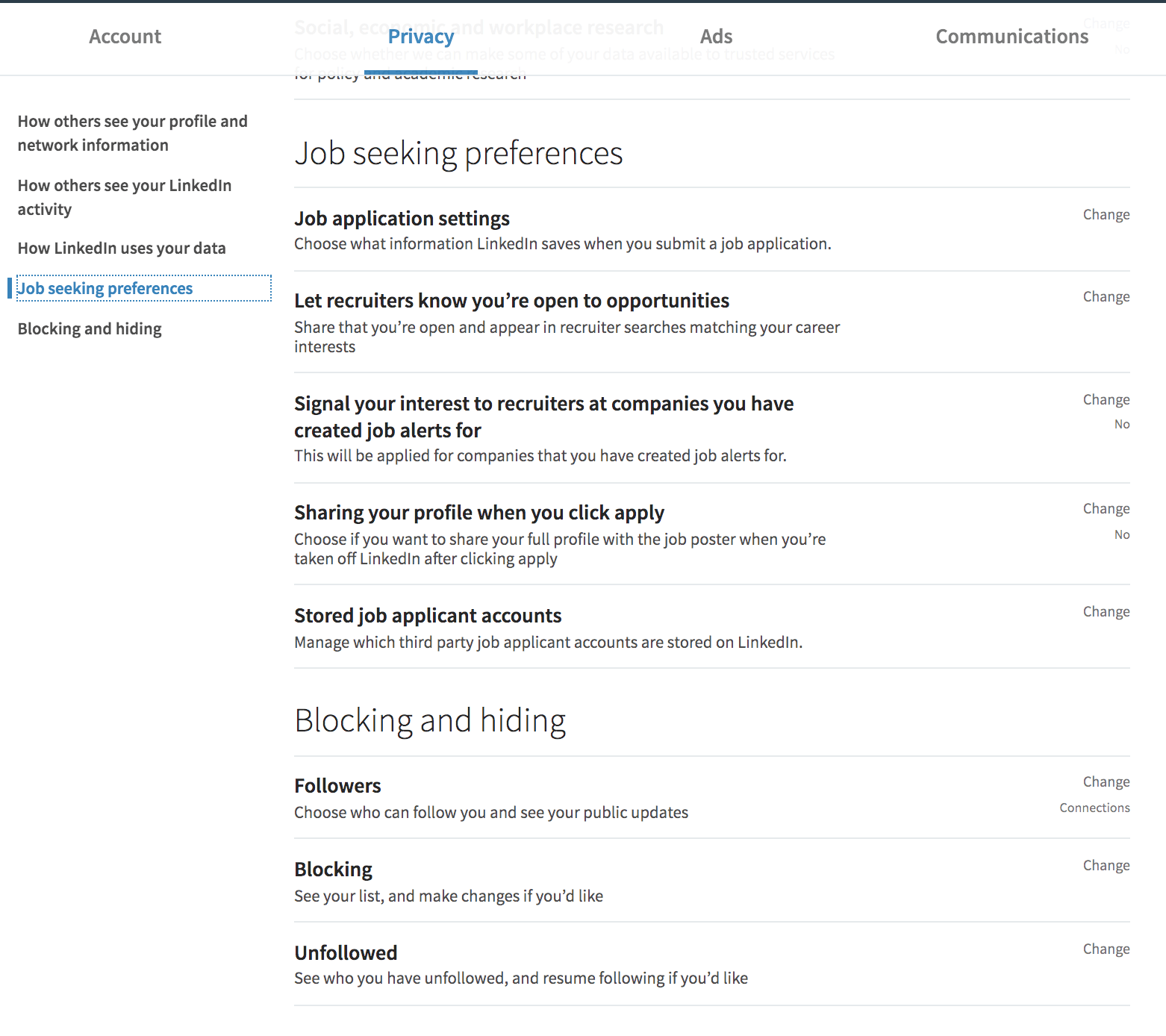 Next, you'll be taken to a Career Interests page. You can also access this by clicking Me > View Profile.
Then, you'll find the "My Dashboard" section on your page towards the top. This section includes private information to you: things like your profile views and search appearances. There is also a link to Career Interests, where you can indicate whether you're casually or seriously looking, and add the job titles you're looking for.
Pro Tip: When you add job titles, be creative. There are a lot of synonymous terms or titles that you may not have seen. Do some research and add them as needed.
For example: Client Sales can also include Account Manager, Account Executive, Senior Account Manager, Sales Manager, Business Manager, Business Development, Customer Success Manager , Partner Lead, Client Manager, Business Lead, Relationship Lead, Relationship Manager, Partner, etc.
Then you can add the ideal locations and types of jobs below. This comes back to your own definition of something I call the "Criteria Checklist". It's a set of criteria such as industry, location, etc. that you would hope for in your next job.
Step 6: Let your Career Tell a Story
I've had students who have jumped around to a number of different companies, and students who have stayed at the same company and switched roles and gotten promotions internally.
Recruiters can easily make assumptions as to why you may have left a job, how long it took to get a promotion, or any gaps in your experience. It's your job to position your entire career as a story that frames and aligns your experiences.
As an example, take a look at Lily, who is a writer. She has held many positions, but you can see a clear progression in her career that tells a great story.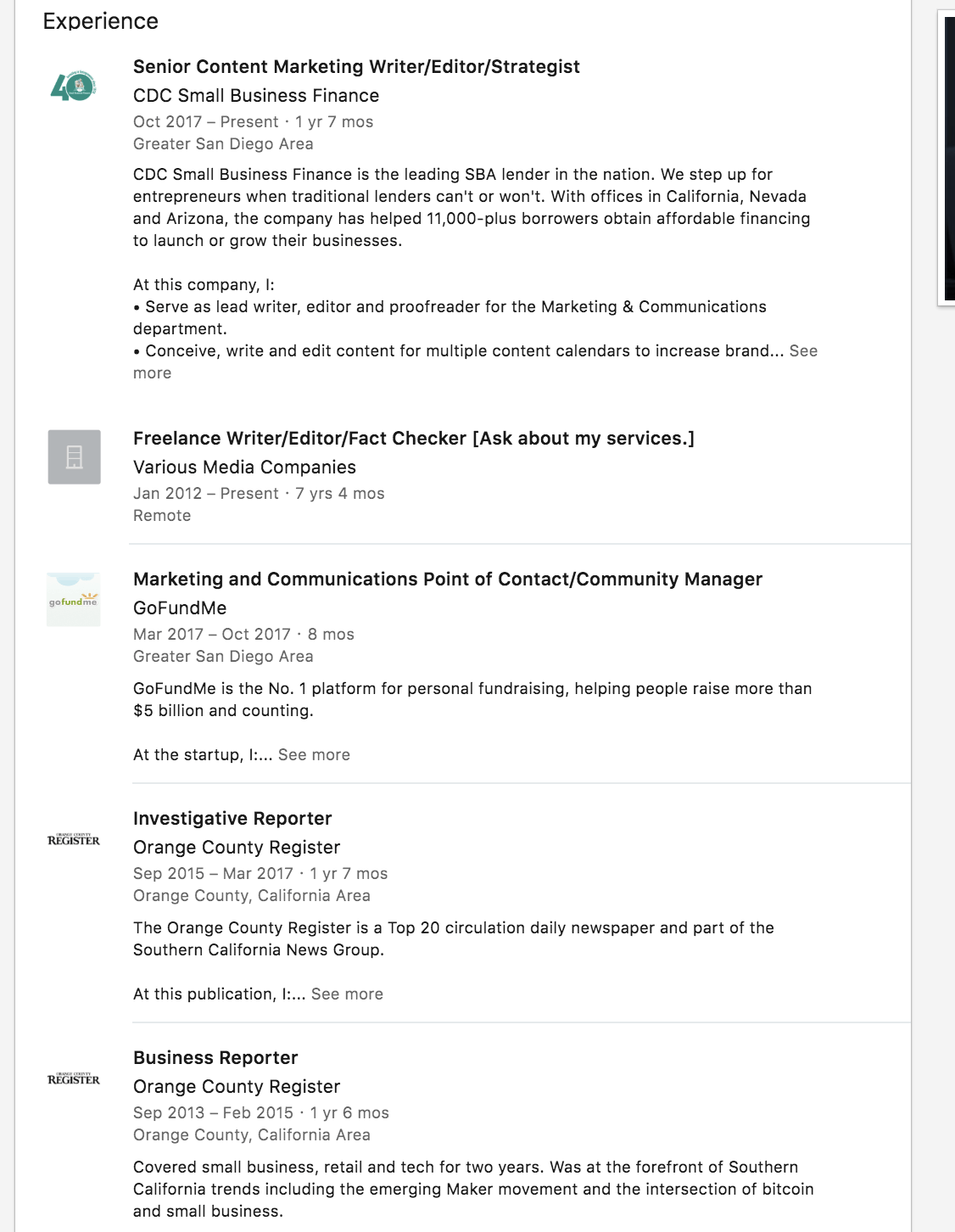 She started from a small part of Orange County and moved to the Greater San Diego Area (2nd largest country in California). Initially, her role was behind the scenes as Community Manager and then gradually moved to the front line as a Senior Content Strategist. In terms of her work itself, she also moved from a more general content type at the Orange County Register to specializing in Finance (Go Fund Me > CDC).
Make sure your profile has a clear storyline. If it doesn't, or if certain pieces of the story merit explanation, make sure you indicate in the description how the specific role contributed to your overall knowledge of your specialties/experiences.
Step 7: Be Found!
All the hard work you've done so far basically goes out the window if your profile isn't visible to people/recruiters searching on LinkedIn.
There are two ways to make sure you can be found in a simple way: Your Public Profile as well as your URL.
1) Your Public Profile
Make sure everything you do is public! Anyone who is not your friend should be able to view important details like your Work Experiences, Interests, Education, etc. You spent all the time filling them out in step 1, and now you want people to see them!
This is usually set up when you initially create your profile, but it's good to double-check whether or not your profile is public. Access these settings here or go to Me > View Profile > Edit Public Profile & URL on the top right:

Make sure your profile photo is set as "Public" instead of just all of LinkedIn. You want to be seen!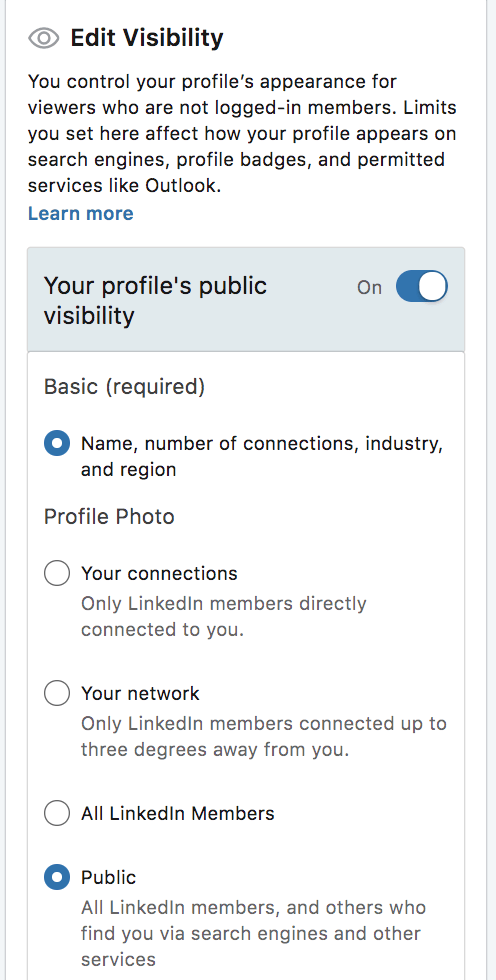 Then, you'd want all your details to be shown as well. As long as you have all the toggles switched to "Show" or to the right, you're set.
Lastly, if you have a public site, you can also "Create a badge" where you can add a section or code into your site to showcase your LinkedIn. It's not necessary, but definitely a cool feature to have.
2) Your Unique URL
Your custom URL is quite important because you can add it directly to your resume, boosting potential visibility.
For example, all my social media pages are consistent in that my "handle" or the link is bessytam:
linkedin.com/in/bessytam
Facebook.com/bessytam
Twitter.com/bessytam
This allows Google to acknowledge that all of them are the same person, but also allows recruiters, friends, acquaintances, people I meet in networking events, or important business partners to easily find me.
Unprompted, LinkedIn will generate a unique URL for you with your name and random digits/characters. Shorter, or more common names get more characters: https://www.linkedin.com/in/charles-kim-94264a51/
Yikes!!
Pro Tip: Change your custom URL! I suggest keeping it as simple as possible and using your name, and a number or two if necessary.
How do you change your URL? Click here or go to Settings, where you'll find "Edit Your Public Profile & URL" on the top right after you click Me > View Profile.
3) Other Public Settings
Then, make sure the little details are also public by checking Me > Settings > Privacy (the first section)
The main priorities you want to check are:
Who can see your connections – if this is off, others won't be able to see your endorsements!
Viewers of this profile also viewed – this allows similar users to view your profile as well
Who can see your last name – This allows people to search your full name so that you can appear at the top of searches.
It's especially important if you have a very common name. Not as important for me because there are only 2 Bessy Tam's in the world. But it helps with showing up on Google's organic search results as well – where my LinkedIn would show up in the Top 5 results.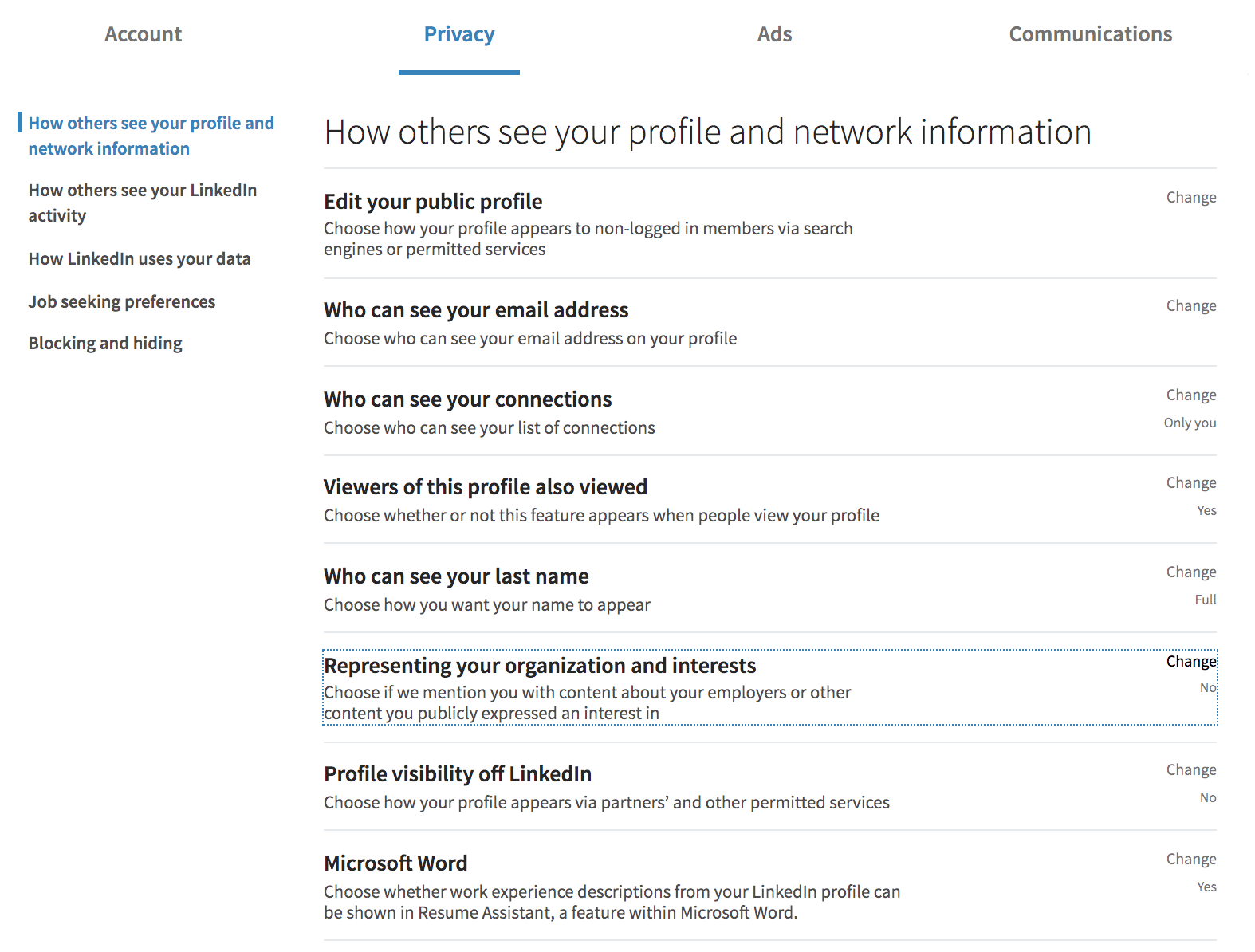 Step 8: Humanize It!
Lastly, make sure you humanize your LinkedIn profile.
It is meant to be a social media platform for a reason. It's a way for you to connect with people and communicate your personality beyond your resume and before your interviews, allowing you to showcase who you are, your goals, what you like, what matters to you, and your overall career/life journey.
There are a few ways to humanize your profile to make it YOU in a professional way- you shouldn't show as much as you might on Facebook, Twitter, Instagram, and others.
1) Write Articles!
An easy way to share your interests and passions is to write articles. Recently, I went to a National Achievers Congress in Chicago where Gary Vaynerchuk (Gary Vee) spoke (see my Instagram post here).
Gary Vaynerchuk famously said that he's really excited about LinkedIn as a content platform to grow your business/personal brand because the cost is so low and the organic reach is so high. Most importantly, that it's so underutilized!
You can instantly feel his personality and the topics he cares about through the articles that he writes. It doesn't have to be sophisticated, academic, or long – your article could be a 500 word POV.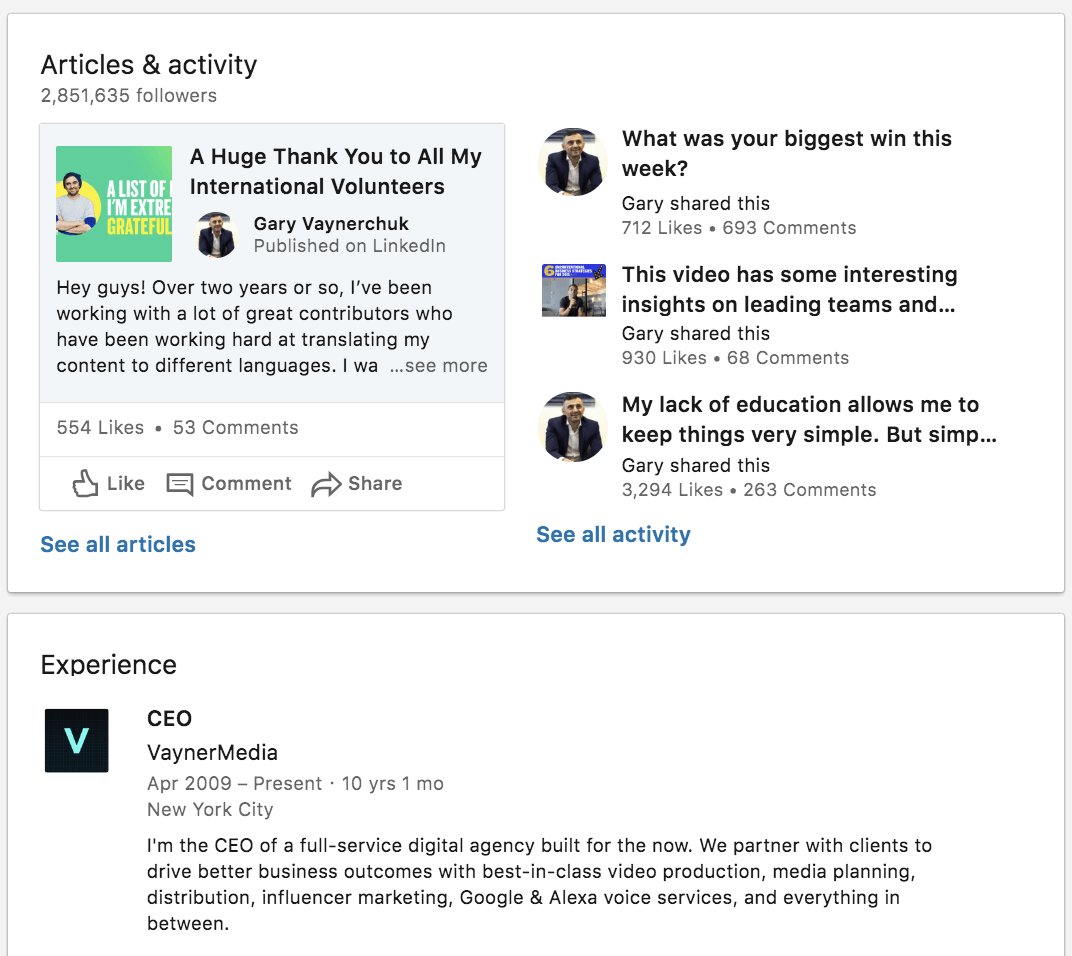 A friend of mine, Hewon, wrote about her experiences as a panelist in University of Chicago: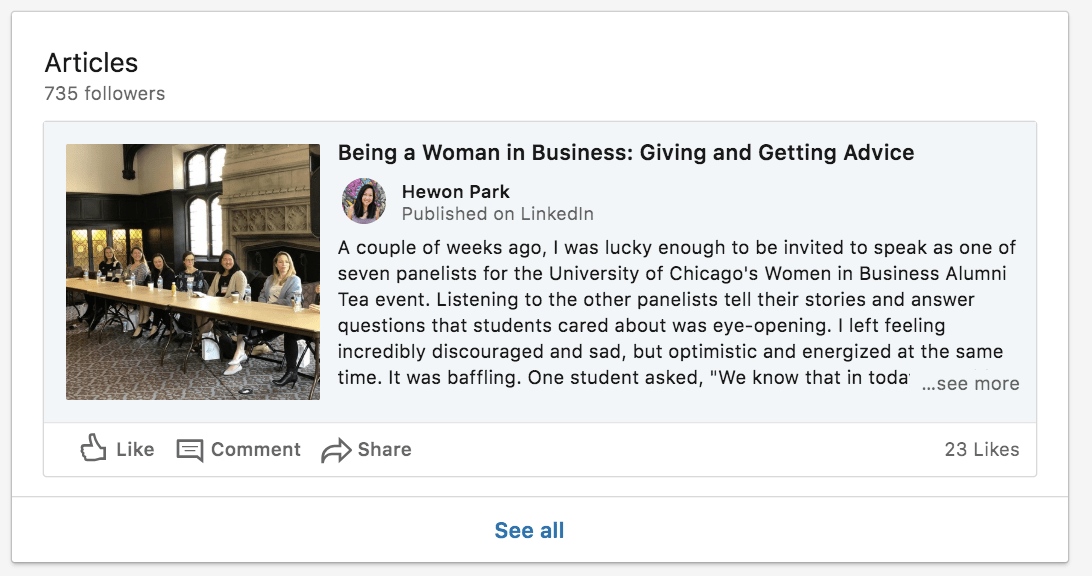 Another friend of mine, Jake, wrote about his passion and expertise in racking credit card points: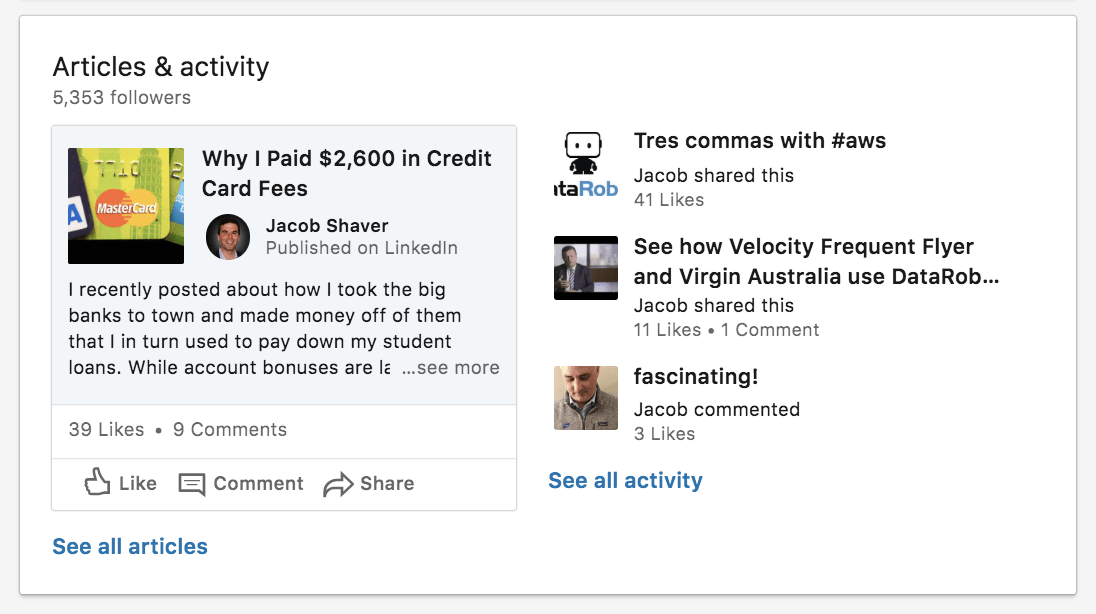 What you write about is entirely up to you. In the end, it's all about showcasing your skill sets (in this case, writing and expertise on a topic) and your interests.
As you can see below, Jake got a lot of great reactions from this article. Even from managers and C-level folks who wouldn't have engaged with him as much if it weren't for the article.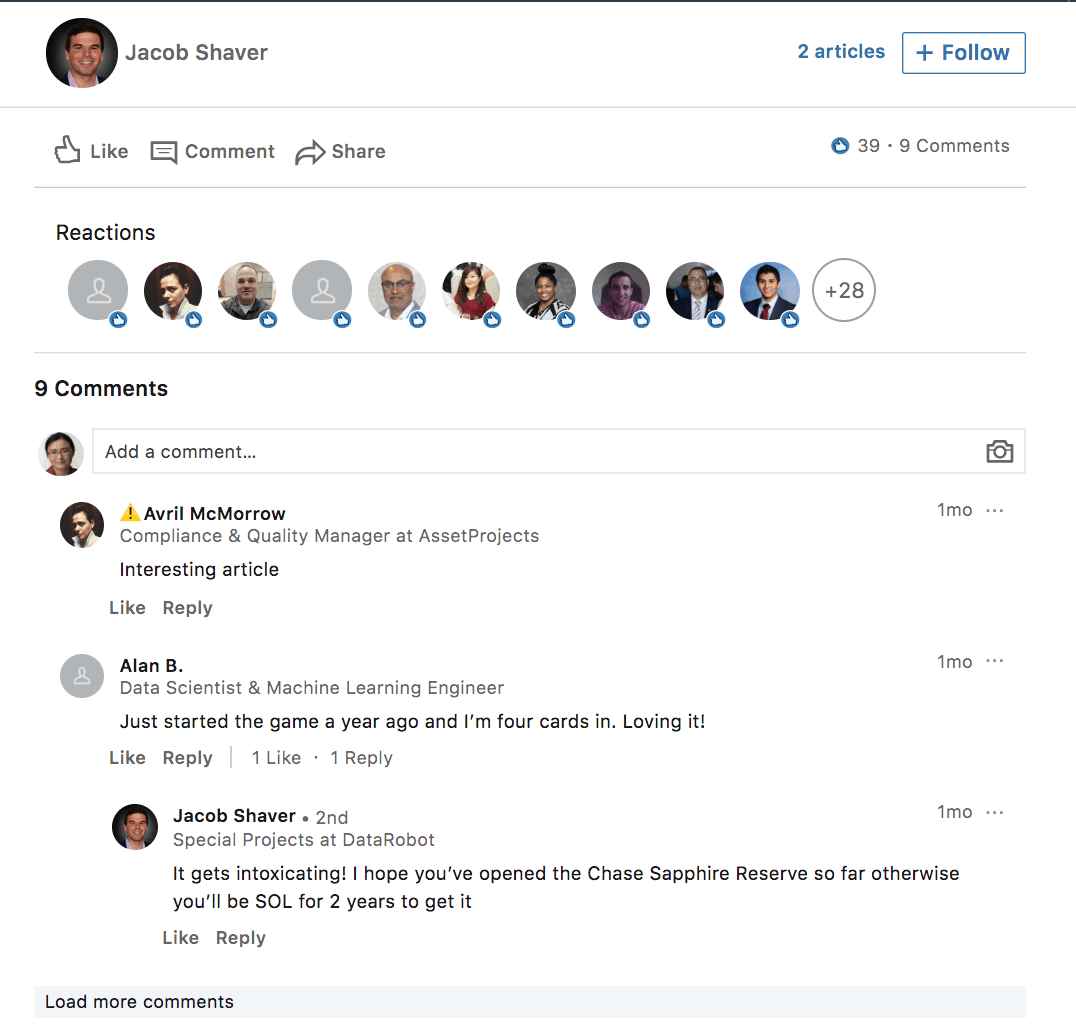 2) Add Interests!
Interests are essentially companies, people, groups, and schools you "follow." These Interests function similarly to your interests or pages that you follow on Facebook: any pages you follow will show up when you check your homepage Feed.
By adding interests, you can showcase the people that you look up to and the people/organizations that you associate with. More specifically with groups, you're able to interact and be in a closed setting among those individuals – to create influence, discussions, and eventually connections with other group members.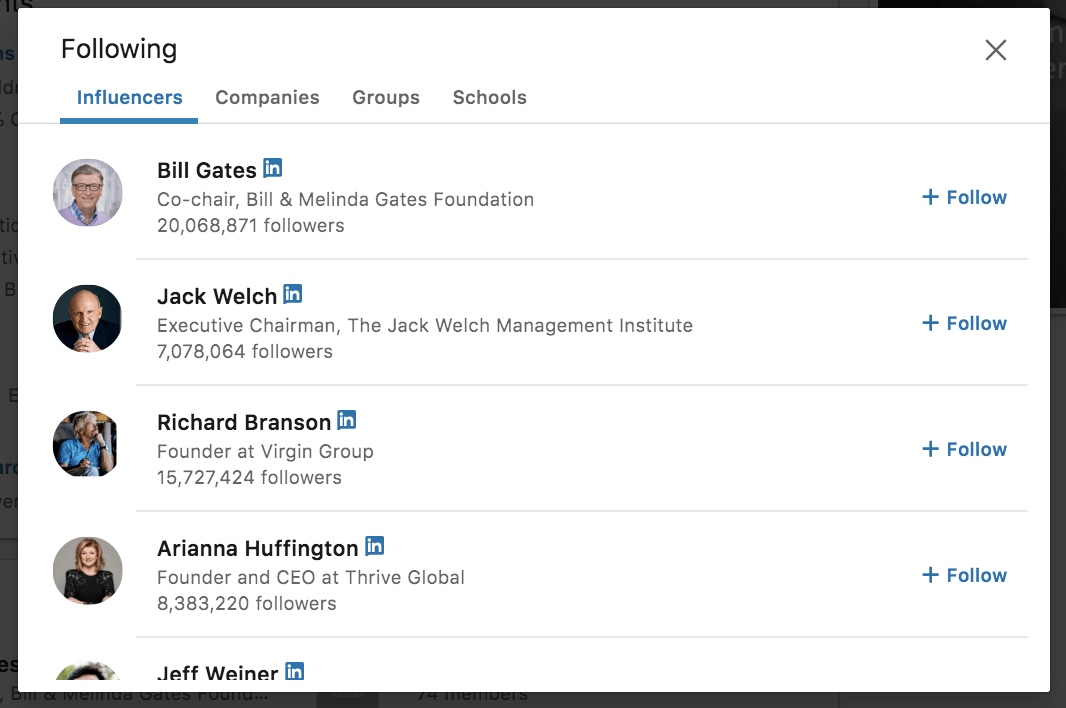 At a minimum, make sure you're following your company, desired companies, and your school.
Pro Tip: Make sure to look for, and join, groups that match your interests. If you're not sure where to start, search keywords such as "marketing in:groups". You'll be able to see the top joined groups and follow the content within.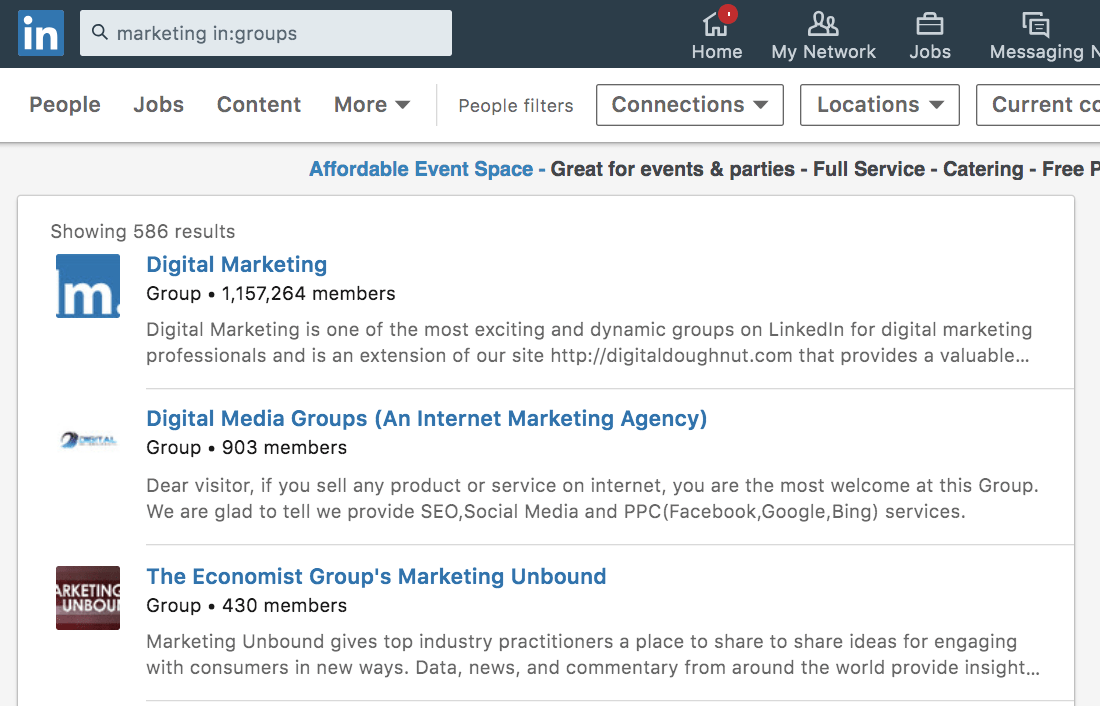 I don't recommend joining groups that have "job" in the title for two reasons. First, anyone can see what groups you're in, so if your company were to notice you were in "job" groups, they would know you're looking. Second, I've found that the members of these groups aren't very qualified and their advice won't add much value!
3) Add College Organizations!
Even though college is a thing of the past for most of us, your years in college were a defining time period in your life. Your collegiate career represents what you were passionate about, and these passions can facilitate connections to people who have similar interests – whether it's your clients, friends, coworkers, or even strangers in your desired company that you're looking to connect with.
As an example, I was an active participant and leader within dance, diversity, and volleyball groups. I still am active in these activities as a working professional, but highlighting my experience starting in college demonstrates commitment to the activity and showcases the responsibilities you had.
Most of these interests/organizations are not something I would recommend including on a resume. Your LinkedIn is a great place to include activities in order to give recruiters a holistic sense of who you are outside of the workplace, and your commitment to your passions and interests.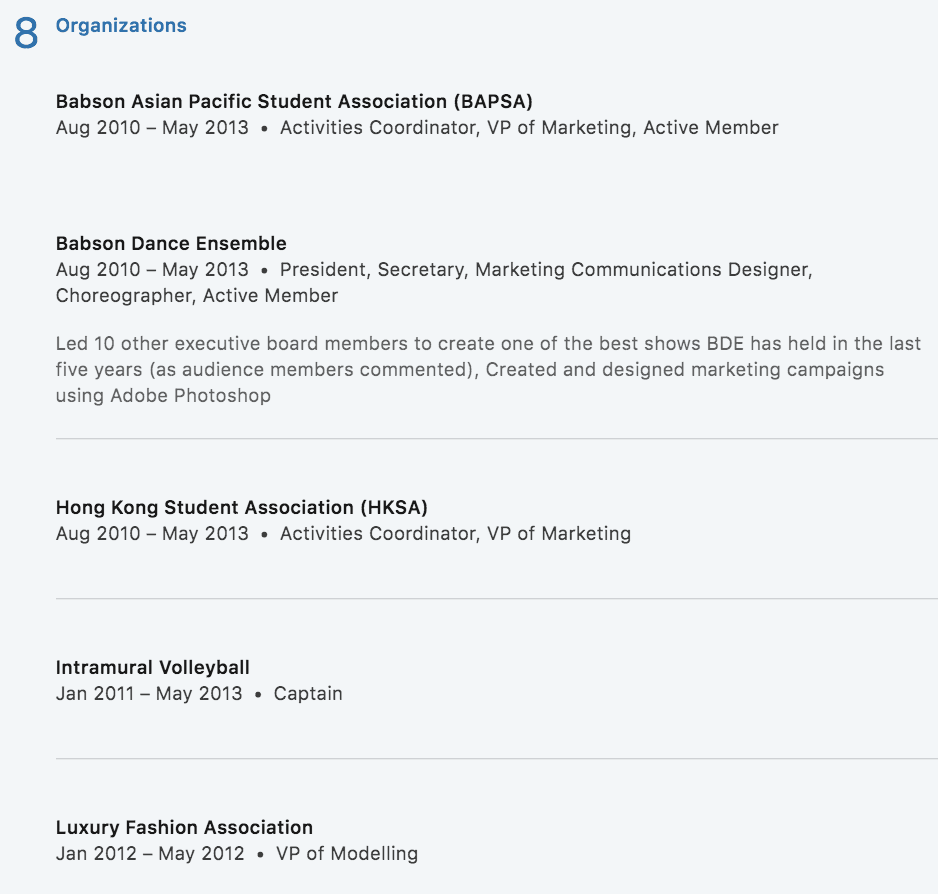 Final Thoughts
At the end of the day, your LinkedIn Profile is an extension and complement of who you are beyond your resume (skills), online view (facebook, instagram, other social media), and informational interviews.
LinkedIn showcases your background, your personality, your experiences and your potential value to anybody who wants to learn more about you: whether it's a colleague you just met or a future employer. More importantly, it allows you to aggregate all your professional and personal relationships in the same "view" when you're looking for a job or looking to learn more about switching into a different company or industry.
By implementing my 8 recommendations…
Extend your Resume: Utilize all of LinkedIn's Features
Be Clear and Actionable: Avoid Lists!
Align your Profile to your Desired Role
It's Not What You Know, It's Who You Know
Add Secret Settings to Boost Your Visibility
Let your Career Tell a Story
Be Seen: Setting up a Public Profile & Unique URL
Humanize Your Approach
… you should be able to achieve:
Great Metrics: Recruiters reaching out, 200+ searches, and 200+ profile views every week.
Great Connections: At least 1-2 connections at each company somehow connected – through your groups, organizations, school alumni, or even people who used to work at your company.
A Starting Point For Interviews: Anything on your LinkedIn could be a conversation starter in an interview!
Hopefully you found these 8 tips useful. Feel free to comment below on how you've followed this checklist – I'd love to hear from you if you have any questions or success stories!
In addition to these LinkedIn tips, I have a limited time offer for a 7-day free email course to help you find out whether a tech career is right for you, how to transition into tech, how to revamp your resume, common questions asked during interviews, and the exact resume that got me into Google from Corporate Marketing. Check it out by clicking here!
The post How To Use LinkedIn Like A Career Expert appeared first on Cultivated Culture.
How To Use LinkedIn Like A Career Expert