Green Waves Improvisational Quilt Made with Garment Fabric Scraps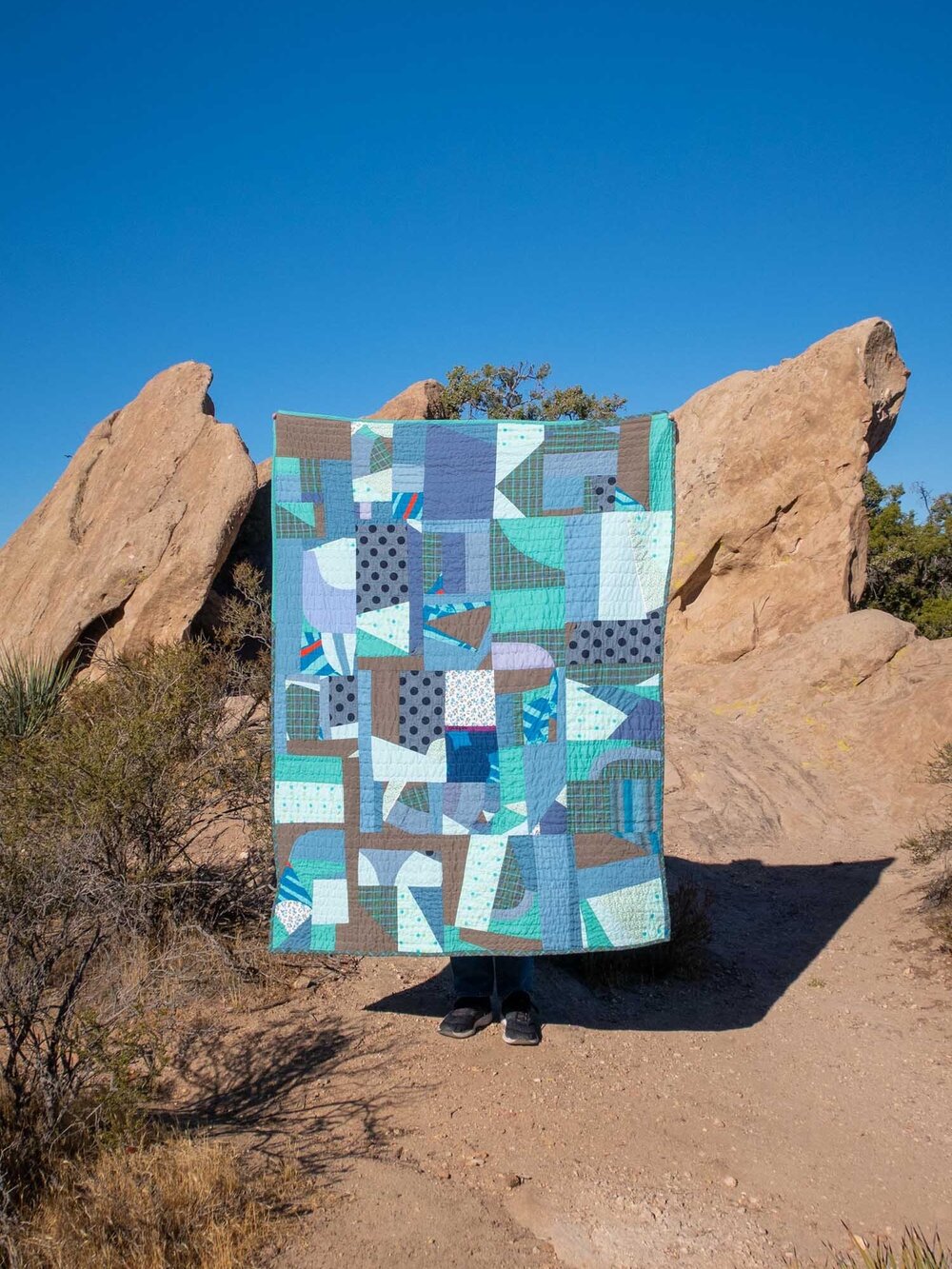 Hello friends! Would you believe that this is my first blog post of 2021? It's been tough to get started this year. So, I'm starting off nice and easy with a quilt that I made in 2020. I shared a bit about it on Instagram but I thought it might be fun to go a little bit more in depth here on the blog.
This is an improvisational quilt made with fabric scraps from a variety of garment sewing projects from the last 20 years or so of sewing. One of the things I love most about using my fabric scraps to make quilts is that each quilt contains all of these lovely memories from other projects that I've made over the years. They're like warm, cozy (and useful!) scrapbooks of makes from the past.
To make this quilt, I used my own method of improvisational piecing. Last year, I launched my e-course Improvisational Quilting for Garment Sewists that teaches all the basics of making a quilt and how to do this improvisational method. It's a really fun and comprehensive course that will help you use what you have on hand while learning new skills. You can learn all about it here.
I used a variety of fabric types in this quilt. Mostly though, I used cotton fabric. Cotton is really the easiest to work with no matter what you're sewing and one of my favorites. A few of the fabrics are of unknown fiber content and at least one, I believe to be linen. The most unusual fabric type that I used is the olive green tencel fabric. It's a bit of an experiment to see how this fabric stands up to wear and tear in a quilt. Handling this fabric for piecing and quilting went just fine without any problems.
In this blog post, I share about the different fabrics that I used in the quilt and the garments that I made using those fabrics. Many of the fabrics have blog posts but, for a few of them, the garments were never recorded and are long gone from my wardrobe. That makes this quilt even more special to me.
Chambray and navy polka dot fabric
This is one of my favorite fabrics from the quilt because it's so bold and the big polka dots are so fun and carefree. I'm actually a little surprised that this fabric does not feature more prominently on the front of the quilt because I have SO MUCH of it. (It does get a good feature on the back of the quilt though! See below!)
As I recall, I bought this fabric at the FIDM Scholarship store in downtown LA. I probably bought 5 or 6 yards because it was only $1-2 per yard and it's the perfect weight for making muslins. I've used this fabric to make the super fun and cute Rushcutter dress shown above (and blogged here). Plus, it's been used for countless muslins and even made an appearance in the Nita Wrap Skirt sewalong. I'm not sure what happened to that skirt, I think I gave it to someone for a promo booth. But, as long as I have this quilt, I'll always remember this fabric and all the times I sewed with it. Or, let's be honest, most of the times I sewed with it because this is the fabric that would never end.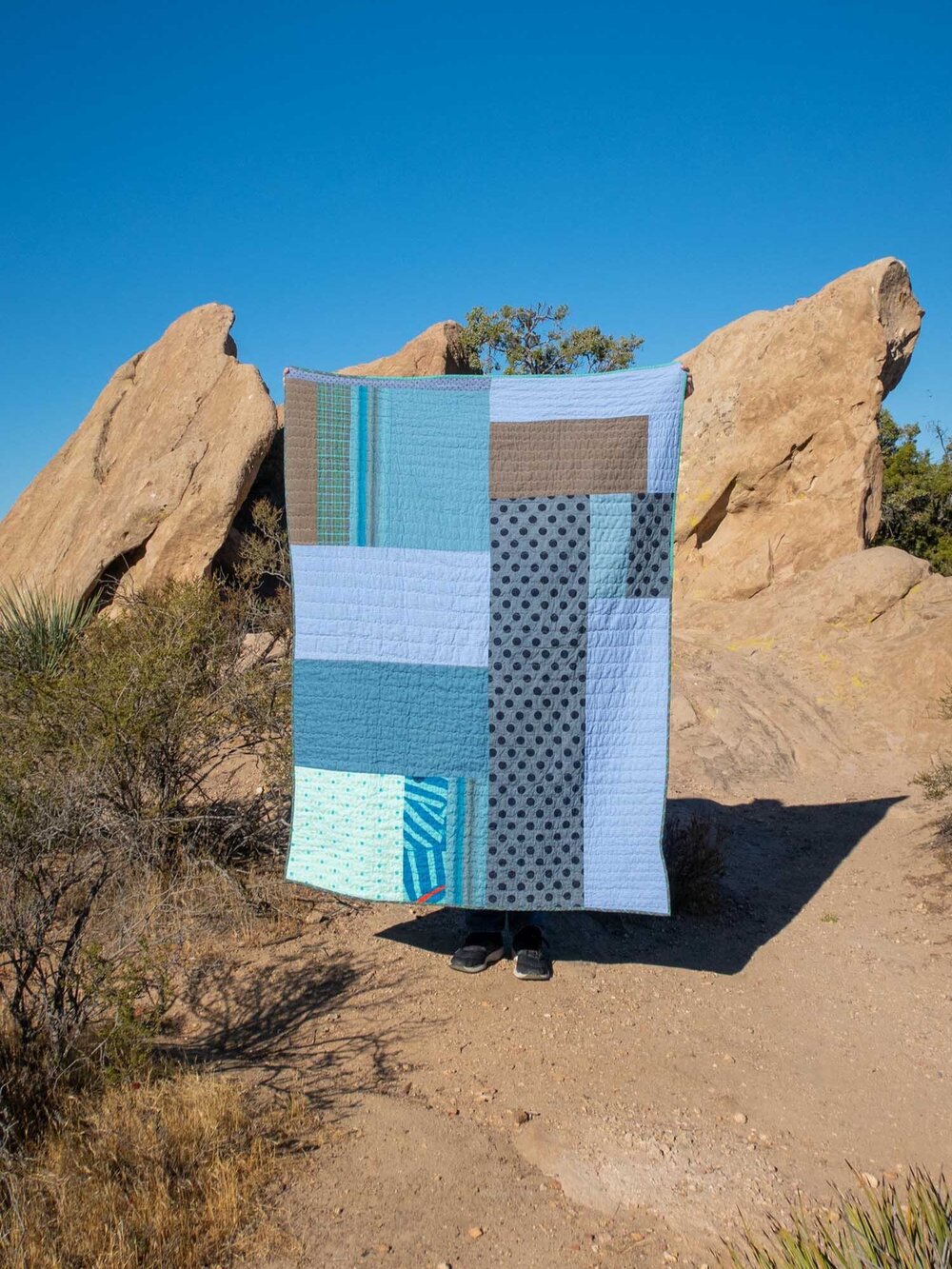 Dark green and teal plaid fabric
I really love this fabric! It's an extra special one because I inherited it from Grandma. She loved her fabric too and refused to share it with me while she was alive. So, I make sure to cherish it now as much as I'm sure she did. She was very organized and this fabric came to me in a plastic bag with matching thread and a receipt. There may have even been notes for what she planned to make with it. This fabric is a cotton or cotton blend so it was really easy to work with while quilting. I've only used it for a garment one time, for the dress above, Butterick B6531, blogged here.
Olive green Tencel fabric
This tencel fabric was a gift from The Fabric Store, back when they had a location in LA. I made two garments with it and had a bunch of leftover scraps. This tencel is one of the riskier fabrics that I've used for a quilt. It has more drape than a traditional cotton or linen but it is fairly easy to sew with. Over time the garments that I've made with this fabric have shown wear and tear more quickly than I would like. So, I'm expecting to see the same in the quilt. But, I do really like this color in the mix. I think it grounds the piece in a way. It's the most neutral fabric and while it stands out strongly because it's so dark it also kind of creates a background for the other fabrics.
The first thing I made with this fabric was a long sleeved Kalle Shirtdress, blogged here. I wore this dress a number of times when I was going in to the office but I haven't worn it in a long time. It's ok but just not super exciting to me. I did end up shortening it and like it better that way.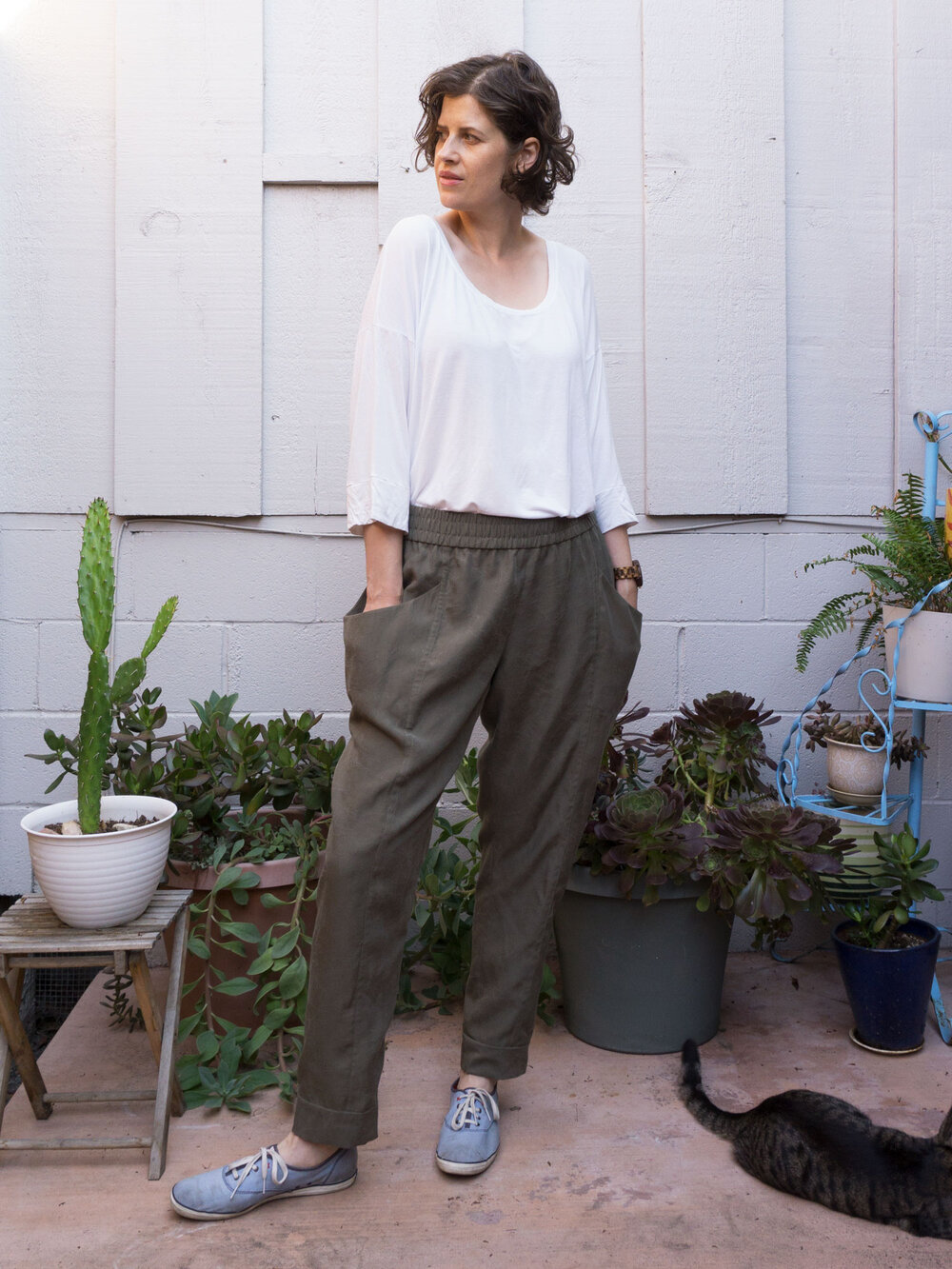 The second thing I made with this pattern was the Arenite Pants, blogged here. These were intended to be a wearable muslin. I've actually worn these a lot and the seams are getting pretty frayed. I bought fabric to make these again but I just never got around to it. I think I'd rather just try something new. Plus, these need a few fit changes to make me happier (longer crotch and more room in the calf and ankle).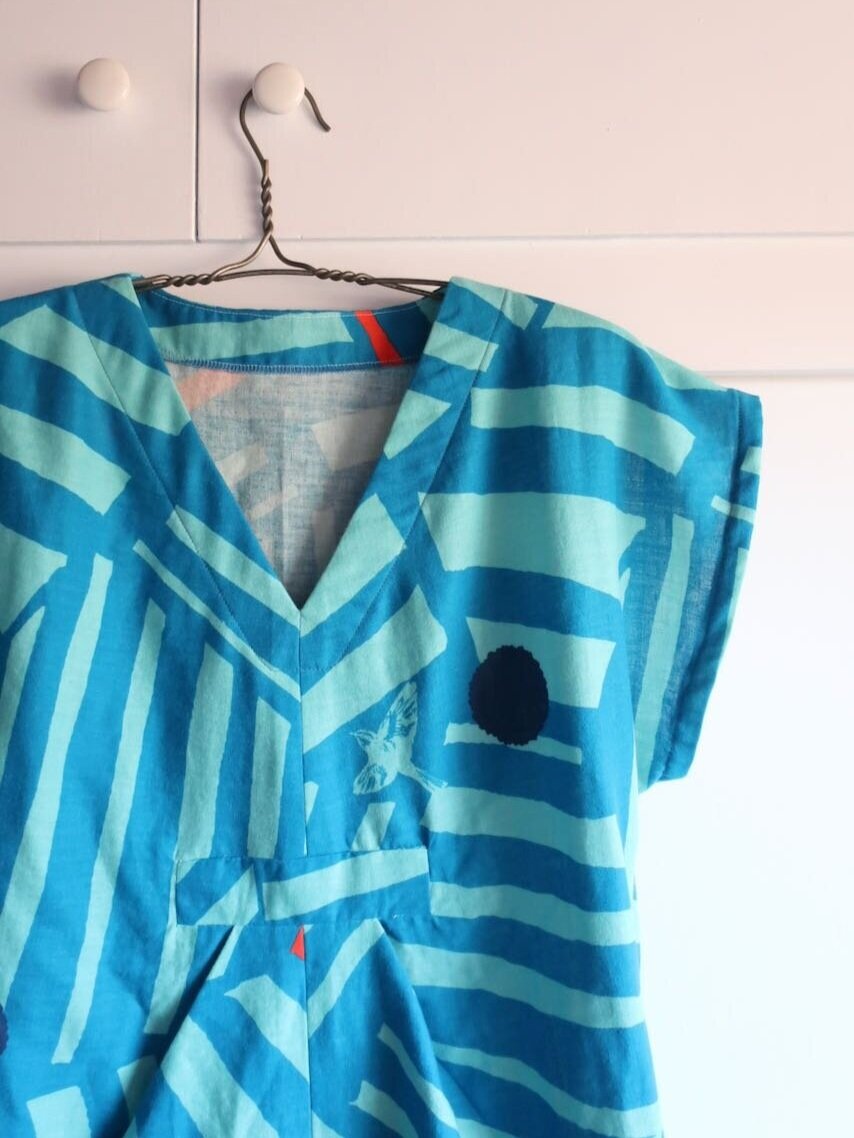 Nani Iro double gauze

This is such a special fabric and I only had a few bits of it leftover. Double gauze is the most luscious fabric ever. I don't work with it often enough. And Nani Iro designs are just stunning. Big heart eyes for all of them. I love that this print adds a little pop of red to the quilt. This double gauze worked really well for quilting. I didn't have any issues sewing with it.
I bought this fabric back at the end of 2017 and used it to make a Charlie Caftan for my sister in law. I did not blog about that make but did blog about the Charlie here.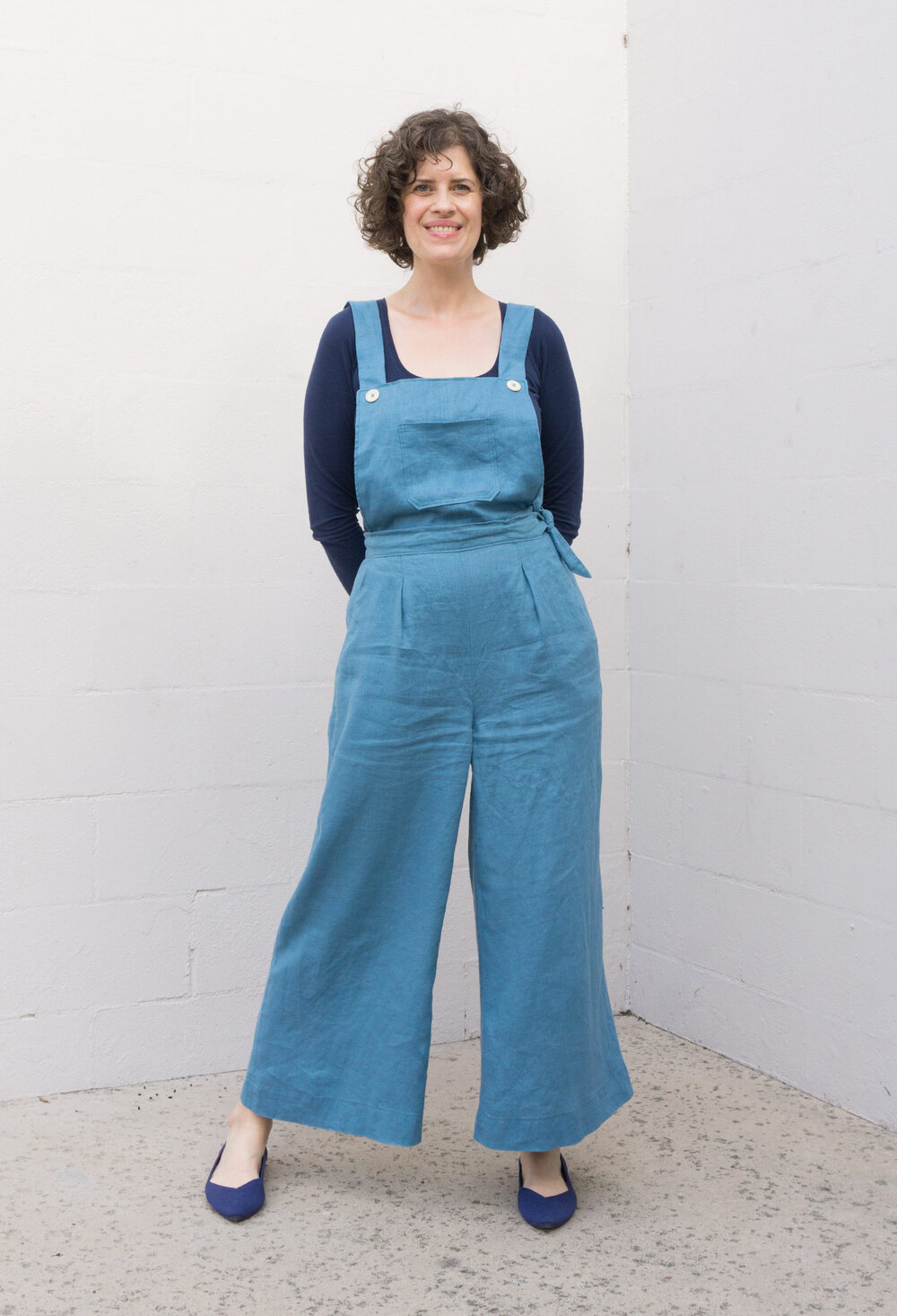 Blue-green linen
This linen fabric was also a gift from The Fabric Store. I love their linens and it is a great fabric for quilting. I used this linen to make a pair of Flint Pants with a detachable bib, blogged here.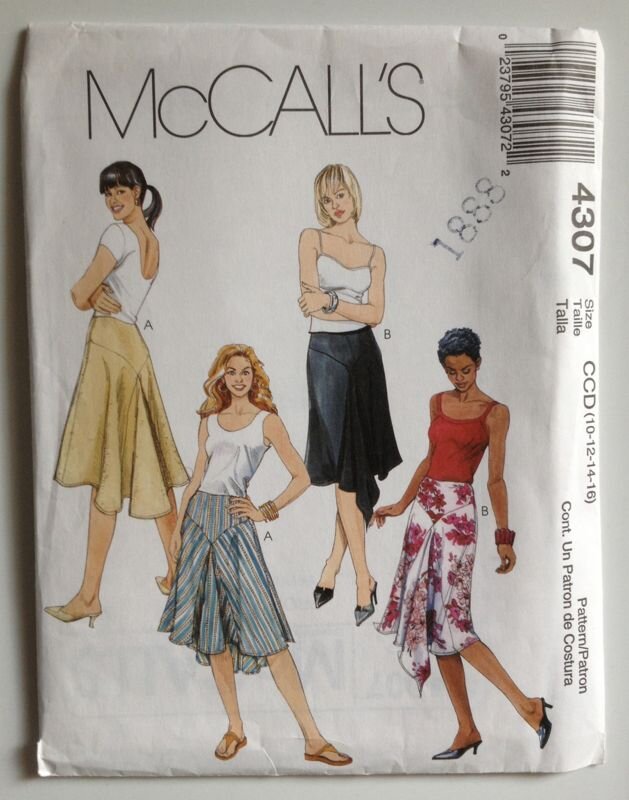 Light green dash/leaf print quilting cotton
This quilting cotton is one of the oldest in the quilt. You can see it in the photo above as a big triangle in the bottom corner. I used it back in the early 2000's to make a skirt using a McCalls 4307 (available on etsy here). I no longer have the skirt, but I did find this photo of the pattern.
Pale green dot linen
The fabric in the bottom corner of the photo above with the monochromatic dots is a linen or linen-look fabric that's also from the early 2000's. I used this fabric to make a vintage wrap skirt that wrapped in the back. I recall spending a lot of time tracing and perhaps even grading the pattern to fit. And then whenever I wore the skirt I was paranoid that it had flung open in the back and I couldn't simply look down and check. So, I was always touching my backside to make sure it was covered. That skirt is no longer in my wardrobe either.
Grey/blue gradient stripe
You can see this fabric in the middle right side of the quilt photo above. This fabric was a thrift store find and likely a cotton or cotton blend. I used this fabric to make a high waisted kind of sailor style skirt way back in 2008. Check out the very old blog post here. (In case you weren't a sewing blogger back then, I must let you know that it was VERY common to post headless or mannequin photos of makes. So many headless photos! It took me a really long time to get comfortable taking photos of my whole body.)
At that time, it was a free pattern from BurdaStyle but I can no longer find it on their website. It looks like they don't have any patterns from before 2017?!?!?!
Looking at all these old photos, I'm starting to feel very old! Yikes! I did wear this skirt a fair amount but at some point got rid of it.
I also used this fabric to make a wrap top which I'm not sure if I ever blogged about or wore. For a while, I was trying to make a wrap dress and really struggling with the fit at the bust. I think I succeeded with the top but the dress was rather a nightmare of fitting and refitting.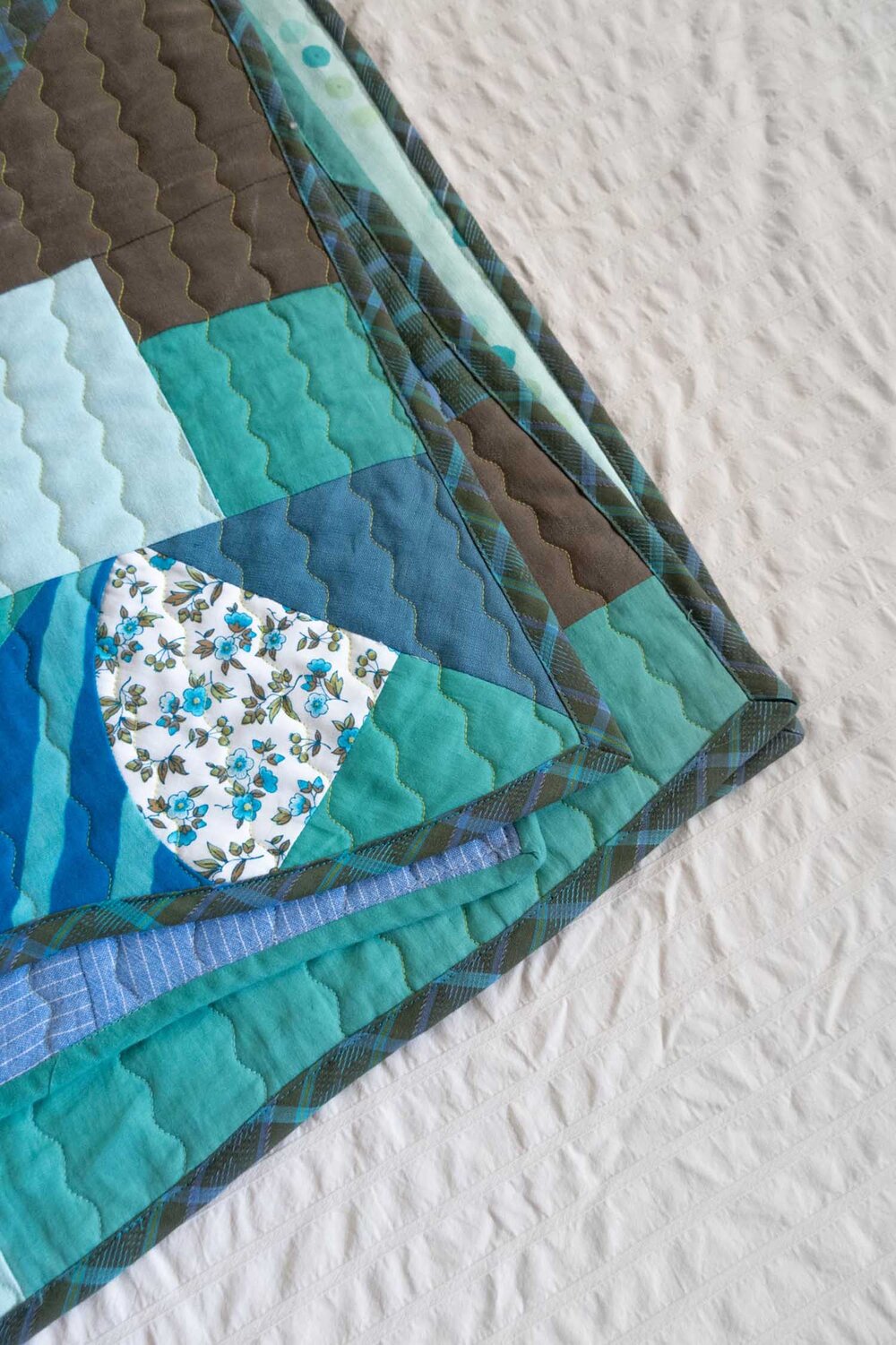 Solid teal and mint green cottons or cotton blends
You can see a lot of these fabrics in the photo above. Just like the polka dot chambray, these were bought for making muslins. The mint green solid has made an appearance in the Lou Box Dress sewalong but otherwise I don't have any photos of things made with them. Just like with the chambray, I feel like they've been around forever and refuse to be used up. It's nice to see them put to good use in this quilt.
There's also a floral quilting cotton that I picked up at a thrift store and a bit of blue stripe that I used to make a failed Lou Box Dress 2. I loved the fabric and the pattern (of course) but when I put on the dress it just looked like scrubs and I hated it. So, I've been recycling pieces of that dress ever since.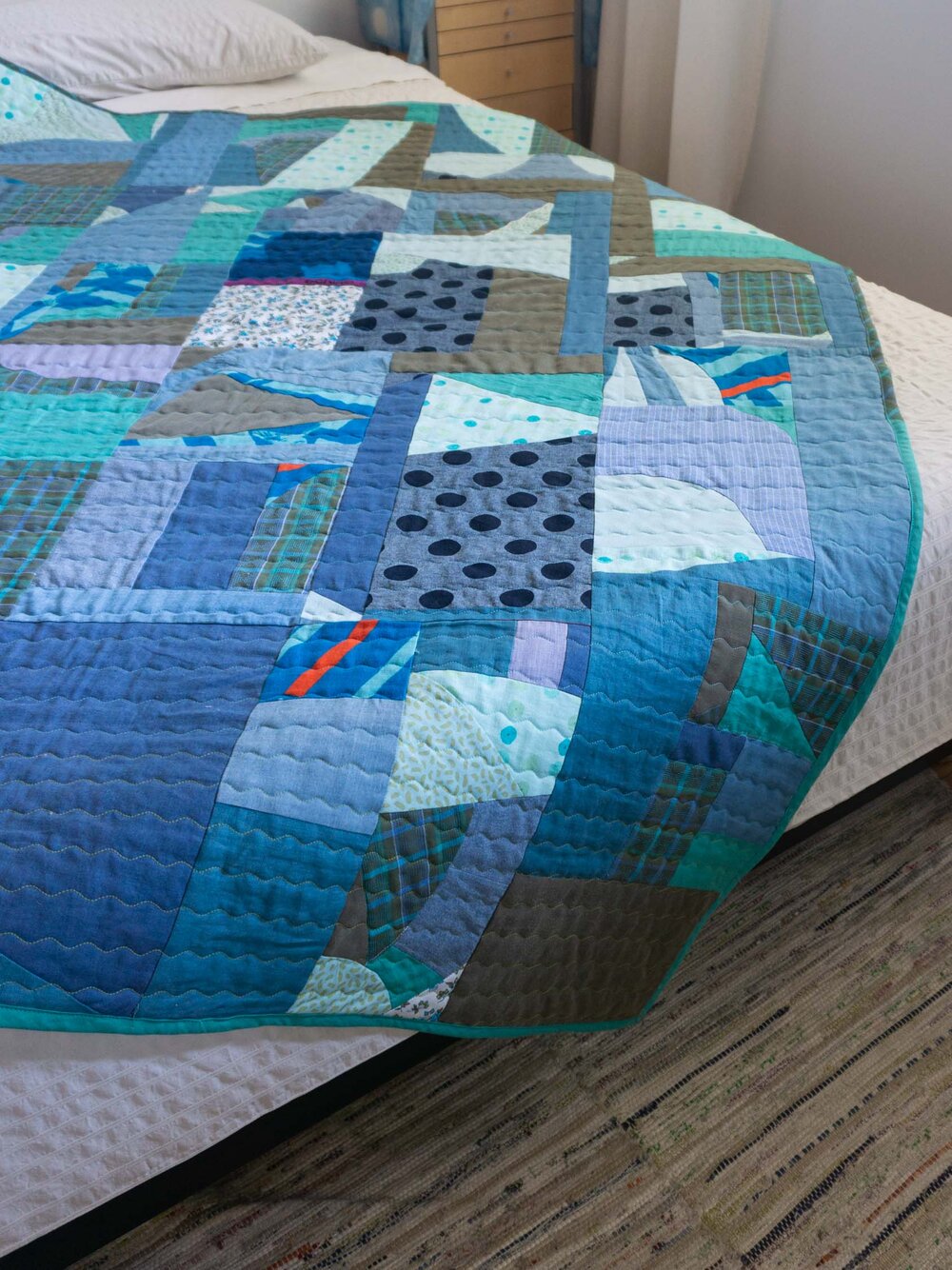 More on making this quilt
I quilted this quilt on my conventional sewing machine, a Janome MemoryCraft. It's a pretty fancy machine but you can use any machine that has a walking foot. This quilt has an ocean wave kind of theme, with the blue and green colors, the curved scraps and I even left some natural curves in the edges of the quilt. (Most of the time, you'd cut square corners and straight lines for a quilt but I figured that was just a standard and not really a requirement. So, I trimmed my quilt sandwich down just where necessary to have all three layers of fabric and batting. What remained is a really organic shape. To match the colors and curves in the quilt, I chose a serpentine stitch to quilt the layers together.
When I went to quilt this baby, I was starting to run low on quilting thread so I improvised again and used a gradation of green-blue colors. Over the years, I somehow accumulated a lot of thread in this colors range, so I thought it would be a fun way to use it up. I started with the darkest thread in the middle and gradually went lighter as I moved to the outer edge of the quilt. I also gradated the spacing of the quilting lines to become closer together towards the sides and farther apart in the middle.
While I was carefully doing all this quilting, switching colors and adjusting the spacing, I thought that it would be fairly noticeable when finished. But in all honesty, you have to look pretty closely to see the thread color. It was fun to try out but a pretty subtle affect in the end, I think mostly because there are so many different fabrics and the thread matches a lot of the colors in the fabrics. Also, a heavier weight thread would be more visible.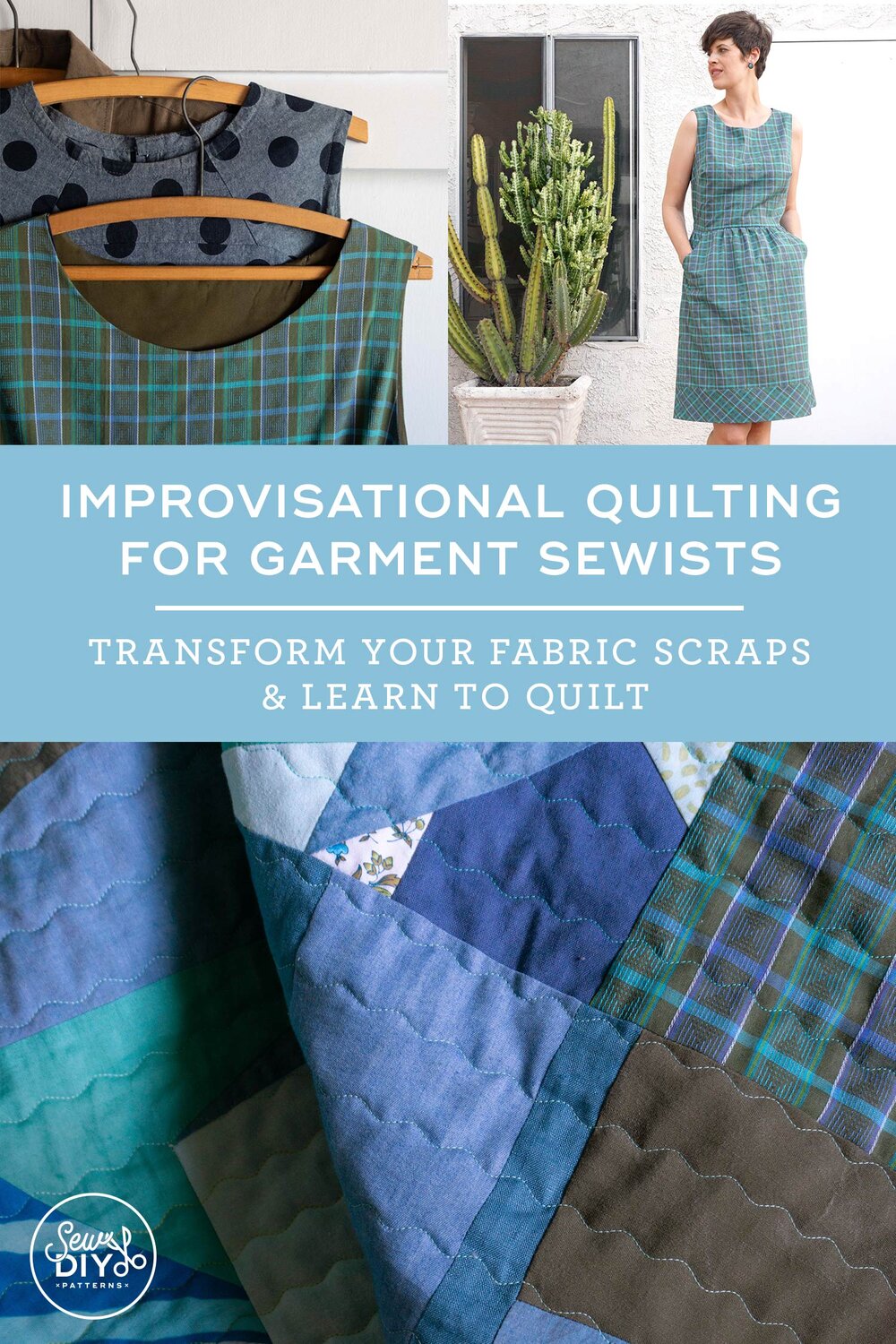 If you're looking for more quilting projects, or ways to use your fabric scraps, make sure to check out my e-course Improvisational Quilting for Garment Sewists. This is a self paced and comprehensive course that teaches you everything you need to know to learn how to turn your fabric scraps into useful and unique improvisational quilts. You can learn more about it here.
Green Waves Improvisational Quilt Made with Garment Fabric Scraps