A collected home with heart at Via Libre garden
December 03, 2021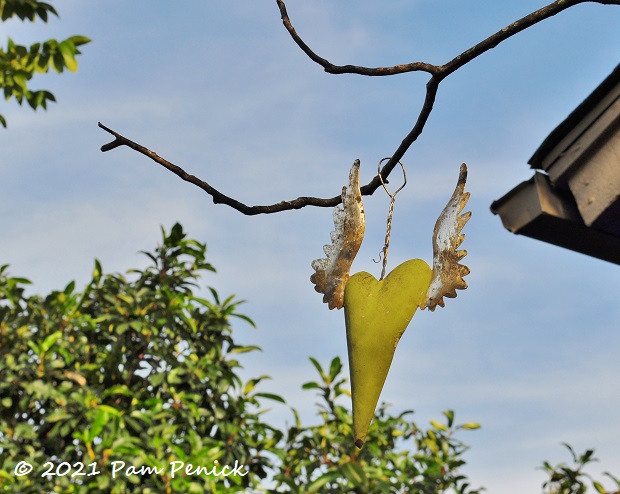 Known in Abilene for their extensive gardens, designer and artist Cynthia Williams Deegan and her husband, Bobby, picked up and moved to Austin in 2013 to be near their children and grandchildren. Austin has grown more enchanting as a result. As I've written previously, Cynthia and Bobby transformed a rundown, unloved Tarrytown home on MoPac's feeder road into a green oasis for the eye and spirit.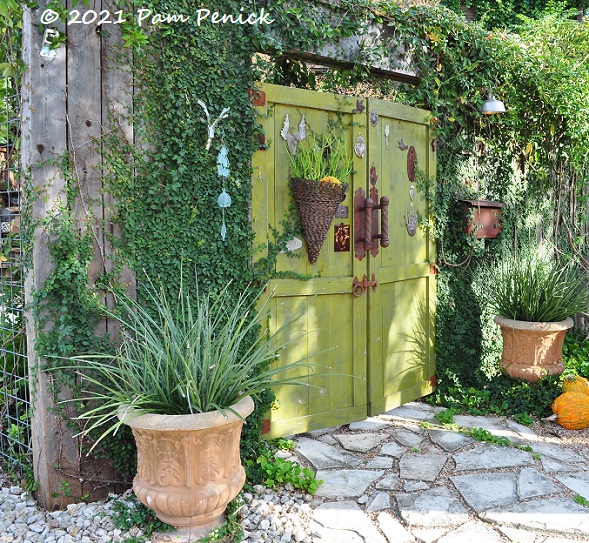 I returned to Via Libre — Via Libre means Freeway, illustrating the couple's sense of humor about living in MoPac's shadow — in mid-November with a few friends who hadn't seen it. Their reaction mirrored mine the first time I'd visited — pure delight. Heck, I felt that way all over again on my second visit. Maybe Cynthia feels it every morning when she opens her eyes and walks through the home and garden she's filled with collected treasures. If so, she's living her best life!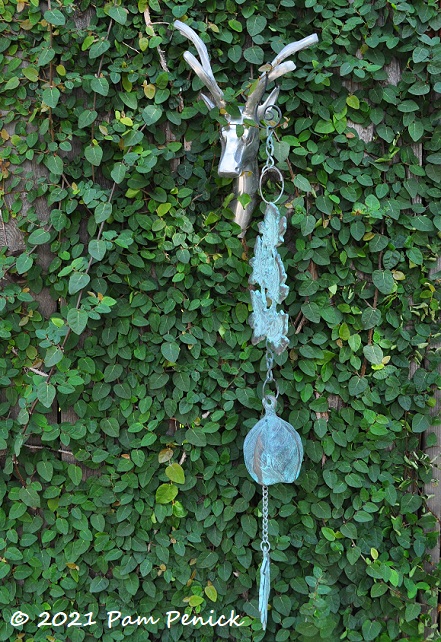 Like most Austin gardeners, Cynthia lost a lot in the February freeze-pocalypse, including gigantic American agaves along the drive and fig ivy that greened up her fence-walls. The ivy eventually came back (or she planted anew), but she's made peace with the agave loss. I asked if she'd replant, but she wants to try soft, waving grasses in that sunny spot instead.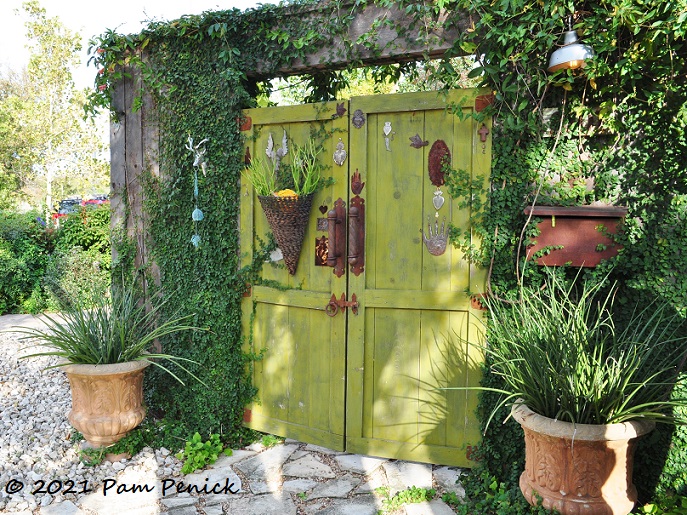 You enter Cynthia's garden through mossy-green double doors under a wooden arbor, Santa Fe-style. This is right out front, set back from the street about 10 or 15 feet. A wooden fence swathed in evergreen fig ivy and vines, with cattle-panel wire for windows, shields the front of their home from the busy street and creates a semi-private courtyard.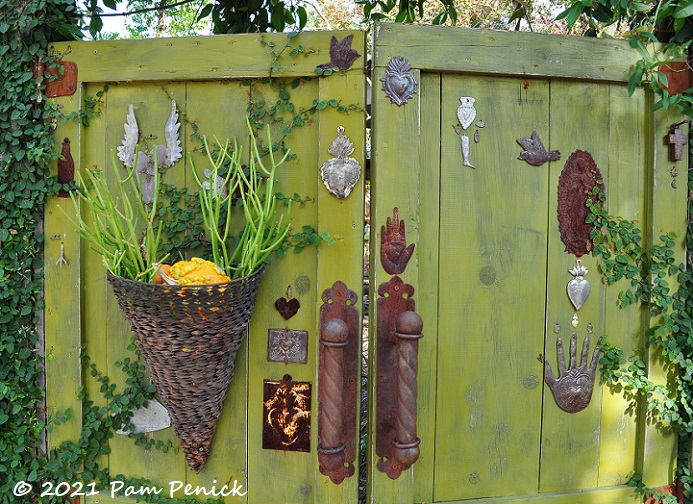 Adorned with tin milagros, Mexican folk charms, and a hanging conical planter, the doors set the tone, promising a magical space inside.
Courtyard garden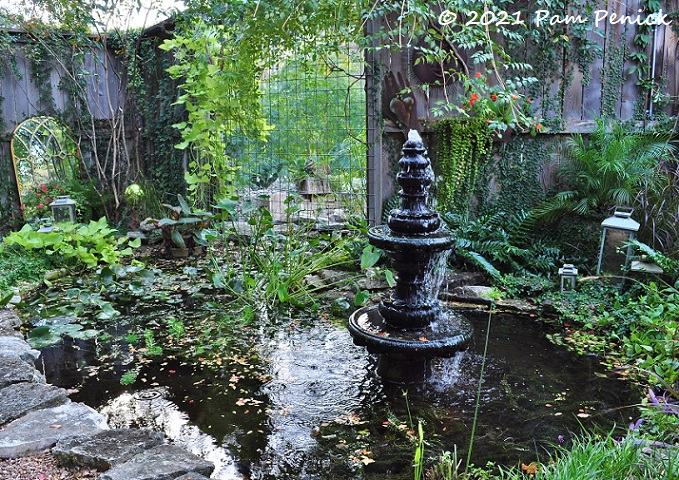 Step inside and splashing water from a New Orleans-style fountain washes away the highway noise. The water spills into a fairly large fishpond that, unexpectedly, extends through one cattle-panel window. Streamered with vines, the wire windows admit light and breezes and allow selectively framed views of the outside world.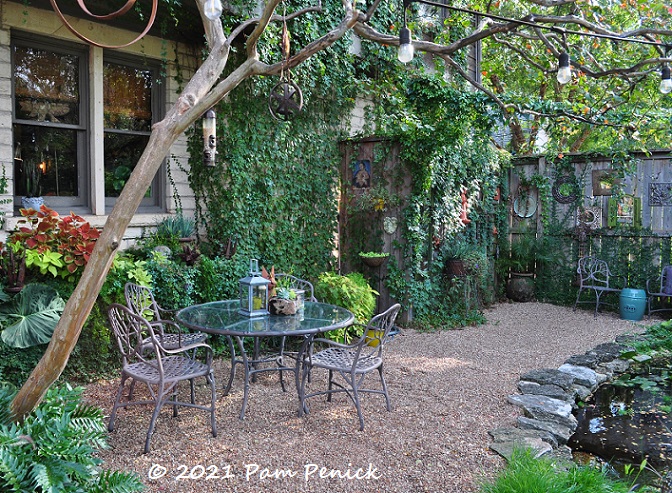 Inside, it's tranquil, green, and private. Cynthia says that the garden rooms they've made effectively double the living space in their small 1940s ranch.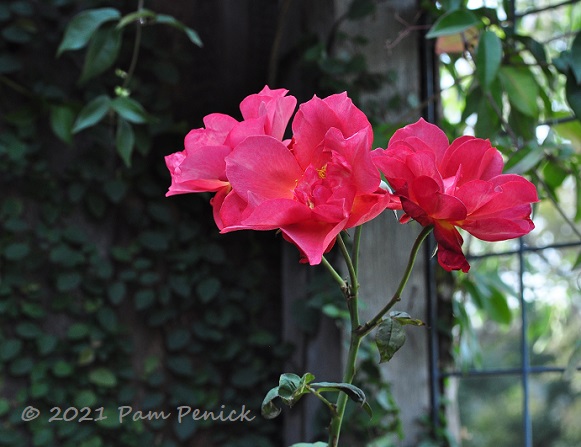 'Cinco de Mayo' rose glows smoky red along the fence.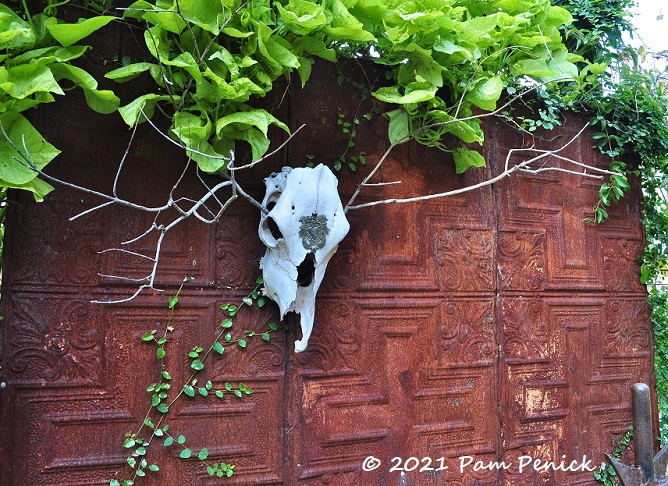 Cynthia has a keen eye for artistic alchemy. She turns other people's cast-off objects into works of art and creative vignettes. She has an affinity for antlered deer, hearts, hands, wings, and garden orbs, and I found them throughout her home and garden.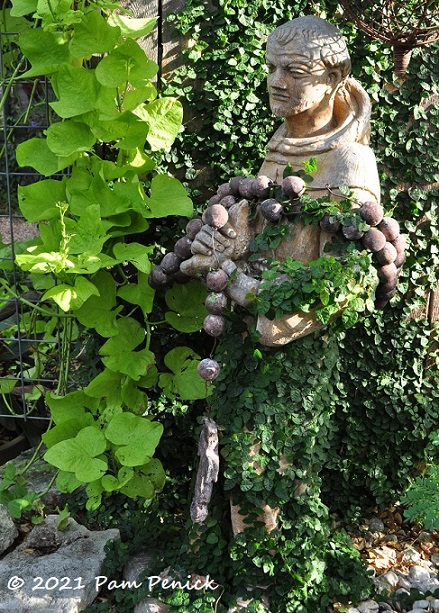 I spotted quite a few St. Francis figures too, including this one wrapped in a strand of wooden beads.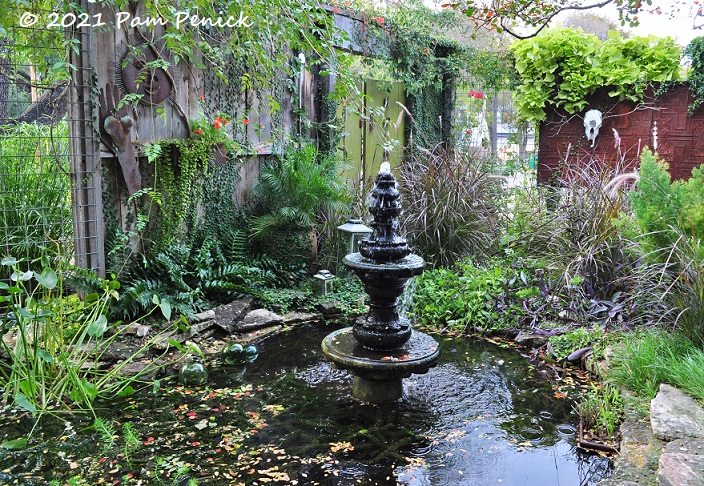 Pond-side view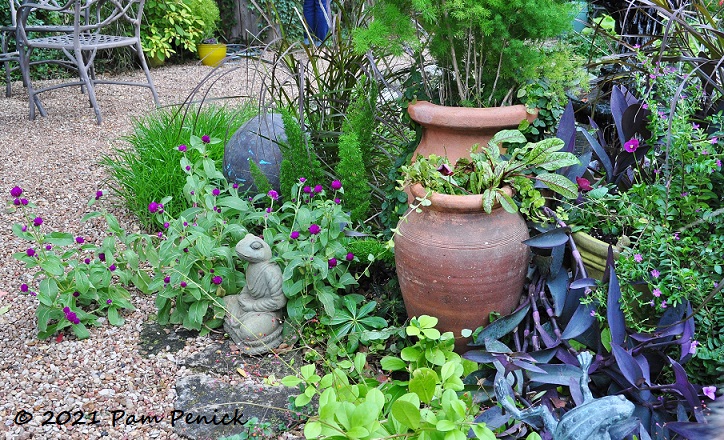 Purple and green dominate the pond garden, including purple heart, jewels-of-Opar, and gomphrena.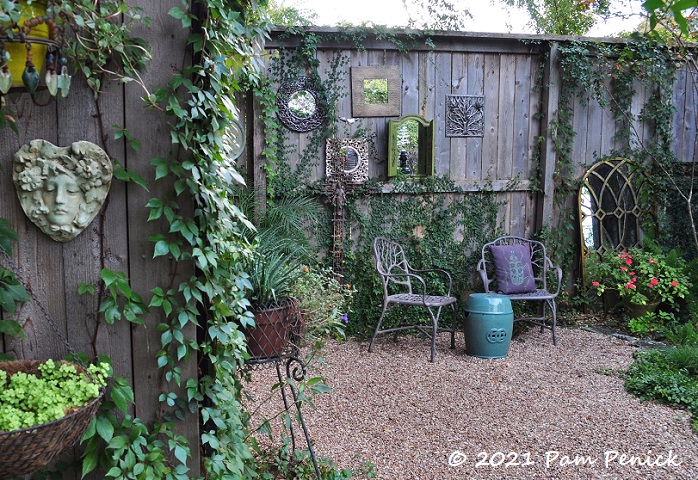 Mossy green and dusky purple accents continue the color scheme through the courtyard.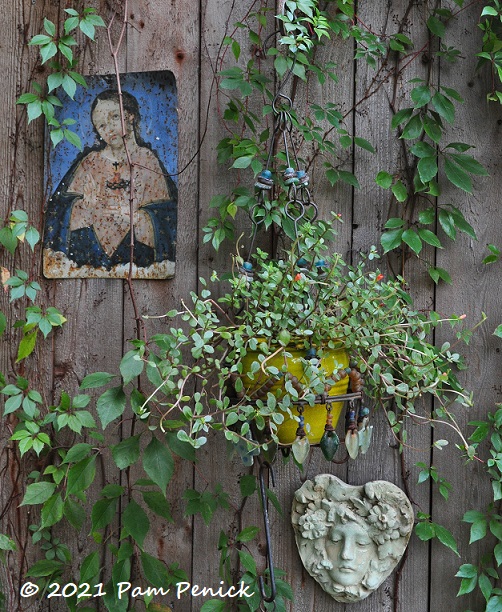 The courtyard fence is turned into a gallery wall with arrangements of mirrors, religious pieces, hanging planters, and garden faces.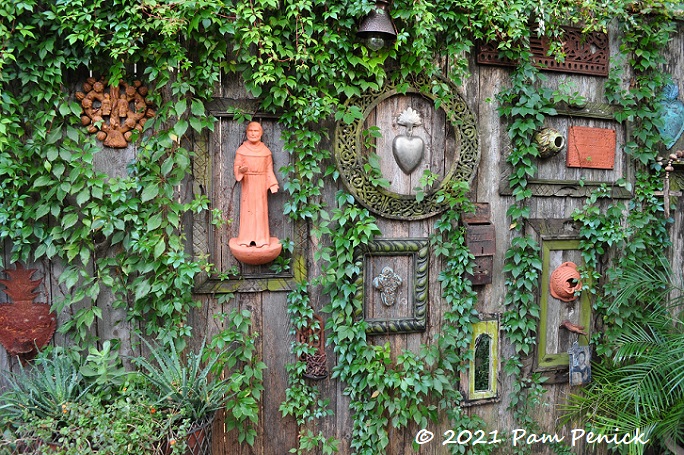 Hacienda creeper runs in green ribbons between the pieces, helping to frame each item. Cynthia also uses old picture frames to draw the eye to particular pieces and arrangements.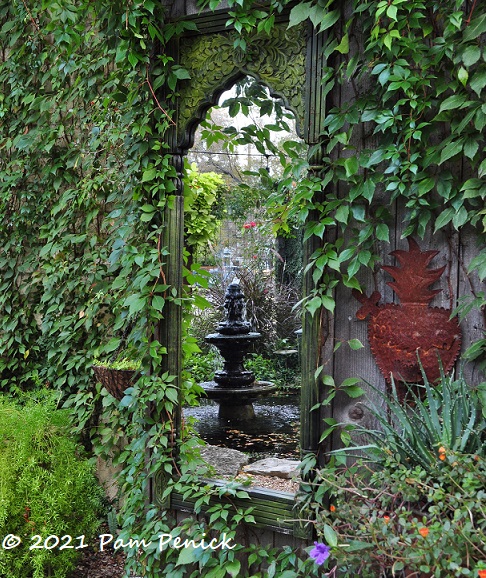 Its edges blurred by vines, a tall mirror reflecting the fountain almost looks like a doorway into another garden room.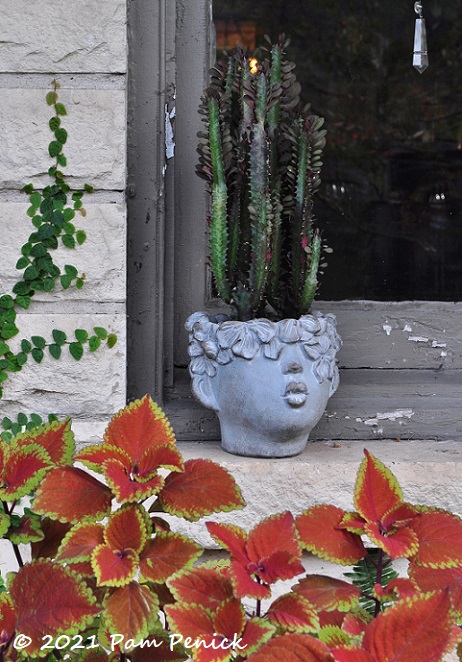 A leafy face planter holds a fringy euphorbia. Chartreuse-edged orange coleus adds visual heat.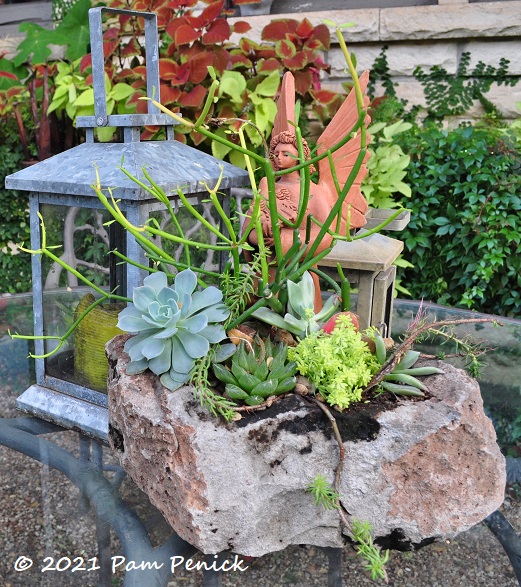 A tabletop vignette includes a stone planter with succulent cuttings.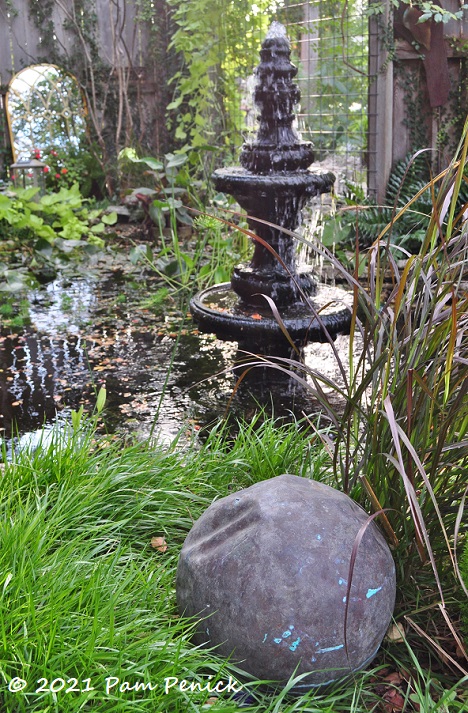 In a bed of green sedge, a dented metal sphere rests like a semi-deflated playground ball. Wabi-sabi beauty.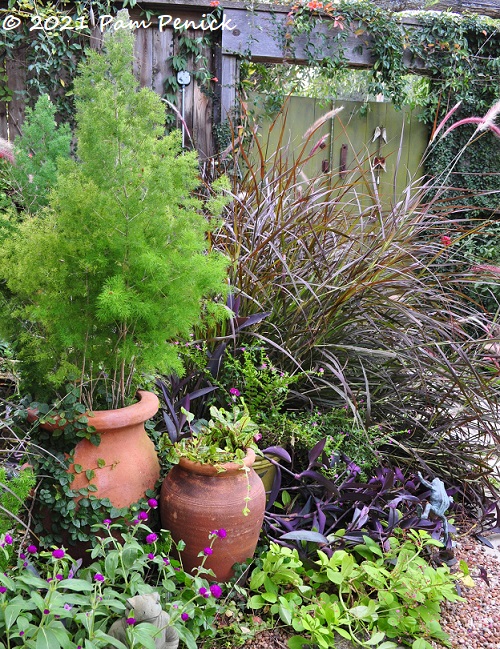 Ming fern stands tall like a green ostrich plume alongside gomphrena, jewels-of-Opar, purple heart, and purple fountain grass.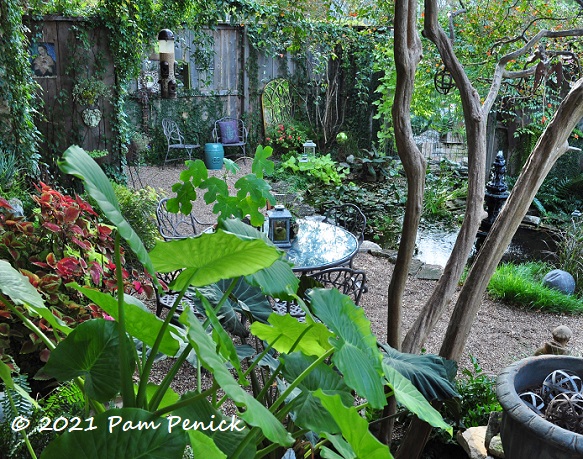 The view from the front porch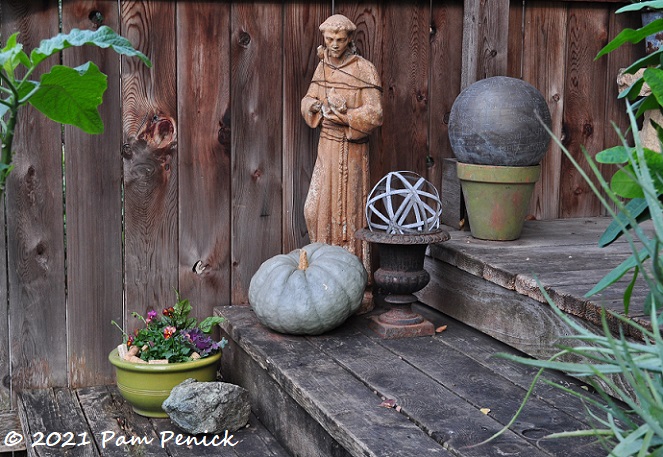 Cynthia makes her porch steps a place of discovery too, with more orbs, a St. Francis, and gray pumpkins.
Orbs and orbs and orbs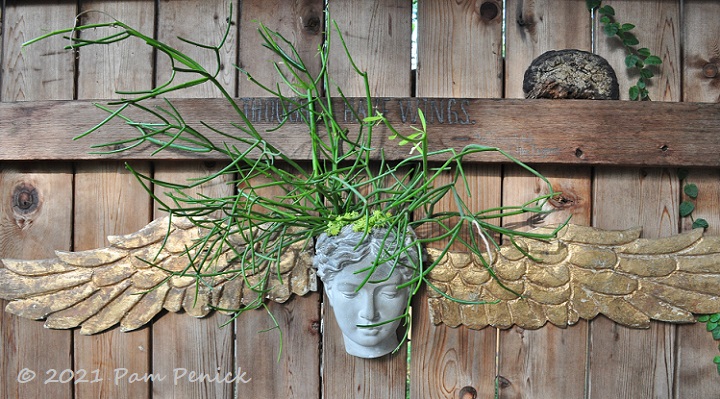 Above a planter head with golden wings tacked up on each side, a burned-in inscription reads, Thoughts have wings.
Inside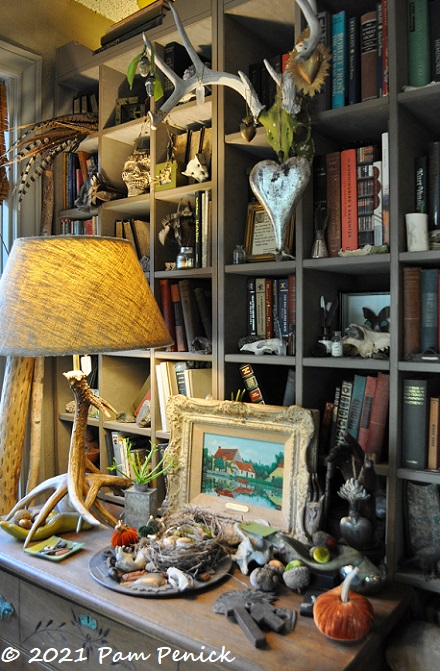 With Cynthia's permission, I'm sharing a few interior images too. She has such a good eye for organizing her art- and nature-based collections into charming arrangements. Here, animal bones, antlers, hearts, feathers, and nests tell the story of someone always bringing home pretty things found on a woodland trail.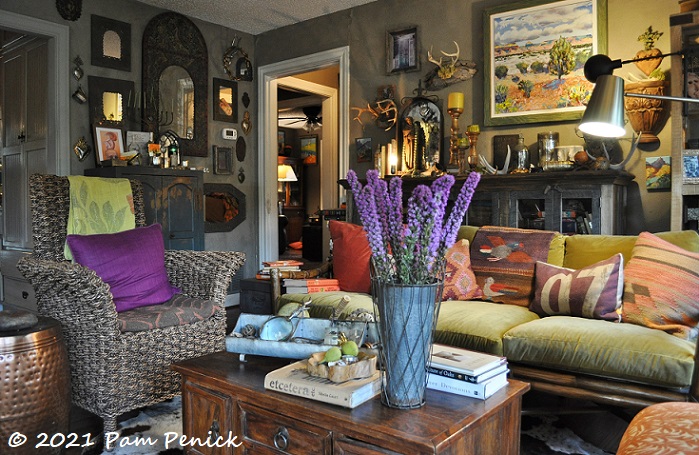 Her warm-gray living room is a curated vision of hominess and comfort, with a wasabi-green sofa, purple pillows, and a burnt-orange easy chair and ottoman. I couldn't resist sinking into the easy chair and just soaking it all up.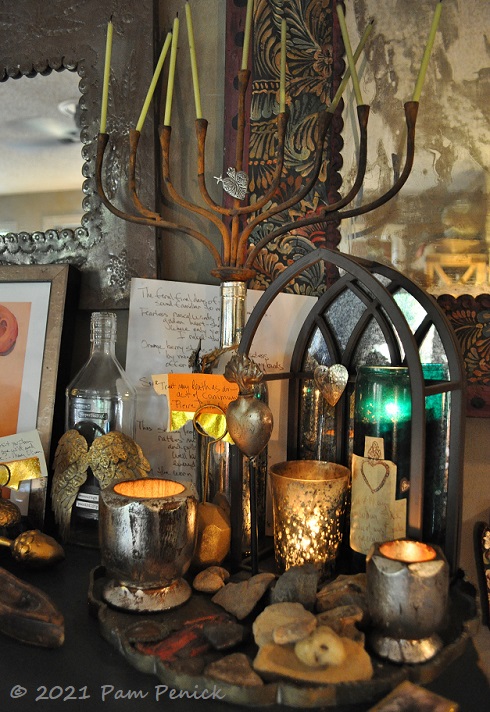 A talented writer herself, Cynthia collects meaningful quotes from her readings, inscribing them on slips of paper she tucks into her vignettes. Her own poems appear here and there too. As you lean in for a closer look, it's a little like peeking into her heart and learning what has impressed itself on her.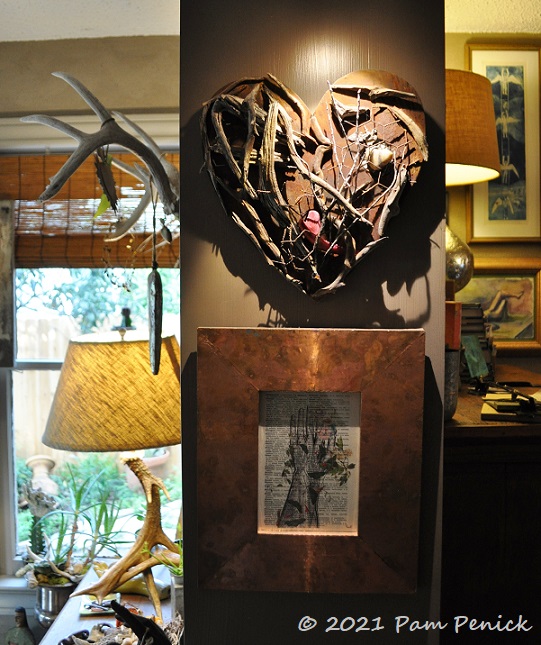 The walls are adorned to the ceiling, and Cynthia can give the handmade provenance of each piece. An original oil painting she found spackled with mud dauber tunnels, which she painstakingly cleaned and now has pride of place in a hall niche. A painting of her own, layered onto a found canvas. A metal heart (pictured above) that she texturized with driftwoody branches and other small hearts to create something even better. Soft lighting highlights the art, drawing you to it.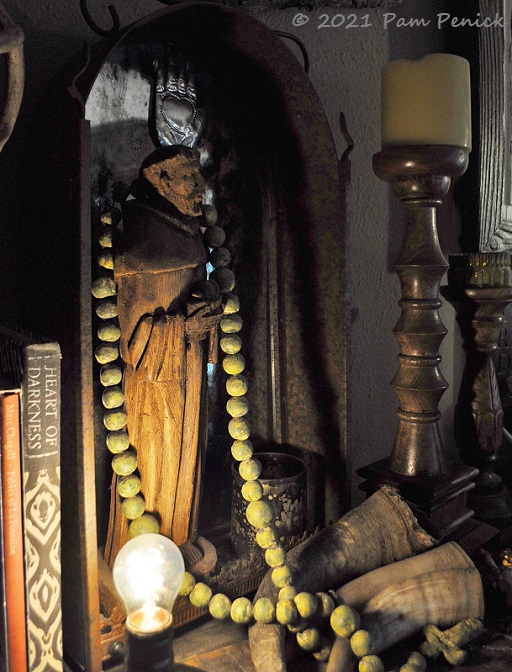 A beaded St. Francis stands half in shadow in a homemade altar, lit by a glowing bulb, the book Heart of Darkness leaning alongside.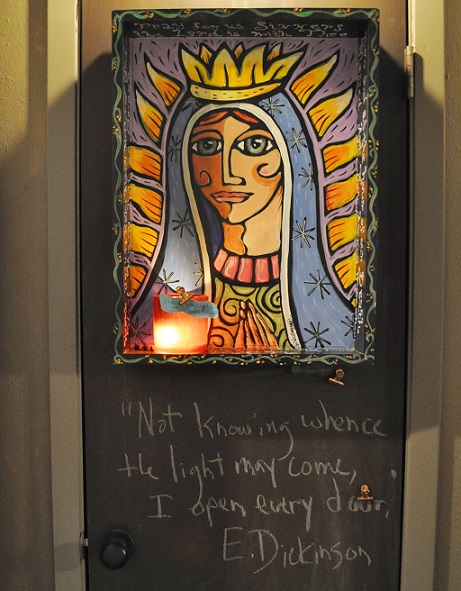 On a hall door, an Emily Dickinson quote (slightly altered) is written in chalk below a folk-art Madonna: "Not knowing whence the light may come, I open every door."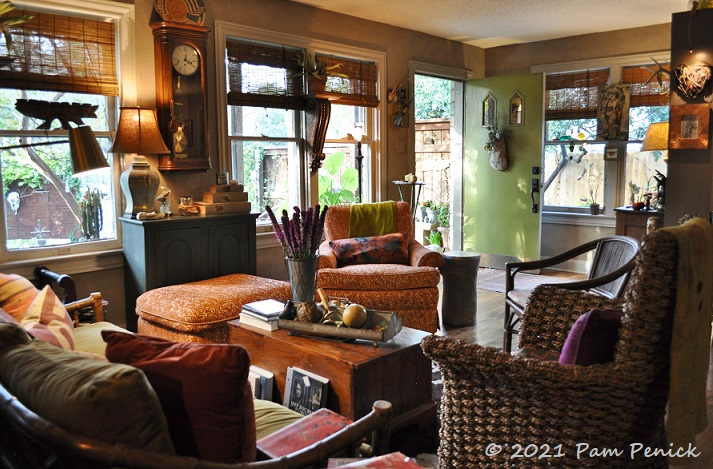 What a comfortable, eye-pleasing, and interesting home.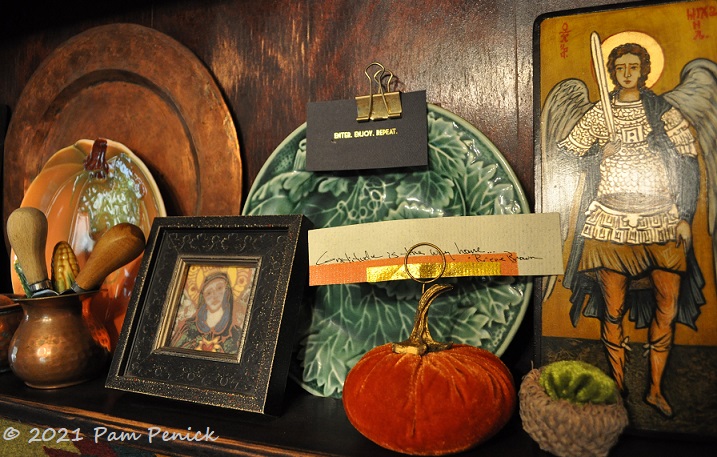 Dining room shelves hold more food for thought: "Gratitude is the way home." – Brené Brown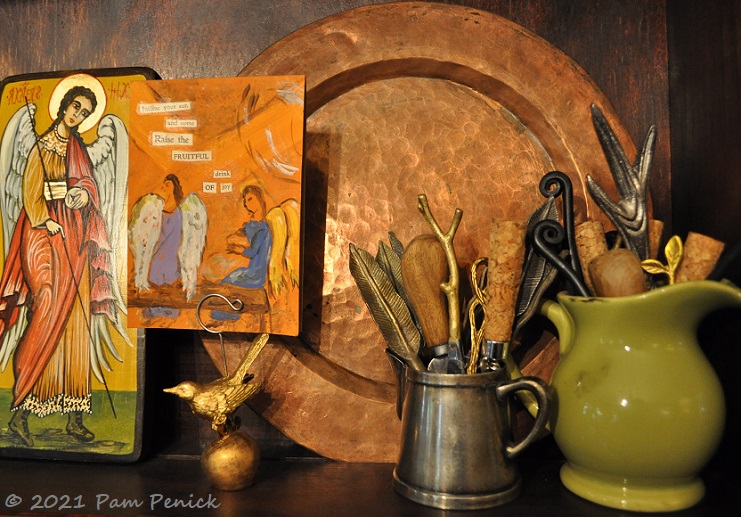 Wings and feathers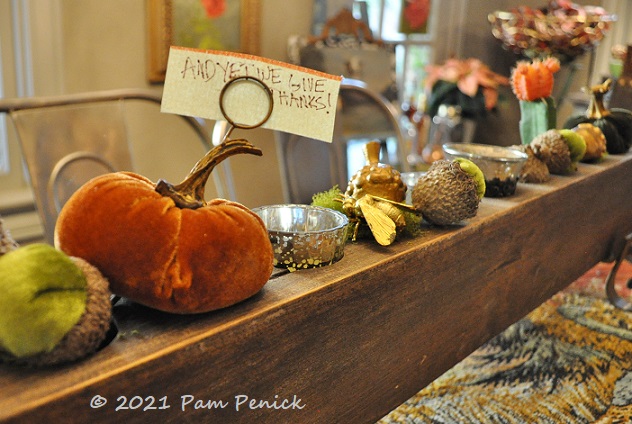 On the table, velvet pumpkins and acorns line a wooden candle holder. "And yet we give thanks!" reads a note.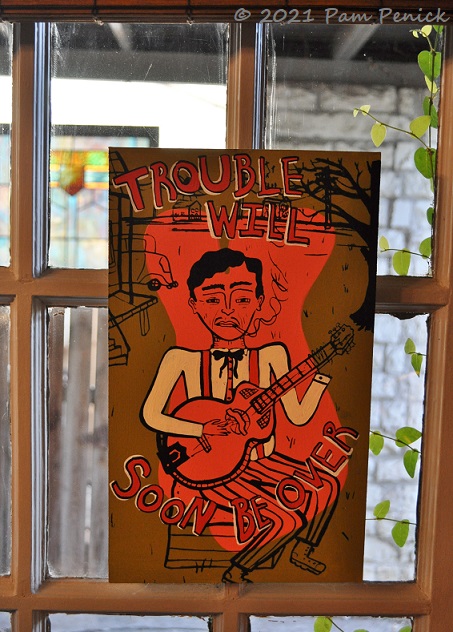 Another folk-art piece promises, "Trouble will soon be over."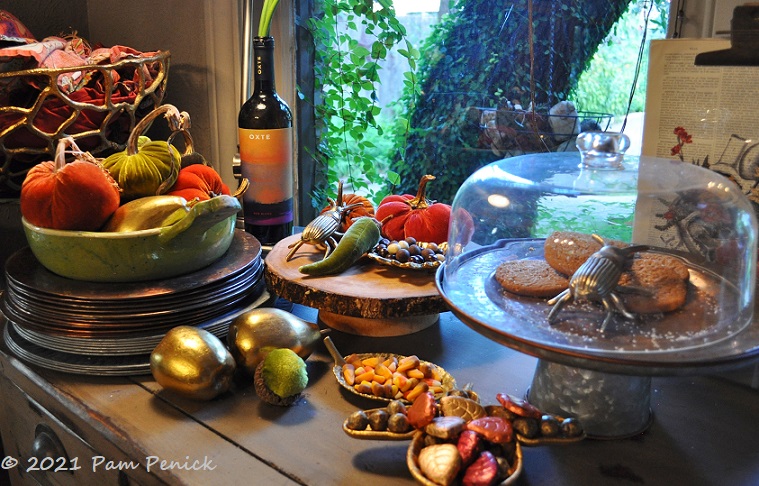 On a sideboard, velvet pumpkins, golden pears, and brass beetles share space with pretty munchies and cookies — treats for grandchildren, who stay over often.
Back garden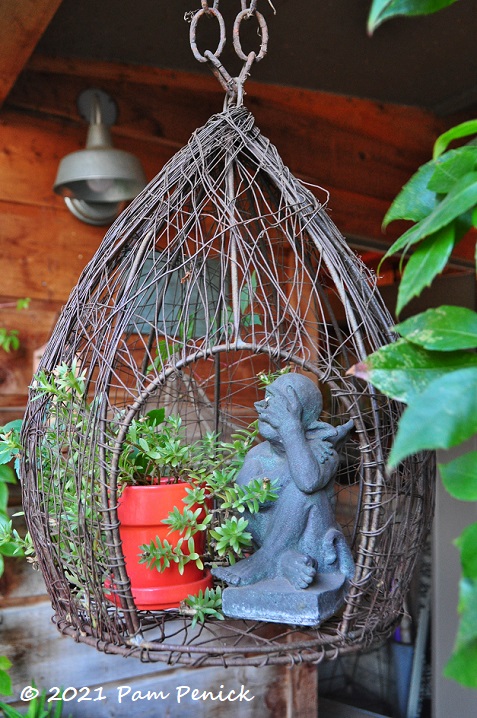 Stepping onto the back porch, I laughed to see an ashamed devil (I think?) in a nest-like hanging shelf. What has he been up to, I wonder.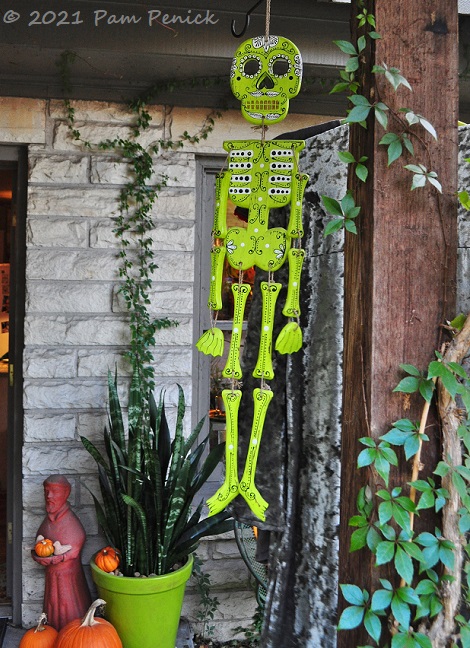 A Day of the Dead skeleton dangled nearby, echoing a lime-green snake plant container.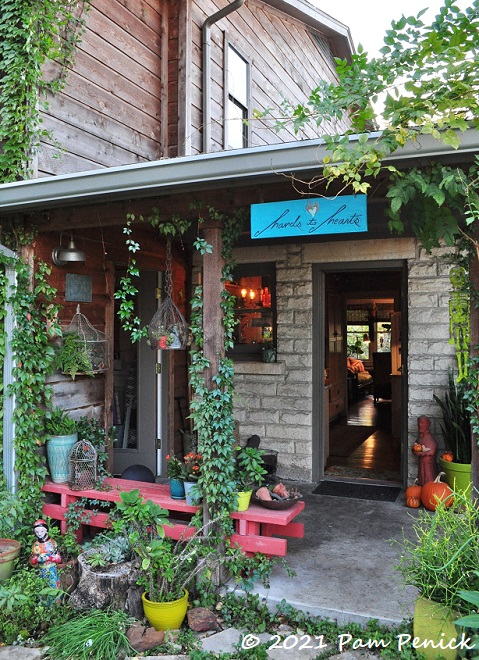 Hands to hearts, reads a blue sign. Cynthia takes this idea to heart, scouring resale shops and garage sales for castaways, bargains, and freebies, to which she applies her magic touch to create works of art. She sells her found-art pieces at a booth she shares with a friend at Wimberley Market Days, held on the first Saturday of each month from March through December. The last Market Day of 2021 will be held tomorrow (12/4), and Cynthia's booth is #443 if you want to go shop.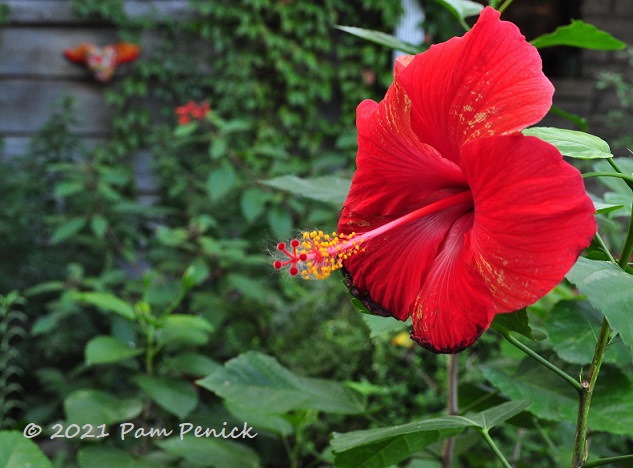 A velvety red hibiscus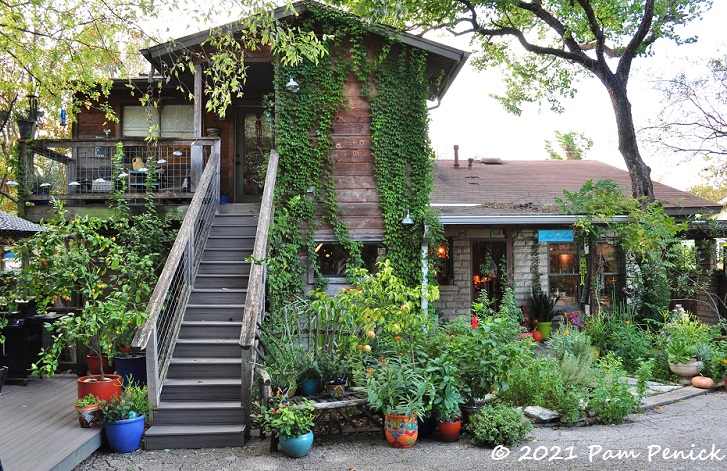 Upstairs above Cynthia and Bobby's house, they run an Airbnb called, naturally, Via Libre. It has its own back entrance and deck, and what a great location.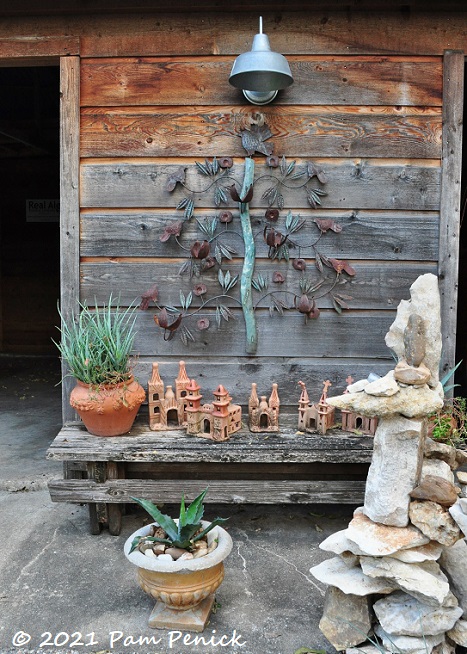 Outside a detached garage, one of Bobby's stone sculptures stands alongside a collection of Mexican clay cathedrals.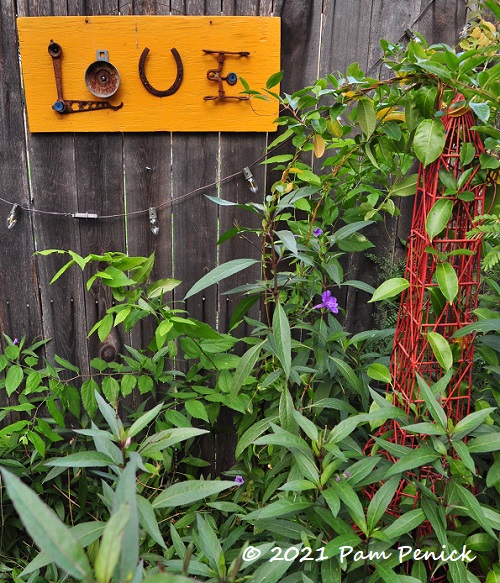 LOVE grows here…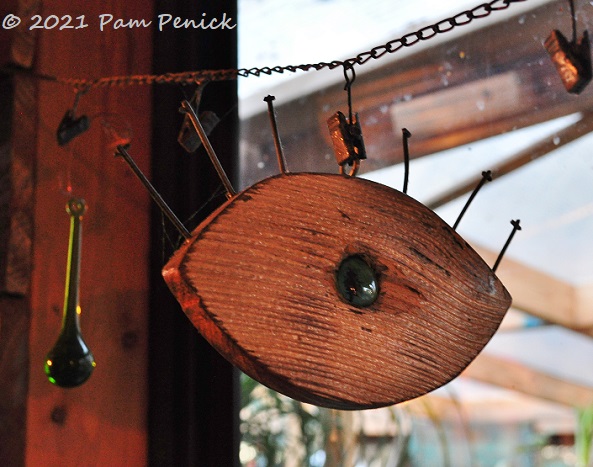 …and thrives under Cynthia's artistic eye.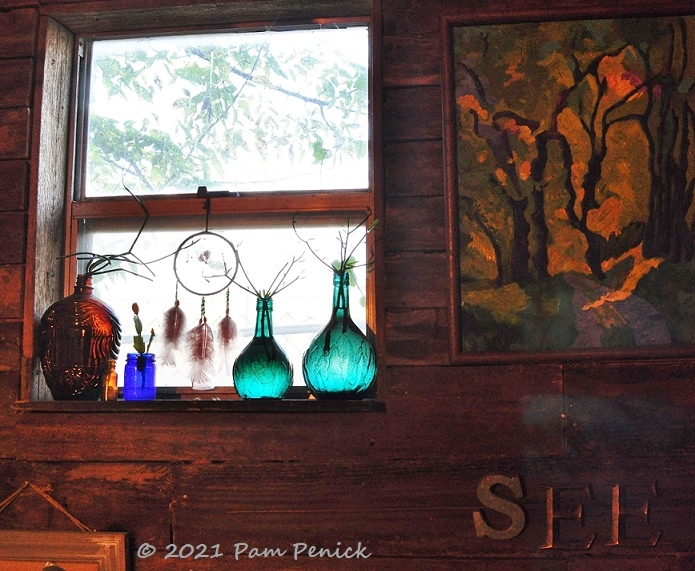 In a creative workspace behind the garage — a she-shed of sorts. Or see-shed?
Beer garden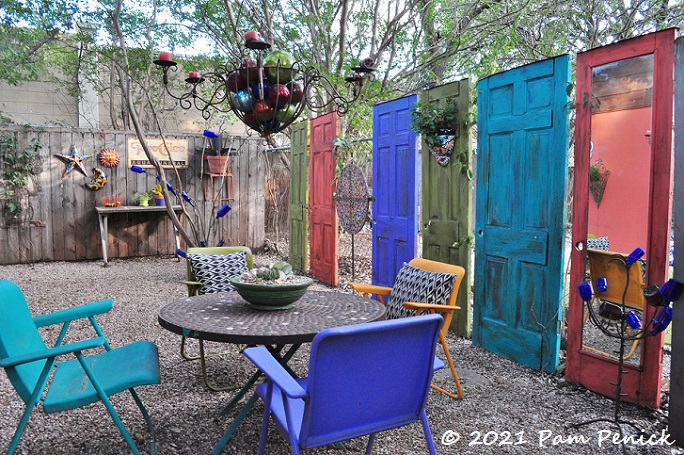 Backed up against the highway's sound-proofing wall, a colorful beer garden makes the most of a shady spot under a big tree. Painted doors line up along a chain-link fence, creating privacy from the neighbors' backyard play space.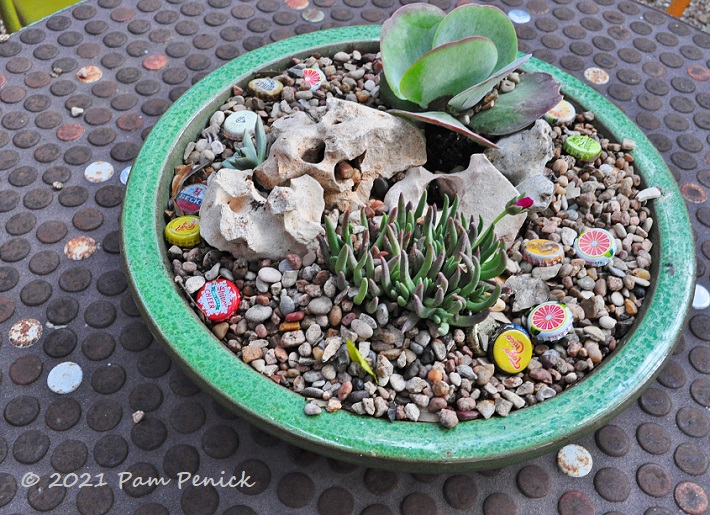 A table mosaicked with bottle caps displays a green-dish succulent planter. Caps from recently imbibed beverages add a colorful mulch.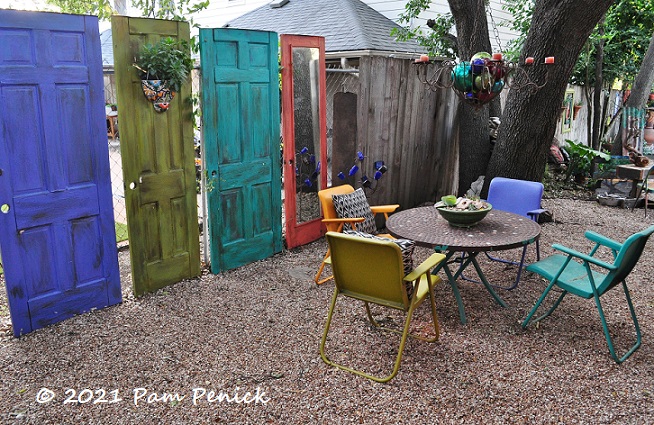 What a wonderfully creative garden — and home — to revisit. Thanks, Cynthia, for sharing it with me again!
To read more about Cynthia's garden and see a "before" picture, check out my blog post from July 2019.
I welcome your comments; please scroll to the end of this post to leave one. If you're reading this in a subscription email, click here to visit Digging and find the comment box at the end of each post.
_______________________
Digging Deeper: News and Upcoming Events
Need design help with your yard? Hire me as your personal garden coach! Maybe you need replacement plant ideas after the big freeze. Or maybe your landscaping has grown tired, and you want fresh curb appeal. Or perhaps you're ready to get rid of some lawn and create a pollinator garden, bird habitat, or hangout space for you and your friends. I'm here to help! Contact me to let me know what's going on, and let's figure it out together. My range is Austin and suburbs within a 25-min. drive of NW Austin, but I'm flexible and can travel farther with a surcharge, so let me know where you are. Weekday morning appts. only.
Join the mailing list for Garden Spark! Hungry to learn about garden design from the experts? I'm hosting a series of talks by inspiring garden designers, landscape architects, and authors a few times a year in Austin. Check out the 2021-22 schedule. These are limited-attendance events that sell out quickly, so join the Garden Spark email list to be notified in advance. Simply click this link and ask to be added.
All material © 2021 by Pam Penick for Digging. Unauthorized reproduction prohibited.
The post A collected home with heart at Via Libre garden appeared first on Digging.
A collected home with heart at Via Libre garden