A Conversation With Toronto Blue Jays Pitching Prospect Hagen Danner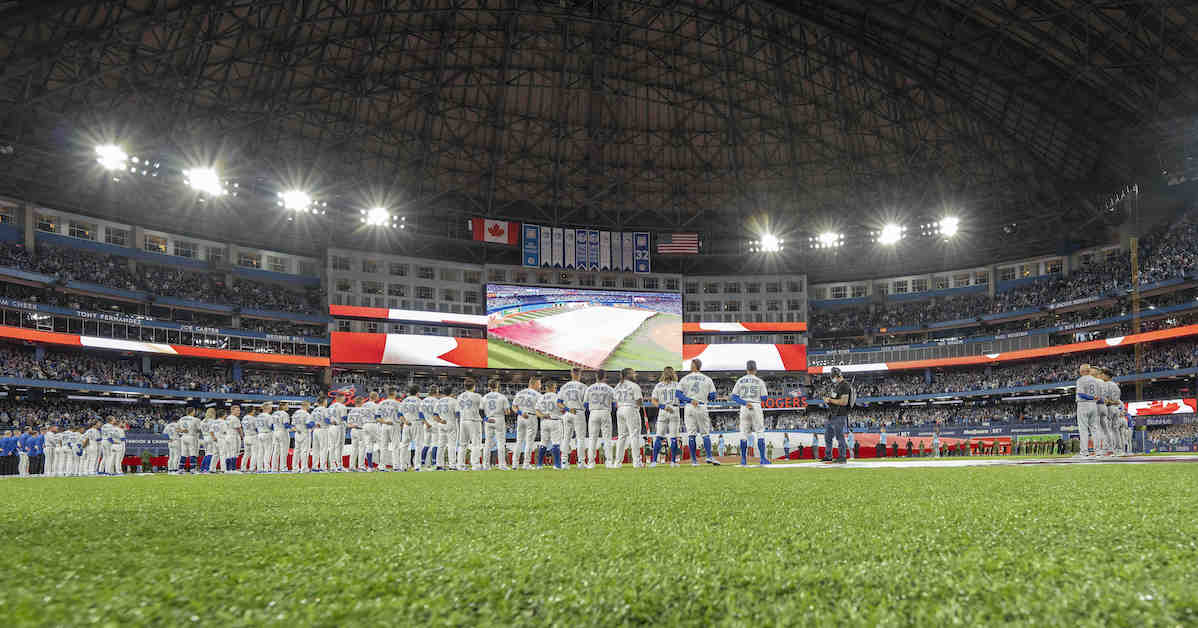 Hagen Danner has had a unique ride in our rankings. The 2017 second-round draft pick was No. 31 on our 2019 Toronto Blue Jays Top Prospects list, and after falling off completely in 2020 and '21, he's now a helium-filled No.14 on our '22 edition. A position change has fueled the ascent; previously a catcher, Danner was moved to the mound in the months preceding the 2020 shutdown.
Last season saw the 23-year-old right-hander emerge as a shutdown reliever. Pitching against professional hitters for the first time, Danner logged a 2.02 ERA with 42 strikeouts in 35.2 innings with High-A Vancouver. Moreover, those numbers came courtesy of a power arsenal that has prompted our own Eric Longenhagen to proclaim that the Huntington Beach High School product is "on the fast track."
Danner discussed his conversion — which wasn't exactly a conversion — and the heater/slutter/curveball combination that he takes with him to the mound, following a spring-training outing against the Pittsburgh Pirates. He proceeded to break camp with the Double-A New Hampshire Fisher Cats.
———
David Laurila: You were a two-way player in high school. How much did you actually understand pitching at that time?
Hagen Danner: "A lot. It was my main position until senior year, at which time I decided to just swing the bat. That allowed me to get drafted as a hitter and let me try to live out my dream of being a hitter in the big leagues. When that wasn't going right, it was an easy transition."
Laurila: You were drafted as a catcher. Why that position?
Danner: "It was what I played in high school when I wasn't pitching, although I also was a third baseman. I guess it was better [draft-wise] to be as a power-hitting catcher. It helped being able to play defense behind the plate, too."
Laurila: Do you feel that you had potential as a hitter? There was a lot of swing-and-miss to your game, but you did have a [.409] OBP as a 19-year-old in rookie ball.
Danner: "I did have potential, but I never learned a plan at the plate. I mean, you can't really hit without a plan. I kind of went up there just trying to hit home runs every time, and that's something that's not going to work at the upper levels. I decided that I wasn't going to get anywhere with hitting, so I talked with my agent and we decided to call the Blue Jays. They were super cool with [me converting to a pitcher], and I was very grateful for that."
Laurila: This was done over the phone.
Danner: "Yes. It happened in the offseason. Then came COVID, and the entire COVID year, so it was easy for me to take the whole year to learn all over again. I had to relearn how to throw my off-speed pitches. I had to relearn how to move my body like a pitcher. Stuff like that."
Laurila: Circling back to the draft, were there teams that liked you more as a pitcher?
Danner: "It was about half-and-half. Things were falling through on draft day — it kind of became a whole circus of events — and I kind of went with the easiest decision. I wanted to play pro ball. The Blue Jays made it easy for me."
Laurila: What was the level of competition you'd faced in high school?
Danner: "I was in Southern California, so it was good. Nick Pratto was one of my teammates. Royce Lewis. Hunter Greene. Garrett Mitchell. I played against guys like that."
Laurila: You said you had a good understood of pitching. Did you have access to tools like Rapsodo or Edgertronic?
Danner: "I didn't. I just saw the success with how my pitches were. I always had a strong arm as a kid, and learning how to move and how to throw pitches with that arm was… I mean, it made it easy to be able to try to learn new pitches. The fastball was always there; it was more so learning a curveball. Making the transition here, I needed to learn a slider. So, I learned a slider."
Laurila: Your current repertoire is…
Danner: "Fastball, slider, and I'll throw this slow curveball to try to get hitters off my fastball."
Laurila: Now that you're pitching pro ball, you have access to a lot of technology. What have you learned from it?
Danner: "I'd say it's ways to use my fastball and use my other pitches. I'm known for a fastball that kind of has some ride to it, and being able to throw opposite pitches… one rides, one goes down, and I want to [tunnel] them. When I throw up in the zone, I'm going to get outs."
Laurila: Do know what the spin efficiency is on your fastball?
Danner: "It's 100%, usually. That comes naturally from catching. As a catcher, you've got to learn how to get behind a baseball and get that true spin on it to second base. Once I was able to do that, pitching was super easy for me."
Laurila: What is your velocity, and how important is it to your game?
Danner: "I'm around 97–99 [mph]. It makes my life a little easier, because I can miss locations every once in a while. You see guys getting outs at 88–90, and they're different pitchers — they've got to learn different ways to get outs, they've got to move the ball differently — whereas I can kind of just throw it in there. When I'm up in the zone, I get swing-and-miss."
Laurila: And your best secondary is your slider?
Danner: "It is now – the little 'slutter' that I have. It's like a slider-cutter. It's hard. I learned it in instructs after the 2021 season, so just recently. They gave me a grip and I started throwing it. They said, 'Throw it like a fastball, throw it like a fastball,' and that's kind of how it's working for me."
Laurila: What is the grip?
Danner: "It's like a four-seam. I throw it the same way I throw my four-seam fastball, I just tilt it a little bit sideways, off-center. My hand is already like this, so when I throw it, it's got to go that way."
Laurila: And you call it a slutter.
Danner: "That's what it is. It's got [horizontal] movement, but it's smaller. I can make it bigger if I want, but I love throwing it with a little bit of zip that way. It keeps hitters off my fastball."
Laurila: What about your curveball?
Danner: "It's a 12–6, and I throw it for strikes. It kind of is [a get-me-over pitch]."
Laurila: One last thing: What haven't I asked you about pitching that maybe I should?
Danner: "Is it fun? Ask me that. I love it. It's the best decision I've ever made. It's made my life so easy. I look back on hitting as having been fun as well, but at the same time, it was a lot more stressful. Being on the mound, just getting to perfect my small movements on the mound instead of having to do catching and hitting… it's awesome. Pitching is awesome."
A Conversation With Toronto Blue Jays Pitching Prospect Hagen Danner