A Drive Across America
A Drive Across America!  Every retiree's dream, right? 
We just returned from our second drive across America in two years, and today we'll share the highlights of our adventure and what we learned along the way.  If you're planning a drive across America in retirement, this post is for you! 
If you like pictures, you'll enjoy today's post.  If you'd prefer, you can even skip the words and just look at pictures (I'll get over it, smiles). I've included a LOT of them in this post, hope you enjoy!
---
A Drive Across America
6,748 Miles
20 Days
---
Consuming just 20 days, it was a fast one (unlike our 3-month Great American Road Trip last year). We learned some things with the new approach, and I'm sharing my thoughts for anyone who's planning a drive across America in the future.
---
6,478 Miles in 20 Days. Wow, what an adventure. Today, I share the highlights and lessons learned.
Click To Tweet

---
A Drive Across America
Yep, our second drive across America in two years.  We're living the dream!  This trip was different than the first, and today I'll share the highlights as well as what we learned from the new approach.
First, we typically plan our big excursions well in advance, but not this time.  This one happened fast.  A few months ago, our daughter called to let us know her husband was getting reassigned from an Army base near Seattle to one in Southern Alabama.  
Yeah, they're moving closer!! 
But wait…there's more.
Given that they have two Jeeps, four dogs, and a two-year-old daughter, they needed some help.  Would we be willing to help out by transporting their 2-year-old daughter from Washington to Alabama, allowing them to each drive a vehicle and transport their dogs?  Why of course we could, we're retired!
We hastily put together plans for our Cannonball Run and hit the road on October 14, 2020.
---
The Plan For Our Drive Across America
Since we knew we'd be putting in a ton of miles in a very short amount of time, we chose to "hotel it" during our drive across America.  Yep, our wonderful RV stayed in our driveway!  While that may seem counter-intuitive, we've learned that hauling the RV more than ~300 miles a day is exhausting.  Further, we knew we'd be enduring 5 days in a row of 5-600 miles of driving on our return leg, and hauling an RV wasn't suited for this type of trip.  Without the RV, we also decided to hire a dog sitter to stay at home with our 4 dogs.
We had Freedom unlike any other trip we've taken in retirement.  Freedom to stop wherever we wanted to stop, without worrying about the dogs or maneuvering the RV. 
We took full advantage of that Freedom.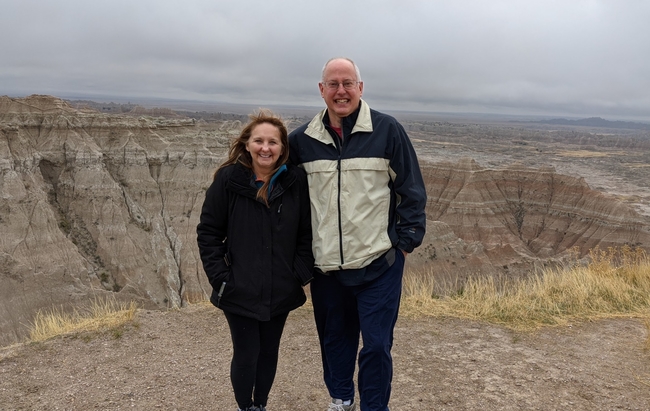 The Westbound Leg
Knowing we'd be "sprinting" on our return leg, we chose a bit more leisurely pace for the outbound leg.  Still constrained to meet an Oct 31 move-out date, we prioritized our trip to spend time in the areas that interested us.  Here are the highlights:
First, we put in a few marathon days to get to the good stuff, with full driving days to central Illinois and Omaha, NE putting us in South Dakota by Day 3.  We did some serendipitous stops (a Pony Express station in St. Joseph, MO and walking from NE to IA on the Bob Kerrey Pedestrian Bridge in Omaha, NE), and continued that approach for our entire trip.
Once in South Dakota, we slowed down:
Sioux Falls:  A leisurely afternoon stroll around the beautiful downtown falls.
Badlands National Park:  Wow, what a treat to tour National Parks "off-peak".  We saw our first snow of the trip.
Custer State Park:  A hidden gem, rated by my cousin as "Better Than Yellowstone".  I can't say that I disagree, and would encourage anyone traveling through South Dakota to spend some time in the Black Hills.  A gorgeous spot, worth sharing a few pics.  Keep an eye out for that wild herd of donkeys!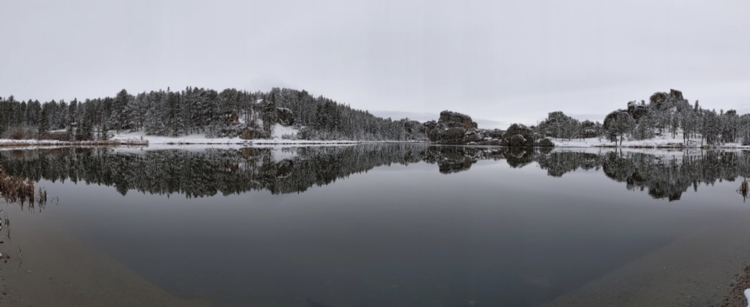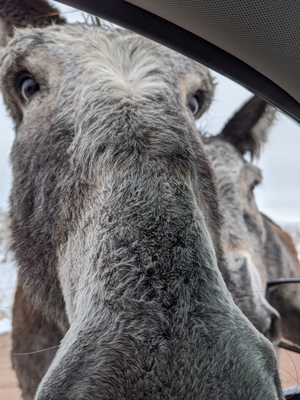 ---
Yellowstone National Park
If you ever get an opportunity to visit Yellowstone "off-peak", grab it with both hands.  We've been to Yellowstone numerous times, but this visit was truly amazing.  No tourists, no traffic, and tons of wildlife.  (Be prepared, however, as most concessions are closed for the season.  Also, expect winter to hit early). A few of our highlights:
Buffalo Bill Museum – Cody, WY:  We spent our first night in Cody, and spent the following morning touring the amazing Buffalo Bill Museum in Cody before heading into the park.  Worth a stop. 
The Northeast Quadrant:  We'd done all of the "tourist" stuff in Yellowstone, so elected to spend most of our time in the remote NE corner of the park.  It was a spectacular drive, as shown in the "feature photo" near the top of this post.  (TIP:  The road shown runs from Gardiner (Mammoth Hot Springs) to Cooke City and is, surprisingly, open year-round)
Trout Lake Hike:  We took advantage of the light crowds to enjoy a beautiful hike around Trout Lake in the Lamar Valley (photo below).
Trapped By Bison:  On a hike near Canyon Falls, we had to wait 15 minutes for some bison to leisurely move off our return trail.  Not your typical "traffic jam", and a great experience.
Getting Off The Main Road:  We also "explored" a remote dirt road along Slough Creek, and were rewarded by parking in the midst of a buffalo herd grazing along the road (photo below).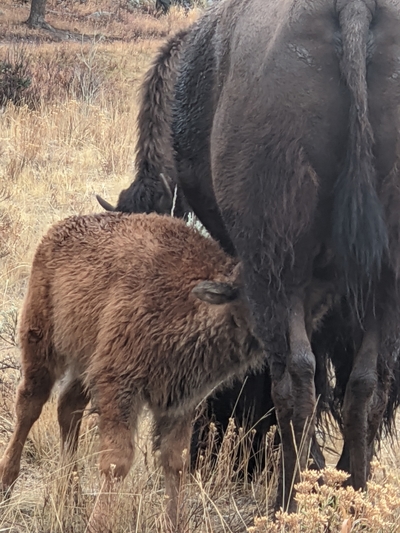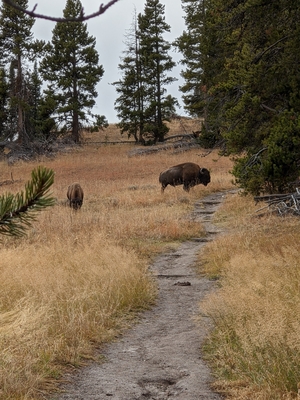 ---
Exploring The Oregon Trail & Snake River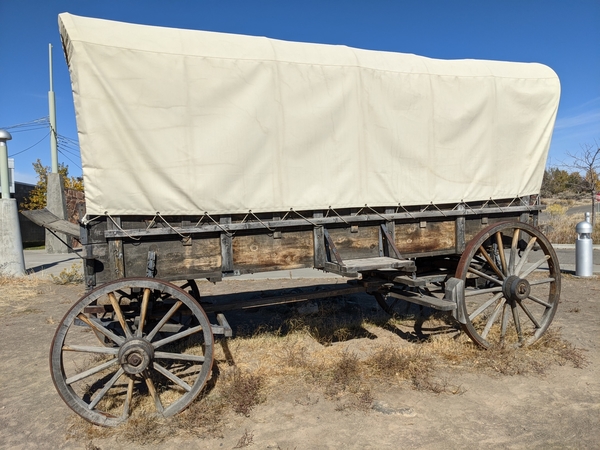 We've always had an interest in The Oregon Trail, and took advantage of our slower pace to visit numerous Oregon Trail historical sites along our drive, including a fascinating stop at the most common (and treacherous) Snake River crossing at Three Island Crossing State Park in Glenn's Ferry, Idaho.  We also enjoyed some time in Twin Falls, Idaho, including a stop at the Canyon Rim Trail to take in the beautiful views of the Snake River.
---
An Idaho Ranch
Who doesn't yearn for the life of a Western rancher?  Fortunately, my Aunt and Uncle live that life, and we took advantage of the opportunity to spend a weekend with them on their 400-acre ranch about an hour North of Boise.  That's their house in the middle of their ranch photo below, taken during an afternoon off-road drive "around the ranch" in my Uncle's old pickup truck.  Heaven on earth, indeed.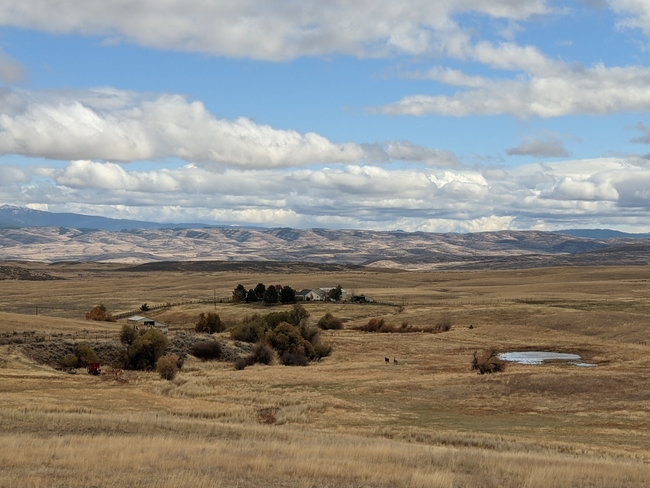 ---
Anderson Island, WA
Knowing we'd have a tough sprint back East, we planned 4 days of rest and relaxation on Anderson Island, one of our favorite places in the world.  It's a short ferry ride from Steilacoom, WA, and convenient to our daughter's place near Tacoma.  We rented an Airbnb, and savored our short time in the Pacific Northwest.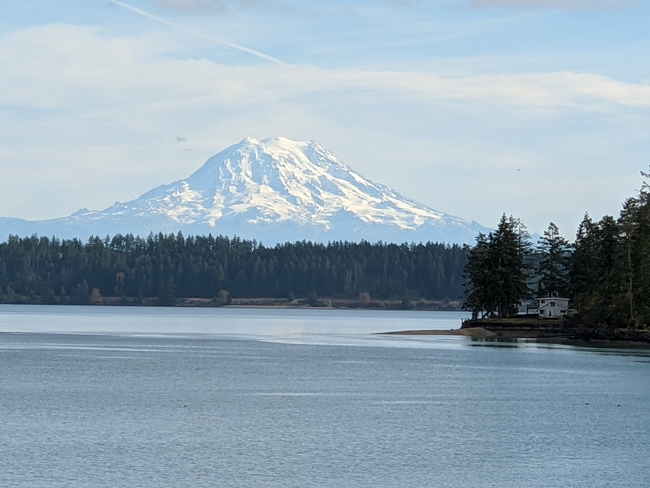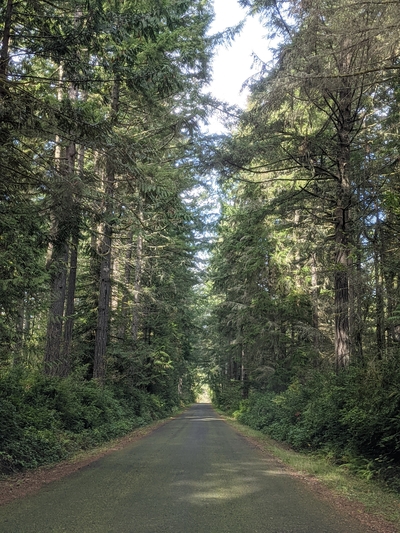 We enjoyed some quality time with our daughter and her family in the area, including the unique experience of Halloween on an Army base with our two-year-old grandaughter.
---
The Eastbound Sprint
After a restful 4 days on the island, it was time.  We strapped our two-year-old granddaughter in her car seat, my wife dutifully jumped in beside her in the back seat, and we were off…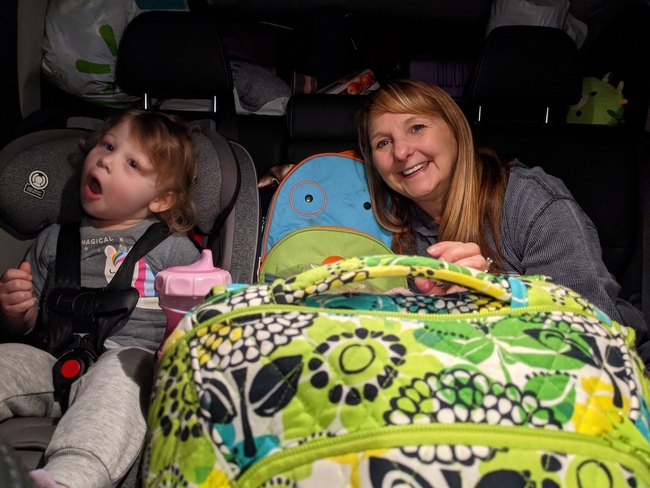 Every morning, we'd leave shortly after the sun rose, and drive until sunset.  Our daughter and her husband took a different approach, leaving several hours later and "catching up" with us several hours after dark. 500 – 600 miles a day, with several extended stops to let a certain 2-year-old run around a bit.  We ate pre-packed lunches "on the go" to allow more "running around time" at rest areas, and drove until we got tired.
We used "HotelTonight" as we neared the end of our drive, and were impressed with the app (I do not have an affiliate relationship with them, I'm just recommending it because it's good).  Since our daughter's family was following with their 4 dogs, we'd filter the results for "Pool" and "Dog Friendly" in our targeted area, and choose the hotel.  Simple as that.
We took advantage of the hotel pools to let our granddaughter burn off some energy after a long day of being held captive in her car seat, and it seemed to do the trick.  She slept great each night, and seldom complained during the long journey.
I'd like to say I have a lot of pictures to share from our return leg, but the reality is that it was a marathon of highway miles.  Here's a summary:
Day 1:  Anderson Island, WA to Boise, ID (527 miles)
Day 2:  Boise, ID to Laramie, WY (686 miles)
Day 3:  Laramie, WY to Lincoln, NE (491 miles)
Day 4:  Lincoln, NE to Jonesboro, AR (580 miles)
Day 5:  Jonesboro, AR to Enterprise, AL (490 miles)
Here's a shot of a rest area break on the Wyoming/Nebraska border: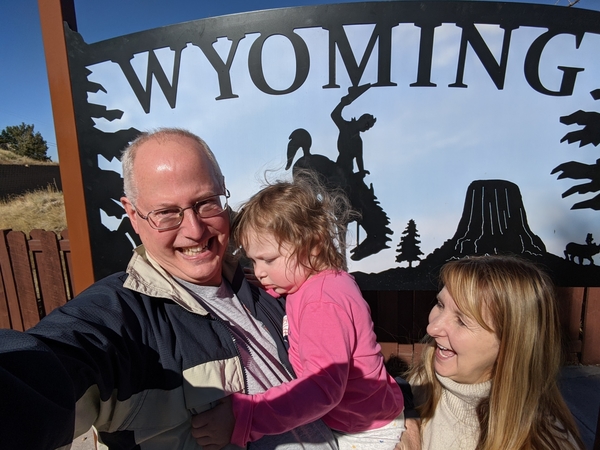 ---
Home At Last
After 5 days of marathon driving across America, we spent a few days with our daughter's family in their new home – their first home purchase!  Exciting times.  It was great seeing their 4 dogs explore their wonderful new yard, and we hope they have years of enjoyment in their new home.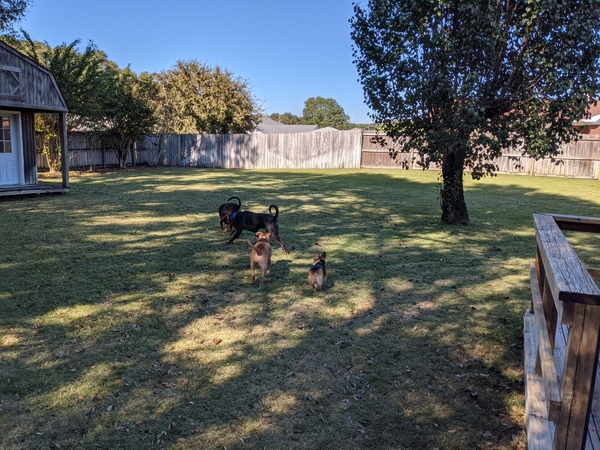 A few days later, we made the "short" 300 mile trip from Enterprise, AL back to our retirement cabin in Blue Ridge, GA, and completed the full loop.  It was a trip we'll never forget, and we're looking forward to spending more time with our granddaughter over the coming years.
---
Lessons Learned
For anyone considering driving across America, we picked up a few lessons which may apply.
Take advantage of opportunities:  When we decided to help our daughter with the move, we decided to enhance our drive across America by adding a leisurely Westbound leg.  Sure, we could have flown, but we wanted to savor the experience of a drive across America.
Don't let COVID stop you:  COVID wasn't a hurdle to our journey.  We simply wore a mask when appropriate and got on with it.  Don't let fear stop you from enjoying life.
Pursue "off-peak" travel to National Parks:  We were a bit disappointed by the size of the crowds during last year's trip in the midst of the "busy" season.  We had the exact opposite experience this time.  If you're retired, take advantage of your time freedom to avoid the crowds.  Travel off-peak!
Travel the off-beaten paths in National Parks:  There's a LOT more to Yellowstone than Old Faithful, and you'll be missing some of the best of the National Parks if you just jump from landmark to landmark taking selfies.  Get off the beaten path.  Every National Park has a hidden road.  Find it, and experience what truly makes the National Parks great.
Use HotelsTonight:  As mentioned above, we were pleased with this app and encourage you to check it out if your plan includes hotel stays.  Also, since you're booking "last minute", the hotels use lower rates to lure you to their hotel, which would otherwise go vacant.  No-haggle, lower prices, and convenience.
Modify your travel to meet your requirements:  Leaving our RV at home turned out to be a great decision.  Though you may prefer one form of travel over another, remain flexible to adapt to whatever best suits the trip you're planning. 
Be Serendipitous:  Without the RV or dogs to worry about, we were intentionally serendipitous on our trip, and the unplanned stops we made became some of the best memories from the trip.  We used "Things To See" on Google for the areas we were traveling through and made spontaneous decisions on what to explore.  It was a great way to travel.
Pack meals, drinks, and snacks:  While restaurants are a nice break on occasion, it becomes burdensome to spend several hours a day keeping your body fueled when you're trying to cover the country.  We typically ate breakfast at the hotel, ate lunch in the car, kept snacks and drinks within reach, and relaxed with a slower-paced dinner at the end of the day.
Make "Loops":  We hate driving out and back on the same road, so planned our trip to be a "loop" to the extent possible.  Life's too short to travel the same road if you don't have to.  Get out and explore a new path.
Have Fun:  Don't forget your reason for travel.  It's easy to get stressed being in unfamiliar places and focusing too much on covering miles.  Relax and enjoy the experience.
---
Conclusion
A Drive Across America. 
Two years in a row, but VERY different experiences.  Our experience highlights that there's no "right" or "wrong" way to travel.  Do whatever appeals to you, and enjoy the process.  We've worked decades to enjoy the freedom of our retirement years, use that freedom to its fullest advantage.  Get out and go. 
Enjoy life.
Your Turn:  Have you ever taken a drive across America?  What have you learned?  Are you planning a drive across American in your future?  What questions do you have?  Let's chat…
The post A Drive Across America appeared first on The Retirement Manifesto.
A Drive Across America