A Touch of Blusher is sixteen years old!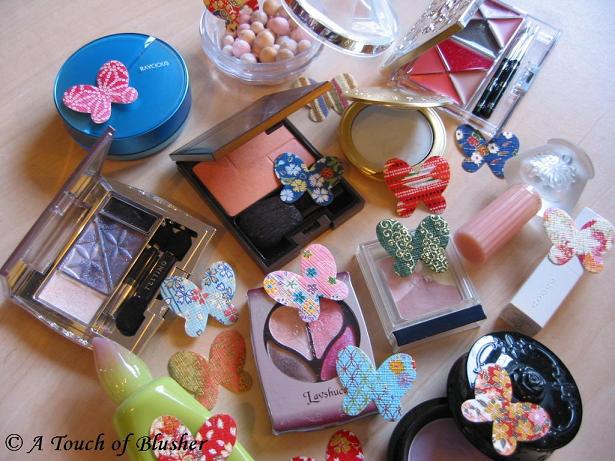 .
A Touch of Blusher is sixteen years old today!
For the last two and a half years or so, it has been difficult for many fans of Japanese cosmetics living outside Japan to get the items they want (in person or on-line) due to the measures taken by many countries in response to the COVID-19 pandemic. However, throughout this period, I have still been trying to continue to post information on some of the latest releases from Japan (including information on some of the limited-edition items) on my blog.
The reasons for doing so are that I personally still want to keep track of the new releases and that I would still love to share them with you. I feel that it is still fascinating to observe how various trends develop and how products evolve. Also, for me, looking at a new makeup collection often generates ideas for new makeup looks and makes me look at the makeup items I have in a different way.
Once again, let's look back at the last twelve months of A Touch of Blusher:
November 2021: Celvoke celebrated its 5th anniversary.
December: Athletia was available in the UK.
January 2022: One of my favorite fragrances was revamped.
February: Paul & Joe's beauty line marked its 20th anniversary with cat-themed items.
March: Elégance Razzle made its debut.
April: Canmake's Glow Fleur Cheeks (Blend Type) caught my attention.
May: I presented 35 beautiful nail colors from Japanese beauty brands for summer 2022.
June: Guerlain's fall 2022 makeup collection included the new Ombres G range.
July: I shared my thoughts on Chanel's Blush Lumière in Pêche Rosée.
August: Clé de Peau's 40th anniversary makeup and skincare collection featured two ultra-exclusive items.
September: Pink, mauve and plum are on-trend in fall 2022.
October: Visée released Nuance Matte Creator, a range of all-matte eyeshadow palettes.
Thank you all very much for reading my blog and for all your comments and feedback. For whatever reason you have decided to continue to stop by my blog during the pandemic, I hope that you have found it to be worth your time.
Please be well, and I hope that you will enjoy my upcoming posts!
A Touch of Blusher is sixteen years old!