An Afternoon in Cave City
When a good friend asks you to spend the afternoon in Cave City during peak watermelon season, you don't say "no," especially when said friend has a full slate of activities planned that go beyond the aforementioned fruit. Watermelon is synonymous with Cave City, and while folks in my neck of the woods go bonkers when a pickup truck with a bed-full of sticker-certified melons shows up, I was overly excited to go right to the source for my inaugural visit to the tiny town located 15 minutes north of Batesville.
Cave City is about a 2-hour drive from Little Rock, half of which is spent coasting along Highway 167, surrounded by beautiful rolling hills. After arriving in town, we headed straight for Drifters Coffee Co., which also meant passing by several watermelon stands, each representing an area farm. Some, like Moore Family Farm, were selling melons, while others looked like they might already be done with the season, which typically runs from early July to Labor Day (so I've been told). But we'll get back to melons in sec.
A late afternoon pick-up-me-up was in order, and the quaint confines of Drifters provided an ideal spot to relax for 30 minutes and enjoy a cup of java. They had a smattering of baked items still available, of which I happily devoured the mixed berry and white chocolate scone. With its soft texture, the scone ate more like a muffin, but there was no denying its delicious taste. I wouldn't hesitate ordering one again.
It was approaching 4 p.m., closing time for Drifters, so we got back into the car and headed towards City Hall to visit with the mayor of Cave City, Jonas Anderson. Thankfully, the mayor had already secured us a few Moore melons for the drive home. Like all authentic Cave City melons, these came with a "Genuine Cave City Watermelon" sticker on each one. If you don't see this sticker, it ain't a Cave City, home to what many consider to be the best of their kind in the state. There is something about the soil in this neck of the woods that makes them so good.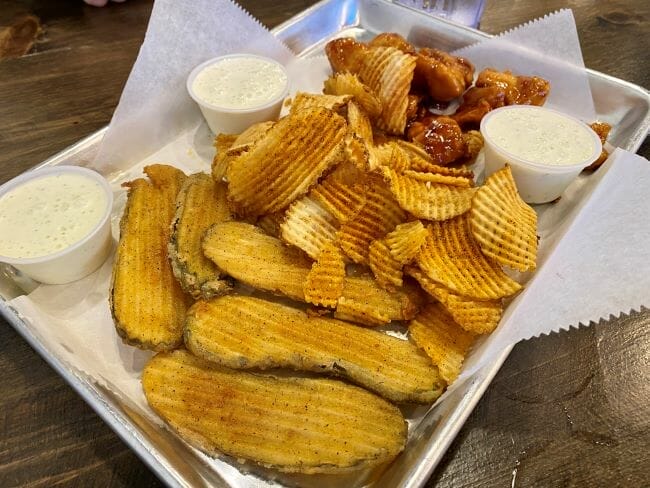 We chatted with Mr. Anderson for 30 minutes, learning all about Cave City from its proudest resident, then the three of us walked across the street for an early dinner at Millie's, where we enjoyed a sampler appetizer of fried pickle planks, lattice fries, and boneless wings. Yes, I know, they were nuggets, and darn tasty ones at that. For my entrée, I tackled a smaller portion of chicken fried chicken, a juicy, hand-breaded piece of breast meat covered with peppery cream gravy.
After dinner, we said our goodbyes, then made a quick stop at the town's namesake, a tiny cave located just off the main drag. I wouldn't label the cave a tourist attraction at this stage, but with the proper clean-up and maintenance, it might get there. Regardless, it was a perfect final stop before heading home with our watermelons and fond memories.
Via Only In Arkansas.
An Afternoon in Cave City