2019
This year was one of exploring uncharted territory. I started 2019 by traveling to Wisconsin, and then in the spring we drove southwest to several cities we hadn't seen before. And at home, constant changes and a growing culinary reputation have brought notoriety and an evolving skyline to the Capital City. Hell, even the Hurricanes are cool now. From exploring new states to saying goodbye to classic establishments, this was my 2019 in food. 
Favorite thing I ate this year: 
It's hard to think of the whole year and recall just one dish that was the best thing I ate, but there is one particular menu item I keep thinking about - something I found myself constantly craving since I ate it. 
It's simple. It's well done. It's nostalgic. And I'd eat it every day. 
Favorite meal I had in Raleigh:
I've had some terrific meals this year in the Oak City, including an incredible dinner at the always interesting Papa Shogun's 

Or a tremendous experience at the revamped Sono Sushi.

When I think of a particular meal, an experience that end to end was delicious and memorable, our birthday meal at the Angus Barn is the first thing that comes to mind. The service wasn't just part of the meal, but enhanced it, and the restaurant excelled by doing little things that made the evening a special one.
Favorite meal outside of Raleigh: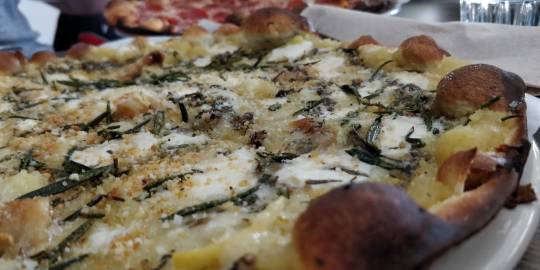 Coronato - Carrboro, North Carolina
This one had a lot of competition. 
We had multiple meals at Buxton Hall Barbecue. 
High Five Doughnuts in Louisville. 
Authentic cheese curds at the Mars Cheese Castle in Wisconsin. 
Poutine in Halifax, Nova Scotia. 
But nothing impressed me as much as our food at Coronato, from the salad covered in pillowy shaved Parmesan and perfectly crunchy breadcrumbs to the crispy crust of the Roman pizza. I don't spend much time in Chapel Hill because there hasn't been a restaurant I craved enough to travel to, but Coronato is that restaurant. 
Place I visited that was surprisingly pleasant: 
West Virginia  
I had multiple people tell me before I traveled to West Virginia not to go. Whether their concerns were for my safety as a person of color or that there's nothing worthy to see there, their urges for me not to go to the Mountain State were sincere. 
When we traveled to West Virginia, we met warm people, creative spaces, and good food. Whether it was the train museum in the small town of Princeton or the artwork and pepperoni rolls of Elk City, the state had much more to offer than presumed. 
Favorite new restaurant: 
Union Special didn't just mark a new venture for Andrew Ullom, formerly Ashley Christensen's head bakery for her restaurant empire, but also a new start for Midtown East Raleigh's Gateway Plaza. Local development company LODEN Properties bough the dated strip mall and completely overhauled it. Union Special showcases what the refreshed space can deliver. 
Everyone expected the bakery to deliver solid bake goods. But combining the bakery with a brunch menu full of instant classics like the signature egg sandwich has made Union Special a destination in Raleigh.
Saddest Closing:
18 Seaboard
My final bite ever of 18 Seaboard.
Before Raleigh became the culinary standout that it is today, 18 Seaboard showed people what was possible with refined Southern cooking and North Carolina ingredients. A stalwart to Seaboard Station, I always counted on Chef Jason Smith's cornerstone restaurant to serve a incredible pork shank on top of cheesy grits. 18 Seaboard's closing doesn't just feel like a closing of an eatery, but with projects like Smoky Hollow and the upcoming changes to Seaboard Station, it feels like an end of an era in Raleigh. 
What I'm looking forward to in 2020: 
Ribs from And Also With Cue
Much like the pizza surge of 2018, this new year is poised to be the year of barbecue in the Capital City. Seven Raleigh based barbecue establishments are slated to open up shop in the Oak City or already have. The offerings have come from newcomers like the social enterprise And Also With Cue, to established chefs like Jake Wood (Lawrence BBQ), Wyatt Dickerson (Wyatt's), and Jason Howard (Friendship BBQ) to legendary pit masters like Sam Jones (Sam Jones BBQ) and Ed Mitchell (The Perverse).
2019