ASA ruling signals 'important day for liposomal vitamin C'
The Advertising Standards Agency (ASA) has ruled that a webpage advertising YourZooki Liposomal Vitamin C was 'misleading' after it was challenged by Abundance & Health, distributor of Altrient C, over whether its marketing claims could be substantiated.
Reacting to the news Abundance & Health welcomes the outcome, calling the ruling 'an important victory for the wider vitamin supplementation industry' as it helps ensure that industry standards are 'upheld and that the end consumer is protected'.
The ASA's investigation into YourZooki's claims was lengthy and detailed, and saw the agency consult with the Laboratory of the Government Chemist, which reviewed evidence put forward by YourZooki based on particle tracking analysis (PTA). The ASA comments: "The fragility of liposomes meant that considerable care must be taken when preparing samples, especially when diluted in water, and that quality control measures were essential at that stage to ensure no damage to the liposomes had occurred. YourZooki's testing had not provided evidence of quality control measures to that effect. Additionally, YourZooki's sample had been diluted at a ratio of 1:400,000 in water, which we understood could have destabilized any liposomes present in the sample.
"Because we had not seen conclusive evidence confirming the presence of liposomes in YourZooki's product, we concluded that the claims 'liposomal vitamin C', and similar claims about the liposomal nature of the product, had not been substantiated and were therefore misleading."
We are grateful that the ASA has taken this matter seriously
The ASA ruled that the ad 'must not appear again in the form complained about' and that the brand must refrain from claiming its product is liposomal vitamin C 'unless they held adequate substantiation for those claims'.
Abundance & Health 'independently tests liposomal brands for quality'; in September 2020 its testing included YourZooki, along with three other companies. Tim Orchard, director, explains the findings: "YourZooki and one other brand returned negative tests for liposomes. Two other brands showed very low liposome levels. On this basis, we made a complaint to the ASA about the liposomal claims of YourZooki. The consumer will have no way of determining which product is genuine based on the marketing message.
"We are grateful that the ASA has taken this matter seriously and completed a thorough investigation. We believe that this ruling will force the remaining brands who are falsely marketing their products as liposomal to remove their liposomal claims for the benefit of consumers and true liposomal producers.
"At Altrient, we are proud of our scientific heritage and believe in an ethically-led approach to marketing. Our claims are backed by robust scientific evidence, including double-blind placebo-controlled trials, which is why we are confident in the quality and efficacy of our supplements."
There is more fraud in liposomal supplements than in any other type of supplement I have seen
Dr Thomas Levy, cardiologist and vitamin C expert for LivOn Labs, adds that the ruling marked 'an important day for the liposomal vitamin industry and for consumers'. "Liposomal supplements are a fascinating technology for delivering maximized absorption, but 'buyer beware' – there is more fraud in liposomal supplements than in any other type of supplement I have seen. Brands just slap the word 'liposomal' on the product and try to make as much money as they can, until and if they get called out on what they are doing.
"Unfortunately, too many people want to make too much money and have no significant ethics. Taking a product that you believe to be liposomal but isn't deprives people of the absorption benefits of true liposomal vitamin C. It is terribly unfair to consumers who are paying for a very specific technology that in many cases simply isn't utilized in the product. Making a high-quality, high-tech, liposomal vitamin C is not a fast, easy, cheap or simple process, and the industry needs to be better regulated to avoid this kind of misleading behaviour."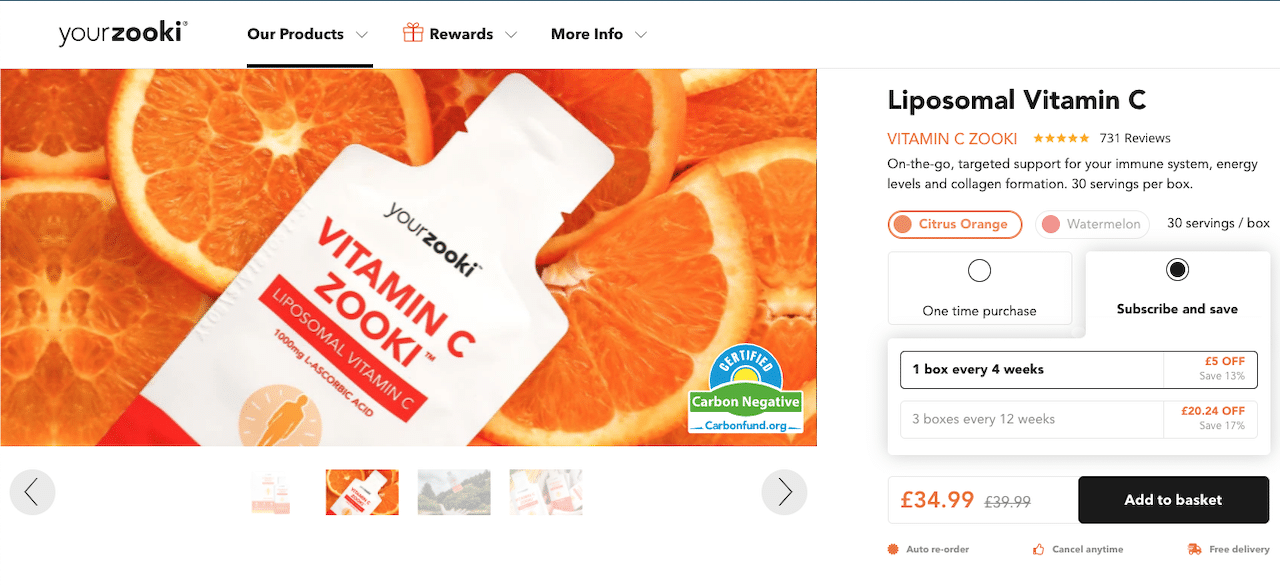 The post ASA ruling signals 'important day for liposomal vitamin C' appeared first on www.naturalproductsonline.co.uk.
ASA ruling signals 'important day for liposomal vitamin C'