Astral Festival 2019
6 July 2019
Bristol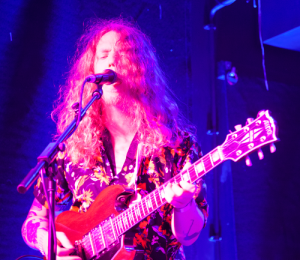 This year, the Stolen Body-curated Astral Festival has chosen to spread itself over three of Bristol's city centre venues. Thankfully, the Rough Trade sweatbox, the rather charming restaurant/bar at the Lanes and the grandiose SWX are all within a stone's throw of one another. Unfortunately, the timing of things does mean that it is impossible to take in all bands, and considering it is running from 1:30pm until 1.00am, there are some judicious choices that need to be made.
The first band on is Stolen Body head honcho
Al Studer
's
Yo No Se
. If you wandered into this set halfway through, you may think that you had teleported back to 1992, as it is all long hair, cut-off shorts and the metal end of grunge blasting off the stage. Al is a great guitarist, his Gibson SG squealing like a stuck pig. The rhythm section manages to keep him just about under control as his solos veer off to places unknown. Vocally, there is a touch of early
Mark Lanegan
or maybe
Mark Arm
, but the fuzzy guitar wig-outs nod as much to
AC/DC
as to
Nirvana
and it does throw me right back to my twenties, with the drummer coolly looking out like a young and healthy
Grant Hart
. They know
how to rock out and also how to slow things down
, with a couple of the tracks slurping along — but we can't see it all as
Tazeta
are playing at the Lanes and we want to check them out.
This is a drastically different to the dark cavern from which we have just emerged. You can still see sunshine streaming through the windows as the eight-piece Tazeta set up. Their sound couldn't be any further removed from Yo No Se, as you might expect with two saxes, two drummers, an organist and a vibes player. Their sound is a rich, dreamy mix of Latin and jazz and the line-up incorporates 3/4 of
The Evil Usses
, so you know that some freeform inflections will be shining through. This is the first band of the day with a twin drummer line-up, and here
the pair seem to be duelling, egging one another on to ever more daring fills
, whereas the saxes seem to be more in harmony, whether they are blowing out a smooth melody or jostling and berating the audience.
Through it all, the vibes shine like chiming beacons of joy. The one title we caught was "Lydia" from their self-released album, which was all woozy and soft-focus, sun-dappled but dusty, and brought to mind Tortoise if they had gone Latin and injected a little Eastern guitar wig-out into their gentler work. The Singer sewing machine rhythm of the duelling drummers brought songs to rapturous crescendos and the whole set made for a stellar highpoint to a day that had barely started. Drop them a line and buy the album. It is gorgeous.
We then head for the far grander surroundings of SWX for Bristol drummer
Jesse Webb
's new project
The Final Age
. Another twin drummer line-up, they are expanded by electronics and electric bass, as well as a cornet player who takes centre stage and blows slow wavering harmonies over the battering ram assault as the unobtrusive synth twiddler sits to the side,
scattering sprawls of sound in the background
. Jesse seems to play it cool, but the other drummer (who crops up later with
EP64
) is a mask of intensity, and it is fascinating to watch the two lay down these surging beats without seeming to interact.
Jesse picks up a guitar at one point and unleashes a scree of noise. After some time, the corneteer leaves and is replaced by a singer/guitarist who changes the sound slightly and reminds Mic of Daisy Chainsaw, but if they had been injected with lead. Her vocals are half-spoken and mantra-like and there is a luminous ethereal quality to them, so when the ever -volving set includes both her and the corneteer, the tribal intensity of the drums feels as though it will eventually stop your heart. Seriously impressive.
We then head back to Rough Trade for
Olanza
, another local band who play a narrative take on angular post-punk. Vocal-less, the four-piece rely on the interplay of their chiming guitars as the rhythm section pushes it in all directions, the soaring drummer
splashing cymbals enough to generate a tidal wave
. Their post-
Slint
noise is fierce and forceful and the two shaven-headed and bearded guitarists stand right and left of stage as guest bassist
Annie
soaks up the attention and moves with the irresistible rhythms. I never tire of this sort of thing, and they put enough of a personal slant on it to make me seek out their LP. You should do the same.
Back to SWX for the insane sight of Bonnacons Of Doom; about half-a-dozen people on stage wearing shining disc masks that make them look like some sort of astral version of The Residents. Fronted by a cape-wearing woman coming on like a high priestess, she wails over the top of a tribal post-metal sludge fest with guitars that sear and scorch through the dramatic light show. Her voice has real power and cuts through the righteous maelstrom like a knife through butter. The glinting masks behind her make the whole scene appear like some post-nuclear metal band that had survived disaster and were just waiting for Mad Max to stride through the bar-room door. Crazy stuff.
Unfortunately due to clashes, we missed
Earth Tongue
and only caught the last track of the frantic EP64, which was a shame because the line-up of energetic drummer, double bassist and a singer who chants over loops of her own voice certainly seemed to have enthused the crowd in the Lanes. The moments we caught were a whirlwind, so we will have to keep a further eye out for them. We head back to RT for
Modulator II
, four folks in white boiler suits looking very cool in the furnace of the venue. They ply a fast-paced surf-inflected take in garage rock, with a diminutive singing drummer who sounds like
Fred Schneider
trapped in an underground silo. When he speaks between songs, nobody can understand because there was so much reverb. The guitars are so trebly, they are
shrill and ear-piercing, almost shattering in the intensity of sound
and all four move at a blistering pace, which makes the decision to drop a slow moment or two into the set even more surprising, that difference giving you an opportunity to draw a breath and then they are off again. They are dripping by the end of the set, and perhaps ruing the boiler suit decision too.
We escape back to the relative cool of SWX, but the upheaval that Gnod are causing on stage is anything but chilled. The band seems to be travelling on a trajectory that makes the sound angrier and louder and more ferocious each time we see them. Gone are the experimental jaunts and japes from ten years ago, and now they are a monolithic behemoth, seemingly taking up where Godflesh left off, but with none of the vulnerability and far more firepower. The third twin drummer attack of the day with Jesse Webb once again claiming a drum-stool, this is by far the most devastating.
The brutality of the group, caught in the ire of
Paddy Shine
's vocals and reflected in the shrieking of the two guitars which seem to be set on stun, even when at rest, is matched by
an excoriating light show; all bright white and epilepsy-inducing shudders
. The lights conspire to fabricate imaginary portals to Heaven along which the group are only too happy to escort us, and these moments of transcendence where the entire band lock in as one are perhaps the real moments of the set. It is hypnotic and relentless, the volume eye-bleeding, but coupled with some real clarity — although the guitars behave like some sort of torture victims desperate to wrest themselves from the players.
It is pretty intense, so we decamp to Rough Trade for
Electric Retro Spectrum
, a post-New York three piece with the singing guitarist channeling a kind of post
Lydia Lunch
spite that suits the vicious curl of the trio's attack. The bass is pre-recorded and
the second guitarist wrangles his instrument like it is a live snake
about to escape into the audience. The guitars growl like they are radioactive, and there is a lot of frustration emanating from the stage. When the solos break out from the caustic murk, they whistle and scream until being subsumed once again into the overall sludge. Quite a racket for a three-piece, but we head back to SWX, briefly stopping off to catch the Korg-infested overblown heavy-psych of '60s revivalists
The Cult Of Dom Keller
. It is full of soaring guitars and heartfelt vocals, but we have a date with something else entirely.
What greets us onstage at SWX as we arrive for the King Khan And The Shrines set is totally unexpected. There must be eight or nine cape-wearing crusaders on stage, three of whom are blowing saxes and trumpets, all fronted by an enormous Sikh man, dressed in an appalling beige suit with silver lapels. It is as if Rocket From The Crypt had been injected with hormone serum and James Brown had been born in the Punjab. Drums, capes, joy, a big belly, medallions, soul-soaked madness; it is all on stage and it is the first time that the audience has been picked up and transported somewhere joyful. King Khan has a sweet Texan-influenced vocal that can fly into a soul screaming roar, while the band egg him on with ever more ebullient playing and playful behaviour. When he goes off halfway through and returns wearing a velour off-the-nipple all in one and an enormous feathered headdress, he has the audience eating out o the palm of his hand.
If you could imagine James Brown with moose morality and a set of JBs for whom fun is as important a musicianship, you are partway to imagining this spectacle. He sings a song for
Rokie
, with whom they have recorded, and seems to love surfing the soulful wave that the band sets up for him. We even have the first love song of the day, his hysterical delivery complementing the lachrymose backing. When
he starts touching his nipples to excite the audience
as one band member throws his keyboard (I won't say organ) on his back and clambers down amongst the crowd, we know that this is one special band.
After a cold shower (not really), we head to the Lanes for Triptides, We missed Wyatt E and Ego Death Star, but Triptides are the real sound of the Astral summer. They look like they have just stepped in from California, with loud shirts, wavy hair and moustaches. The songs rush by like an ocean breeze on a hot day. Harmonies abound and the sounds of an antique organ fill the air. They really look the part, and when the resonance of a 12-string electric merges with the harmonies, it is like The Byrds have stuck their head around the corner just to see what's happening. The dapper bassist with his mandolin bass looks fab and picks out some deliciously sultry lines, and some of the songs move with a hazy langour that suit him perfectly. The 12-string soars on the thermals laid down by the rhythm section, and the phased vocals and the orgasmic face the guitarist pulls when soloing are priceless.
We stick around in the Lanes and let the feel-good vibe ebb as
Part Chimp
take the stage. They are really affable, with the guitarist kindly handing out earplugs to those at the front. Perhaps unwisely, I don't take any, so when they strike up and the wall of sound envelops us, it is deafening. It feels great that there is a band like Part Chimp keeping the flame alive for that sort of melodic post-hardcore that we saw a lot of in the UK years ago. They bludgeon you with their intense riffing, which is so together and
so loud that it enters your brain and just kind of takes over
, rendering all else irrelevant. I keep counting the strings on
Tim Cedar
's guitar, and can only find five, which has to explain why the chords and tone are so strange. His vein-bursting vocal delivery is barely heard above the musical attack, the volume of which is relentless. If you close your eyes, the repetition becomes overwhelming and you just find yourself lost in this aural assault. I have to escape for the good of my hearing and mental health.
It is about 9:00 pm now, and we have missed Creatures and barely seen Mattiel at this point, and are growing peckish; so after a brief glimpse of the sixth-form psychedelia and Marc Bolanesque outfits of Temples, we have some scram and head to the Lanes again for LA Witch. There is something sleazy and Velvet Underground-ish about the guitars and simple drum-beats, and the trio look drop-dead cool on stage, as if their LA vibe was frozen in this gradually cooling English evening. It's all simple garage beats, bratty vocals and trebly shrill guitars, like a California headache from too much sun. It is cutting and trashy, a primal garage attack with Cramps drums, and the razor-like guitar is the antithesis of the solid bass, while the solos wail like cars travelling through a concrete underpass. Possibly the most charming part of the set is when they wish the drummer Ellie happy birthday, the ice facade cracked and they dissolved into cute smiles and inter-band love. My only complaint is that there is little variation in the tempos of the songs, but it is pretty good.
We miss
Levitation Room
and
The Naturals
, unfortunately, but make our way back to SWX for
The Thurston Moore Group
. I had seen them a couple of years back performing at
End Of The Road
, and the line up here is the same as then. All instrumental with no vocal mikes, they seem intent on constructing some sort of guitar symphony, moving through different sections, all the while driven on by a fantastic tribal drummer.
Thurston Moore
and
James Sedwards
have matching guitars that are electric 12-strings tuned in God knows what way to come out with these weird structures and they are quite happy repeating the same chord relentlessly with the minutest variations and
seeing how long the feedback could sustain after the chord had been struck
.
You have the feeling that there is unfinished business from back in the Glen Branca days, and he was the only one who could take those ideas in another direction. There is always something familiar about the chords Thurston uses, and perhaps that is from thirty years of listening to Sonic Youth, but where this differs is the complete lack of any pop influence. It is about how the guitars behave without restricting them to even a loose song structure. It must also be impressed how much Deb Googe's influence plays here. She treats the bass as if it were another part of the guitar assault and anything that the boys are doing, she is also doing; so if it is a few minutes of insistent strumming right up by the pickups, it is the twin guitars and bass thrumming out the message.
Chords are allowed to decay and die, allowing space and a surrounding drum essence to fill the vacuum, and all the while Thurston stands head on to the crowd, eyes invisible behind his fringe, his only instruction to the band a sudden bow forward and a deafening chord is struck and manipulated. There are passages like all good concertos where things are calm and the sounds drift, feelings allowed to dissipate; but
then the screwdrivers come out and everything goes off-piste
, the drummer dragging out his triangle — which is always a good sign of some freeform rumbling. The gradual descent in sound levels as the piece draws to a close is the same as the feeling you have when they switch the engines off in an aeroplane, you sit back and consider the next move, and your heart returns to its normal pattern. They leave to rapturous applause from the two-thirds full auditorium, and after allowing it all to sink in we decide to head for home.
*
It was 11:30 pm and we had been soaking up music constantly for ten hours. There was an enormous queue for the Lanes to see Bo Ningen and as that was the only venue left open, it would have been like squeezing a quart into a pint pot. The Thurston Moore Group's set was a good time to leave and allow the myriad of different groups we had experienced to settle in on our consciousness.
-Words: Mr Olivetti-
-Pictures: Michael Rodham-Heaps-
Astral Festival 2019