Autumn turns New Hampshire's White Mountains orange, crimson, and gold
November 08, 2021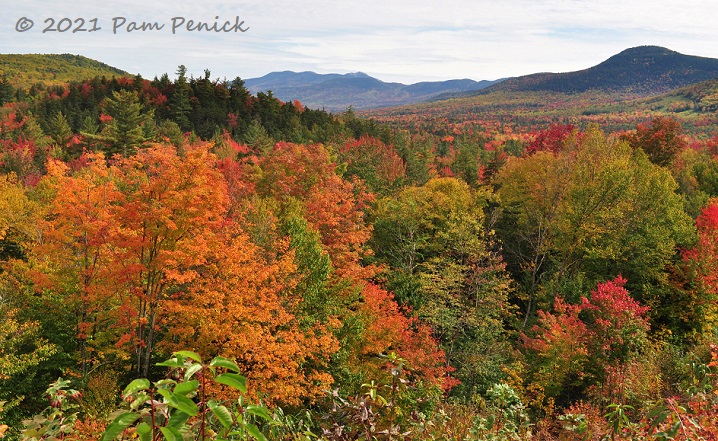 New England's fall color — with trees flaming out orange, red, and gold — is famous worldwide. Two years ago I started planning a bucket-list trip to see it and settled on the White Mountains of New Hampshire in early October. Covid bumped the trip back a year, but on October 2nd my husband and I finally arrived after driving over from Portland, Maine. At first I thought we were too early. Low, mountain-hiding clouds and drizzly rain obscured the views I'd expected, and foliage color seemed not yet at peak. I confess I was a little disappointed.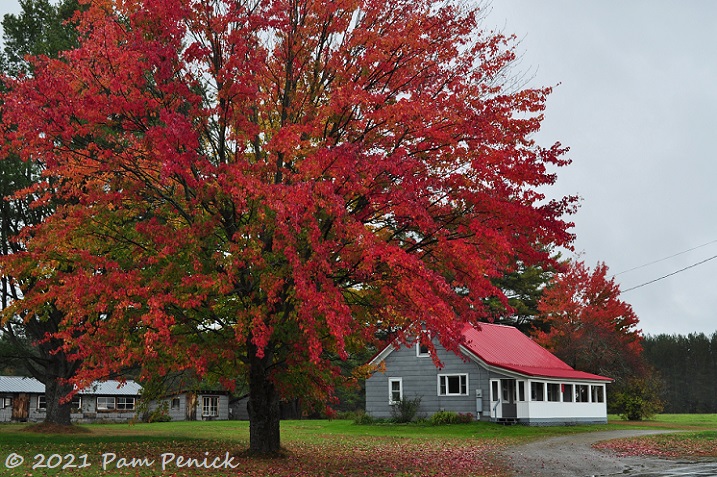 As it turns out, not-quite-peak foliage in New Hampshire is still freaking spectacular. And at the higher elevations in the mountains, trees were even more colorful. We stayed four nights in Jackson, NH, and spent our days exploring the Whites, as the rugged granite mountains are known, stopping frequently for cascading waterfalls, apple orchards, covered bridges, and every fiery tree we saw. Each day the weather improved and the leaves ripened to richer colors. By the last day, sunset-hued mountain vistas had me pointing and sputtering, Just look at that!
Androscoggin River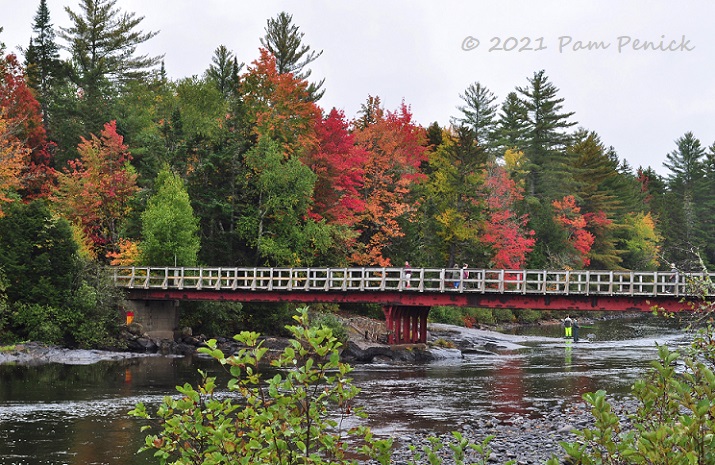 Let me take you on my greatest-hits recap of the Granite State's stunning scenery. Our first day, we drove north along the Androscoggin River, where a footbridge echoed the color of red maples and fishermen stood in the rain casting their lines.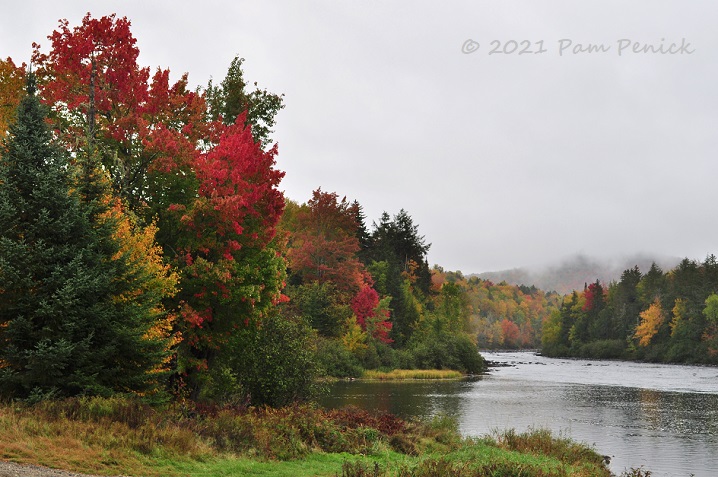 We met a drone pilot who had just finished shooting video along the river. Check out the beautiful scenery he captured that day on his YouTube channel.
Dixville Notch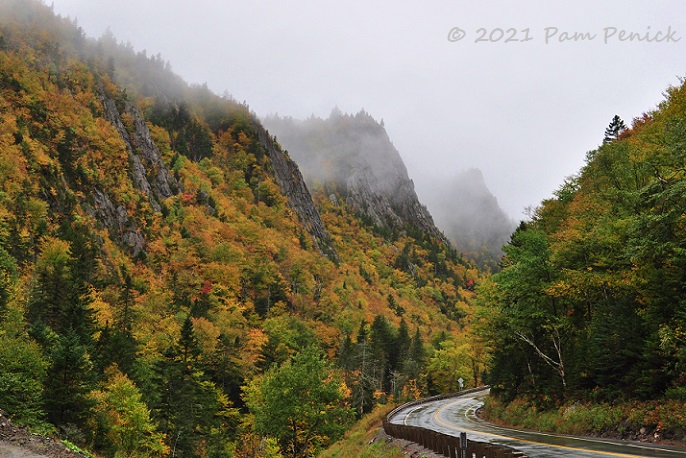 Mountain passes in New Hampshire are called notches. With steep cliffs clad in colorful trees, they offer great views, as seen here at Dixville Notch, only 12 miles south of the Canadian border.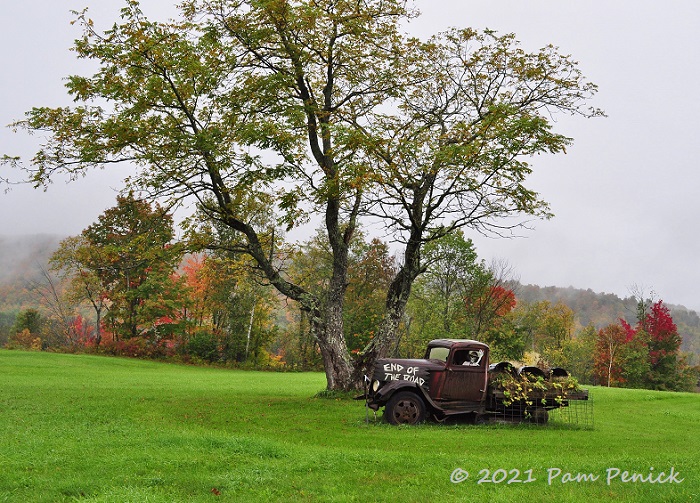 Driving back to Jackson that afternoon, I spotted this pre-Halloween vignette in a misty field.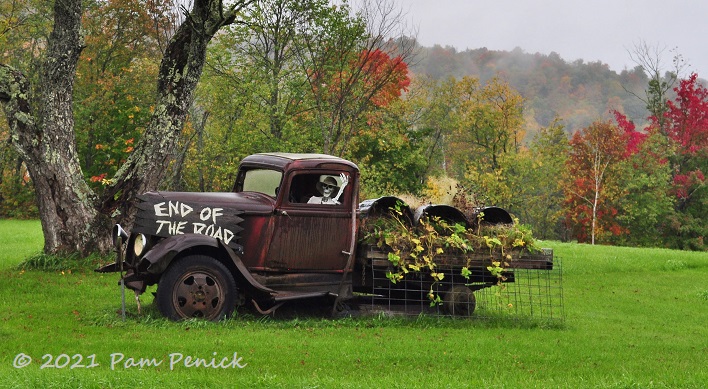 End of the Road, proclaims a sign on a skeleton farmer's truck. But it was just the beginning for us.
Crawford Notch State Park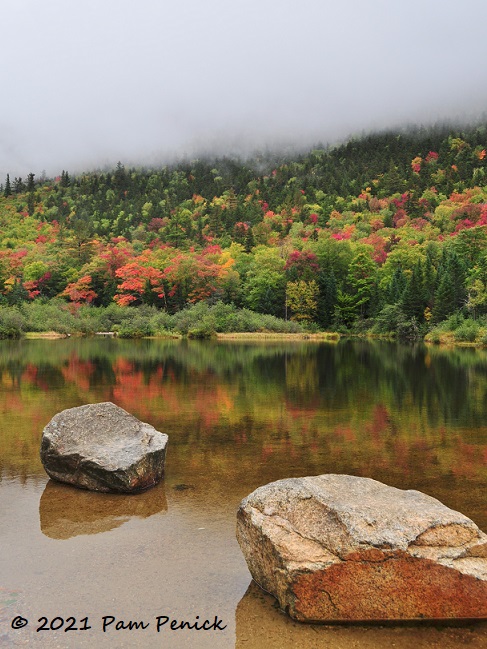 Orange and red trees dotted among dark evergreens reflect their colors in a lake at Crawford Notch, although the tops of the mountains remain socked in by low clouds.
Silver Cascade waterfall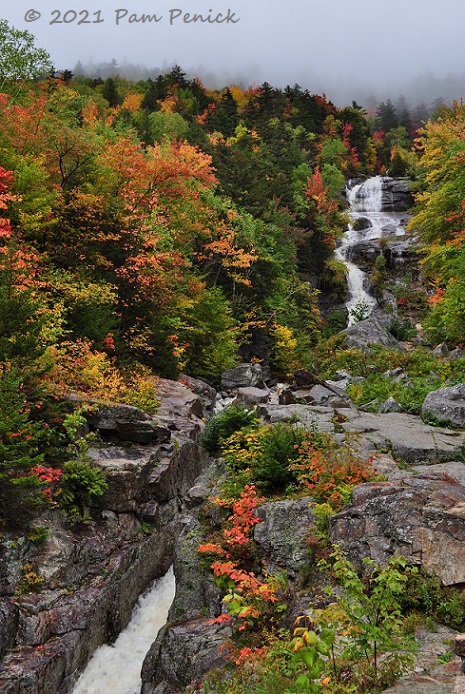 The clouds proved atmospheric for photos, adding mystery and softness to the rugged landscape. Cruising along scenic Route 302 we pulled over (along with dozens of other drivers) to admire Silver Cascade, a 250-foot white ribbon tumbling over gray rocks.
Omni Mount Washington Resort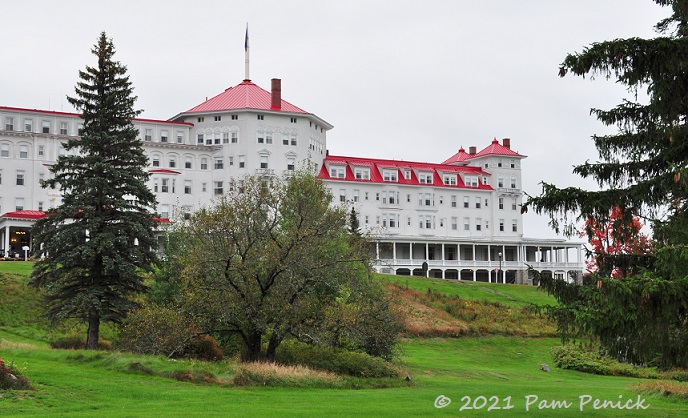 Also along Rte. 302, a grand old hotel, the Omni Mount Washington Resort, commands a beautiful view — and is itself the focus of many tourist-snapped photos. The luxury hotel, today a National Historic Landmark, opened in 1902, attracting visitors arriving by train from Boston and Portland, Maine.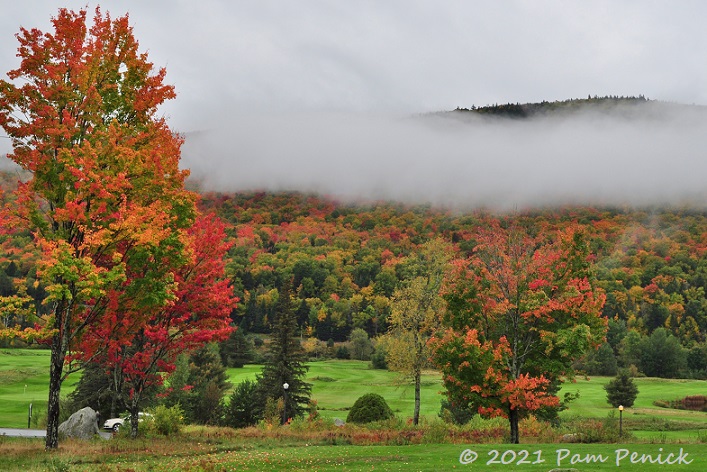 View from the hotel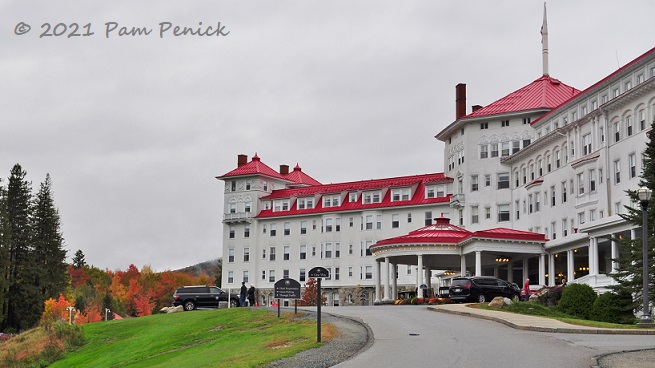 I'd read that you can see Mount Washington, the tallest mountain in the Northeast, looming behind the red-roofed hotel. But the low clouds conspired against us, and we never saw that peak, not once during our 4 days in the area. I began joking that it exists only in legend. If the weather had been clear, we might have driven the auto road or taken the cog railway to the top of Mt. Washington, but with fogged-in conditions we didn't bother.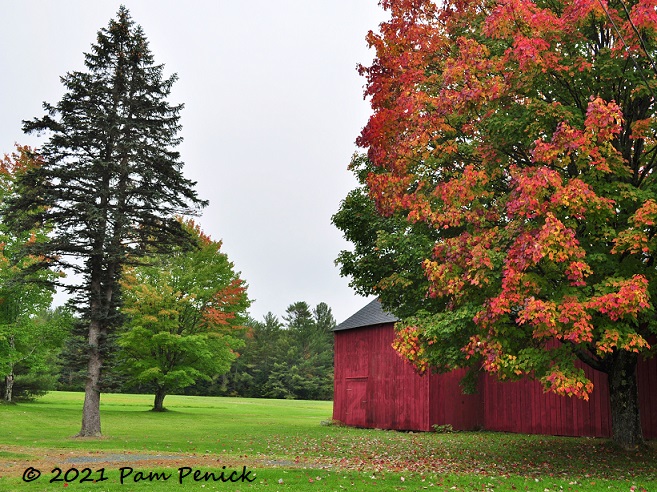 We found plenty of beautiful scenery to occupy us, even outside of the mountains.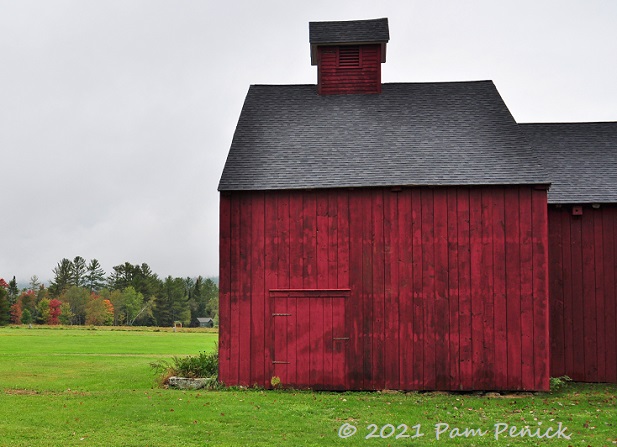 One of many picturesque red barns spotted along the roadsides.
Jackson, NH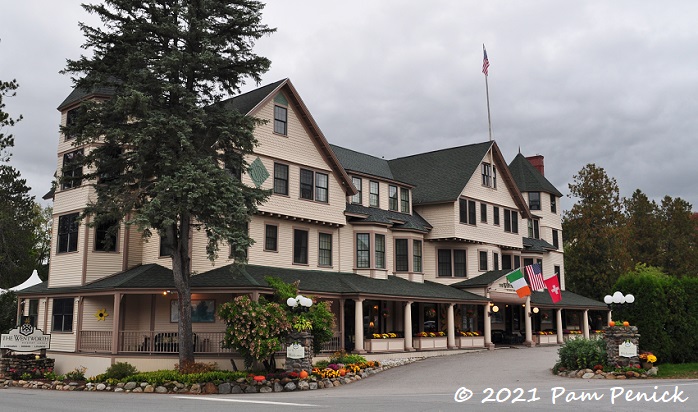 Our home base was the Wentworth Inn in Jackson, New Hampshire, a charming old bed-and-breakfast with a generous and comfortable front porch, which was decked out for fall with pumpkins and mums.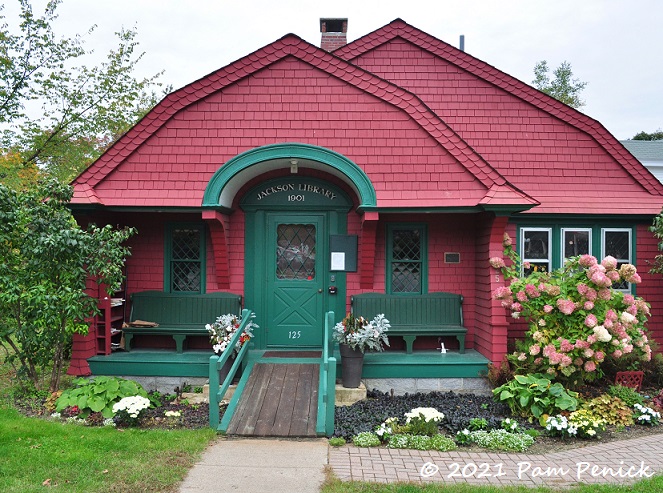 One day we strolled around town, admiring colorful buildings like the Jackson Library…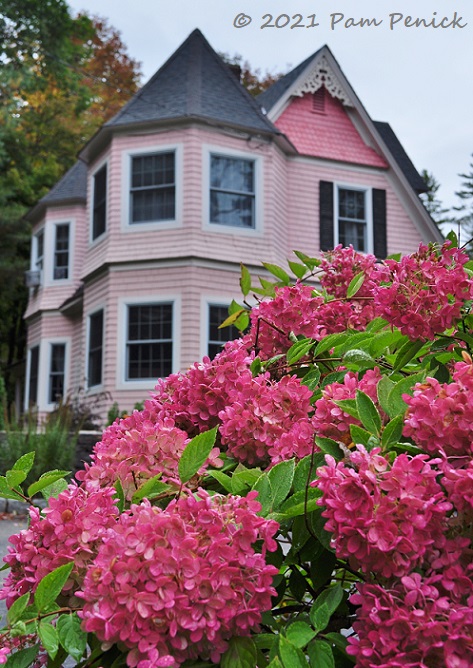 …and a two-toned pink Victorian, with pink hydrangeas proclaiming that more is more.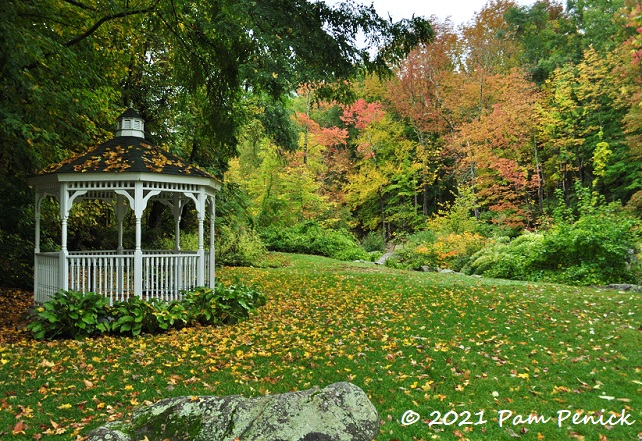 A confetti of fallen leaves makes a white gazebo on a lawn even more picturesque.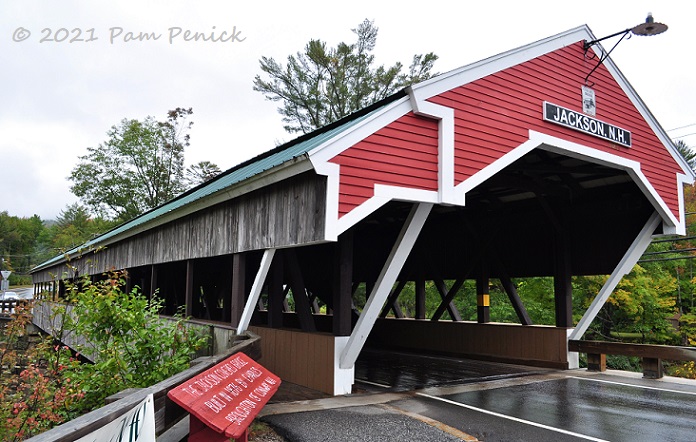 Historic wooden covered bridges, many still in use, crisscross the rivers of New Hampshire, including this red charmer in Jackson. We walked through it, admiring the solid construction and framed river views from inside.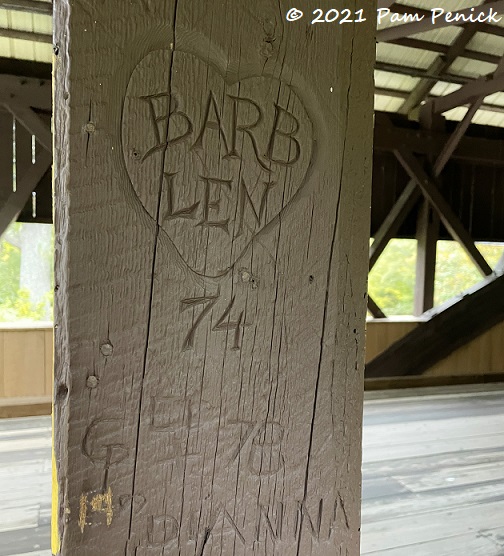 Decades-old carved graffiti and peek-a-boo views of the river between old floorboards add to the sense of history.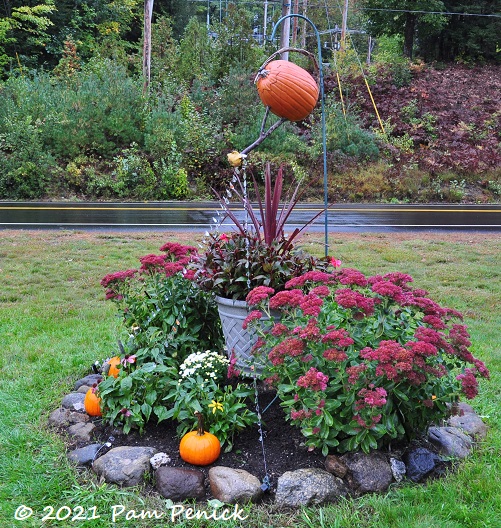 Every October, Jackson's businesses and shops participate in a creative pumpkin-display competition called Return of the Pumpkin People. Gardeners will enjoy this one, a pumpkin watering can "sprinkling" a garden.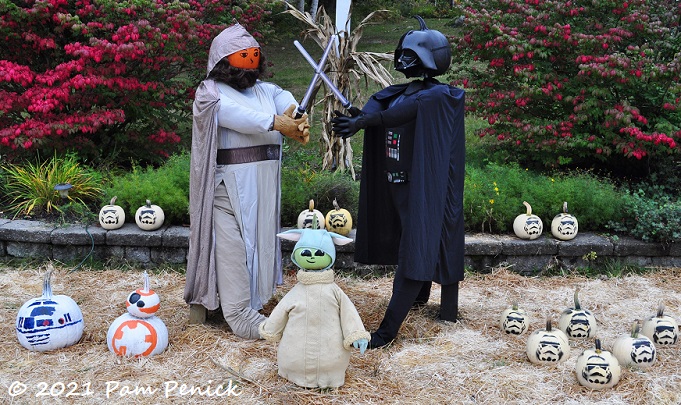 Or how about this one, Star Wars fans? An epic light saber battle between pumpkin-headed Obi-Wan and Darth Vader, with a pumpkin Baby Yoda, BB-8, R2-D2, and storm troopers for good measure.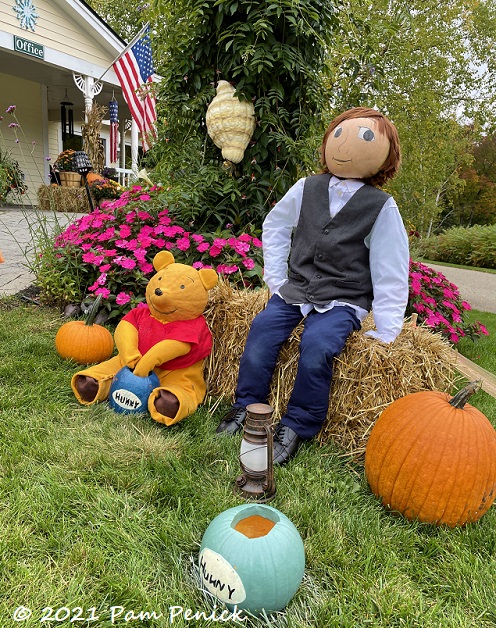 In front of another inn, a scene out of Winnie-the-Pooh was recreated with painted pumpkins and squash. Here we have Pooh and Christopher Robin.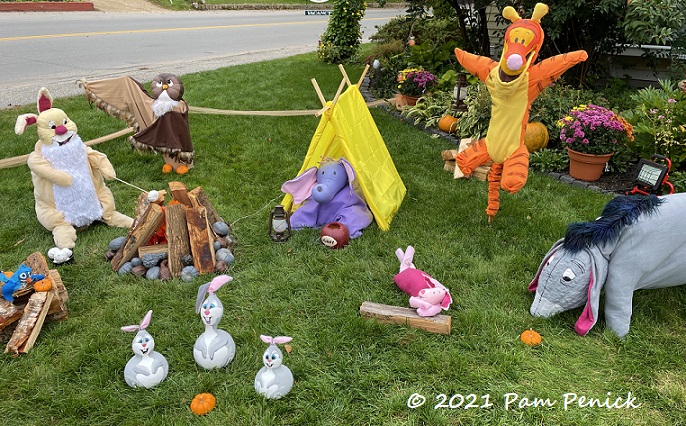 And over here, Rabbit, Owl, Tigger, Eeyore, Piglet, and even a heffalump in a tent. The music from the movie played on speakers.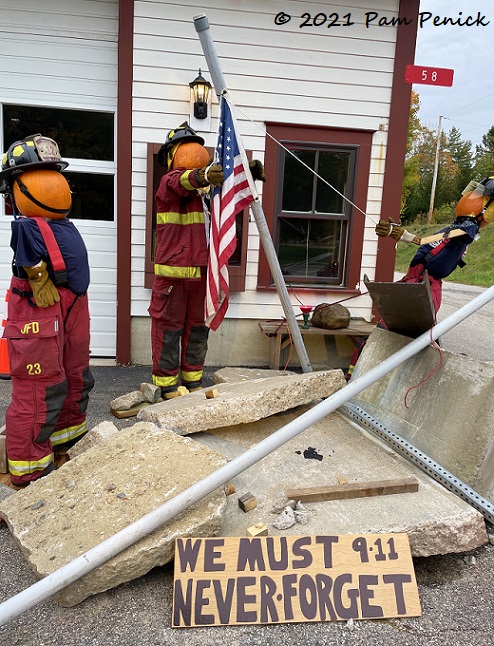 At the local fire station, an iconic photograph from 9/11 was patriotically rendered via pumpkin-headed firemen.
Windy Ridge Orchard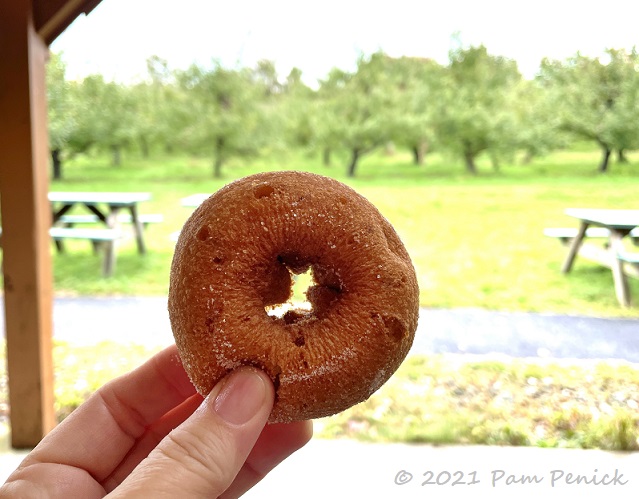 One day we drove across the state to Windy Ridge Orchard, where we enjoyed delicious ham-and-apple and veggie sandwiches and apple cider donuts.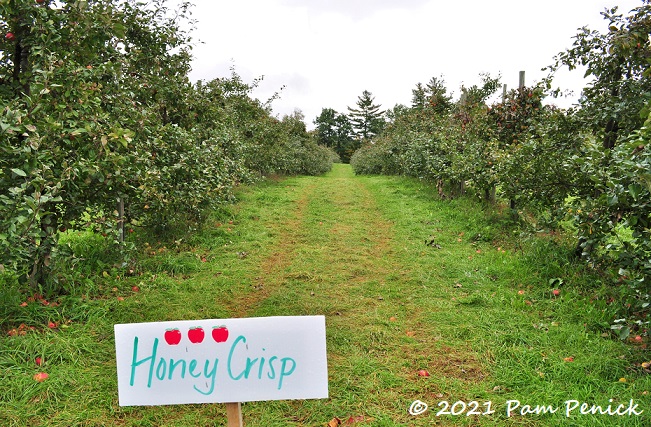 After lunch we explored the orchard…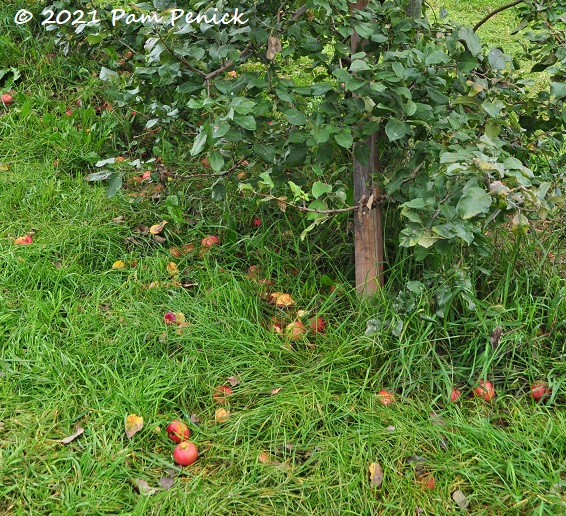 …admiring the bounty of apples.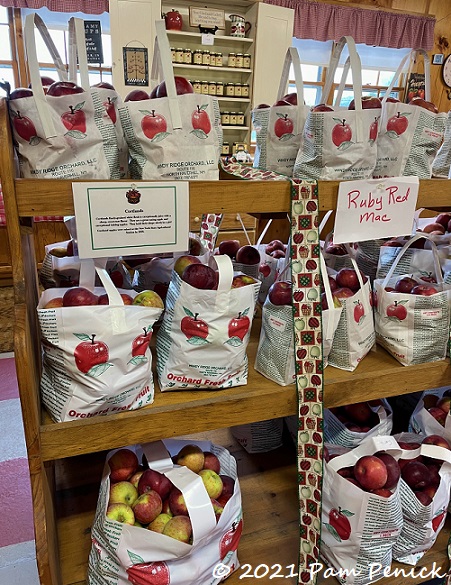 You can pick your own, but we opted to buy a bag from their shop, and we munched our way through them all the way to Virginia.
Bath covered bridge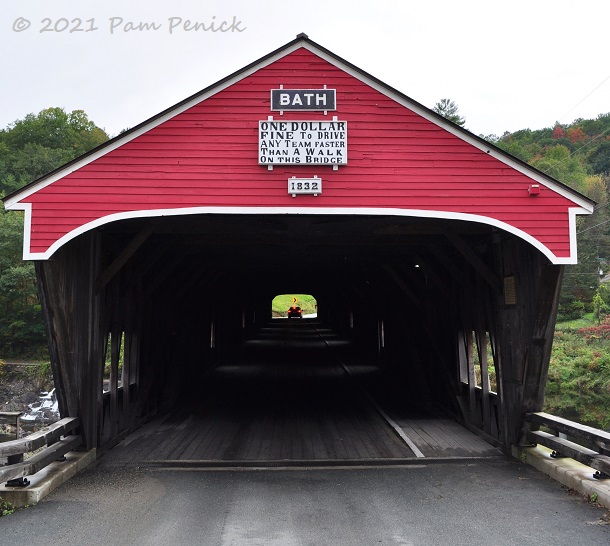 In Bath we stopped to see another historic covered bridge, this one with a sign threatening a "one dollar fine to drive any team faster than a walk on this bridge." OK, folks, no racing your horse and carriage across this bridge!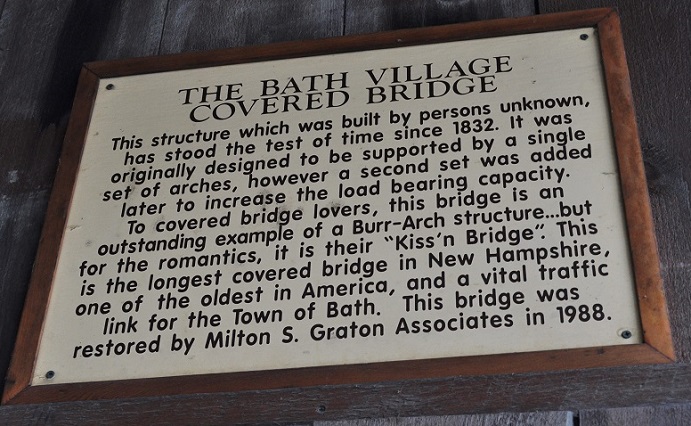 A sign gave info about the construction techniques in 1832.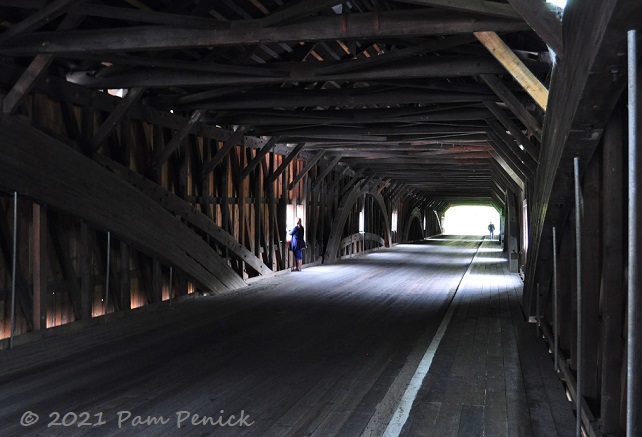 A plank sidewalk along one side of the roadway allows pedestrians to cross safely.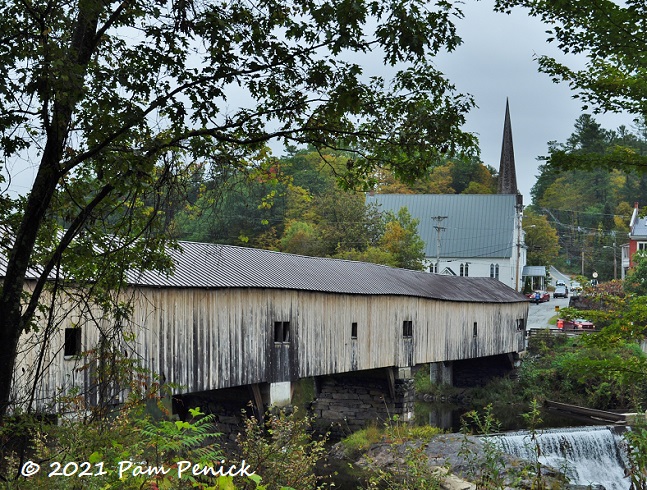 The long covered bridge makes an interesting architectural view.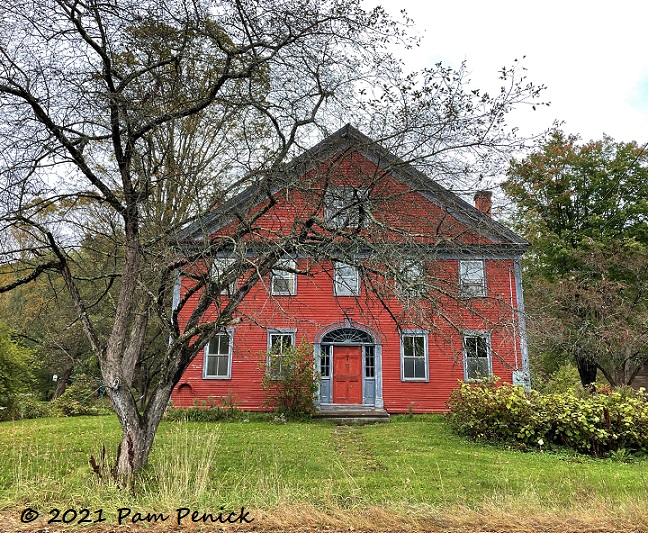 I had to stop and photograph this charming red house too.
Lincoln Woods pedestrian bridge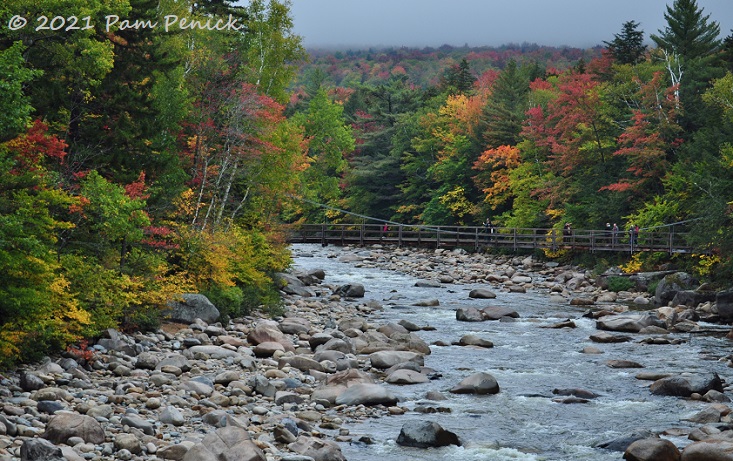 The premier scenic highway in New Hampshire is the Kancamagus, or the Kanc, a 32-mile stretch of Route 112 between Lincoln and Conway. We traversed this scenic byway multiple times during our stay, as the leaves brightened and the clouds eventually lifted. A pedestrian bridge at Lincoln Woods Trailhead is a popular stop, with pretty views along the river.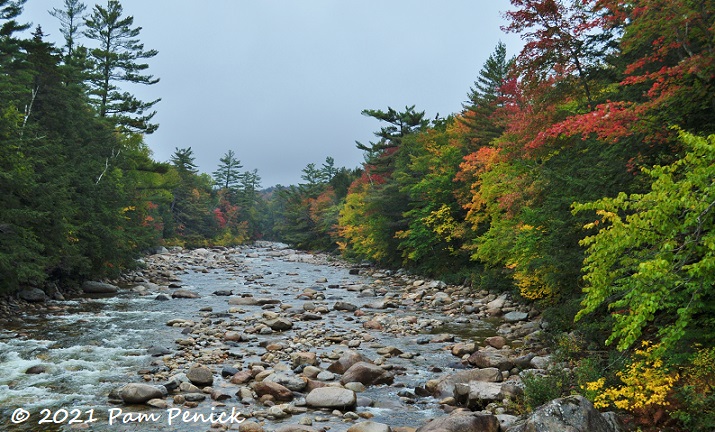 Crystal Cascade waterfall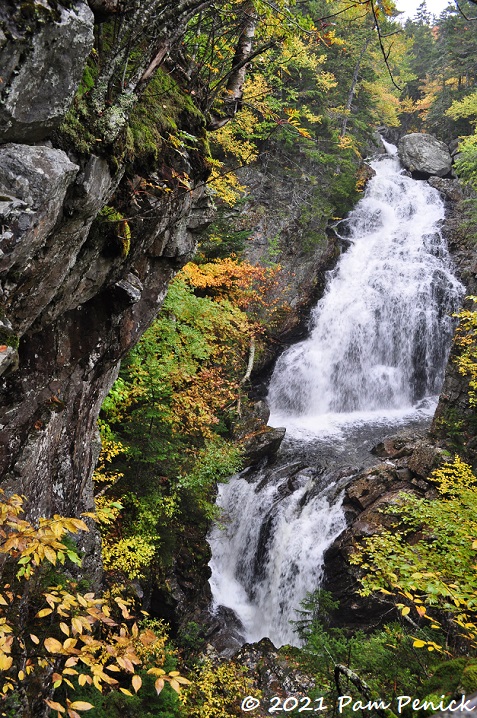 One day we did some short hikes to see waterfalls in the Pinkham Notch area, starting with Crystal Cascade, which has two drops totaling about 90 feet. It's accessed along the Tuckerman Ravine Trail leading to Mount Washington 4,000 feet above.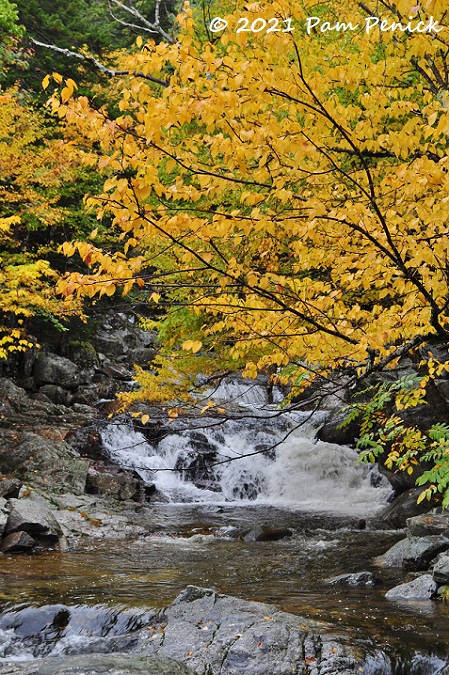 The woods here were buttery yellow, and the sssshhhhh of rushing water filled the air.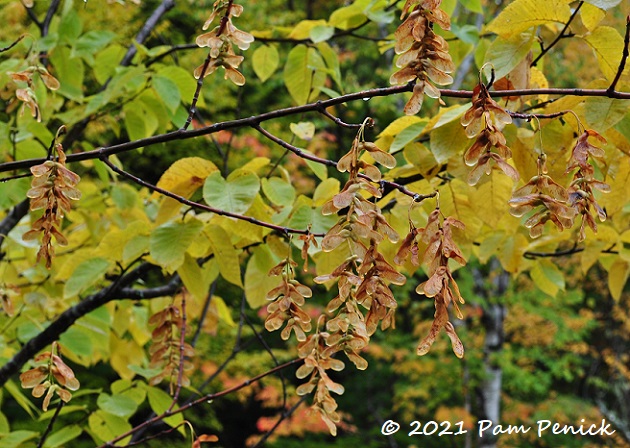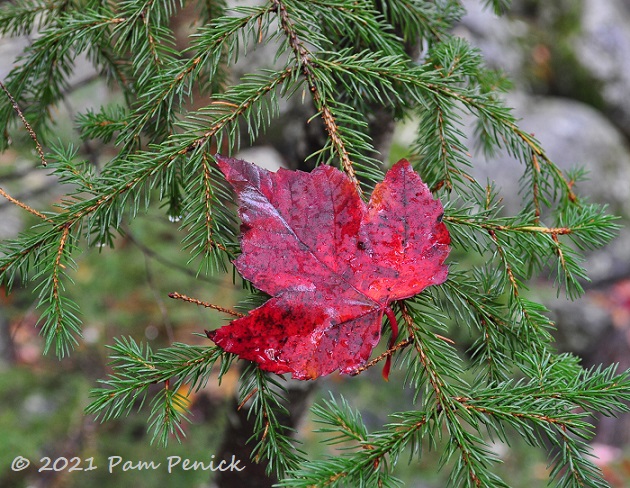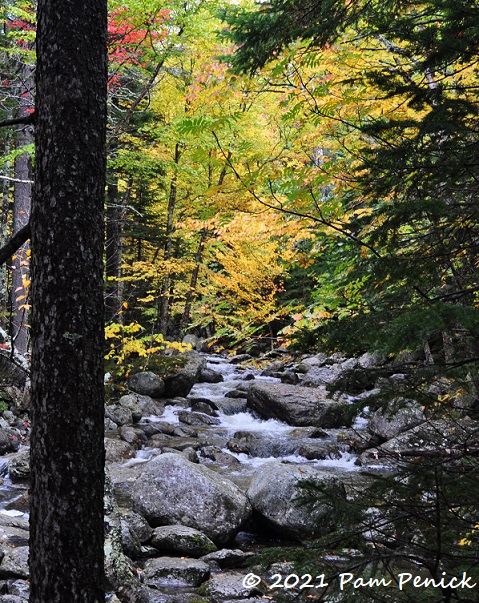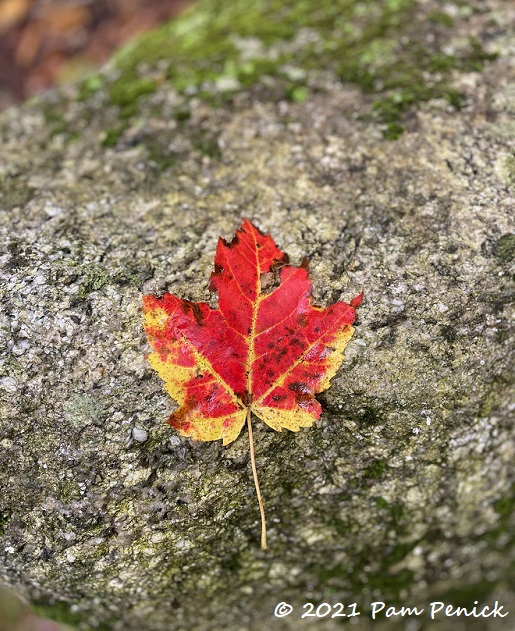 Glen Ellis Falls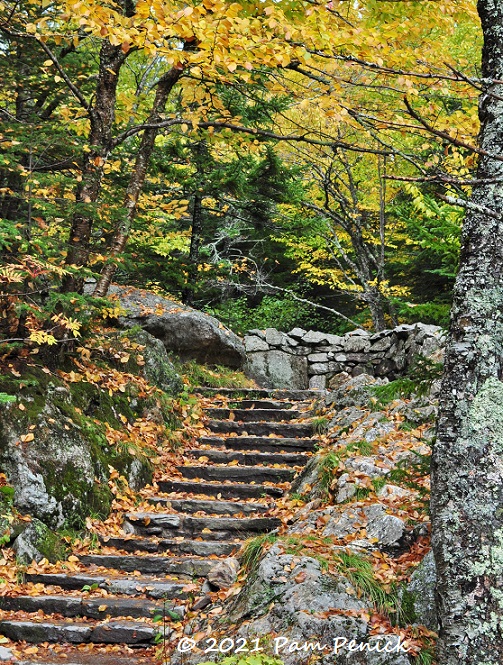 Next we found the Glen Ellis Falls trailhead. Encouraged by another visitor who enthused about the views, we headed downhill along 150 or so granite steps through golden-leaved trees…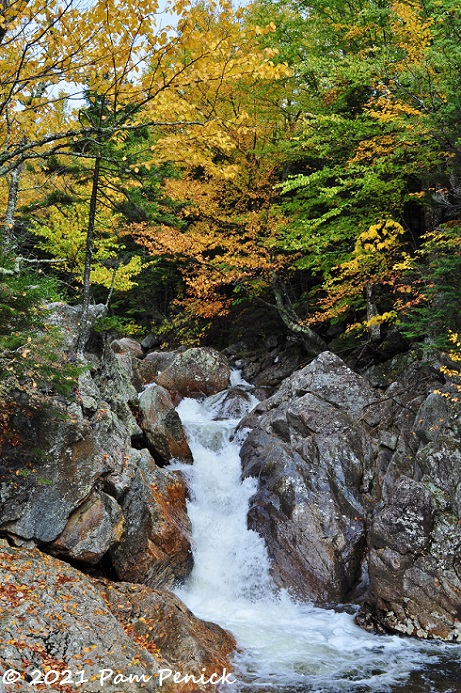 …past a flume of whitewater…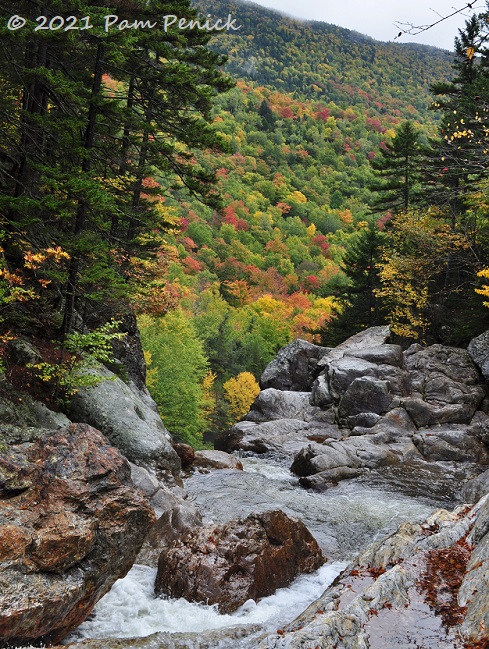 …to an overlook where the river pours through a boulder-strewn notch.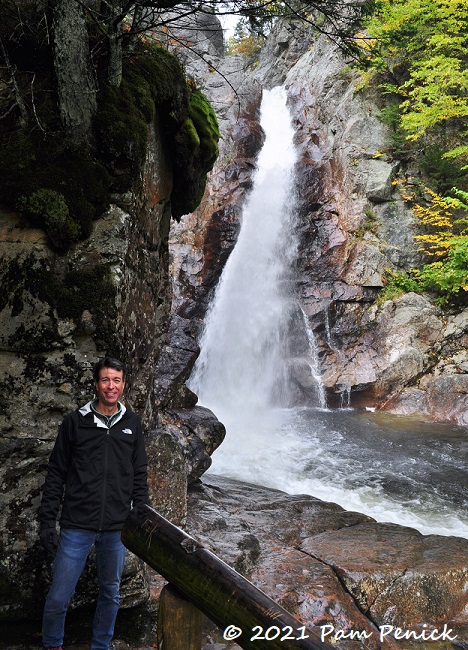 Continuing down the gorge, we were rewarded with this view of Glenn Ellis Falls' 64-foot plunge.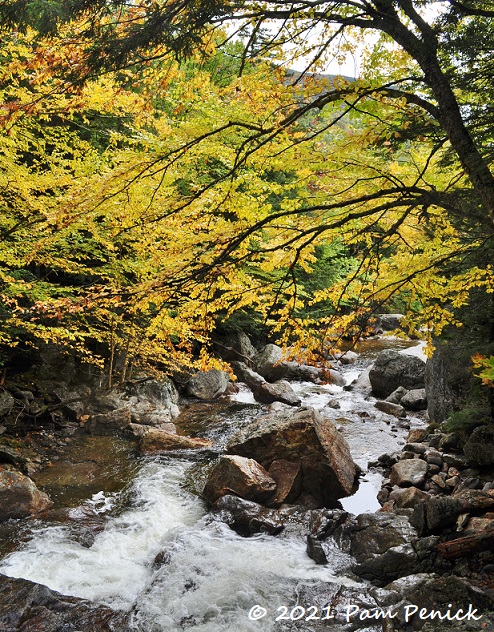 Ahh, beautiful. And then we had to climb back up. My right knee still hasn't forgiven me, but I hope it will.
White Mountains scenery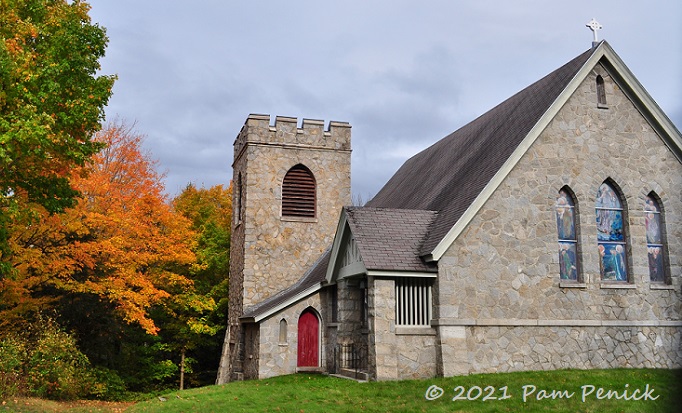 More random tree gorgeousness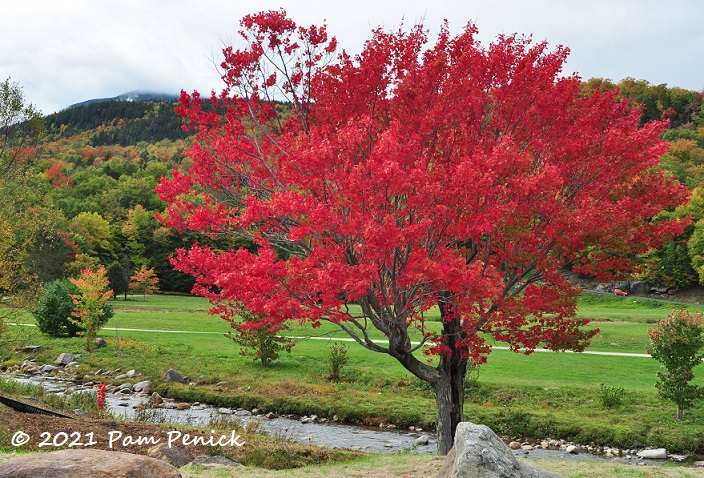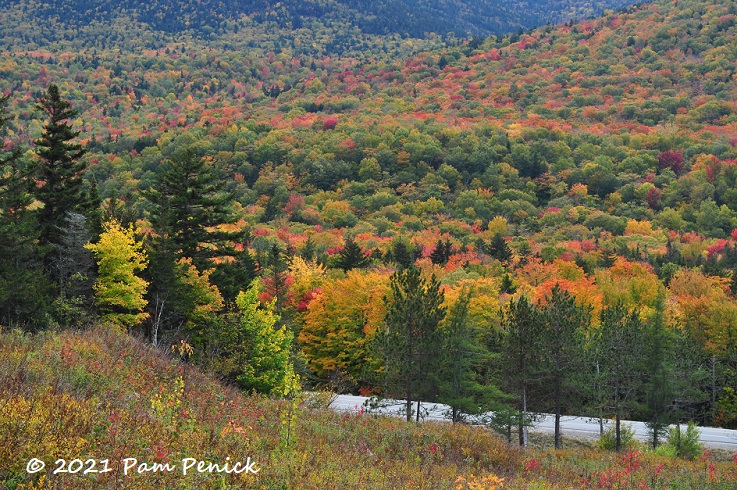 Not far from Mount Washington Resort along Rte. 302, we stopped at the Crawford Connector Trailhead, up on a hillside, for sweeping views of the Whites — which in early October are decidedly more colorful than white.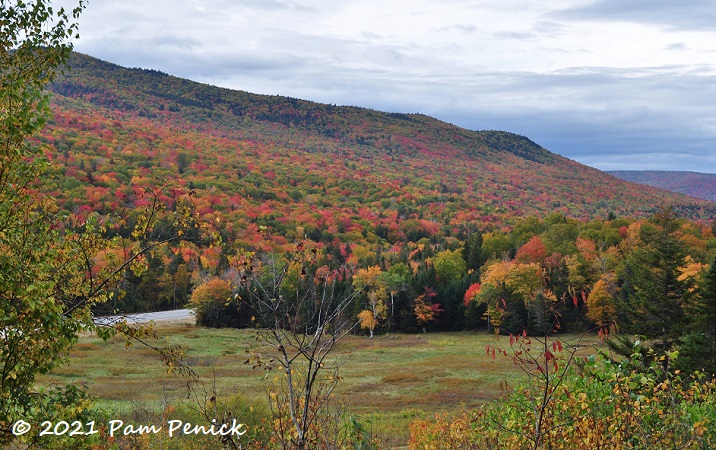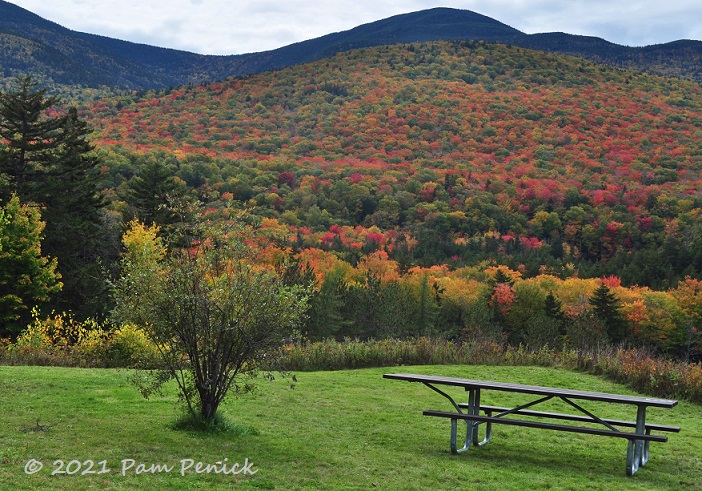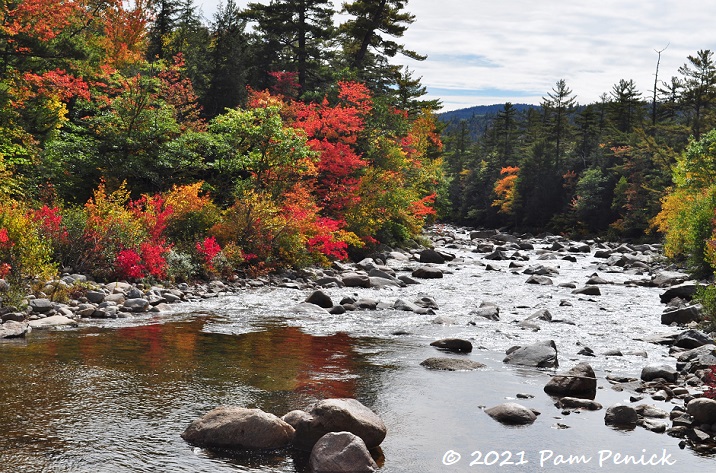 Along the Kancamagus, the leaves at Lower Falls were really starting to flame.
Russell-Colbath historic homestead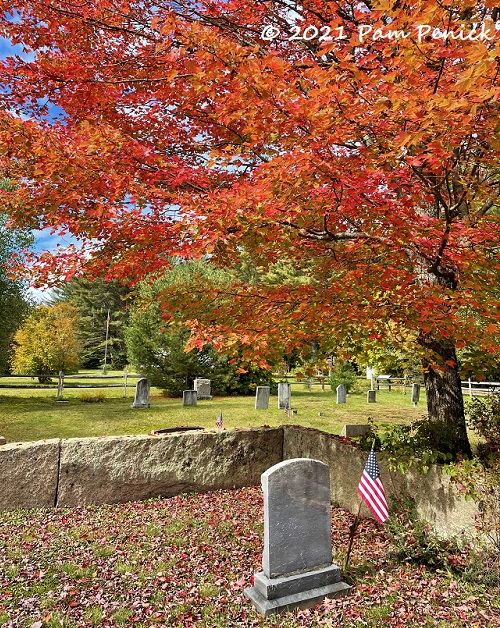 We almost didn't stop at the Russell-Colbath House along the Kanc, but I'm glad we did. The 1830s cabin of homesteader Ruth Colbath, decorated with period furnishings, was interesting to tour. Outside, a small family cemetery gives a sense of the history of the region too.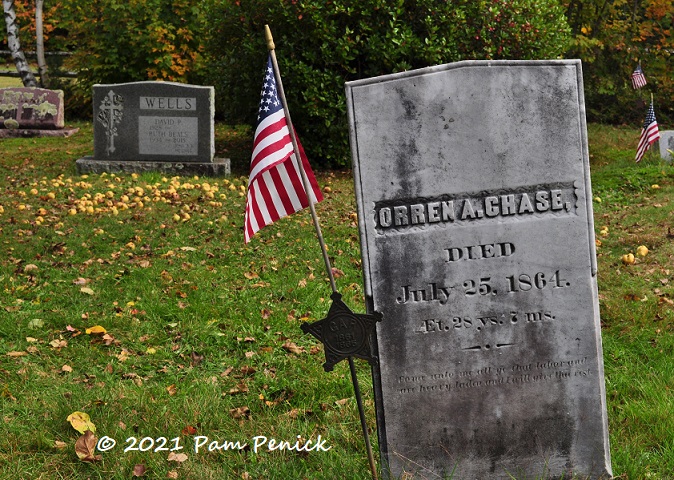 A few graves of Union soldiers, like Orren A. Chase, who died in 1864 at age 28, are marked with U.S. flags.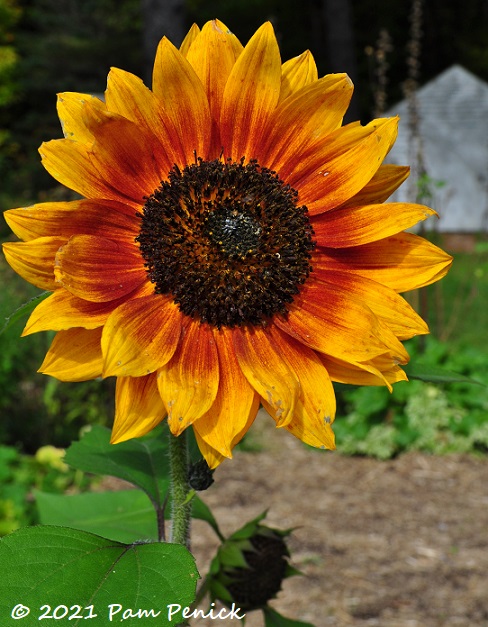 Views along the Kanc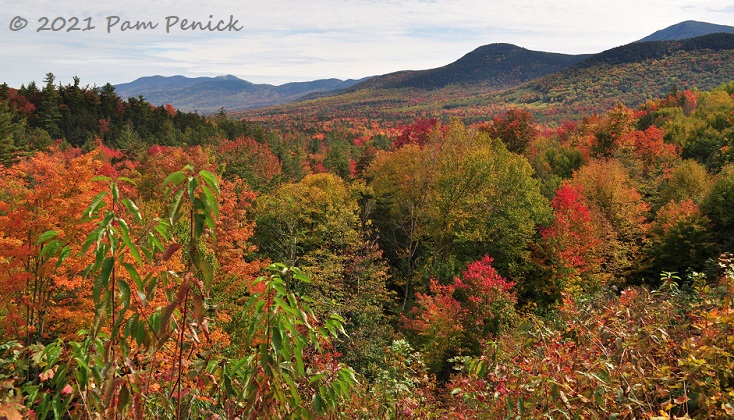 By our last day on October 5th, the sun was shining and lighting up the changing leaves. While Mount Washington still hid its head among the clouds, we enjoyed colorful views along the Kanc, including here at the C. L. Graham Overlook.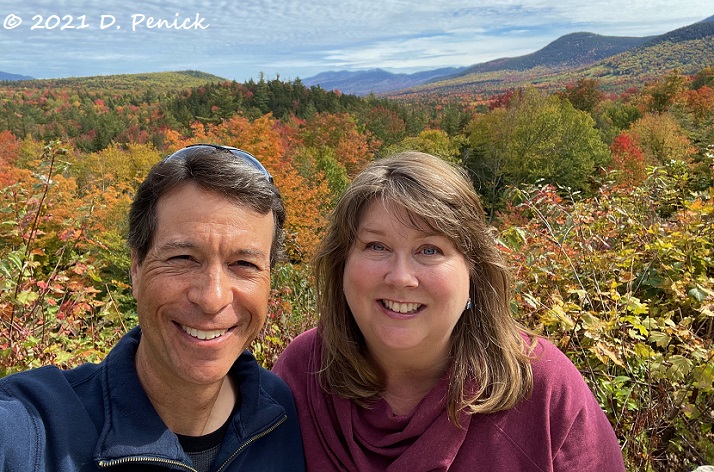 Such views were what we'd come all this way for.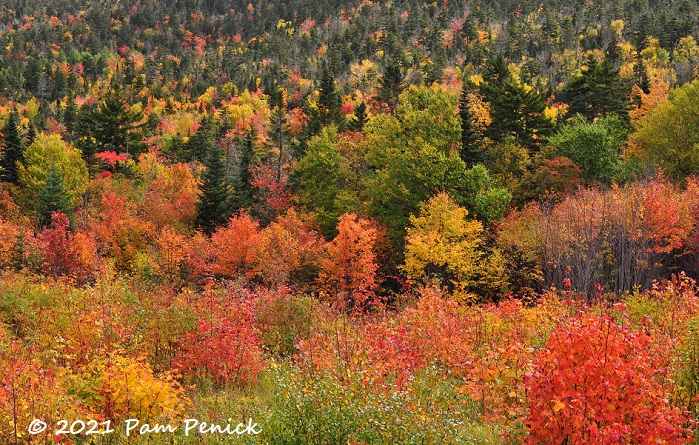 I mean, look at that.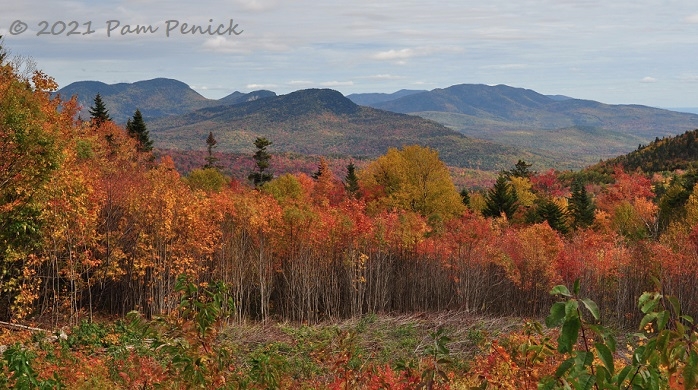 As Austin begins to see a hint of fall color — just a hint this second week of November — I hope you've enjoyed this glimpse of "real" fall. And if it inspires you to make a similar trip, start planning now. Those charming inns fill up fast!
Up next: A return to artistic Bedrock Gardens in Lee, NH. For a look back at part 2 of my visit to Coastal Maine Botanical Gardens, click here.
I welcome your comments; please scroll to the end of this post to leave one. If you're reading this in a subscription email, click here to visit Digging and find the comment box at the end of each post.
_______________________
Need design help with your yard? Hire me as your personal garden coach! Maybe you need replacement plant ideas after the big freeze. Or maybe your landscaping has grown tired, and you want fresh curb appeal. Or perhaps you're ready to get rid of some lawn and create a pollinator garden, bird habitat, or hangout space for you and your friends. I'm here to help! Contact me to let me know what's going on, and let's figure it out together. My range is Austin and suburbs within a 25-min. drive of NW Austin, but I'm flexible and can travel farther with a surcharge, so let me know where you are. Weekday morning appts. only.
Join the mailing list for Garden Spark! Hungry to learn about garden design from the experts? I'm hosting a series of talks by inspiring garden designers, landscape architects, and authors a few times a year in Austin. Check out the 2021-22 schedule. These are limited-attendance events that sell out quickly, so join the Garden Spark email list to be notified in advance. Simply click this link and ask to be added.
All material © 2021 by Pam Penick for Digging. Unauthorized reproduction prohibited.
The post Autumn turns New Hampshire's White Mountains orange, crimson, and gold appeared first on Digging.
Autumn turns New Hampshire's White Mountains orange, crimson, and gold