Back-to-Preschool Essentials
It can be overwhelming to find the right gear for kids at school. Though there are far more options than I can list, here are some of my favorites for my own kids. I also consulted a current Montessori teacher for her favorites too! I hope this helps ease some of your decision making as we enter a new school year.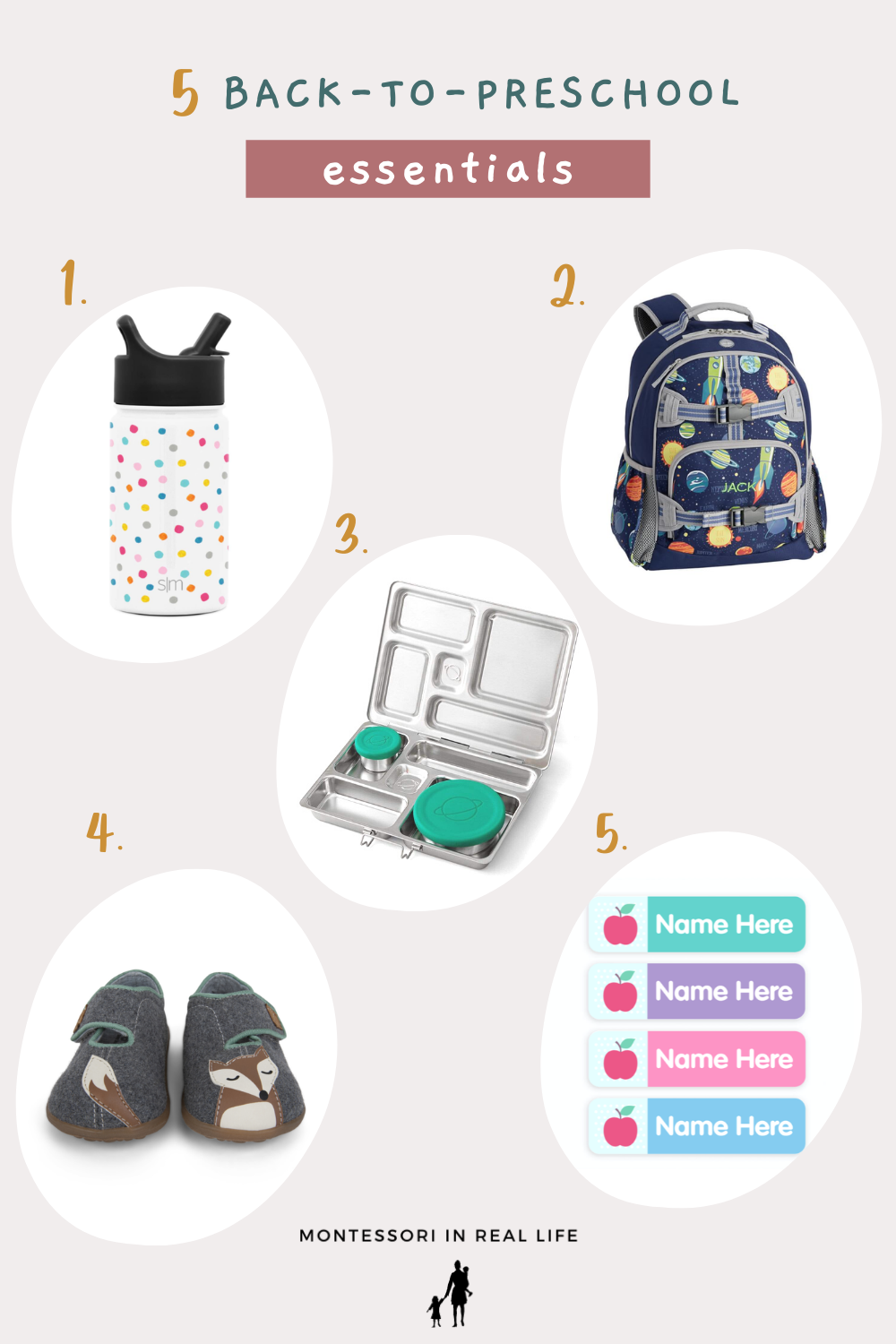 1. Water bottles 
The best water bottles are easy for kids to open and close and don't leak. I prefer stainless steel to plastic as it's more environmentally friendly and keeps water cooler but plastic (BPA free) does allow children to see when their water is running low. Simply Modern has fun designs and has held up well over time. Camelbak has both stainless steel and plastic options. 
2. Backpacks
There are lots of backpacks that can work. I look for one that they can comfortably wear themselves. It should be big enough to hold a lunch box and a change of clothes but not so big that it falls off their shoulders. A stretchy side pocket that holds a water bottle is ideal.
3. Lunch Boxes
The most important feature for me when looking for a snack or lunch box is that my children can open it themselves. I like having various small compartments to keep lunch or snack interesting.
4. Indoor Shoes
Montessori preschools typically require indoor shoes or slippers. I look for slippers that are sturdy but not bulky, have one simple velcro strap, a wide toe box, flat arch, flexible sole, and of a natural fabric so they stay cool. 
5. Labels 
Most schools also ask for each item your child brings or wears to school to have a name on it. When choosing labels, the most important feature is that it stays on through washes and wear! I especially love ones that have a detail that's easy to spot, like a flower or a frog.  
Bonus: Masks
I recognize that schools and parents differ on this topic but if you need or want a mask for a young child, here are some recommendations! I look for masks that fit properly, stay over their nose/chin and out of their mouths with minimal adjustments, have adjustable ear loops, are breathable and comfortable, and are machine washable. Adding a lanyard can make it easier to put them back on.
Note: This post contains affiliate links. If you purchase a product through one of these links, you won't pay anything extra, but I will get a small commission, which helps keep this blog going. Thanks for supporting Montessori in Real Life!
Back-to-Preschool Essentials