Back to the garden of good and evil
May 25, 2022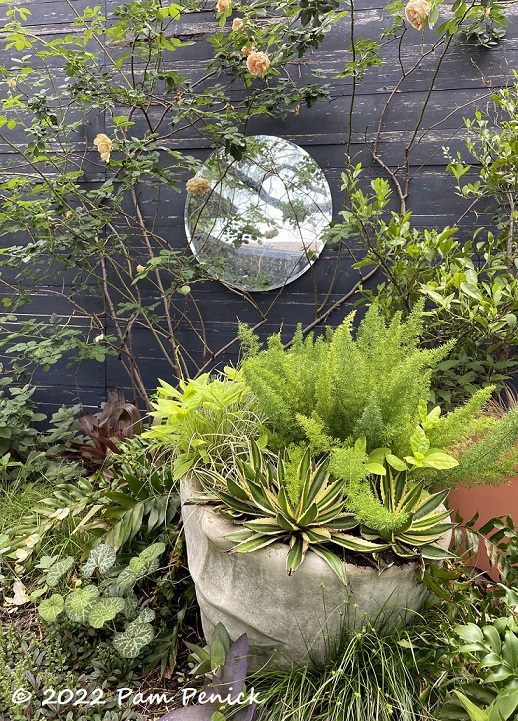 My friend Lori of The Gardener of Good and Evil is always in the middle of a project. I don't know how she finds the time and energy after working on other people's gardens all day, but Lori leaps into projects in all seasons, never shying away from doing the hard work herself. Which means there's always something new to see when visiting her garden, as I did in early May.
This extra-large face planter bristling with 'Quadricolor' agaves and foxtail fern isn't new, but I always stop to admire it. The round mirror surrounded by apricot roses against the blue-stained fence is beautiful too.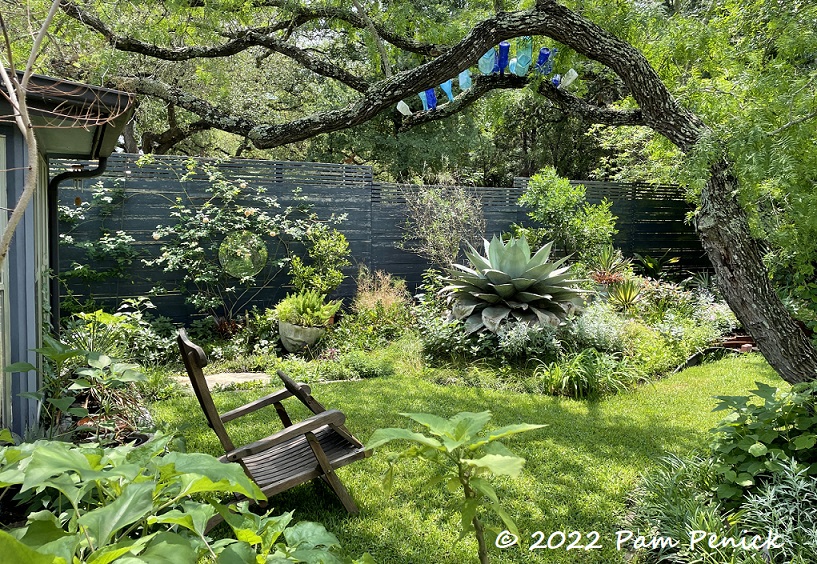 That planter is part of a deep, undulating bed running along the fence. A big whale's tongue agave sits high in a stock-tank planter — a queen on her throne — in the deepest section. From this angle the agave is framed by an arching limb of an old mesquite tree, which Lori adorned with blue bottles.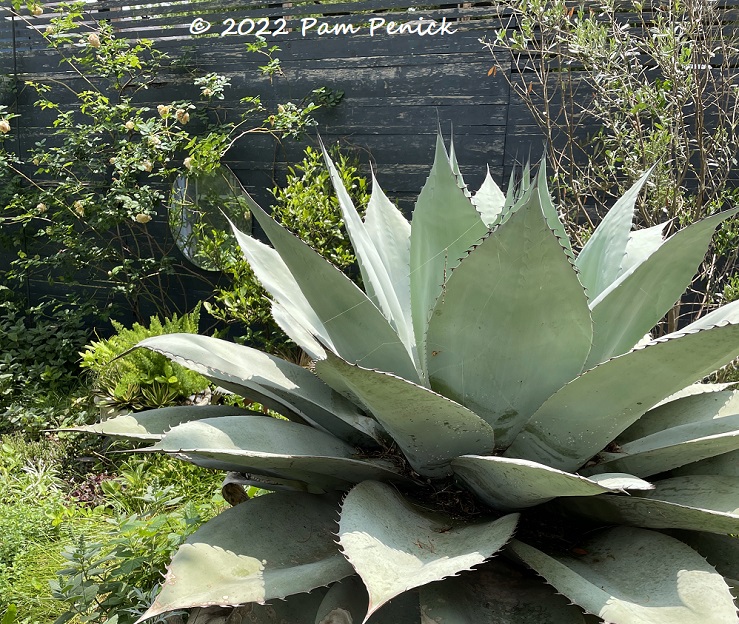 All hail the Queen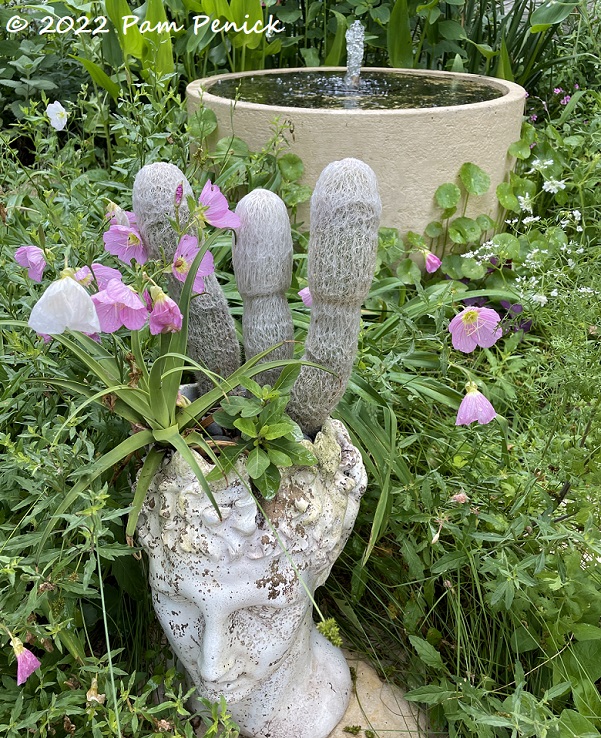 This cactus planter she laughingly calls d*ckhead. Pink evening primrose was still blooming in early May.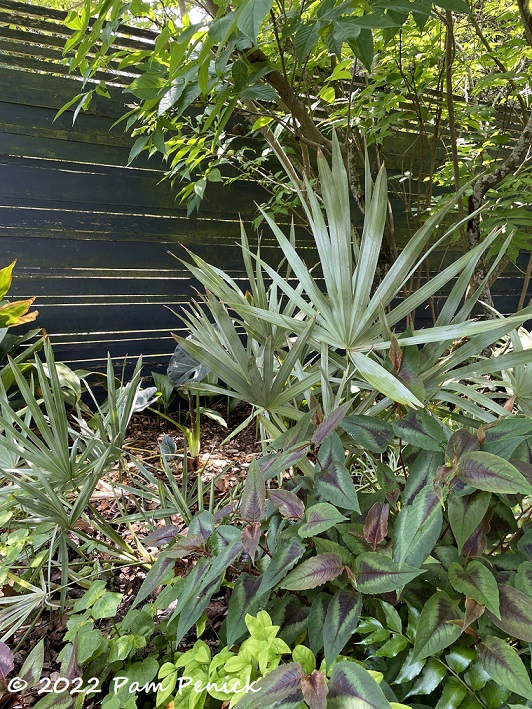 Silver saw palmetto and 'Red Dragon' knotweed (Persicaria microcephala 'Red Dragon'), both lovely against the deep-blue fence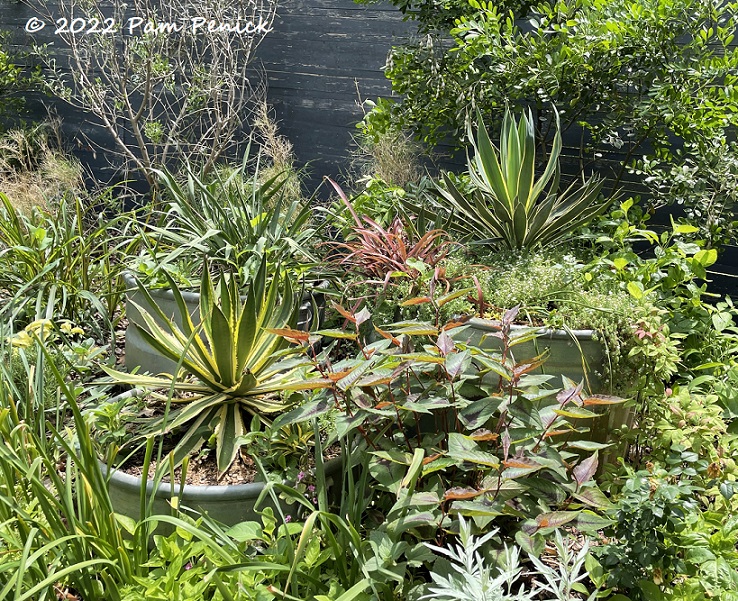 A stock-tank round-up with agaves riding high amid lush groundcovers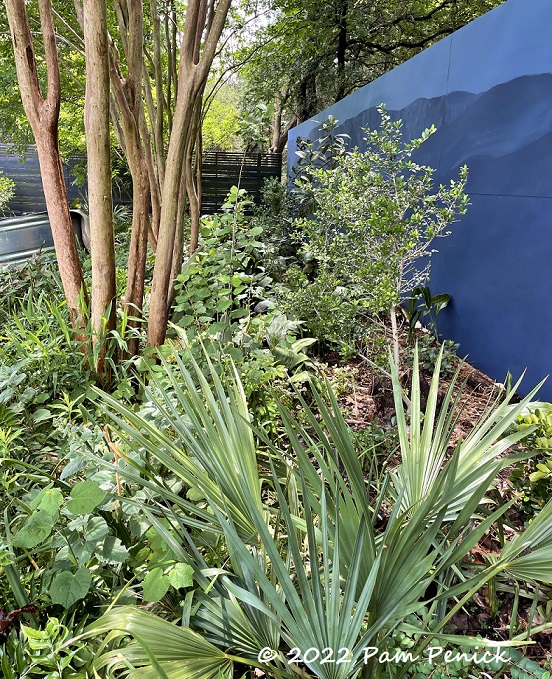 Here's a sneak peek of her latest project: a welded steel wall along the back property line to screen a future multi-story development. She constructed the wall herself — yes, she welds — and is now experimenting with an abstract mural for color and depth.
Correction from Lori: "I had help with the welding part of it. Wayyyy too big of a project to handle myself! We used really thin, flexible 4×8′ sheets of metal, and they each weighed 70 lbs. and didn't want to sit flat, so it took three people just to get them all lined up and clamped down flat. Megan from Matriarc did the actual welding since it's super tricky welding thin sheets to thick bar without melting through the sheets. She's awesome and a badass. They prebuilt the frames in their shop over by Mueller."
Thanks for that correction and the info about Megan's work, Lori!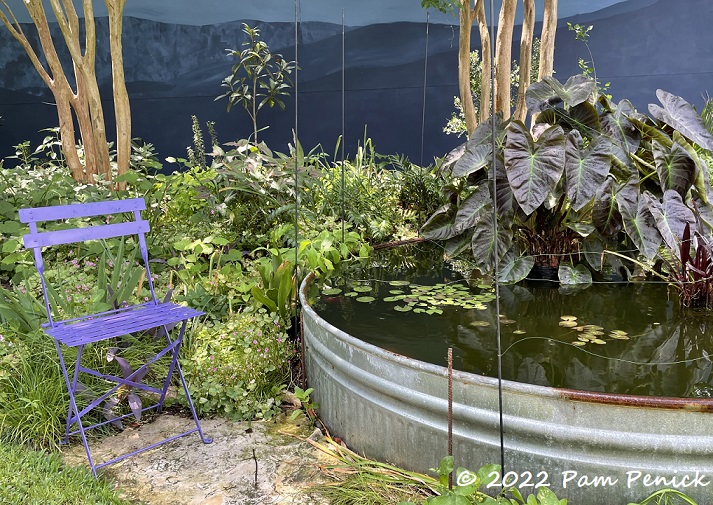 It's a hint of the Blue Ridge Mountains, to my eyes.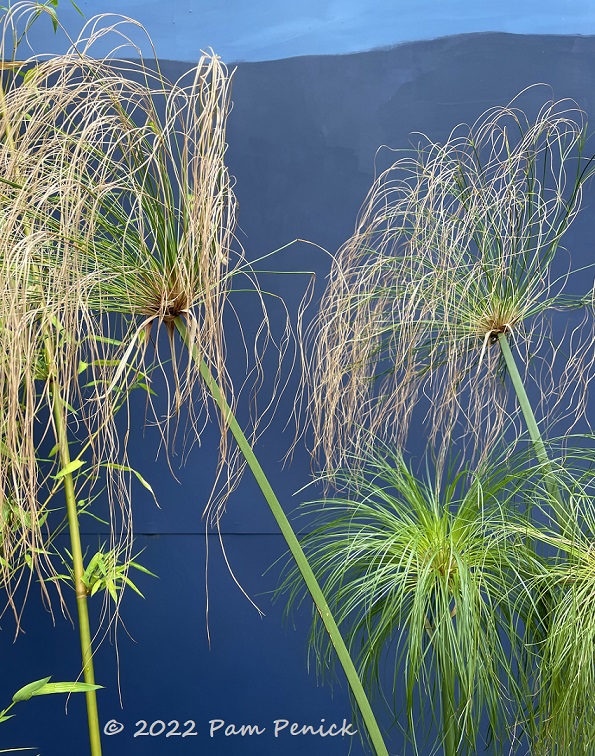 Giant papyrus against those moody blues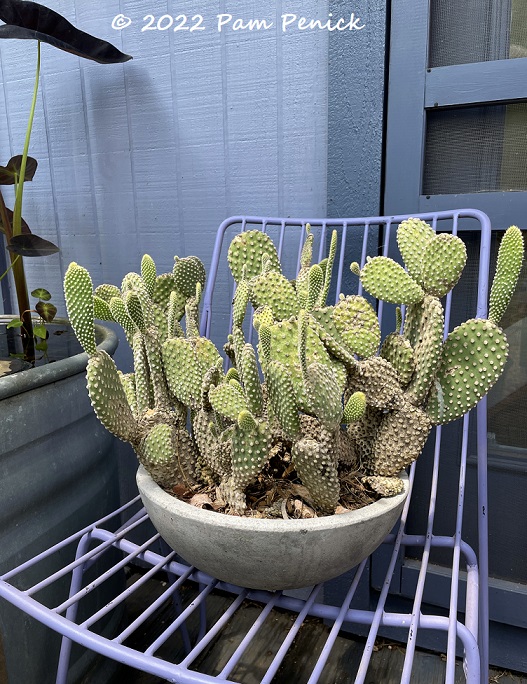 Prickly pear and more blues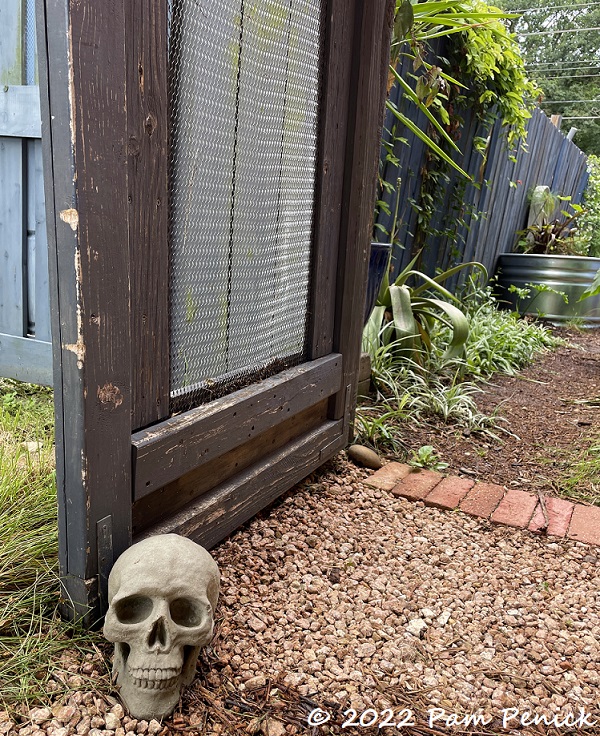 Poor Yorick holds the gate open as you head into the front garden.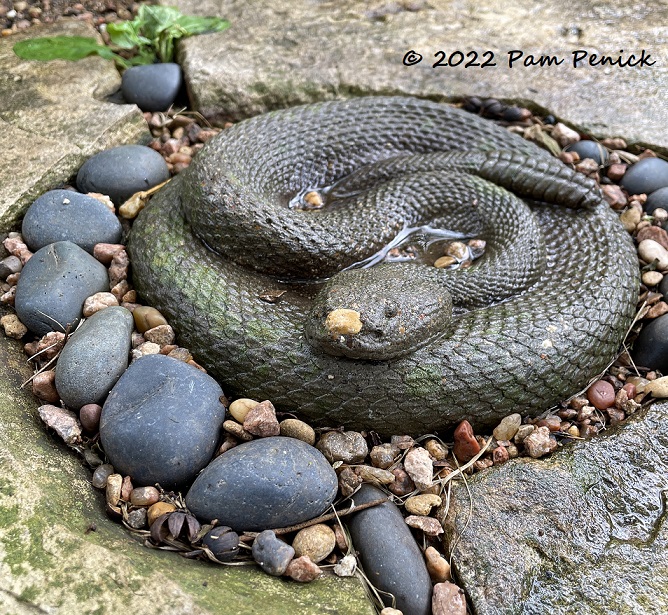 Danger! No, it's only a rattlesnake garden sculpture. Lifelike though. I like how Lori has placed him in a circle of stone.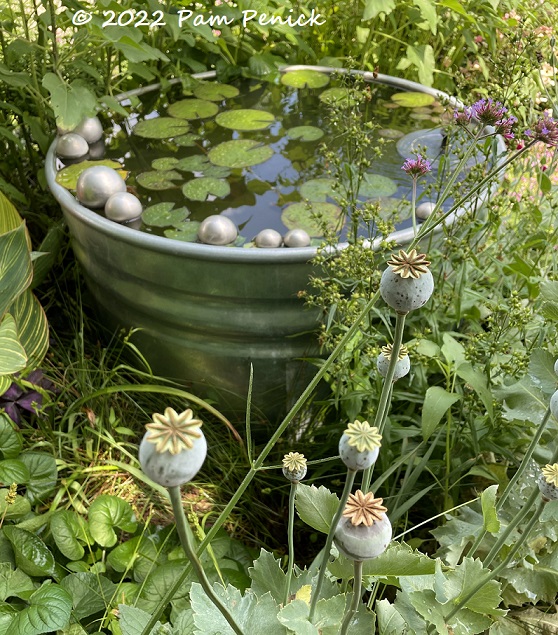 More circles upon circles: stock-tank pond, waterlily leaves, floating steel spheres, and poppy seedheads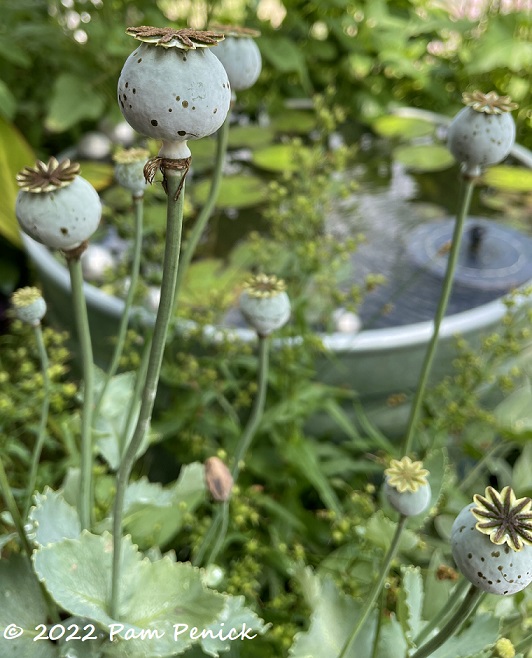 Poppies gone to seed are just as good as poppies in bloom.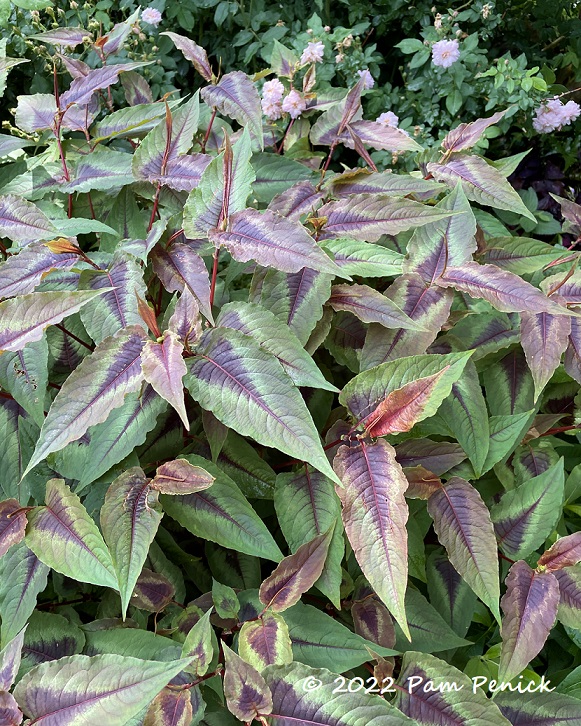 More 'Red Dragon' persicaria — love! I've tried it, but it never lasts for me.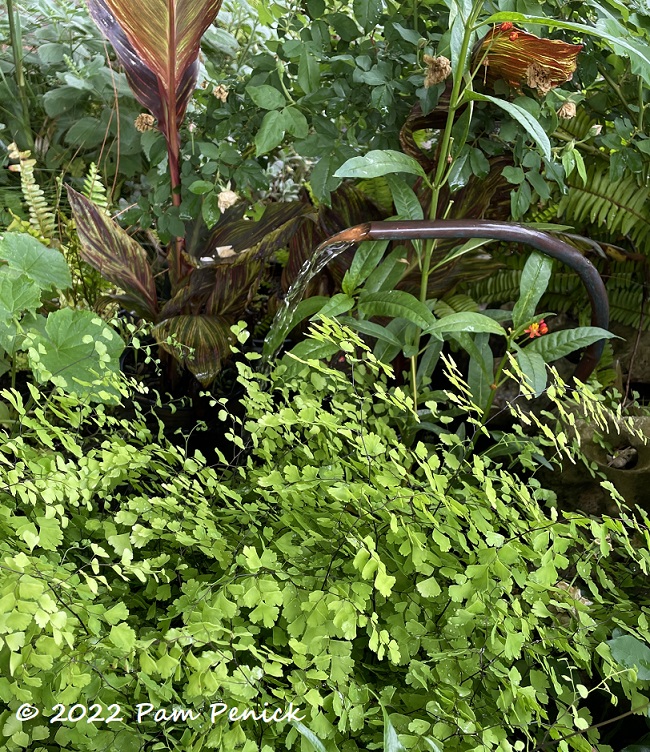 Another water feature, hidden from view, with a simple copper spout spilling water over wire-stemmed maidenhair fern. Lori commits to a certain lushness, turning her garden into a water-trickling oasis even in the depths of summer. It's a magic trick, and she's one creative magician.
I welcome your comments. Please scroll to the end of this post to leave one. If you're reading in an email, click here to visit Digging and find the comment box at the end of each post. And hey, did someone forward this email to you, and you want to subscribe? Click here to get Digging delivered directly to your inbox!
__________________________
Digging Deeper
Love ponds? Attend the ZENsational Austin Pond & Garden Tour on June 4-5, organized by the Austin Pond Society. Northside ponds are on tour June 4th; Southside and Bastrop ponds on June 5th. One ticket gets you into both days. Tickets are $20 until June 3rd at 10 pm or $25 if purchased on either day of the tour, at any pond location (online payments only; no cash transactions).
Join the mailing list for Garden Spark! Hungry to learn about garden design from the experts? I'm hosting a series of talks by inspiring designers, landscape architects, and authors a few times a year in Austin. These are limited-attendance events that sell out quickly, so join the Garden Spark email list to be notified in advance. Simply click this link and ask to be added. The 6th season kicks off in fall 2022.
All material © 2022 by Pam Penick for Digging. Unauthorized reproduction prohibited.
The post Back to the garden of good and evil appeared first on Digging.
Back to the garden of good and evil