BBC's 'Racism for Sale' Documentary Triggers Discussions and Censorship on Chinese Social Media 
A video in which a group of African children dressed in red are happily chanting Chinese slogans made international headlines back in early 2020. Although the video might have seemed cheerful at first to those who don't know Chinese, it is actually racist and exploitative.
The children are energetically repeating what someone else is telling them to say, while holding up a blackboard with the phrase they are chanting written out: "I am a black devil. My IQ is low" ("我是黑鬼, 智商低").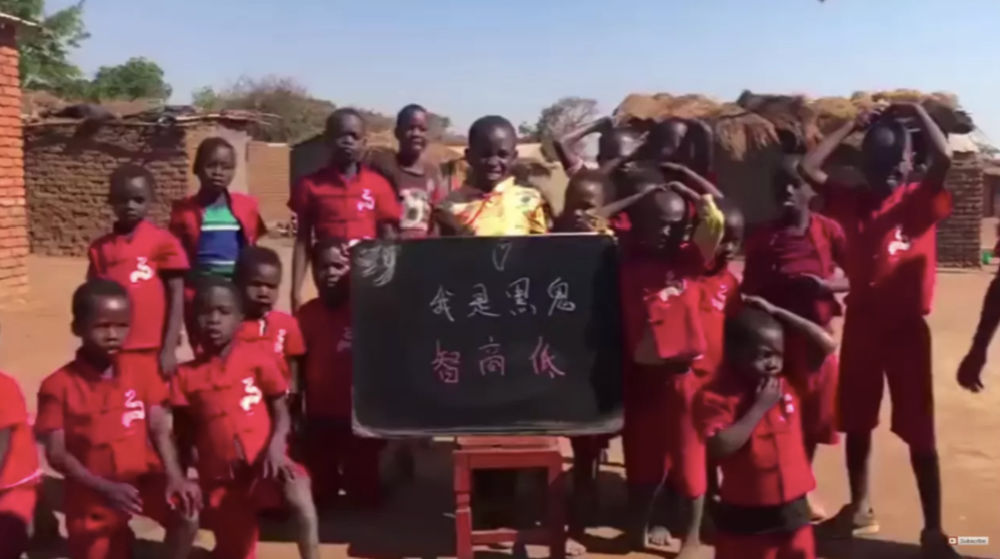 The video was initially posted on Chinese social media on February 10th, 2020, sparking some controversy within China. It later started to attract international attention after Ghanaian vlogger Wode Maya, who studied in China, spoke out about it on his YouTube channel in a video on February 16th which has since been viewed nearly 200,000 times.
The video featuring the African children shocked people from all over the world and led to some media outlets looking further into the context. In April of 2020, France 24 Observers reporters investigated the video and shed light on a wider Chinese market for videos recorded in Africa with locals.
These type of videos are reportedly made by Africa-based Chinese nationals who give the children some money or food in return to perform for personalized videos, which are then sold via Chinese online platforms.
The videos often include birthday greetings or other personalized messages,but as the aforementioned example shows, sometimes also contains far more sinister content. In another video, the children were made to say they promised they'd never go to China.
There had been controversy over these kinds of videos before. As reported by France 24 Observers, such videos have been circulating on Chinese social media since 2015. In 2017, Chinese e-commerce platform Taobao already closed a few accounts selling such content.
This month, the racist video issue has been brought back to the forefront again due to BBC Africa Eye releasing its "Racism for Sale" documentary, in which reporters Runako Celina and Henry Mhango further investigate and expose the Chinese video-making industry that exploits vulnerable children across Africa. They traced the Weibo video and dozens of others back to one Chinese national living in Malawi, and then confronted him (watch the BBC documentary here).
On Weibo, the 'Racism for Sale' documentary also triggered discussions, but instead of focusing on the racist videos, they were generally more focused on the BBC documentary's narrative and its intentions, and about anti-Black racism within China.
The influential Weibo channel Diba Guanwei (@帝吧官微), which has over 1,5 million followers, called out the documentary in a Weibo post for purposely wanting to meddle in China-Africa relations. It said that the Chinese man recording such videos and insulting African people was indeed a problem, but that it was too much to suggest that this is all about Chinese people exploiting Africans.
Other Weibo users denounced the Chinese man for making such videos, with one popular account suggesting that this person might have intentionally shot these videos to "hurt the friendship between Africa and China," and that he should be severely punished for it.
One thing that some people jumped on is how a racist Weibo account named "Black People Joke Club" (黑人笑话社) is featured in the documentary for being the first Weibo account to post the video of the African children. Popular nationalist blogging account Guaguashuashi (@呱呱傻事) suggested that BBC Africa used the supposedly insignificant account to make a big story and stir up anger among Africans. Moreover, the account also claimed that the man identified as 'Lu Ke' (卢克) who was making the children chant and dance for the video actually had a Taiwanese accent. Guahuashashi's post received over 2000 likes and more than 300 comments.
The "Black People Joke Club" (黑人笑话社) Weibo account was previously shut down. In light of the recent BBC documentary, other accounts publishing racist content have also been removed, including an account titled "That Guangzhou Guy" (那个广州人). Words such as 'black devil' have also been censored and come up with zero results on Weibo now. Images included in discussions of the BBC documentary have also been censored.
At time of writing, some content related to the "Black People Joke Club" or other racist accounts is still available on Weibo due to other social media users previously tagging these accounts when posting their own content. There are also still many Weibo groups, topics, and hashtags where people share racist jokes and memes. Many of these posts feature racist jokes about the N-word, blackface, or other stereotyping and derogatory content.
Although some Weibo bloggers blame the BBC for attracting more attention to the old racist video, there are also those who point out that there is indeed a problem with anti-Black racism among Chinese: "Some people in China are really discriminating against black people. Whenever there are women online who post about their happy life with their black husband, they are often cursed on by some men. I think there are really a lot of racist people in our country," one Weibo commenter wrote.
Another popular comment by a Weibo account from Jiangxi said that some Chinese are hypocritical to deny their own racist rhetoric against black people and are loudly calling out America for anti-Black racism, while also being quick to call something 'discrimination of Chinese people' whenever they feel something is insulting to China.
The issue of anti-Black racism on Chinese social media has often popped up, turning into trending discussions, especially when it is about foreign media reporting on it. In 2021, a Chinese influencer came under fire after a video of her doing a blackface makeup tutorial resurfaced online. A Chinese Vtuber (virtual influencer) on Bilibili also stirred controversy for being blatantly racist and forcing her (virtual) 'slave' to go and pick cotton.
In 2016, social media exploded in light of a Chinese ad campaign for washing detergent brand Qiaobi (俏比) which featured a black man turning into a Chinese man after being 'washed.' Although the commercial initially did not receive much attention in China, the international media coverage eventually sparked major discussions on Chinese social media for being racist.
An Africa-themed skit performed during the 2018 CCTV Gala was meant to promote China-African relations, but instead it received backlash for featuring a Chinese actress wearing blackface and being accompanied by someone costumed as a monkey.
The 'Racism for Sale' video has not just triggered discussions on Weibo, it has also become a diplomatic issue. On June 13, Malawi's Foreign Minister Nancy Tembo shared a video via Twitter addressing the matter, adding that she felt "disgusted, disrespected and deeply pained" because of the video industry exposed by BBC Africa.
The Chinese Embassy in Malawi condemned the videos in a Twitter post on June 13. Wu Peng, China's Director-General of the Foreign Ministry Department of African Affairs, met with Minister Nancy Tembo a day later, and stated on Twitter that both China and Malawi have "zero tolerance for racism" and that China will continue to crack down on such racial discrimination videos in the future.
A Weibo account dedicated to the overseas Chinese community in Malawi has not posted anything about the BBC documentary nor the videos discussed in it.
Also read: Chinese social media responses to the Western anti-racism movement after Floyd's death.
By Federica Giampaolo and Manya Koetse
Get the story behind the hashtag. Subscribe to What's on Weibo here to receive our weekly newsletter and get access to our latest articles:
Spotted a mistake or want to add something? Please let us know in comments below or email us. First-time commenters, please be patient – we will have to manually approve your comment before it appears.
©2022 Whatsonweibo. All rights reserved. Do not reproduce our content without permission – you can contact us at info@whatsonweibo.com.
The post BBC's 'Racism for Sale' Documentary Triggers Discussions and Censorship on Chinese Social Media  appeared first on What's on Weibo.
BBC's 'Racism for Sale' Documentary Triggers Discussions and Censorship on Chinese Social Media