Call for action to prioritise children's rights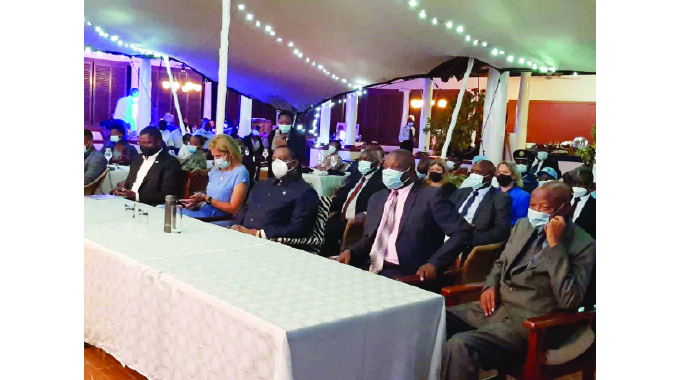 Leonard Ncube , Victoria Falls Reporter
THE Government and development partners must prioritise implementation of measures and policies that address children's issues especially climate change, mental health and digital transformation.
The loud call was made by young people as the country joined the world in celebrating World Children's Day with an event hosted by Unicef which was also celebrating its 75th anniversary in Victoria Falls on Friday.
Vice-President Costantino Chiwenga officiated at the occasion in the evening and also led in the lighting up of the Victoria Falls Bridge to mark Unicef's 75 years of service to children.
Dr Chiwenga who is also Health and Child Care Minister led in a dramatic countdown from 10 to zero, in symbolic lighting of the bridge which was immediately illuminated with blue lights, Unicef's corporate colours.
The iconic bridge between Zimbabwe and Zambia across Zambezi River was first lit in 2013 by mobile operator, Telecel ahead of the United Nations World Tourism Organisation General Assembly (UNWTO) which was co-hosted by Livingstone and Victoria Falls in that year.
As part of its 75th anniversary, Unicef chose to light Victoria Falls Bridge to symbolise ties and regional integration by African countries and the world. Children from all walks of life had roundtable discussions during the day where they were also addressed by Youth, Sport, Arts and Recreation Minister Kirsty Coventry.
They came up with a "Call for Action" resolution imploring Government, development partners, non-governmental and civic organisations to prioritise rights of children. In a passionate plea, Zimbabwe's acting Child President Kimberley Gudhlanga (16), who is a pupil at St Dominic's High School in Mutare, called on Government and partners to commit to the declaration on children, youth and climate action which aims to accelerate inclusive child and youth centred climate policies and comprehensive contextualised actions.
She called for finalisation of the Cyber Security and Data Protection Bill to protect young people from being bullied, abused and exploited in the internet. Climate change, mental health and digital transformation were the main focus areas for the World Children's Day whose theme is: "Re-imagining the future for every child."
There is concern that climate change has triggered mental health issues while teenage pregnancies and early child marriages cause depression, hence the need for advocacy for children's rights. Young people implored Government and partners to expedite finalisation of the mental health investment case and establishment of a call centre.
"Today I am honoured and humbled as Child President of the Republic of Zimbabwe to have such an outstanding opportunity to tell the story of the Zimbabwean child and present the young people's call for action to the government, United Nations, non-governmental organisations and civic society organisations.
"I would want to appreciate Unicef for the roundtable discussion we had for young people and stakeholders where a joint call for action was agreed upon. As such we desire education to delay sexual engagement and comprehensive sexuality education. Development partners should invest and finance climate change, mental health and digital transformation with regards to children and young people," said the Child President.
She called for increase in financial support and capacity strengthening of health workers, teachers, peer educators, in-schools and community champions, and public-private-partnerships for the benefit of children.
She called upon her peers, including those with disabilities, to actively participate in issues of children.
"I am calling upon my fellow young people to play a critical role in addressing and holding to account ourselves and the relevant stakeholders through meaningful participation in creating, initiating innovative solutions, monitoring and evaluating progress," she said.
VP Chiwenga said Government was committed to addressing needs of children in the spirit of leaving no one behind as they are future leaders.
"Children, today is your day. It is for Government to come up with policies and translate them into law and all issues you raised will be looked into and of course what we have said is that we need child inclusivity in decision making and policy making.
"Mental health among children is a serious matter and concern to everyone and we are addressing that which is why we now have a department in the Ministry of Health to look specifically into those issues. We are concerned as you are also concerned and we are giving high priority to these issues because you will have to take over when we are gone," he said.
VP Chiwenga said the future of the world depends on the potential of the children and young people.
"The future and development of our great country lies in the hands of our children and it is our collective responsibility that we create a conducive environment which allows them to reach their full potential.
This will in turn ensure that Zimbabwe continues to rise," added VP Chiwenga.
@ncubeleon
Call for action to prioritise children's rights