Carly Stone on the Complex Mother-Daughter Dynamic in 'North of Normal'
Directed by Carly Stone, North of Normal tells the story of Cea Sunrise Person's tumultuous childhood spent in the wilds of western Canada.
Based on her 2014 memoir, the film centres on the lives of Cea, her grandparents, and her teenage mother Michelle (Sarah Gadon), unpacking the complex family and mother-daughter dynamics at play as Cea longs for a more conventional life but still feels a deep connection to her family.
This is Stone's second feature film— we last spoke to the Toronto director in 2018 about her bold and funny debut The New Romantic, which follows a student journalist documenting her experience as a sugar baby.
We asked Stone to tell us more about North of Normal, and some of her thoughts on creativity and filmmaking.
North of Normal. Why were you compelled to make this film?
Cea Person's story captivated me. I found her relationship with her mom so compelling. I'm also a sucker for an angsty teenage girl coming-of-age story, which is definitely woven into this. That, set against this cinematic backdrop, felt irresistible to me.
What conversations do you hope it will inspire?
Conversations about motherhood and seeing it up on the screen in its raw complexities.
Can you tell us about a discovery you made while making your film? Factual or personal? 
That River Price-Maenpaa, who plays young Cea, never gets tired!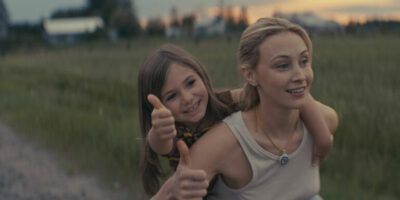 What was the first film you saw that made you realize the power of film, or really made an impact on you?
Sofia Coppola's The Virgin Suicides.
What is some advice that someone gave you once that has helped you on your journey as a filmmaker?
My brother, also a director, told me that if there is time, to try doing a take without any dialogue.
What individuals have really inspired you over the years? Be it filmmakers, activists, artists, or other people that have influenced your work?
Sofia Coppola, Greta Gerwig, Noah Baumbach, Jordan Peele, Quentin Tarantino, Maggie Rogers, Jean-Marc Valle, Alice Guy-Blaché.
What part of the filmmaking process is the most creatively fulfilling for you?
For me, the huge creative fulfillment comes from being part of the whole process, from the script to the finished film. But the adrenaline I get from directing is likely the most fun.
What do you do when you know you're approaching burnout?
Go to bed early, exercise, eat clean.
What do you do to get your creative juices flowing? 
Working very early in the morning often helps.
What philosophy is currently guiding you… or put another way, a new approach to your work/life that has been helping you?
Being a mom has changed how I spend my time, so I've become more selective with what I focus on in my work. 
Can you tell us about something you've noticed in the Canadian film industry that is making you feel hopeful right now?
Most of the movies I want to see at TIFF are from Canadian filmmakers!
Having a premiere at TIFF Is a very big deal. In your words, what does it mean to you?
Celebrating with the people that helped me make this film. My cast, crew, and because I'm from Toronto, my friends and family too. It's pretty special.
The post Carly Stone on the Complex Mother-Daughter Dynamic in 'North of Normal' appeared first on Shedoesthecity.
Carly Stone on the Complex Mother-Daughter Dynamic in 'North of Normal'