Children's Audiobooks: What we Love
I've always been a fan of audiobooks. I love entering into another world while I cook, pull weeds, or go for a walk. About a year ago, I introduced children's audiobooks to D, and it has opened up a whole new world for her as well. She requests to listen to audiobooks daily. While they don't replace reading physical books together, they are a wonderful addition.
What makes an audiobook different than a picture book?
Imagination - When children hear a story without pictures, their imagination takes the lead.  They get to imagine where the story takes place and what the characters look like. They imagine their facial expressions based on their tone of voice, and the scene based on words alone. They hear different accents, inflections, and pitches of voices that help them imagine each distinct character. 
Free Hands - Audiobooks can be great for winding down before bed, looking out the window in the car, or simply cuddling on the couch and listening. They can also be a wonderful way to free up the hands to play or move around while listening. D, at age 4, can get really immersed in pretend play or art while she listens to a favorite story.
Scare Factor - I've also noticed that children who are more sensitive to sensory overload do better with audiobooks than tv shows and even certain picture books. This is because listening to a story involves fewer sensory inputs: it's only sound. When we hear something without seeing it, it's less scary or overwhelming. 
On that note, audiobooks can also be a great way to transition from reality-based stories to a little more fantasy. Not only does it lessen the scare factor, but listening to a story about animals who act and talk like humans doesn't feel so different than if the characters were human - you almost forget they aren't. 
Our Favorites
There are endless audiobook options, but I'll share some of our favorites so far. I've found collections of short stories are the very best for my 4-year-old (and my 2-year-old enjoys listening too). Each story is just the right length to hold their attention, and the stories flow naturally from one to the next. This makes it easier on a long car ride, rather than me or them having to choose a new story every 5 minutes.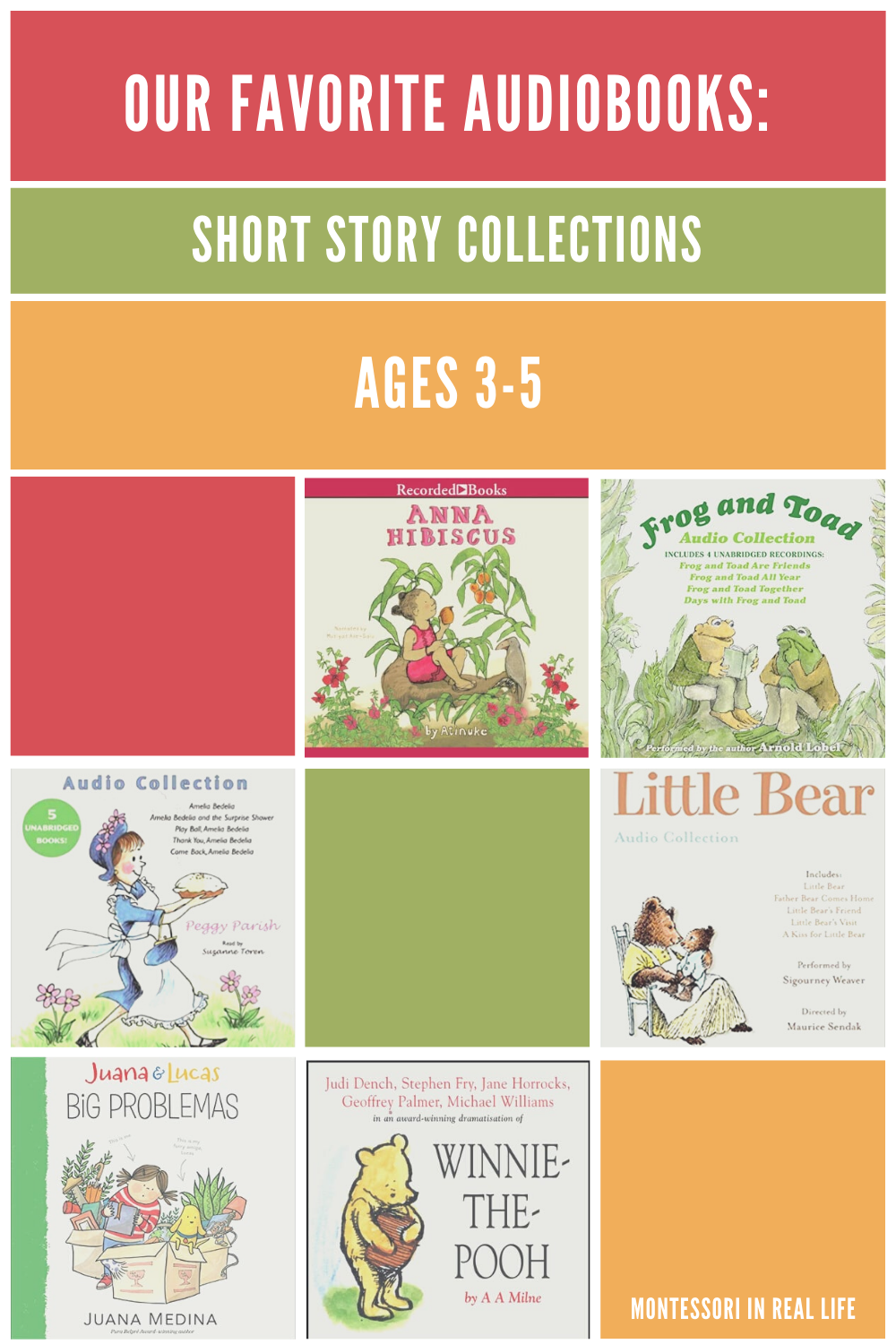 Some of our favorite audiobook collections are: Frog and Toad, Little Bear, Anna Hibiscus, Amelia Bedelia, Winnie the Pooh, Juana and Lucas, and Julia Donaldson stories. Many of these are great for older kids as well. This list is not exhaustive; there is an evergrowing variety of audiobooks to choose from.
We often try out audiobooks via the library or the Libby app. We purchase our favorites on Audible or on CD. We have a CD player in the car and at home, and it's often easier than listening via my phone or other fancier devices. D very quickly figured out how to operate the CD player and loves the independence it provides. S is getting there!
There are also read-along books we pick up from the library that offer a different kind of experience. These are fun for non-readers and readers alike. The kids pick a few each time we visit the library. There are newer Vox books with built-in audio but my kids actually prefer the books with CDs. D loves turning the page each time she hears the little "ding!"
Podcasts are another great way to listen to story, but I'll save that post for another day!
Note: This post contains affiliate links. If you purchase a product through one of these links, you won't pay anything extra, but I will get a small commission, which helps keep this blog going. Thanks for supporting Montessori in Real Life!
Children's Audiobooks: What we Love