Cigar Review: Villiger Cuellar Black Forest
Vitola: Toro Gordo
6" x 54 ring gauge

 

~$8.00
Samples supplied by Villiger Cigars
Background
Villiger Cigars sent me a few samples of their latest release back in November. John was able to get to the reviewing of it first and he was impressed enough to put it on his year-end list, but I just haven't had the time until now. I have to admit to looking forward to this one even more after Jon called it one of his top picks for 2019.
Cuellar is the name of a line that Villiger has made for some time, originally in a Connecticut Shade version that is milder, creamy and named for a town in Spain. This Black Forest version of it is named for the fabled location in Germany, near where Villiger's Chairman of the Board—Heinrich Villiger—grew up. 
The Black Forest name is due to a hundred mile stretch of large pine trees, which block the sunlight from reaching the forest ground. This combined with constant fog create an eerie ambiance, unnerving enough to have given birth to legends of werewolves, haunted monasteries, castles, and ancient Celtic cemeteries. German based authors, the Brothers Grimm, based many of their dark fables on the Black Forest.
The cigar is made in the Dominican Republic by master blender, Jochy Blanco at Tabacalera La Palma and features Dominican filler and binder leaves along with a Mexican Maduro wrapper. This review sample is the second time I've smoked this blend and they were provided by Villiger Cigars
Prelight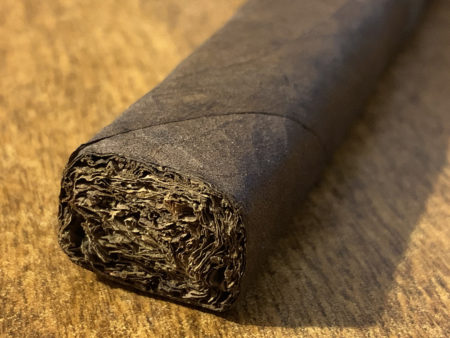 It seems that Villiger has been moving all their blends to a common theme in banding, with a large Villiger logo upper, with the lower part of the band looking almost like a secondary band and featuring the name of the cigar. But not here. This band features a take-off on the original Cuellar Connecticut Kreme band. This time the main band is black with silver foil (as opposed to white with gold), while the secondary band is dark green with silver. The secondary band color and presence of pine trees above "Black Forest" emphasizes the point of the inspiration for the cigar.
The wrapper leaf was a dark brown, close to dark chocolate in color. It had a good amount of oils under my fingertips and a slight bumpiness with veins popping through. It smelled of wet earth and leather. The foot of the cigar had more earth, but drier and less pungent, along with some woodiness and touches of hay and bread.
Once clipped, the test draw was very good. I got earth and unsweetened cocoa powder on the cold draw.
Flavor
I fired up Cuellar Black Forest and got dry roasted nuts, burnt toast, and bittersweet chocolate up front, followed up by leather, earth and char and a slightly peppery and nutty retrohale. After a few puffs the earthiness came into greater focus and the sweetness built a little bit. As the first third continued to burn, the flavor profile took on more dark, bittersweet chocolate with earth and espresso undertones.
As I got into the second third, there was a mix of bread and espresso bean riding up front with the chocolatey notes and a dull heat on the finish still. On the nose, the cigar continued to be nutty with a touch of pepper.
The final third had more espresso bean smoothness and a slightly sweeter chocolate note with earth and pepper bringing up the rear.
Construction
I had a very good draw, even burn line and solid ash.
Value
The price tag for this cigar is solidly in the middle of the retailer sweet spot, so it does represent good value.
Conclusions
I enjoyed the Cuellar Black Forest, although not as much as Jon did. I found it to be a good medium-plus bodied blend utilizing some great Dominican leaf wrapped in a well-aged Mexican wrapper that had plenty of coffee and dark chocolate throughout. This might be a good substitute for someone that likes a Padron 1964 Maduro but doesn't want as much strength, body, or pepper in the mix.
By-The-Numbers
Prelight: 2/2
Construction: 2/2
Flavor: 4/5
Value: 1/1
Total: 9/10
The post Cigar Review: Villiger Cuellar Black Forest appeared first on Leaf Enthusiast | Reviews for Cigar & Pipe Lovers.
Cigar Review: Villiger Cuellar Black Forest