Conclusions from the Bahrain Grand Prix
Charles Leclerc claimed Ferrari's first Formula 1 victory for two-and-a-half years in Sunday's season-opening Bahrain Grand Prix.
Here are our conclusions from the first race of 2022…
Two years of pain have made Leclerc a more complete driver
There were times over the last two years when it seemed F1 enthusiasts were taking Charles Leclerc for granted.
After a burst of success in 2019 when he effectively ran four-time World Champion Sebastian Vettel out of town, the consequences Ferrari faced for their engine trickery that year left Leclerc unable to build on his breakthrough season.
And when Carlos Sainz outscored him in his first season as a Ferrari driver in 2021 some, understandably yet unfairly, openly questioned just how good Leclerc really was.
His crash at the end of qualifying in Monaco last year, which stopped him starting his home race from pole position, was Leclerc in a nutshell – capable of climbing astonishing heights but still, in just his fourth full season, with a self-destructive side.
Yet when judging a driver's ultimate potential it is more instructive to focus on their peaks, and some of his qualifying laps across 2020 and '21 were like ticking timebombs set to detonate at the climax of Q3 on Saturday afternoons, each one an explosive reminder the raw talent was very much there.
The last two years were a waste of that raw talent, but an underperforming car can do wonders for a driver's personal development, steeling them to maximise the opportunities they manufacture for themselves.
They are forced to grow up quickly, leading a team through their trials and tribulations, and become more mature, ruthless and opportunistic.
If his pole lap in Bahrain – after which he said on the radio that he was convinced the potential for P1 was there and it was just a matter of stitching the lap together – was Classic Charles, his polished performance on race day was proof Leclerc is now a far more complete driver.
These two put on one heck of a show!@Charles_Leclerc @Max33Verstappen #BahrainGP #F1 pic.twitter.com/Zl5Szg0qDv

— Formula 1 (@F1) March 20, 2022
Repassing Max Verstappen into Turn 4 on consecutive laps after the first round of stops was fiercely impressive, but perhaps the defining moment of Leclerc's race came when the late Safety Car threatened to take away the win he had earned.
An inch-perfect restart out of the final corner killed instantly any chance of Verstappen slipstreaming him towards Turn 1, victory representing redemption for Leclerc after losing the win in Sakhir three years ago with a late engine issue.
"I definitely feel much grown as a driver compared to my [victories] in 2019," he admitted after the race. "Today everything felt a bit more under control."
After two years of feeding on scraps, he now has the car, the experience and the maturity for his class to come to the fore.
Hamilton gives troubled Mercedes a reason to believe
Now we can say it and with some degree of certainty: Mercedes are in deep trouble.
People have been quick to cry wolf on the Silver Arrows' behalf at various points in recent years, ringing the bell to signify the end of the Mercedes era only for the team to register yet another Drivers' and Constructors' title-winning double.
This time, though, it is different, the severe porpoising problems affecting the W13 car unable to be concealed or, for now at least, resolved.
Mercedes' problems must be particularly hard to take for Lewis Hamilton after losing an eighth title in controversial circumstances at the end of 2021 and having sustained himself over the winter with thoughts of righting the wrongs of Abu Dhabi and striking back better than ever.
After the team continually ignored his pleas to upgrade last year's car, sacrificing 2021 development with the aim of acing the new 2022 rules, this is the worst of both worlds.
Given all he's achieved his motivation may begin to suffer if Mercedes cannot find a quick solution to their problems, but Hamilton's talismanic qualities were on show in Bahrain where he was unflinchingly positive.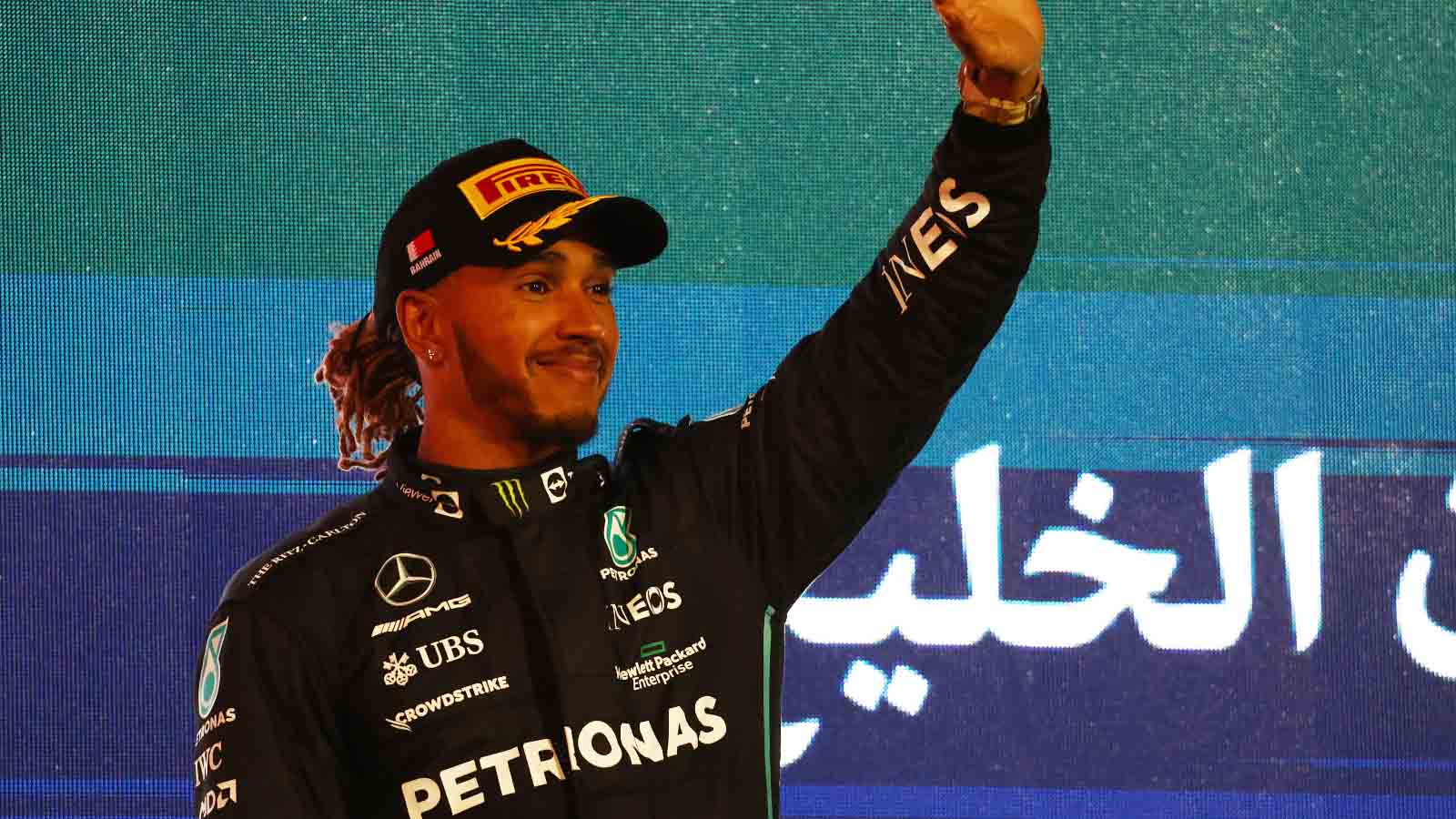 "I'm genuinely quite happy with today given the struggles we've had," he said on Saturday despite only qualifying fifth, a massive seven tenths slower than Leclerc's pole time.
There was a defiance about the way he attacked the race – running fourth, ahead of Sergio Perez's Red Bull, in the early stages – but that spirit could only take him so far with the car in its current state, Hamilton 39 seconds adrift of Leclerc prior to his pit stop just before the late Safety Car.
His podium finish – a "great start to the season," Hamilton claimed on Twitter – owed much to fortune but reaffirmed his importance to keeping Mercedes in contention while they rectify their issues.
More than ever Mercedes are reliant on Lewis's magic – and, this time, even that might not be enough to dig them out of a hole.
Red Bull can't afford to waste early advantage over Mercedes
If you assumed that achieving his lifelong ambition of winning the F1 title in 2021 would somehow mellow Max Verstappen, you were very much mistaken.
He seemed strangely serene after being pipped to pole by Leclerc on Saturday, no doubt confident that his long-run pace from Friday practice would see him take care of the Ferraris in race conditions.
Once he came to realise he wouldn't have it all his own way on Sunday, however, the rage within the reigning World Champion revealed itself.
Sensing the balance of his RB18 wasn't the same as he enjoyed on Friday, Verstappen became increasingly irate as the race unfolded, frustrated by Red Bull's advice to avoid pushing on his out-laps – he was convinced he could have twice jumped Leclerc in the pits – and later as his car failed piece by piece.
After composing a very complete campaign last year, when they were generally more agile than the opposition, this felt like a throwback to the nearly years for Red Bull and Verstappen – quick but not quite quick enough and always with the capacity for things to go very wrong very suddenly.
The almost simultaneous shutdowns for Verstappen and Perez at the end of the race was, in the words of team principal Christian Horner, a "brutal finish" to a challenging day and incredibly wasteful of Red Bull at a time they have Mercedes right where they want them.
LAP 55/57

Verstappen has lost power, limps back to the pits and is out of this race #BahrainGP #F1 pic.twitter.com/0cttLQvB79

— Formula 1 (@F1) March 20, 2022
It remains to be seen who will emerge as Red Bull's main competitor in 2022, whether Leclerc and Ferrari can last the course or Mercedes will bounce back from their early problems to put up some sort of fight.
If it is – as many still believe – the latter, Red Bull have missed a golden opportunity to kick Mercedes while they're down and, having been trouble-free during testing, now have fresh concerns of their own after Pierre Gasly's AlphaTauri also failed to make the finish.
If this really is Verstappen's World Championship to lose, Bahrain was a sorry start.
McLaren have a lot of work to do
Mercedes problems were not limited to the works team, with the bottom six finishers in Bahrain all Mercedes customers. Even more worrying, perhaps, is the fact that six of the eight slowest cars through the speed trap in qualifying had a Mercedes engine.
After reliability seemed to suffer in 2021 – Valtteri Bottas alone served three grid penalties in the space of four races in the second half of the season – it appears performance is not what it once was either.
Could it be that Mercedes High Performance Powertrains are missing the leadership, experience and expertise of former boss Andy Cowell, who resigned from his role in June 2020?
The presence of Williams and Aston Martin at the bottom of the field was arguably no great surprise, but McLaren's disappointing start to 2022 was one of the biggest shocks of the opening weekend.
McLaren's preparations for Bahrain were hindered by a woeful second test in which they suffered chronic brake overheating issues and Daniel Ricciardo was struck by illness, deflating the excitement around a team who seemed well placed to build on a race-winning 2021 season.
Did the problems in the second test put McLaren at a disadvantage they simply couldn't close in Bahrain? Or is there something more going on here?
At the end of qualifying Lando Norris was insistent their problems were track-specific, that the high-speed corners of Barcelona testing flattered McLaren compared to the low-speed turns of Sakhir.
At the end of the race, however, he seemed a lot less certain, unsure of the direction his team is heading in.
Haas are a team totally transformed with Magnussen's return
Only two weeks ago it was tempting to look away out of sheer politeness when it came to Haas, F1's comedy team who found themselves confronted by problem after problem – some more serious than others – in early 2022.
Their refreshing response to the demise of Nikita Mazepin, rather than selling his seat to the highest bidder, was to go back to basics and prioritise performance, leading to the return of Kevin Magnussen on a multi-year contract.
Magnussen's popularity within the team was obvious in the social media clip showing the mechanics welcoming him back in the garage during the Bahrain test, the presence of a serious racing driver alongside Mick Schumacher instantly changing perceptions of what is achievable this season.
A big thanks from Guenther, following today's brilliant result #HaasF1 #BahrainGP pic.twitter.com/AgLeN9JDD6

— Haas F1 Team (@HaasF1Team) March 20, 2022
Magnussen was central to some of the best results in Haas's history during his initial spell with the team, his four top-six finishes across 2018 taking Haas to fifth in the Constructors' Championship.
Yet he almost became a victim of the team's Netflix notoriety and Haas's first flirtation with nefarious sponsors, initially bowing out alongside Romain Grosjean at the end of 2020 as one half of F1's answer to the Chuckle Brothers.
He has approached his return to F1 with the glossy grace of someone still revelling in the arrival of an unexpected opportunity and his performance in Bahrain – his P5 finish equalling his best-ever result for Haas – should leave the team asking why they let him go in the first place.
They are a team totally transformed, right back where they were before their eponymous owner chose to pair short arms with long pockets, forcing those running the team on a daily basis into decisions destined to backfire.
The trick this time is for Haas to recognise they're onto something and simply let the good times roll.
The post Conclusions from the Bahrain Grand Prix appeared first on PlanetF1.
Conclusions from the Bahrain Grand Prix