Dancing for Dabai: The Viral Trend of Putting on a 'Thank You' Show for Anti-Epidemic Workers
It has become all the rage for people to dance and sing for Covid-19 frontline healthcare workers in China. But what started as a cute gesture is now a major hype that is criticized by many who think this trend is not about gratitude but about attracting clicks and attention.
As Shanghai and other cities across China are seeing a rise in Covid-19 cases, medical workers wearing protective masks and suits are again part of everyday urban life. The anti-epidemic workers dressed in white hazmat suits are called 'dàbái' (大白), a cute and affectionate nickname that literally means "big white."
Lately, Chinese social media has seen a major trend of people performing 'gratitude' dances for healthcare workers, usually in front of the tables where the Covid-19 testing takes place. The trend mainly started with parents letting their kids perform for anti-epidemic staff as a gesture of appreciation, but later teenagers and young adults also started joining the trend, sometimes alone and sometimes as part as a bigger group. Now, videos of people performing for anti-epidemic workers are flooding Douyin and Weibo. Many of these dances seem to be self-initiated, some appear to be organized.
The song used for the performance is "Listen to me Say Thank You" (听我说谢谢你), which was originally sung by Li Xinrong (李昕融). This song, which is all about gratitude, has been a popular song to thank all of China's frontline workers fighting the Covid-19 epidemic since 2020.
While some videos of small children performing a dance and 'thank you' song for medical workers are well-received, there are many on social media who condemn the trend of putting up this show for anti-epidemic workers who are stressed and worn-out enough already.
There is this viral trend on Chinese social media in which people are doing this 'thank you' song and dance for healthcare workers. But many condemn the hype, saying these workers are tired enough already, why make them watch your performance (that's all about clicks & attention) pic.twitter.com/UbF1ACa7ev

— Manya Koetse (@manyapan) March 27, 2022
One point of criticism is that the performances are embarrassing to healthcare workers who perhaps have to continue with their work, but are too polite to walk away. Some news bloggers blame parents and social media influencers for just doing this so they can forward the video on their WeChat and show to others, without really caring about the wellbeing of the Covid-19 workers. Additionally, these kinds of performances are unnecessary gatherings of people, increasing the risks of spreading Covid-19.
One video that has gone viral on Weibo today shows a female dancer performing for anti-epidemic workers who are lined up and are standing straight, side by side, while watching her perform. This video particularly sparked criticism since it seems obvious that the healthcare workers are not particularly comfortable while watching this dance of "gratitude."
"I'm speechless," some commenters write, with others saying that it looks like the medical workers are being punished rather than honored. "What is this? Some sort of military practice?"
A majority of commenters describe the dance trend as embarrassing, cringeworthy, and meaningless since it does not really help the healthcare workers at all. Weibo blogger Wang Qiao (@王乔) was one among many to criticize the trend, writing:
"Can't the authorities put a halt to this disgusting practice? Also if you have the creativity to dance for health care workers to show gratitude, can't you take your talent to your family's burial grounds to do some disco dancing there for Tomb Sweeping Day? Are the 'dabai' supposed to be grateful that they get to watch people's performance art? What they need is a more rational arrangement of their working hours and days off, what they need is a more suitable work environment temperature, they need more comfortable rest facilities and food provision, and more generous material rewards and promotion prospects.

Please ask the local health commission and municipal departments to do something practical. Stop organizing shows that make you "feel good" about yourself but are embarrassing to other people. All of you performers filled with gratefulness and respect, put away your cheap and shameful desire to perform. Either come up with some actual material supplies, or just perform a kowtow three times.

Please, I'm begging you. Thank you."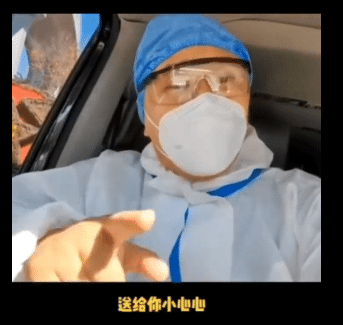 Another person discouraging the hype is an anti-epidemic worker who has shot a video in which he begs parents not to let their kids perform like this, and rather let them do their homework instead of exploiting them for social media clicks.
"There's something wrong with these people," another Weibo user writes: "I don't want to see any more videos of people performing for anti-epidemic workers. After these thank you dances became popular, so many people started to imitate, don't you find it embarrassing yourselves? Don't you think it's better to let these people rest instead of watching your performance?"
By Manya Koetse
contributions by Miranda Barnes
Spotted a mistake or want to add something? Please let us know in comments below or email us. First-time commenters, please be patient – we will have to manually approve your comment before it appears.
©2022 Whatsonweibo. All rights reserved. Do not reproduce our content without permission – you can contact us at info@whatsonweibo.com.
The post Dancing for Dabai: The Viral Trend of Putting on a 'Thank You' Show for Anti-Epidemic Workers appeared first on What's on Weibo.
Dancing for Dabai: The Viral Trend of Putting on a 'Thank You' Show for Anti-Epidemic Workers