Dessert-Inspired Overnight Oatmeal (3 Ways!)
The perfect overnight oatmeal recipe prepared 3 delicious dessert ways: espresso brownie chip, pistachio pudding, and salted caramel!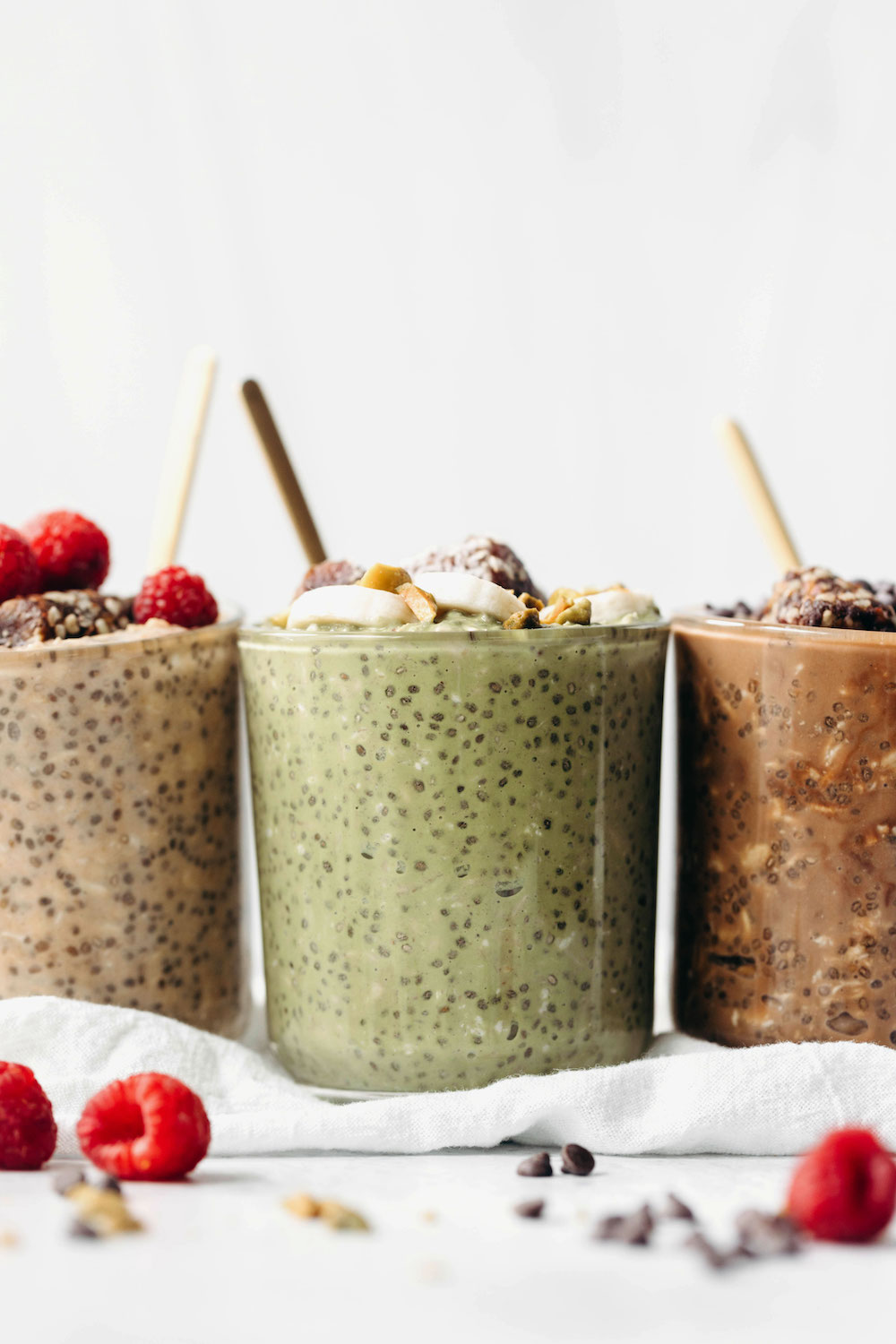 ---
Let's make oatmeal the easiest no-cook-just-shake way, but also make it taste like dessert. Sound good to you?
I will live and die by the breakfast belief that overnight oatmeal is the best kind of oatmeal, but that doesn't mean we can't make it even BETTER. Take that delicious already batter-ish texture of overnight oats (or ONO if you're on a nickname basis with this brekkie too), jazz and pizazz it up with 3 dessert-inspired flavor profiles, top with the sweetest little Mini Medjool date nuggets, and bask in the grab-and-go-iest breakfast moment tomorrow morning.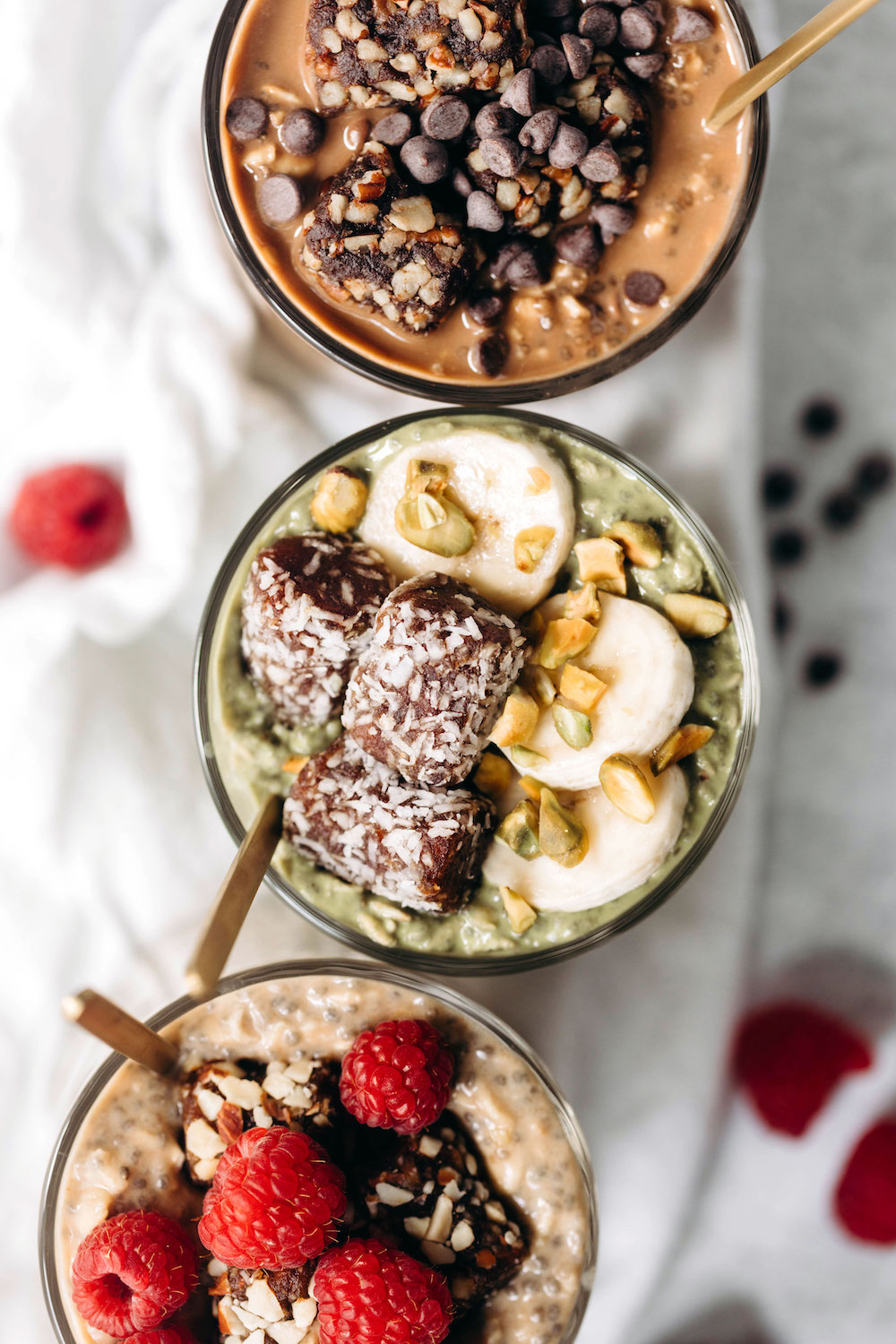 My Basic Overnight Oatmeal Formula
I'm not going to claim this is the BEST way to make overnight oatmeal, because there are too many methods and ratios out there and I haven't tried every single one. But in my personal opinion…this is the best best. There are two key ingredients that I find many recipes lack: chia seeds and salt. Chia seeds up that thick, creamy, batter-like texture factor. And a pinch of sea salt makes all the flavor difference, trust me and try it. So here is my basic ingredient list…
Almond milk. Or any nondairy milk you have/love.
Maple syrup. Or honey, agave, your favorite sweetener.
Rolled oats. Also known as old fashioned oatmeal, just make sure it's not the quick cook kind for texture reasons.
Chia seeds. No other seed will really work in their place, you need their sticky thickening powers.
Pinch of salt. Don't skip it!
Now with that basic formula figured out, the flavor variations are endless.
Three Delicious Dessert Flavors
I tend to fall into oatmeal flavor ruts just as easily as the next person, so I wanted to share not one but THREE new dessert-y flavor ideas with you!
Pistachio Pudding. Maybe not the most popular of pudding flavors, but it is a personal favorite pudding and ice cream flavor that I just had to transform into dessert-for-breakfast form. So if you love it too, I guarantee you its delicious mixed into a morning meal like this.
Espresso Brownie Chip. I don't know anyone who wouldn't say YES PLEASE to those three words together in the a.m. With an oat-y brownie batter texture, a shot of caffeine, a decadent handful of chocolate chips – this one is hard to not make over and over and over…
Salted Caramel. Sweet-salty vanilla caramel notes from a mix of maple syrup and Medjool Dates, mixed with almond butter for extra richness makes for ultra dreamy not-chocolate dessert vibes.
The Ultimate Overnight Oatmeal Topping
Since it's the batter like but healthy texture that makes overnight oatmeal so good, it only seems right to garnish with the best healthy COOKIE DOUGH like topping: Mini Medjools!
These delicious little chewy sweet nuggets from Natural Delights are made with the best Medjool Dates, but blended to a chewy doughy consistency and rolled in nuts or coconut. They come in 3 yummy flavors: Cacao Pecan, Sweet & Salty Almond, and Coconut. They are highly snack-able on their own, but mixed into a jar of overnight oatmeal they make for the perfect chewy texture contrast to all that oatmeal creaminess. Sometimes I like to chop them up for more smaller Mini Medjool surprises throughout the entire jar, they just make every bite so much better!
More Oatmeal Recipes You'll Love
Print
CLICK BELOW TO PIN
The post Dessert-Inspired Overnight Oatmeal (3 Ways!) appeared first on Feasting on Fruit.
Dessert-Inspired Overnight Oatmeal (3 Ways!)