Election results | Judge to GEO: Pay $23.2M | Deere strikers reject TA
Wednesday, November 3, 2021
---
COVID
► From the Bellingham Herald — Weekly COVID-19 infection rates for school-aged children soar in this Whatcom region — Six of the seven school district regions in the county saw their case rates increase last week.
► From KIRO — Hospital staffing losses from state vaccine mandate 'much lower than what we feared' — Two weeks after the vaccine mandate for health care workers went into effect, the state's hospitals have barely felt a pinch. Hospital leaders had predicted that the hospitals on the eastern side of the state — where vaccination rates have tended to be lower — might lose so many workers that they would have to cancel services, such as dialysis. However, this has not been the case. But while the vaccine mandate has not led to any prominent staffing losses, hospitals are still dealing with the ongoing staffing shortages that they have been seeing for months due to exhaustion and burnout.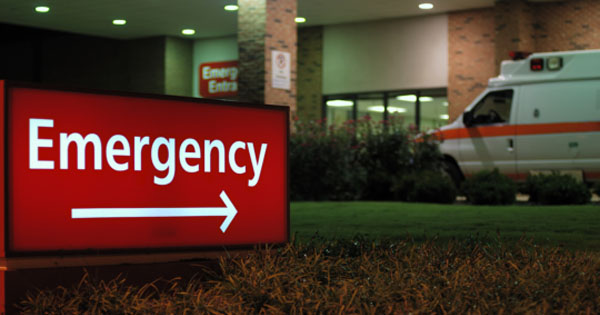 The Stand (Oct. 20) — Healthcare unions: WA hospitals must mitigate staffing crisis — Short-sighted and costly stopgap measures are only a Band-Aid; hospitals have the tools and resources to alleviate burnout nightmare.
► From the Seattle Times — Here's a district-by-district look at vaccination levels in state school districts — The COVID-19 vaccination rate among school district employees in Washington state is approaching 90% — and most bigger school districts, even outside of the state's Western, politically liberal core, beat that average. That's a rate nearly 20 percentage points higher than the state population at large and close to rate of other employees subject to Gov. Jay Inslee's government worker vaccine mandate. Currently, about 70% of Washingtonians ages 12 and above are fully vaccinated.
► From the Tri-City Herald — Unvaccinated Tri-Cities state lawmaker still working in schools despite COVID mandate — Rep. Brad Klippert (R-Sunnyside), who has been a Benton County sheriff school resource officer for the Kiona-Benton City school district for more than 20 years, told the Herald he has not gotten a COVID-19 vaccination nor been asked for a medical or religious exemption from the requirement.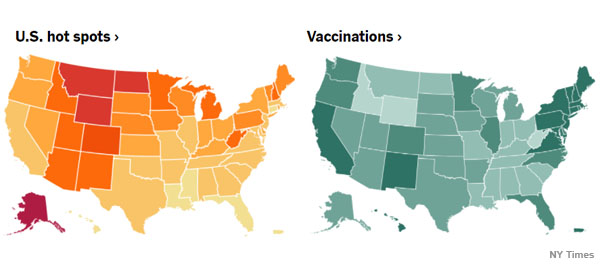 ► From the NY Times — Facing surge of cases, Colorado hospitals can turn patients away — Colorado is experiencing its worst coronavirus wave in a year and its overwhelmed hospitals are now allowed to turn away new patients. Many medical facilities in the state are at 90 percent capacity, with intensive care units overflowing. Most of the people needing admission are unvaccinated.
EDITOR'S NOTE — When sick unvaccinated COVID patients block you or your loved ones from access to medical treatment, is not getting the shots a "private, personal medical decision"? Discuss.
---
ELECTION

► From the Seattle Times — Harrell takes commanding lead over González in Seattle's mayoral race — Bruce Harrell held a commanding lead of almost 30 percentage points over M. Lorena González in Seattle's mayoral election Tuesday night, making it likely that he'll claim the city's top job. Progressive candidates for city attorney and for an open council seat also trailed their opponents by large margins.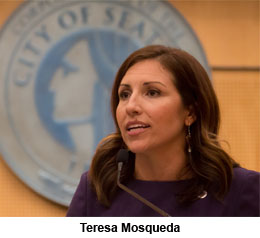 ► From KING 5 — Mosqueda leads Wilson for Seattle Council position 8 — Mosqueda, the incumbent, has captured 53% of the vote so far. She has served in position 8, which is a city-wide seat, for one term since 2018. She previously worked as a political and strategic campaign director at the Washington State Labor Council, AFL-CIO, where she worked on legislation related to immigrant and worker's rights, including the statewide minimum wage initiative.
► From the Bellingham Herald — These are the leaders in Bellingham, Whatcom County election races and initiatives — Measures 1 and 4, expanding renter protections and hazard pay for workers were failing, but measures 2 and 3, setting limits on police technology and offering protection for union activism were leading.
► From the News Tribune — Victoria Woodards re-elected Tacoma Mayor
MORE local election results coverage in today's (Aberdeen) Daily World, (Centralia) Chronicle, Columbia Basin Herald, Ellensburg Daily Record, (Everett) Herald, Kitsap Sun, Olympian, Peninsula Daily News, Skagit Valley Herald, (Spokane) Spokesman-Review, Tri-City Herald, Walla Walla Union-Bulletin, Wenatchee World, Yakima H-R, and from the union-busters at the (Vancouver) Columbian.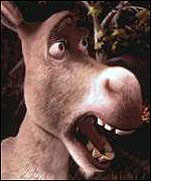 ► From the AP — Youngkin's Virginia win jolts Democrats, tight race in NJ — Republican Glenn Youngkin won the Virginia governor's race, tapping into culture war fights over schools and race to unite former Trump's most fervent supporters with enough suburban voters to become the first GOP candidate to win statewide office in a dozen years.
► From the Guardian — Minneapolis voters reject bid to replace police with public safety department — Measure would have installed public safety department focused on a "comprehensive public health approach."
---
LOCAL

► From the News Tribune — It's time for Pierce County Sheriff Ed Troyer to resign (editorial) — Admit fault and step down.
---
THIS WASHINGTON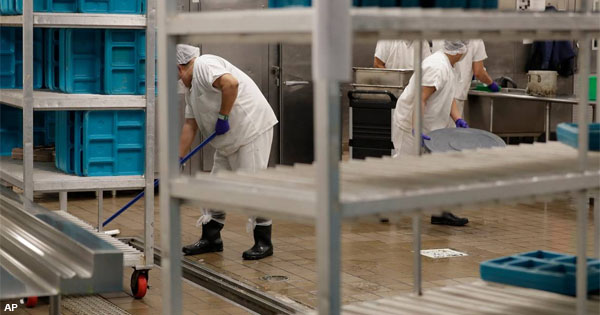 ► From the AP — GEO ordered to pay $23.2M in detainee minimum wage cases — A private prison company has been ordered to pay more than $23 million over lawsuits that accused it of running its for-profit immigration lockup in Washington state on the backs of detainees. U.S. District Judge Robert Bryan on Tuesday ordered GEO Group to turn over $5.9 million in profits to Washington state. Bryan said that's how much the company unjustly enriched itself since 2005 by paying detainees who volunteered to perform tasks like cooking and cleaning just $1 a day, instead of the state minimum wage. The ruling came just days after a jury on Friday ordered the company to pay $17.3 million in back wages to more than 10,000 detainees and former detainees of the Northwest detention center in Tacoma. "This is a landmark victory for workers' rights and basic human dignity," Washington Attorney General Bob Ferguson said.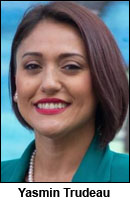 ► From the News Tribune — Pierce County Council names Yasmin Trudeau to replace Darneille as 27th District state senator — The council unanimously selected Trudeau, a Democrat, to serve temporarily until Nov. 2022. The seat represents residents in Tacoma from Eastside to Ruston to the Port of Tacoma. Trudeau is an attorney and legislative director for the Washington State Attorney General's Office. She was supported by state Sen. T'wina Nobles (D-Fircrest).
► From the Seattle Times — Washington voters rejecting new 7% tax on capital gains in nonbinding advisory measure — The advisory vote on the new tax was trailing by 24 percentage points.
---
THAT WASHINGTON
► From Politico — Dems vow to plow forward on Biden agenda, even after election faceplants — As the bad news for Democrats poured in Tuesday evening, the party's moderates blamed progressives for withholding their support for Biden's massive infrastructure bill, while progressives charged centrists with stalling and watering down the president's agenda. The stinging rebuke for Democrats was already spurring other calls from party leaders to rehabilitate a brand that's been tarnished by infighting and a lack of action.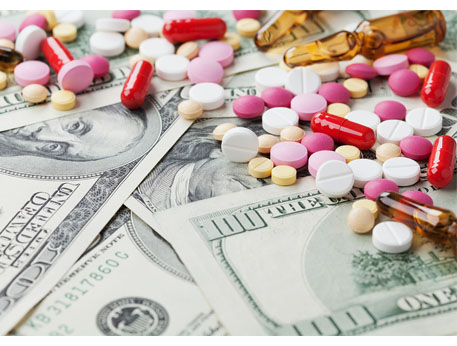 ► From Politico — 'A massive step forward': Democrats clinch drug pricing deal — Democrats on Tuesday announced an agreement on drug pricing reform, coming out in favor of allowing Medicare Part D to negotiate directly with pharmaceutical companies for the first time since its creation, a move the drug industry has fought for nearly two decades. While the latest proposal is far weaker than the version passed twice by the House, even staunch progressives in both chambers are preparing to accept that it's likely the best they're able to get in the narrowly divided Congress.
► From the AP — Democrats say paid family and medical leave back in bill
► From The Hill — Hispanic Democrats at odds on immigration as deal nears — Confusion reigns among Hispanic Democrats as the clock winds down on the possibility of including immigration provisions in the final draft of the social spending bill.
► From The Hill — Moderate Democrats press for score before vote on Biden package — Moderate House Democrats are pushing for more information about the cost of the social spending package prior to a vote, which threatens to slow down the speed at which Democrats advance their economic agenda.
► From the Washington Post — Democrats look at expanding minimum tax on wealthy in exchange for state and local tax break — Revised alternative minimum tax could offset some of the huge savings wealthier Americans would win for proposed SALT change.
► From the Washington Post — Last chance to get advance child tax credit is fast approaching — Claim payments by Nov. 15 or you won't get them until after your 2021 return is filed next year.
---
NATIONAL
► From the Denver Post — Labor is having a moment in Colorado and beyond, but will that lead to more unionized workers? — A vote on a union at an Aurora HelloFresh site is seen as a test of labor's ability to flex its muscles at a time when workers are hard to find and union members who've been on the front lines in the pandemic are now on the picket line, seeking better conditions and pay. The mail-in vote at the HelloFresh facility in Aurora, where about 350 employees are eligible to cast ballots, started Oct. 28 and will run through Nov. 22. About 900 HelloFresh employees in Richmond, Calif., will start voting Nov. 18.
TAKE A STAND — Support HelloFresh workers organizing a union!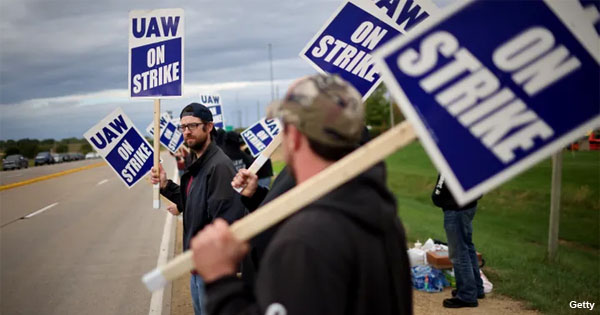 ► From HuffPost — John Deere workers reject tentative deal, decide to stay on strike — Workers at John Deere voted Tuesday to reject the latest tentative agreement negotiated between the company and their union, a sign that the largest U.S. private-sector strike in two years is likely to continue. Local affiliates of the United Auto Workers union informed members late Tuesday that the deal had been voted down by a 55-45 margin. The failure of the deal will send the union's bargaining committee back to the table with the company in an effort to secure better terms for the 10,000 workers covered by the contracts.
3,000 student workers at Columbia University are officially on strike! The enormously wealthy Ivy League university continues to refuse to address @SW_Columbia's three main contract issues: a living wage, neutral third party arbitration, and comprehensive healthcare. #CUonStrike https://t.co/ItYstlKCg3

— Kim Kelly (@GrimKim) November 3, 2021
► From the Richland Source — ArcelorMittal workers in Ohio strike after contract expires — Nearly 500 employees at ArcelorMittal are on strike after the company and USW Local 3057 failed to come to an agreement during contract negotiations.
► From the IAM — New York Local 588 members on strike for respect and dignity — Approximately 280 IAM Local 588 members from Garlock Sealing Technologies in Palmyra, NY went on strike Monday after voting against ratifying a four-year contract.
► From the AP — Scranton teachers poised to strike after talks go nowhere
.@sftlocal1147 is on strike today. Educators & students paid 4 Scranton's mismanagement. Now District won't treat them fairly. Even columnist who often disagrees with us agrees.

— Randi Weingarten (@rweingarten) November 3, 2021
► And then, there's this…
.@rweingarten is a teacher. A mentor. A leader. A friend. Tom Cotton is a hack.

No one has worked harder to reopen our schools safely than Randi. She is a champion for in-person learning. It's Cotton who needs the education. https://t.co/xLkU8ShlWf

— Liz Shuler (@lizshuler) November 2, 2021
---
TODAY'S MUST-READ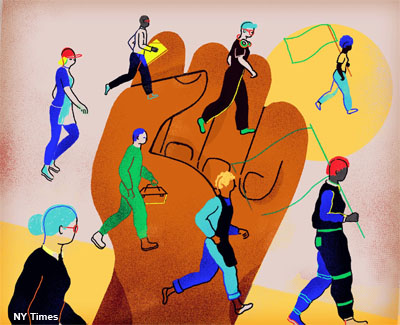 ► From the NY Times — In a "Workers' economy," who really holds the cards? (by Emma Goldberg) — With the country's labor force down by more than four million people and resignations at a high, employers are desperate to make hires. Still, the flood of people leaving their positions has kept rising. Flush with options, and frustrated after laboring through lockdowns, workers are feeling a sense of possibility. Some are resigning. Some are waiting for a prime gig. Others are flexing their muscles — requesting raises, or remote work options — while still clocking in. Employers are noting the jump in demands, and in some cases catering to it, during a shift in power they realize may be long-lasting.
---
The Stand posts links to Washington state and national news of interest every weekday morning by 10 a.m.
The post Election results | Judge to GEO: Pay $23.2M | Deere strikers reject TA appeared first on The Stand.
Election results | Judge to GEO: Pay $23.2M | Deere strikers reject TA