Energy Balls
These no-bake energy balls are my favorite healthy snack. Sticky, sweet, and studded with chocolate chips, they taste like little balls of cookie dough, but they're made with simple, wholesome ingredients. Dates bind them together, oats add fiber, and walnuts and almond butter pack them with protein and healthy fats. They're super-quick and easy to make in the food processor, and they keep for weeks in the freezer or fridge.
At least they do in theory. If you love these energy balls as much as we do, there's no way they'll stick around that long. Between speedy breakfasts and on-the-go snacks, you'll polish them off in a few days flat!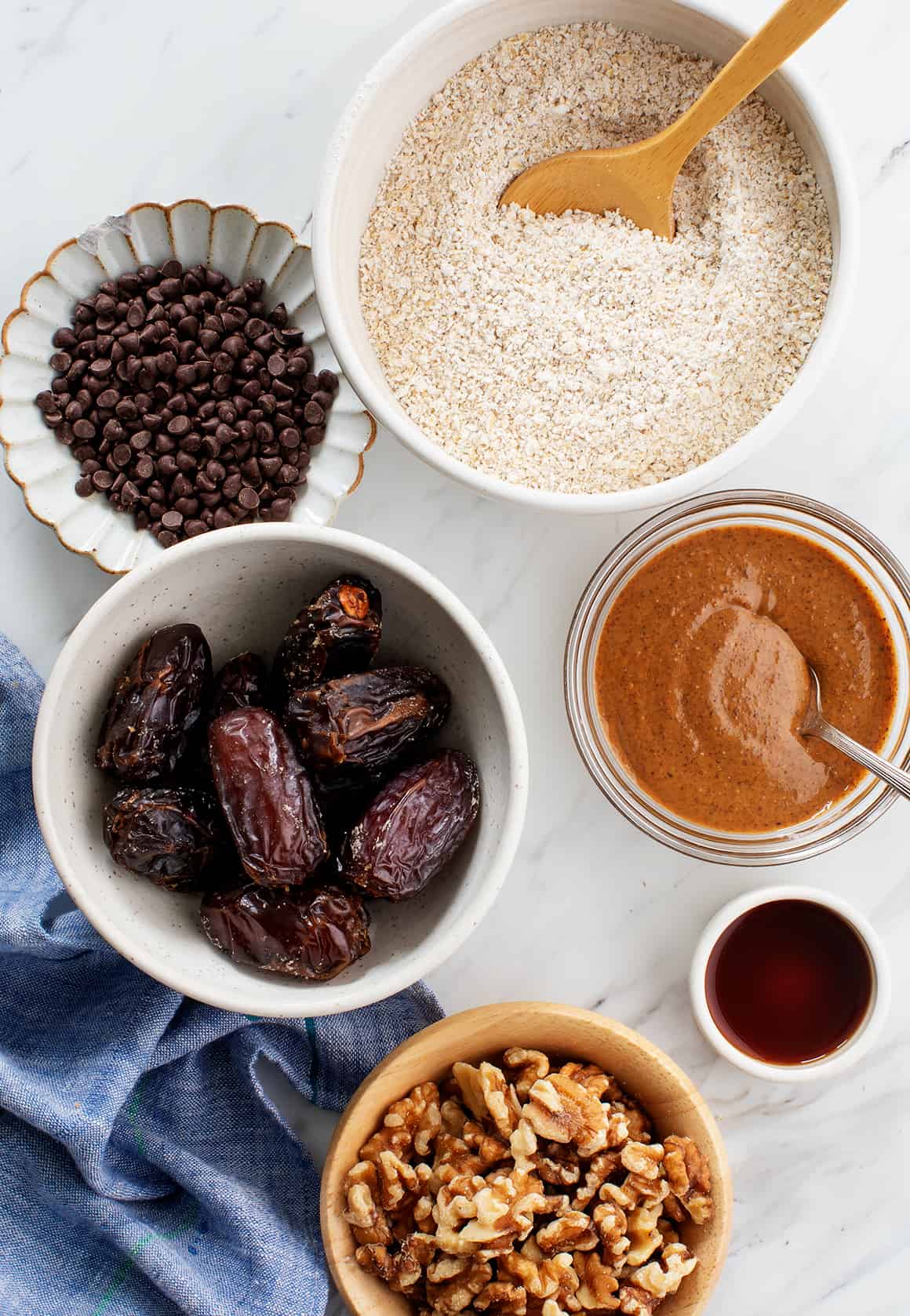 Energy Balls Recipe Ingredients
This energy bites recipe calls for 8 basic ingredients:
Medjool dates – They make these energy balls deliciously sweet without any added sugar! In addition, their sticky texture helps bind the balls together.
Oat flour – For fiber and protein. I like to make my own out of old-fashioned or whole rolled oats.

Find my easy method here!

Walnuts – They add rich, earthy flavor and healthy fats.
Almond butter – Like the dates, the almond butter helps bind these energy bites together. Make sure to use really smooth, well-stirred almond butter for this recipe. The dry, stiff stuff at the bottom of the jar won't work well here.
Vanilla extract – For warm, cookie-like depth of flavor.
Water – For extra moisture. A few tablespoons make these date energy balls perfectly cohesive.
Mini chocolate chips – Use dairy-free chips to make this recipe vegan. I like the Enjoy Life brand.
And sea salt – To make all the flavors pop!
Find the complete recipe with measurements below.
How to Make No-Bake Energy Balls
These yummy date balls are SO easy to make! Here's what you need to do:
First, check the dates. They should be soft, sticky, and pliable. If they feel stiff or dry, soak them in hot water for 10 minutes.
Next, pulse the ingredients together. Place the soft, pitted dates in a food processor along with the oat flour, almond butter, walnuts, vanilla, water, and salt. Pulse until the mixture sticks together when pinched.
If it feels dry, pulse a bit longer, until the mixture starts to form a ball in the food processor. If it still feels dry, pulse in more water, 1 teaspoon at a time, until it feels cohesive and sticky.
Then, form the balls. Transfer the mixture to a bowl and fold in the chocolate chips. Use a 2-tablespoon cookie scoop to portion out the dough. Roll the scoops into balls…and that's it!
Devour these date and nut energy balls right away, or store them in the fridge for up to a week. For longer storage, keep them in the freezer. They thaw quickly at room temperature. Grab them for easy, on-the-go breakfasts or quick healthy snacks. Enjoy!
More Favorite Healthy Snacks
If you love these no-bake energy balls, try one of these healthy snack recipes next:
Click here to browse more recipes!
Energy Balls