ESE ENTERTAINMENT (ESE-TSXV / ENTEF-OTC) Is Growing Fast–And Has a Huge MOAT
ESE Entertainment (ESE-TSXV / ENTEF-OTCQX)  has been growing incredibly fast—AND has already reached positive adjusted EBITDA —AMAZING at this early stage for a company with great potential for a long, clear growth runway.
I gave you the set up yesterday—their #1 job, their core competency, is enticing the 3 billion gamers in the world to play the online video games of their clients. 
And ESE is so successful, with giant players like Electronic Arts, and others—they already have themselves embedded with some of the Top 10 gaming companies as clients. That's a big MOAT against competitors.
This morning, ESE announced an all time record revenue for a quarter–$15.9 million, which is up 376% Year-over-Year (YoY), and record gross profit of $3.12 million Year-to-Date adjusted EBITDA of positive $87,000–vs. an adjusted EBITDA loss of $2.19 million for the first nine months last year.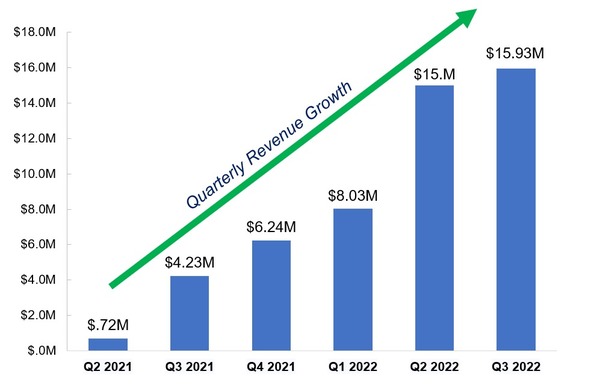 Source: ESE Entertainment Inc.
The corporate momentum here is incredible. TTM—Trailing Twelve Month revenue is $45.2 million. Annualized revenue is now up to a remarkable $63.72 million.
The important fact to note—EBITDA can incline much more steeply with increased revenue from here. There are no more acquisitions to make—from here it is organic growth. And the company has hit critical mass to cover costs.
There is no research by any brokerage firm on this company. I'm the very FIRST person to write about this company. And the stock trades at…well, 70 cents now…with only 72 million shares out.
Management and insiders, by the way, own approximately 40% of the company, or 28.4 million shares. That is skin-in-the-game on a very tight float of stock.
ESE Entertainment Is a Numbers Story…..
I don't need to do any heavy lifting here to explain why I'm unusually excited about this one.
Key numbers/info for anyone new to the company:
1 – The revenue growth that the company has put up over the past year, quarter after quarter and now this quarter.
2 – The fact that this revenue is tied to long term contracts with existing customers. This is beautiful, recurring, potentially sticky revenue. The kind of predictable revenue and growth that the market often loves and tends to reward with premium multiples.
3 – ESE has contracts with many of the multi-billion dollar Tier One gaming giants–who have multiple versions of multiple games. These relationships could scale up business very rapidly.
4 – The incredible count of new long term contracts that have been added in just the last quarter alone. Revenue from these contracts is anticipated to layer on top of the company's existing recurring revenue stream.
Important to note is that several of these recently won contracts have yet to hit ESE's financial statements – but are anticipated to start to with the next earnings release.
5 – The fact that these new contracts are being won through real-world performance testing against larger competitors–to the point where ESE is often being asked to give input on future versions of online games. That creates a big MOAT against competition.
6 – This early inning, recurring revenue, growth company is already adjusted-EBITDA-positive through 2022–despite growing 376% YoY.
7 – Huge automation gives the company a fixed cost base–any growth from here will be more accretive because a) ESE's technology is already paid for and b) there are no more acquisitions coming to drag down EBITDA
8 – Finally, despite having encouraging growth, competitive technology and positive adjusted EBITDA, I see a strange disconnect with where ESE's current stock trades relative to its peer group. I'll show you that data on that and let you draw your own conclusions……
Start With Where The Stock Trades
And Go From There
I want you to see where ESE trades relative to other companies in this "comp" (comparison) table with ESE and its peer group: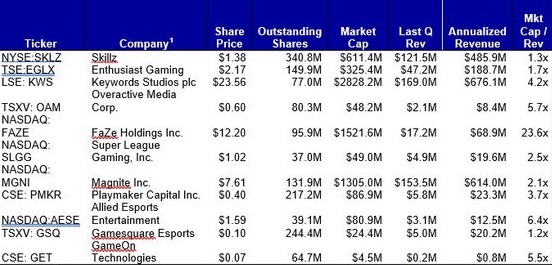 Now here is how ESE fits in–with a share price of 70 cents this morning and
72,425,504 shares out, it has a market cap of almost $50 million exactly. With annualized revenue of $63.72 million, it is trading at 0.78x revenue.
(Most of these companies aren't yet adjusted EBITDA positive (ESE is one of the few that is), so the metric that the Street typically looks at for these companies is–market cap versus revenue.)
Excluding ESE Entertainment—the average of the rest of this peer group is a trading price that is 5.1 times revenue. The median of the group is 3.7 times revenue. The lowest multiple of the group other than ESE Entertainment is 1.2 times revenue.
And ONE-FIFTH the multiple of the median of the group. Many peers are still in cash burning mode despite trading at much higher multiples. 
ESE Entertainment is one of the few already generating positive adjusted EBITDA.
These aren't my numbers. These are THE NUMBERS. 
Speaking of numbers…..we need to talk a little bit about the macro——about the gaming industry in general. It is huge and rapidly getting even bigger.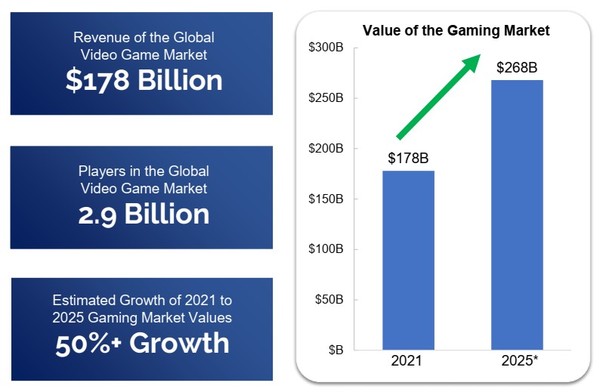 *Sources: January 2022 – 
Statista, NewZoo, Juniper Research 2021
,  
Statista / DFC Intelligence; 2021
*Estimated value of Global Gaming Market in 2025 from NewZoo Research
I have three children who are now young adults. Online gaming to them is what TV was to my generation–but it is still a little hard to get my head around the fact that almost 3 billion human beings play online video games.  And ESE markets to most of them in over 40 languages.
Projections are for this market to grow by $90 billion from 2021 to 2025. Given the size of the growing prize I find it exciting that ESE Entertainment has deals on at least one video game with some of the ten largest gaming operators that serve those 3 billion humans. 
These are some of the companies that stand to gain the most from the $90 billion of growth in the industry.
There May Be An Even More Lucrative Leg
To ESE's Growth
ESE's success in online gaming is attracting a lot of attention–even from other online sectors. This gives it a whole additional layer of BLUE SKY that could happen and may already be happening here. 
That would be the online gambling industry .
Just like online video gaming companies, online gambling companies also need to attract new customers. There is no reason that ESE's tech, which is proving to be capable at winning gamers for the gaming industry, wouldn't be able to do the same thing for bringing in clients for online wagering–which is already a $100-billion-plus market.
ESE's research suggests an online gambling customer can be worth many multiples of every new gamer. 
We don't need that blue sky given how fast ESE is already growing…..but it could be the next step.
CONCLUSION–I THINK THIS GROWTH
IS JUST STARTING
It's very rare to see this growth AND positive adjusted EBITDA for the year. ESE's revenue is up 376%, and the run rate as of the end of Q3 was $63.72 million.
That's more than the current $50 million market cap. Remember—the median company in this industry trades at 3.7 times revenue based on our research as of September 2022–not a fraction of revenue.
Again, ESE is winning all of these contracts via its objective, measurable outperformance of competitors. The large gaming companies can tell quickly that ESE is delivering the most clients, and the stickiest clients, i.e. new gamer sign-ups. 
And they are winning bigger and bigger contracts with many of the Top Gaming Companies in the world–to the point where they are being invited in to give input on the design of future versions of games. I call that being embedded, or entrenched, and is a huge MOAT against competition.
This is a meritocracy of the highest order and ESE is winning contracts based on merit. Based on results.
And remember—— their technology is ready to scale and take on much larger business contracts.
I ask you to do one favor for me please——take some time and dig into the numbers that I've presented today. Do your own due diligence as you always do.
But for me, with ever larger contracts, ever larger number of clients, hitting positive adjusted EBITDA over these 9 months—I don't see a better growth story. 
With these big clients having multiple versions of multiple games, the scale-up potential here can be dramatic. Importantly, they don't NEED the Market. I love that. It's another reason I'm long ESE Entertainment.
ESE Entertainment has reviewed and sponsored this article. The information in this newsletter does not constitute an offer to sell or a solicitation of an offer to buy any securities of a corporation or entity, including U.S. Traded Securities or U.S. Quoted Securities, in the United States or to U.S. Persons. Securities may not be offered or sold in the United States except in compliance with the registration requirements of the Securities Act and applicable U.S. state securities laws or pursuant to an exemption therefrom. Any public offering of securities in the United States may only be made by means of a prospectus containing detailed information about the corporation or entity and its management as well as financial statements. No securities regulatory authority in the United States has either approved or disapproved of the contents of any newsletter. This newsletter contains certain forward-looking statements within the meaning of applicable securities laws.
Keith Schaefer is not registered with the United States Securities and Exchange Commission (the "SEC"): as a "broker-dealer" under the Exchange Act, as an "investment adviser" under the Investment Advisers Act of 1940, or in any other capacity. He is also not registered with any state securities commission or authority as a broker-dealer or investment advisor or in any other capacity.
ESE ENTERTAINMENT (ESE-TSXV / ENTEF-OTC) Is Growing Fast–And Has a Huge MOAT