Every passage is a destination at Chanticleer
February 28, 2022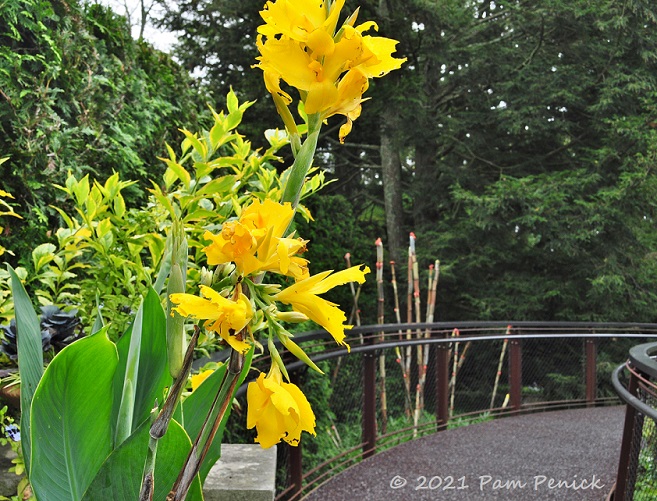 Chanticleer makes each step, each path, a place of discovery and delight. I visited the Philadelphia-area garden on my road trip last fall. This is Part 5 in my series about creative, romantic, stunning-in-every-way Chanticleer.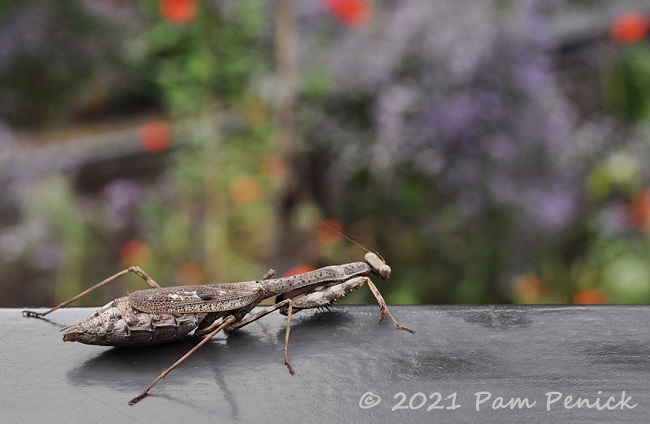 Guardian of the garden — a big ole praying mantis
Elevated Walkway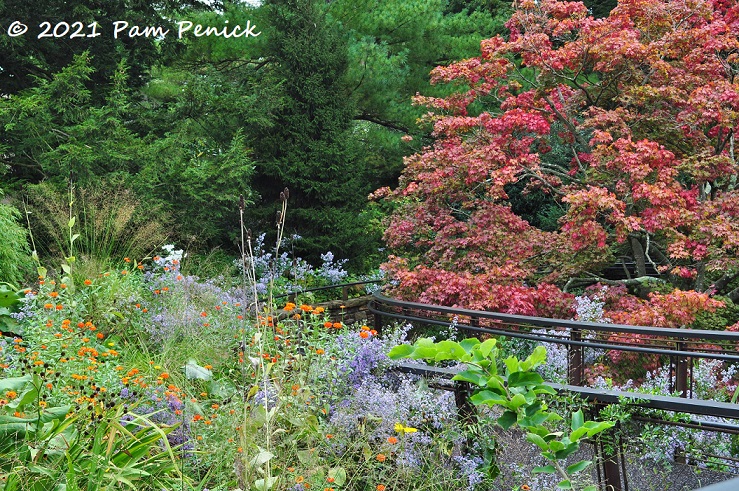 Leaving the house garden, you descend a steep hillside via the Elevated Walkway, a gentle, spiraling ramp that floats through a flower garden.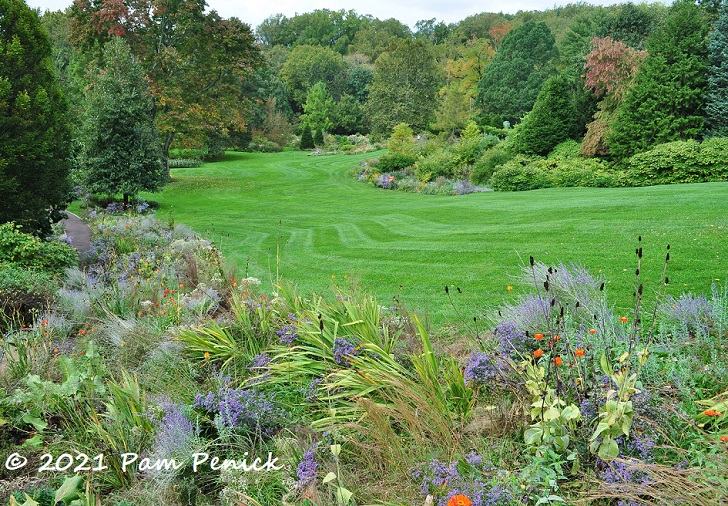 It overlooks the verdant hillside lawn and its luscious, deep borders.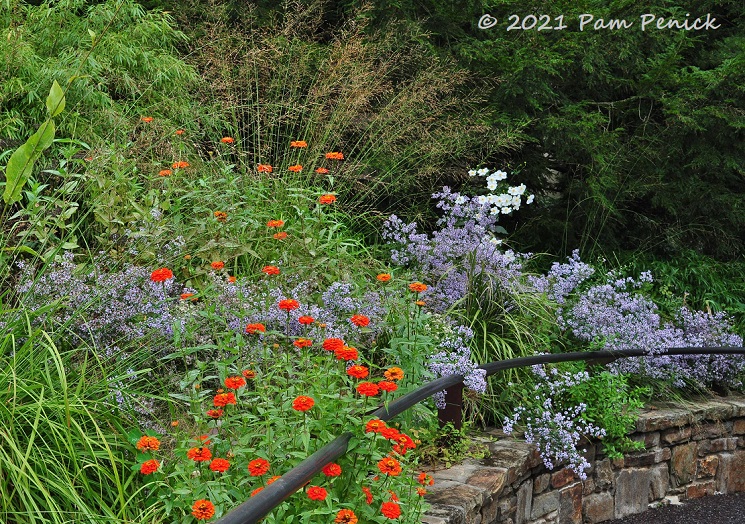 In mid-October, fiery zinnias were still blooming alongside asters, ornamental grasses, and Japanese anemones.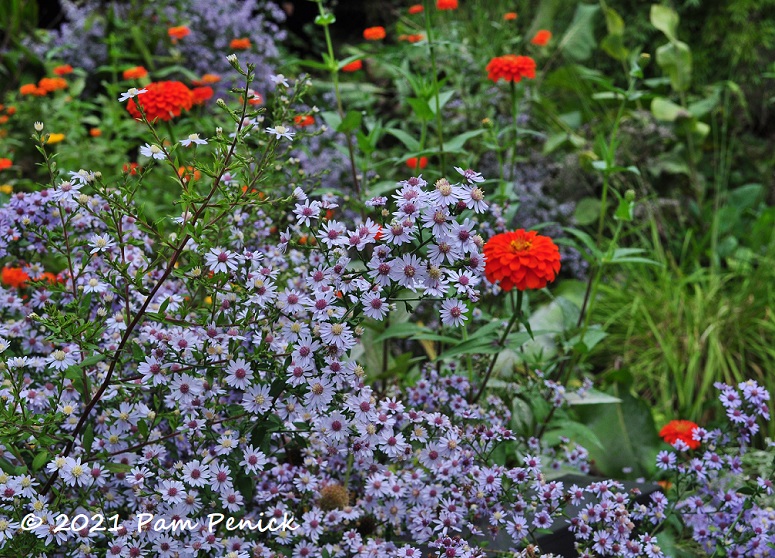 Ka-pow!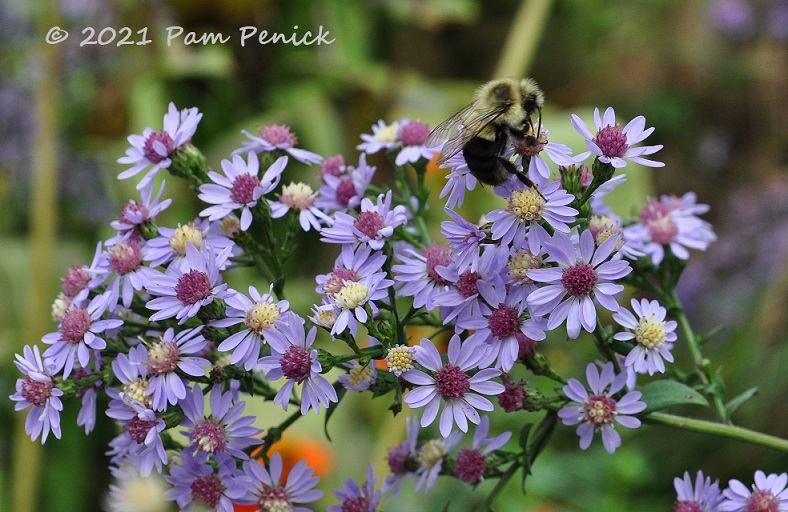 A fuzzy bumblebee worked the asters.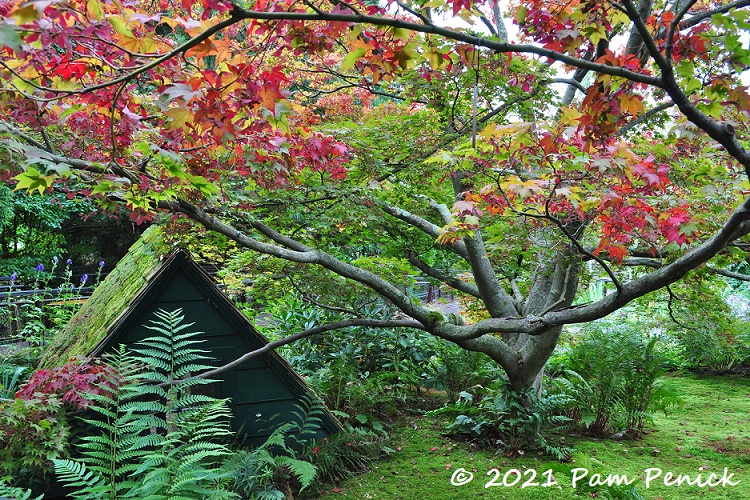 Under its blushing canopy, a Japanese maple seems to fling its limbs like a whirling dervish. The low, triangular structure is an old apple house-turned-playhouse.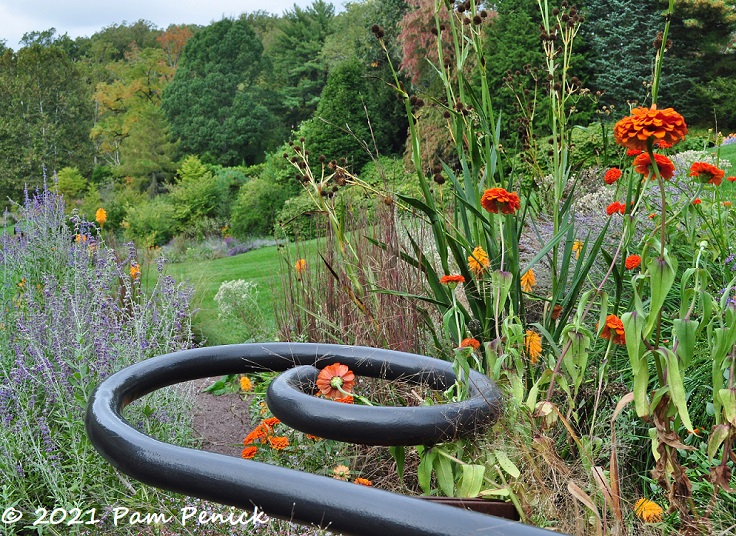 Even the handrail spirals around, embracing a flower.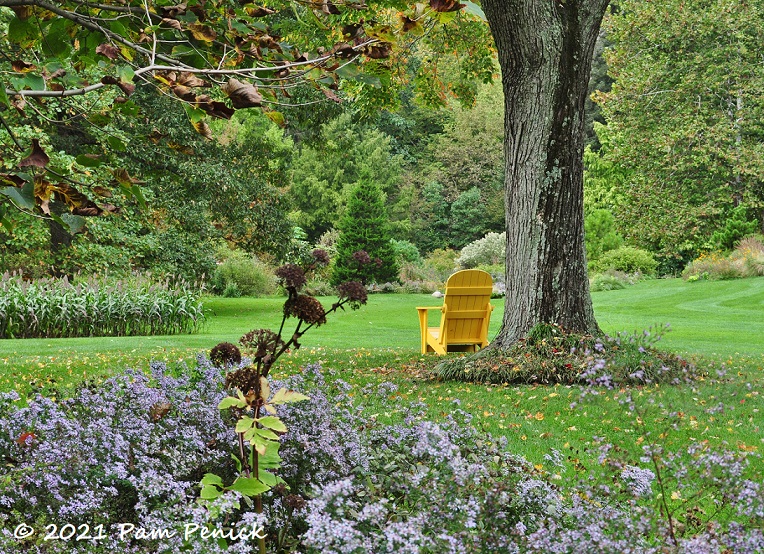 Chanticleer offers many opportunities to sit and just be in the garden.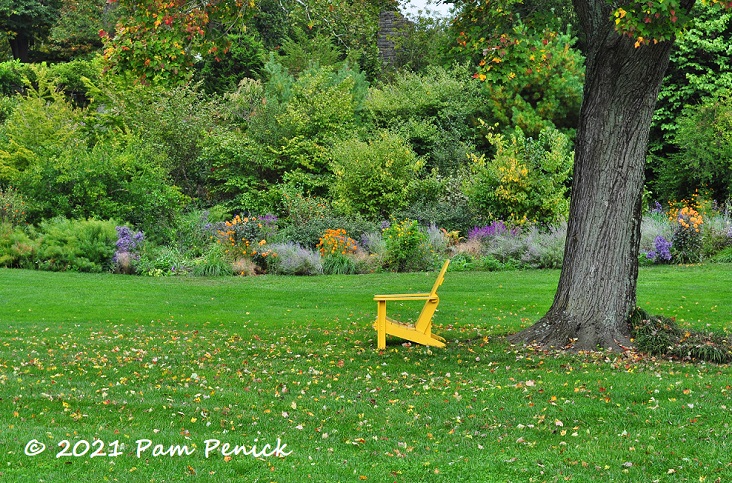 I usually pick one or two spots to sit for a while, wishing I had the luxury of enough time to try them all.
Serpentine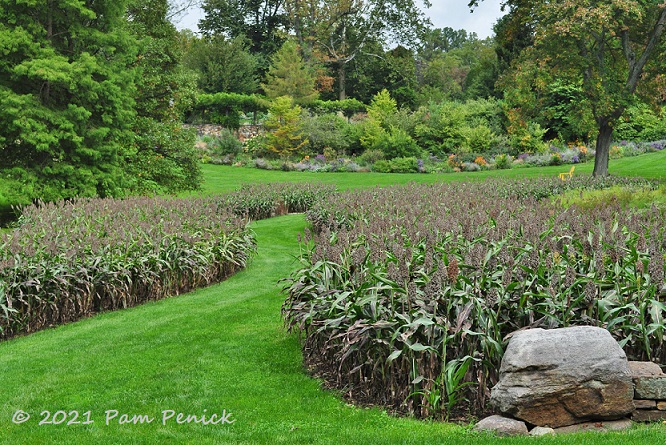 A mass planting of sorghum bisected by an S-shaped mown path illustrates the beauty of agricultural plants in the Serpentine.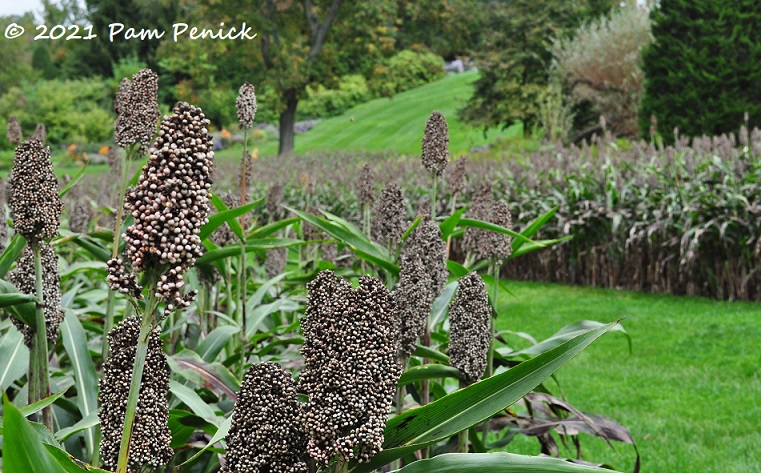 The crop changes from year to year.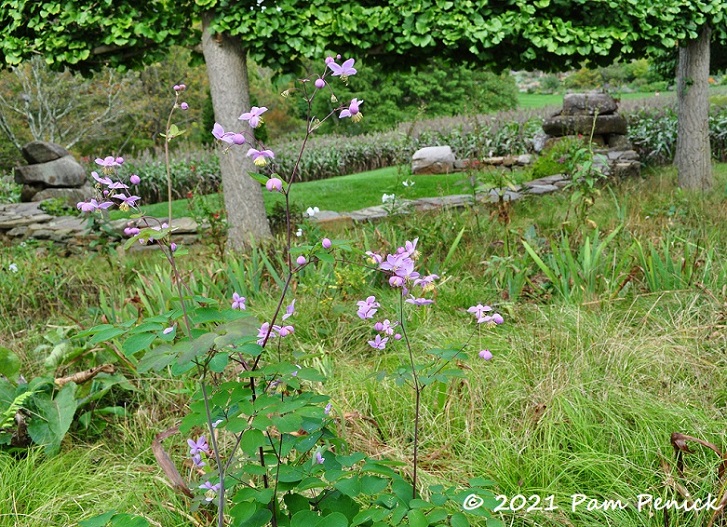 Anemones on wiry stems float over a meadowy bed.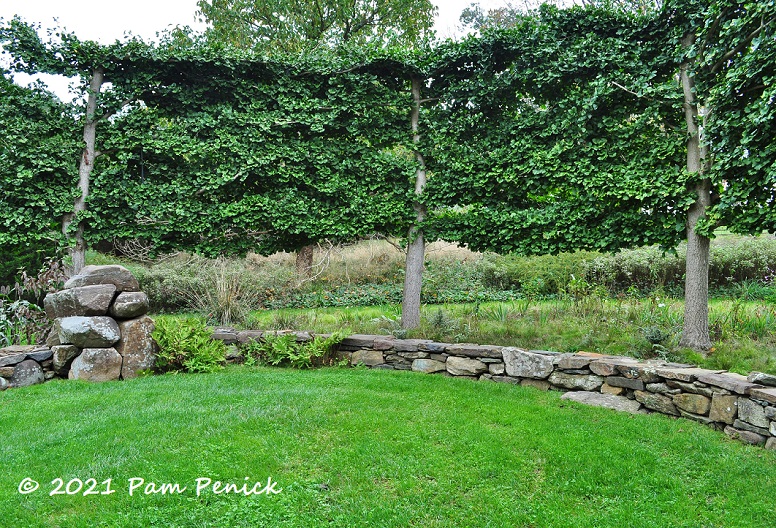 An arc of pleached ginkgos traces a low stone wall — so theatrical. I'd love to see this when it turns gold in fall.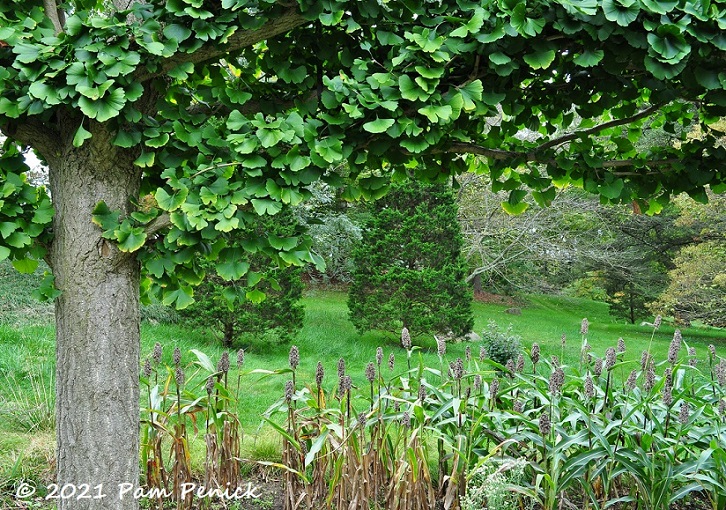 Ginkgo and sorghum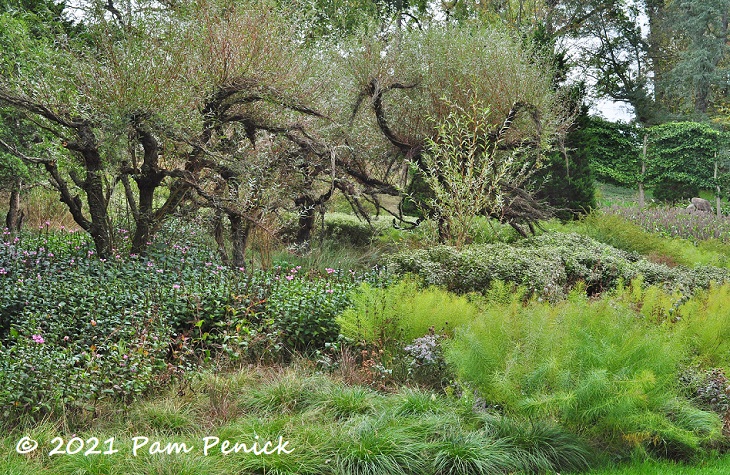 I confess this had me fooled. A Mediterranean-looking garden with gnarled old olives, right? Nope! The olive-mimicking trees are silver-leafed willows. Such a clever substitution.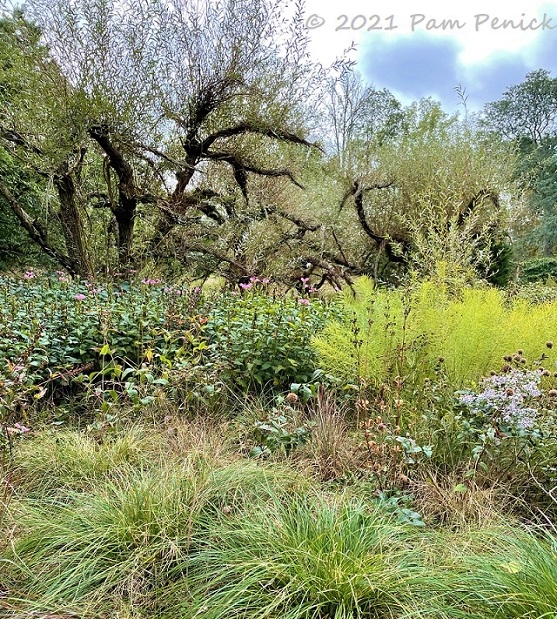 From this angle, though, it does look more like a Whomping Willow.
Bulb meadow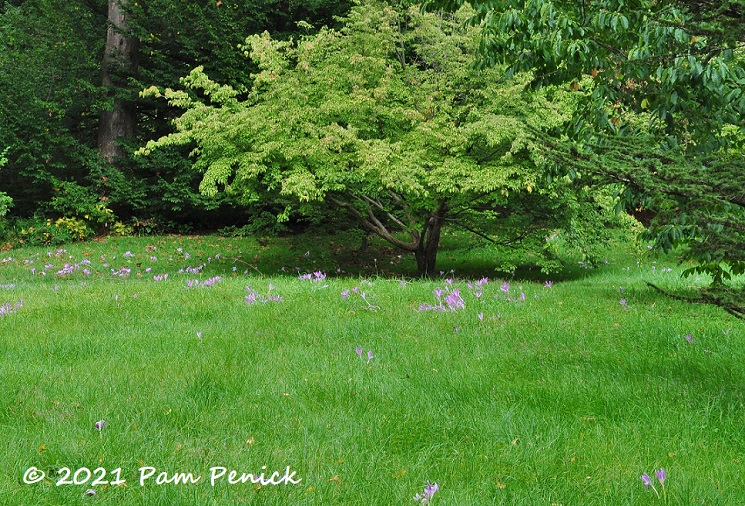 Next I found the bulb meadow, where autumn-flowering colchicums sparkle like purple stars in a green lawn.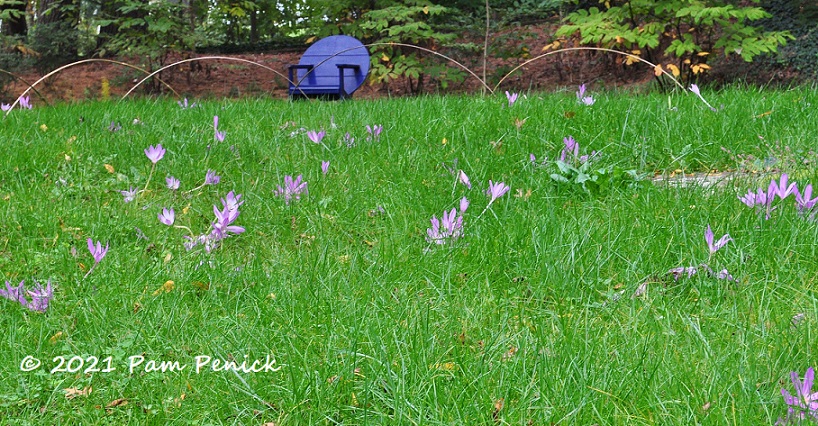 "Daffodils, tulips, and Spanish bluebells grace the hillside in April and May, before fading into the background as the grass begins to lengthen. Later from July through October, surprise lilies (Lycoris) and colchicums each take over the show," explains the garden's website.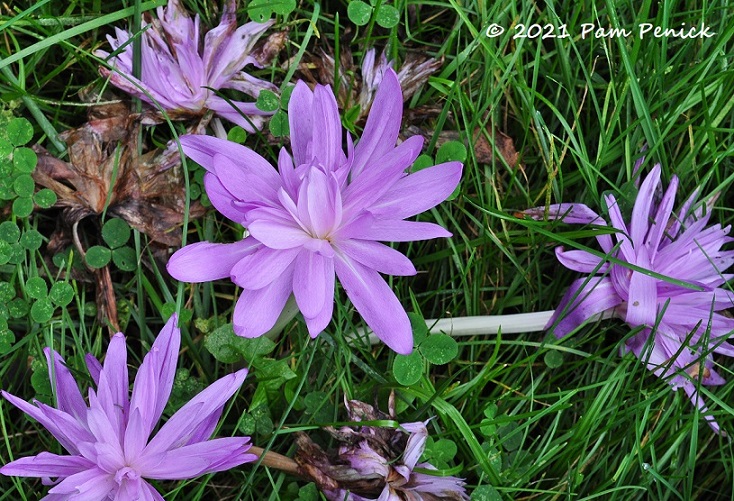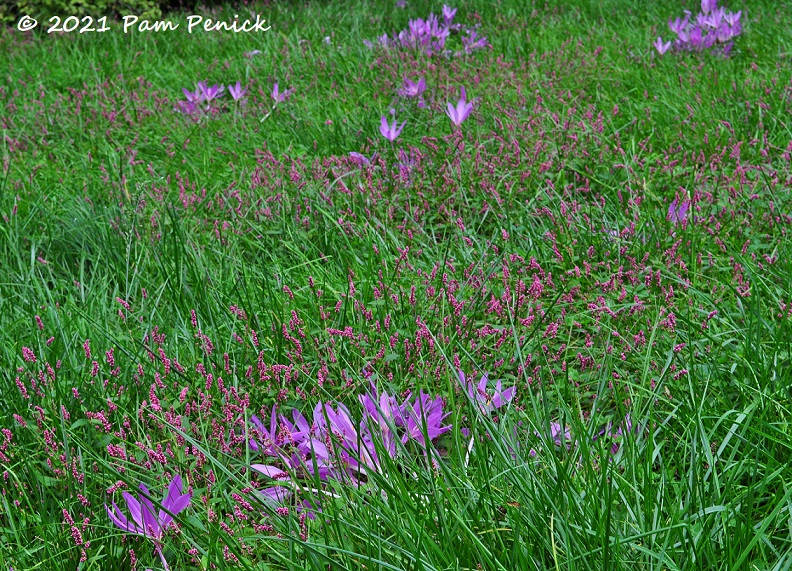 Gorgeous combo!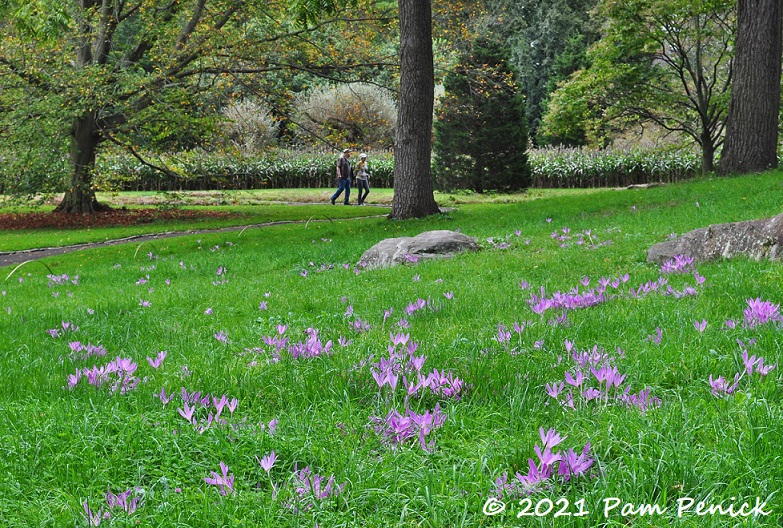 This is one of the places I chose to sit — off the main path and with a view of the flowering hillside.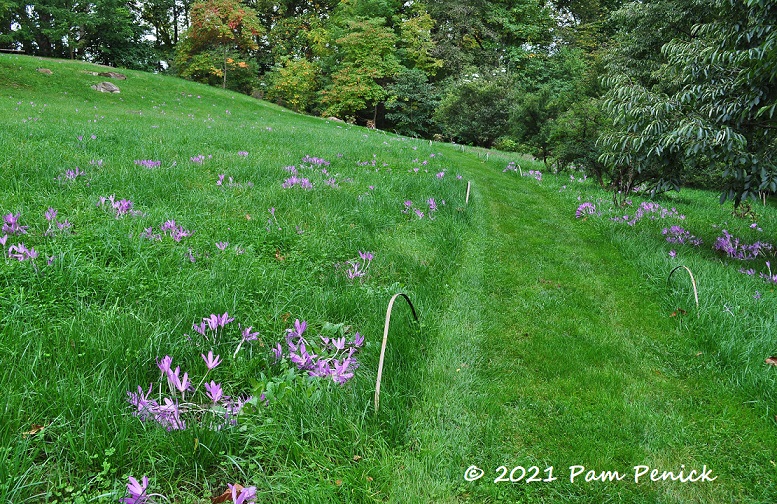 Every passage at Chanticleer is a worthy destination.
Asian Woods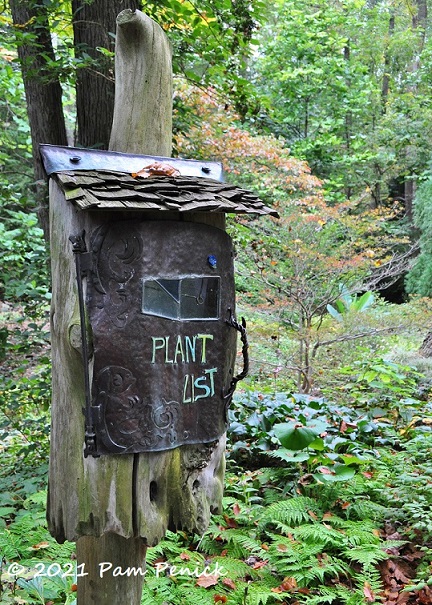 Chanticleer's staff famously crafts, during the off-season, useful yet whimsical objects like their plant list boxes. No obtrusive plant labels stuck in the ground here — thank goodness! But who doesn't want to know the ID of a plant now and then? Voila! The plant list box.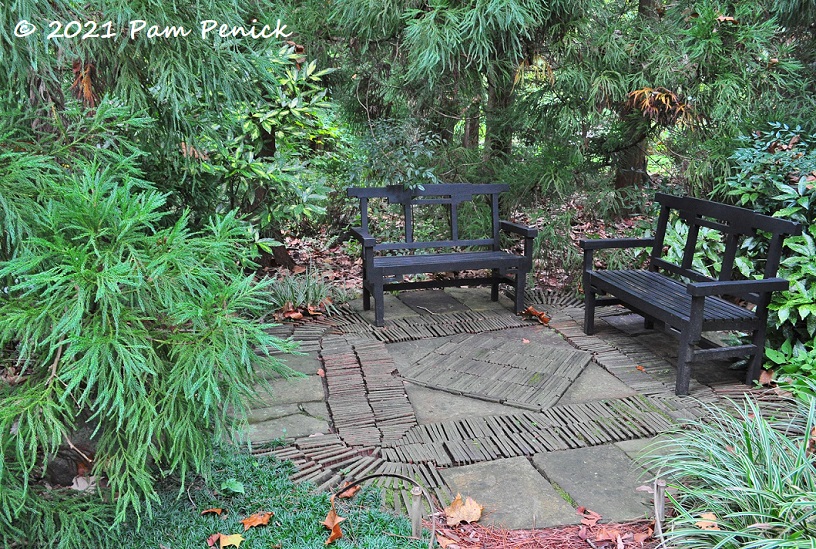 After the dramatic curves of the Serpentine and flowers-in-your-face of the elevated walkway, the contemplative Asian Woods garden is a rest for the eyes. The drama often shows up in paving patterns instead.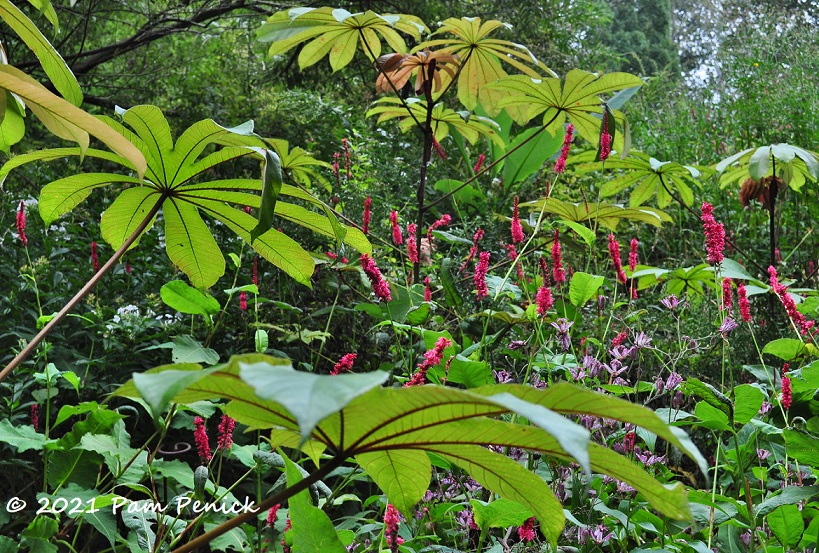 "Asian Woods presents the east Asian flora in the style of a woodland garden. Its peak time arguably is spring when epimediums, fairybells, jack-in-the-pulpits, and primroses burst into bloom with the new shoots of hostas, irises, and Chinese gingers. Non-invasive honeysuckles and climbing hydrangeas are encouraged to scale the tree trunks, and bamboos help screen the road from public view. A modest moss garden is a nod to the Japanese tradition. In summer, Asian Woods is a shady refuge that highlights the pleasure of gardening in cool conditions," explains the website.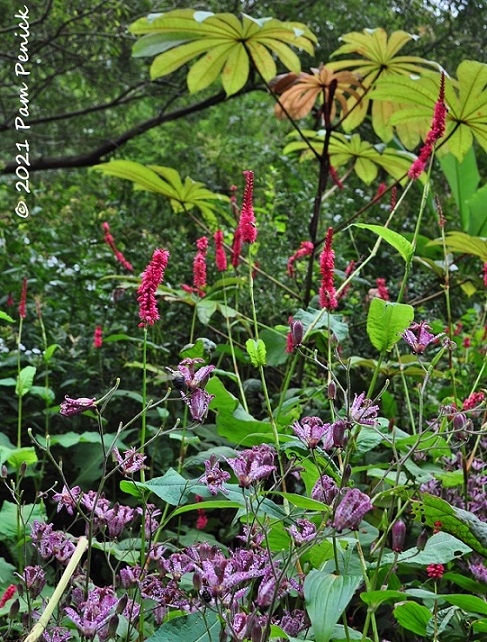 Another gorgeous combo with purple toad lily, one of my wish-I-could-grow-it plants.
Pond Garden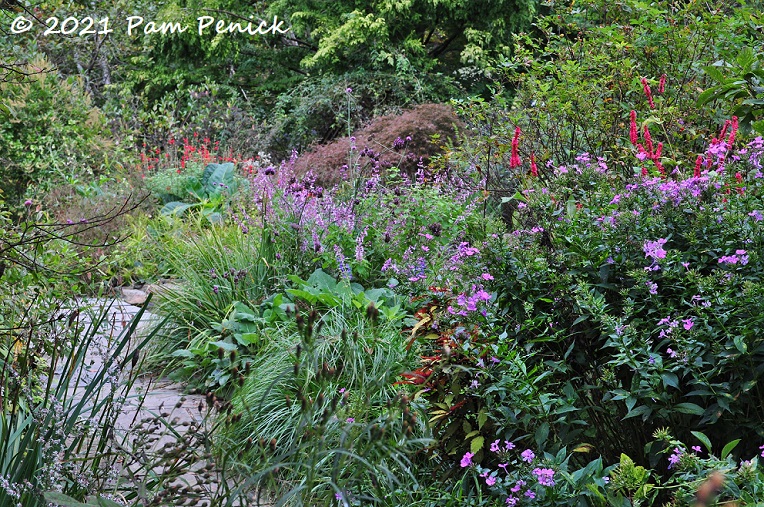 And now we're transitioning back into sun and color…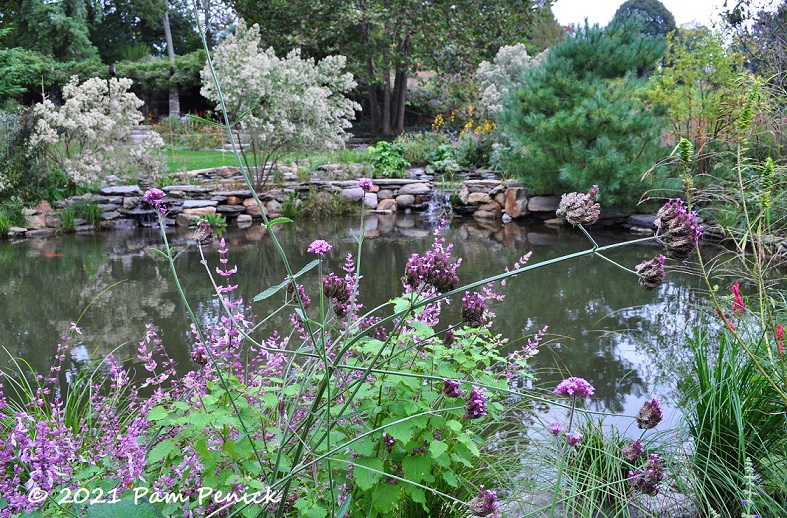 …and water! A large koi pond encircled by lush plantings attracts wildlife and human visitors.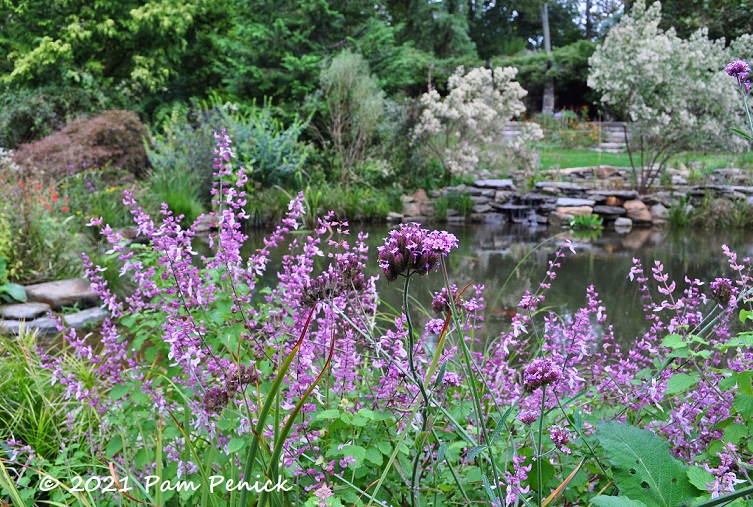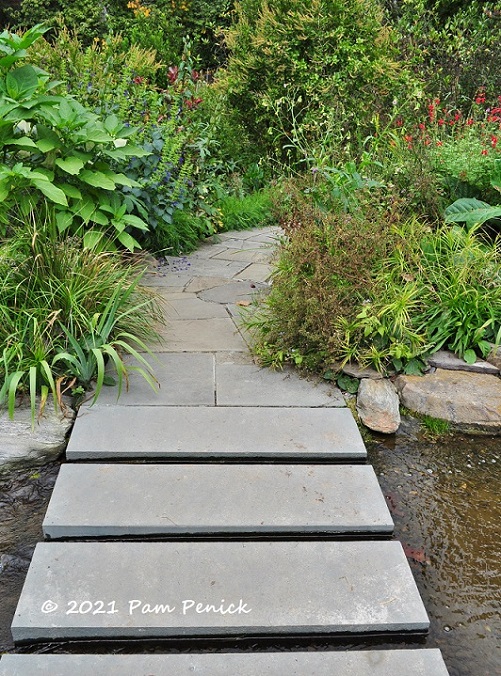 "Floating" pavers cross at narrow spots, and then you're immersed in pressing plants again.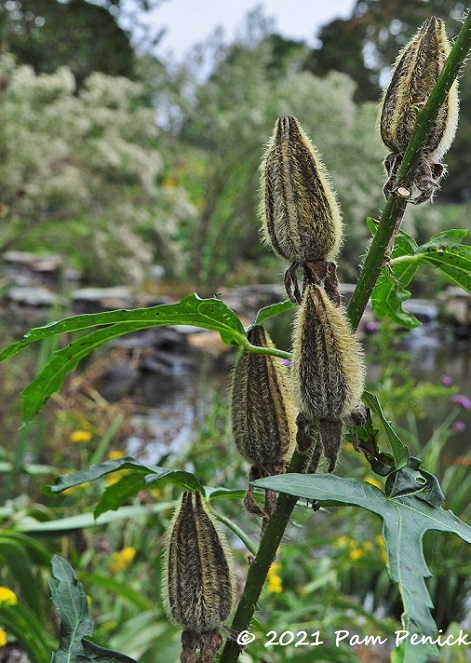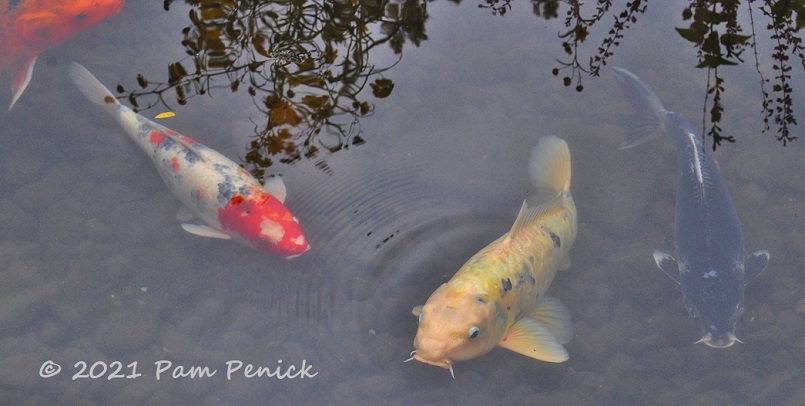 Koi swam over to say hello. I later read they get fed every afternoon by staff, and it can be quite a spectacle.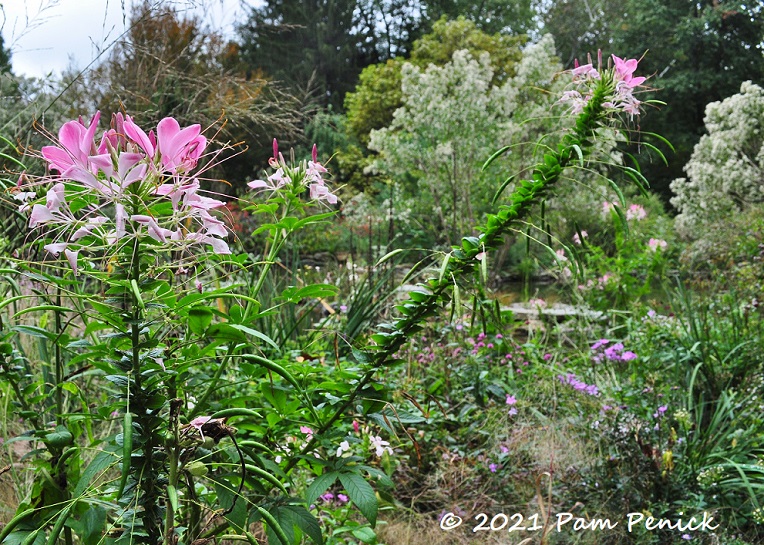 Just beyond the pond, a pair of…leopard Adirondacks? Catty fun!
Pergola overlook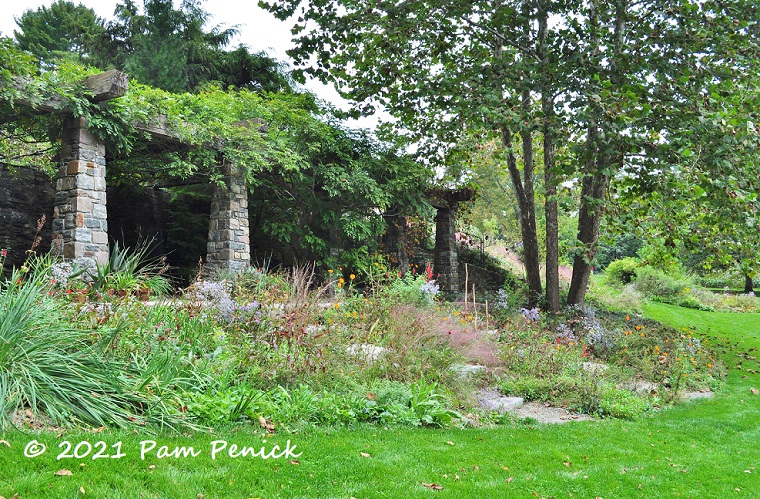 Up a few steps, a stone-pillared, vine-roofed pergola overlooks the pond.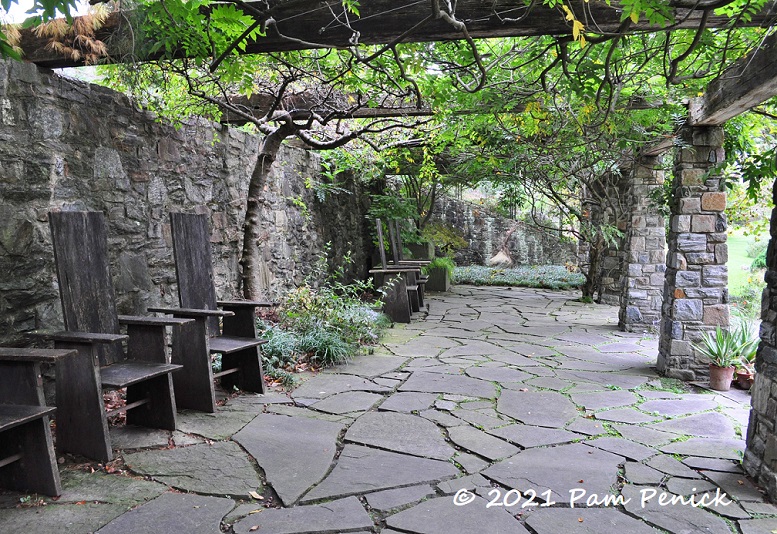 The tall-backed chairs always remind me of thrones. The stone and thrones impart a sense of history and age.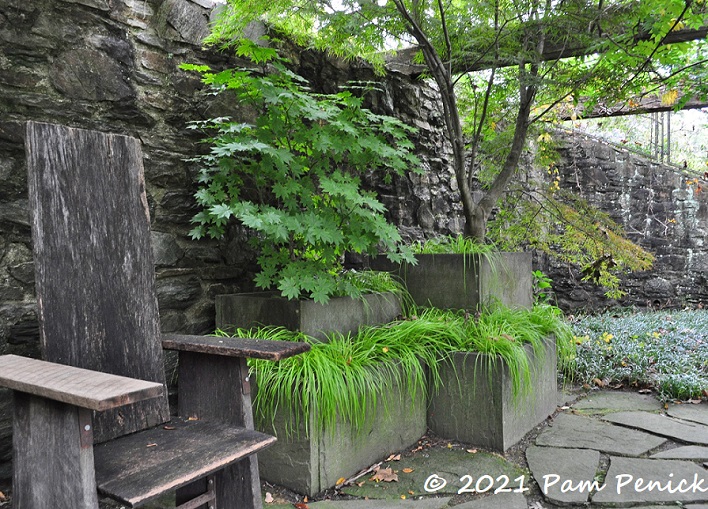 But rectangular planters add a contemporary note.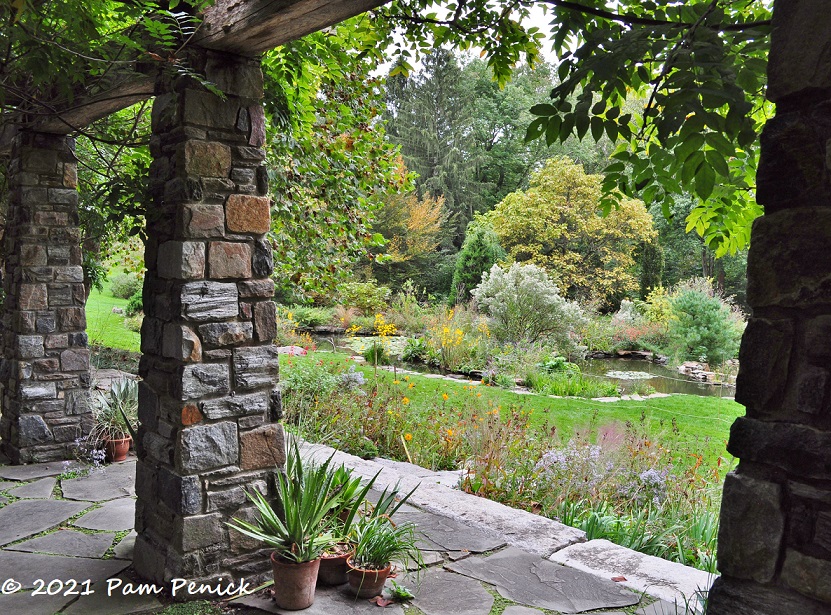 The autumnal pond view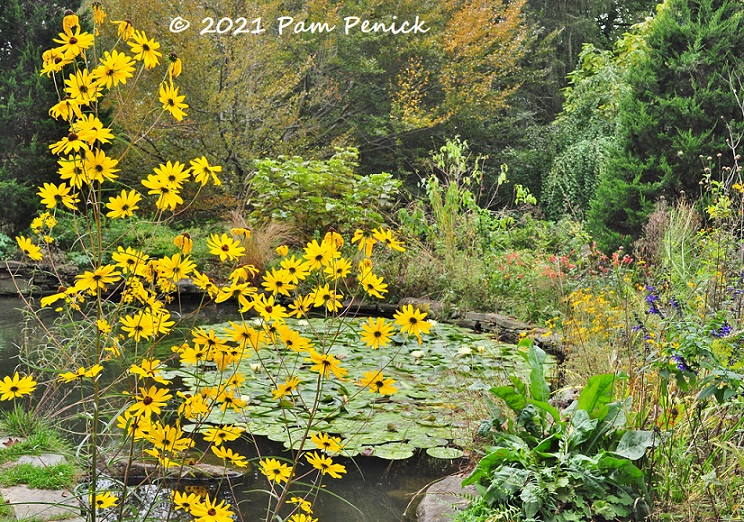 Next up: The Creek Garden, Bell's Woodland, and the cutting/vegetable garden at Chanticleer — and my final post in the series. For a look back at the unconventional Chanticleer House garden, click here.
I welcome your comments. Please scroll to the end of this post to leave one. If you're reading in an email, click here to visit Digging and find the comment box at the end of each post. And hey, did someone forward this email to you, and you want to subscribe? Click here to get Digging delivered directly to your inbox!
_______________________
Digging Deeper
Need design help with your yard? Hire me as your personal garden coach! Maybe you need replacement plant ideas after the big freeze. Or maybe your landscaping has grown tired, and you want fresh curb appeal. Or perhaps you're ready to get rid of some lawn and create a pollinator garden, bird habitat, or hangout space for you and your friends. I'm here to help! Contact me to let me know what's going on, and let's figure it out together. My range is Austin and suburbs within a 25-min. drive of NW Austin, but I'm flexible and can travel farther with a surcharge, so let me know where you are. Weekday morning appts. only.
Attend the John Fairey Garden's annual Budding Out Plant Sale & Festival on Saturday, March 19 in Hempstead. Rare and distinctive plants from the garden's nursery and other vendors will be available, plus art, ceramics, jewelry, food, music, and entertainment for the whole family. Open 10 am to 4 pm. Members get first dibsat the plant sale with 9 am entry (memberships available at the gate). Check the webpage for a continually updated vendor list.
Join the mailing list for Garden Spark! Hungry to learn about garden design from the experts? I'm hosting a series of talks by inspiring garden designers, landscape architects, and authors a few times a year in Austin. Check out the 2021-22 schedule. These are limited-attendance events that sell out quickly, so join the Garden Spark email list to be notified in advance. Simply click this link and ask to be added.
All material © 2022 by Pam Penick for Digging. Unauthorized reproductionrohibited.
The post Every passage is a destination at Chanticleer appeared first on Digging.
Every passage is a destination at Chanticleer