Fantasy gardens at Paxson Hill Farm, part 2
February 11, 2022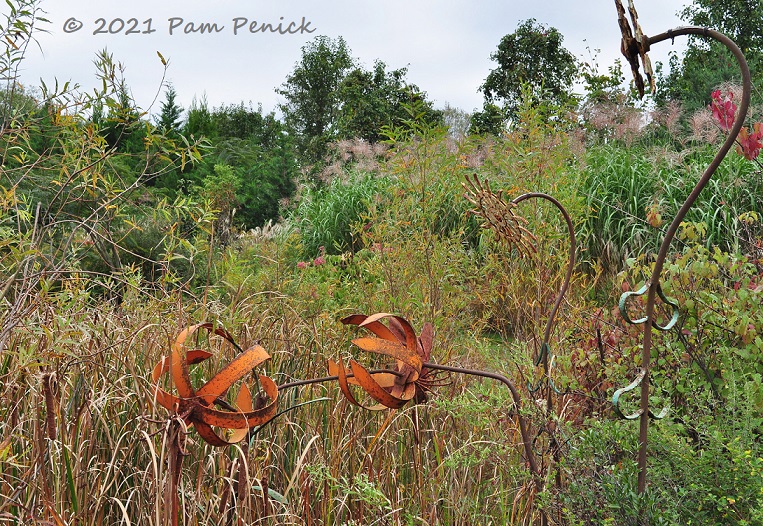 The gardens of Paxson HIll Farm, which I explored during the Pennsylvania portion of my road trip last October, started out good and got even better. In my last post I shared the farm's nursery, Shade Garden, Katsura Garden, and Temple Garden. Let's move on to a wild and woolly wetland garden.
Marsh garden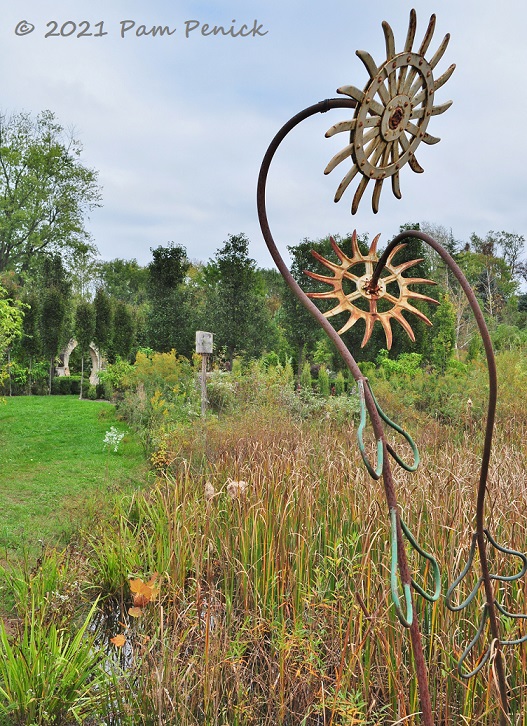 Wild-looking marsh grasses contrast mightily with the formal Temple Garden I'd just walked through. Farm relics repurposed into gigantic, goose-necked flowers add a whimsical note among the grasses.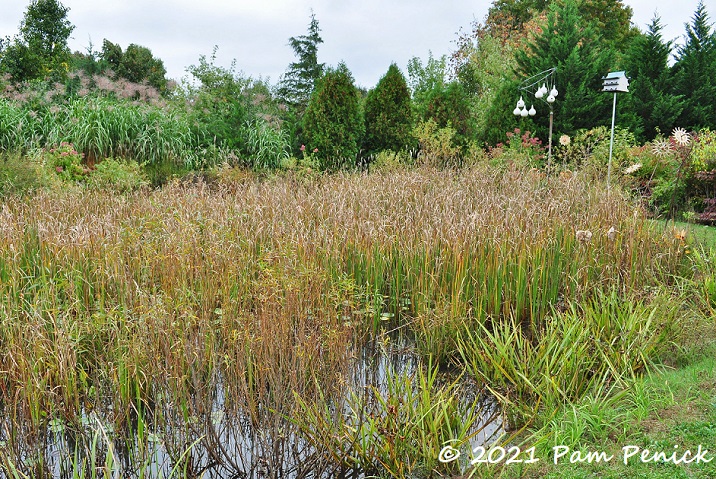 A handful of birdhouses adds to what must be good wildlife habitat.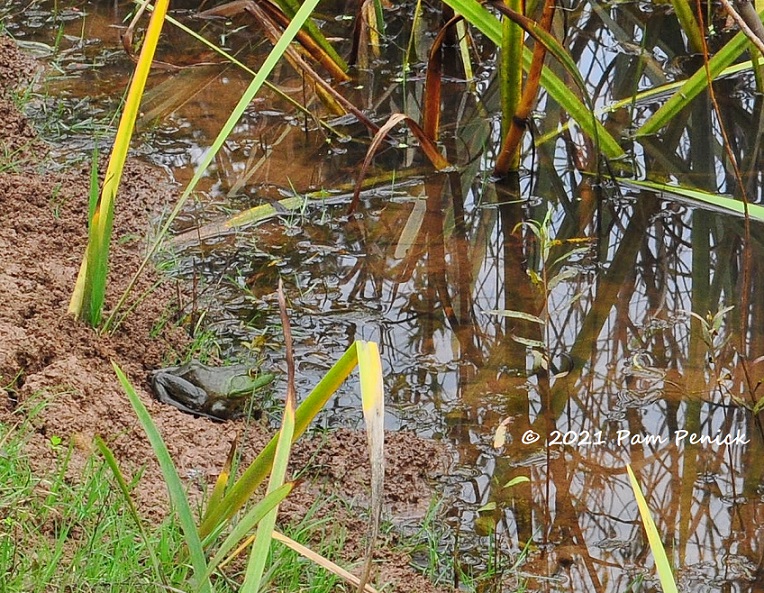 And the frogs! There were so many sunning themselves along the water's edge. As I walked around the pond, they leaped in, one by one like synchronized swimmers, making big ker-plops into the water.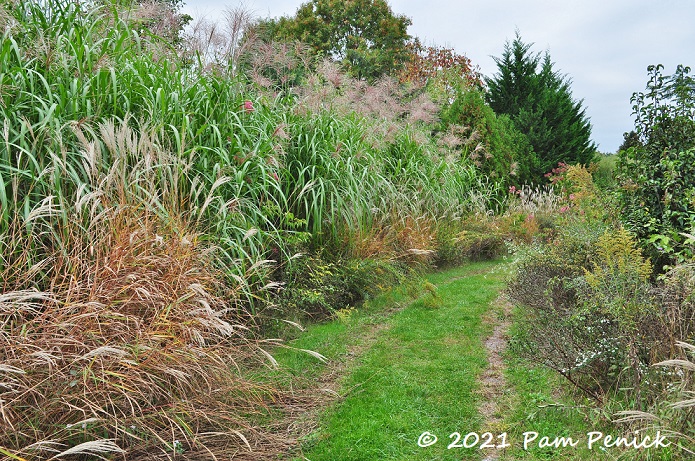 A wall of giant miscanthus grass rustled along the path.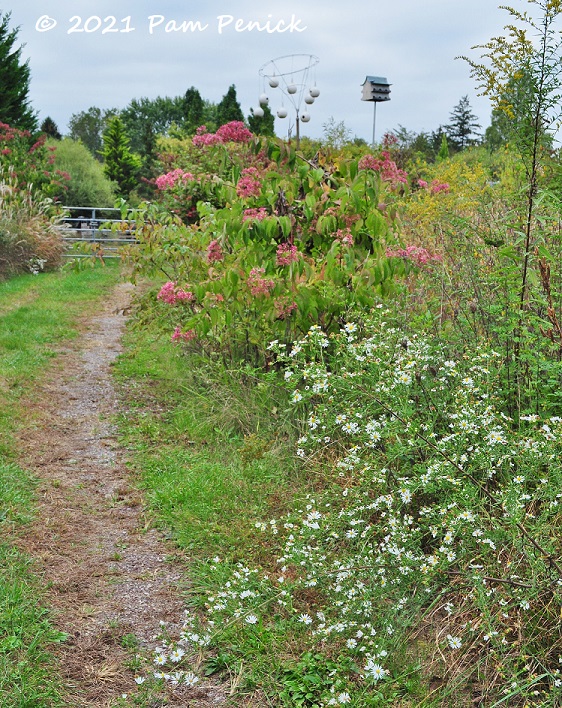 Fall flowers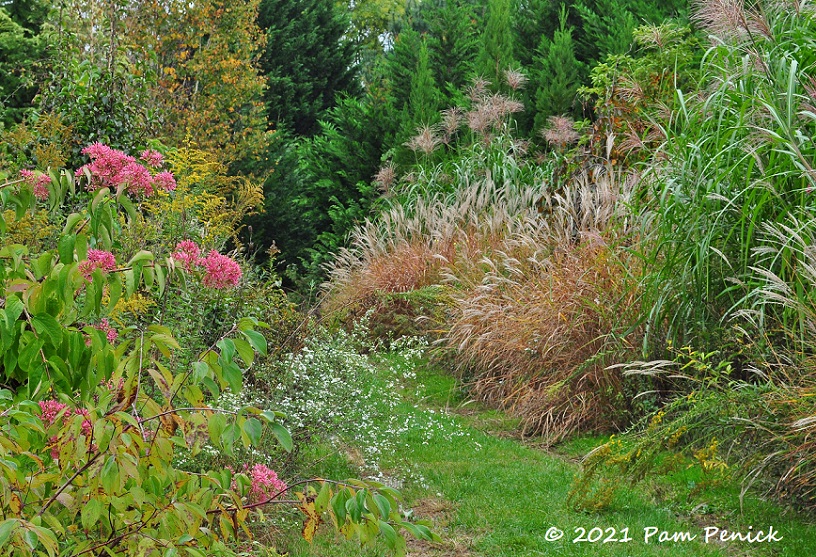 The pink and white flowers are pretty with the cinnamon-colored grasses.
Shrub border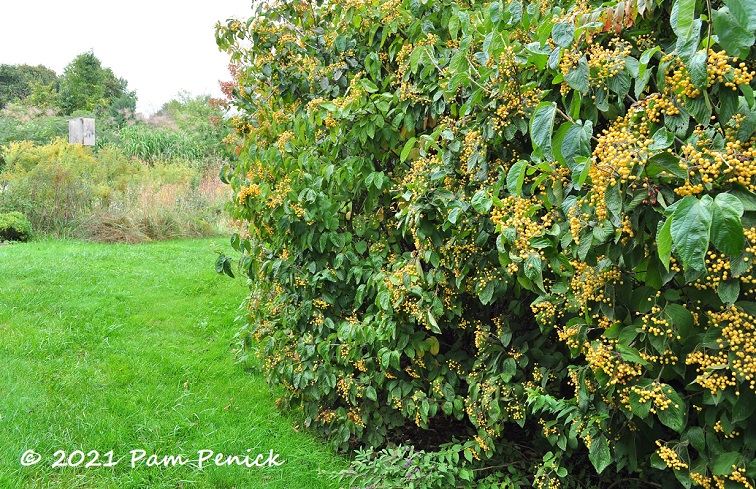 As I left the marsh, I passed berrying shrubs — one with yellow berries…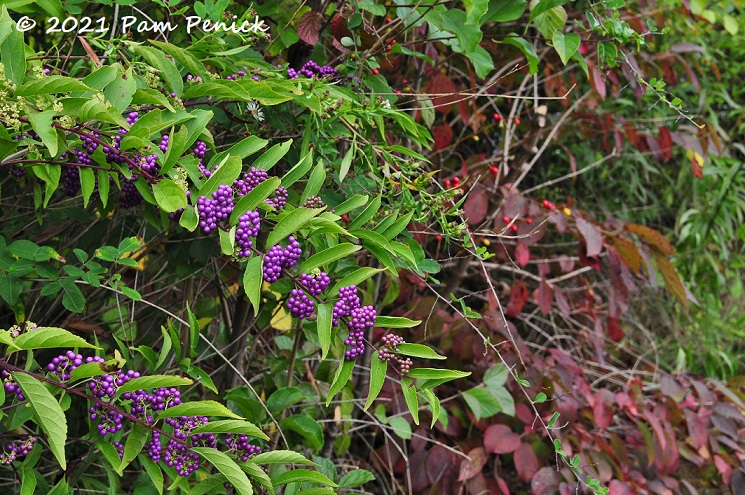 …a purple beautyberry, and another with red berries. No wonder birds love this part of the garden.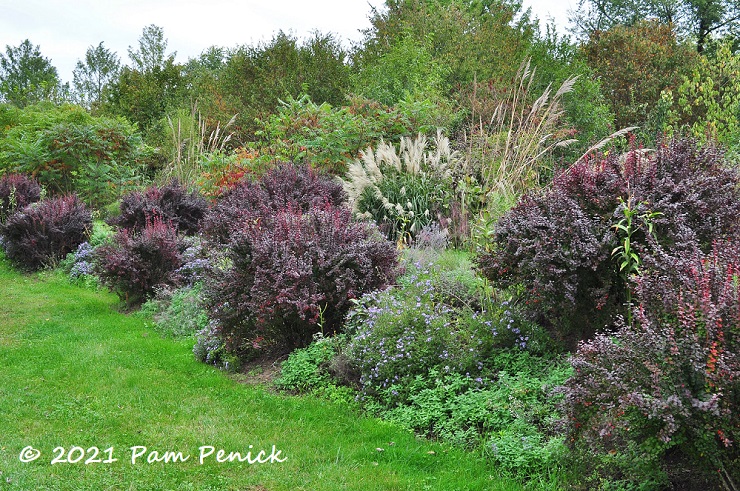 I photographed this burgundy-and-lavender border from a different angle in Part 1, but now we get a closer look. Flowering grasses add height and movement to the rhythmic planting.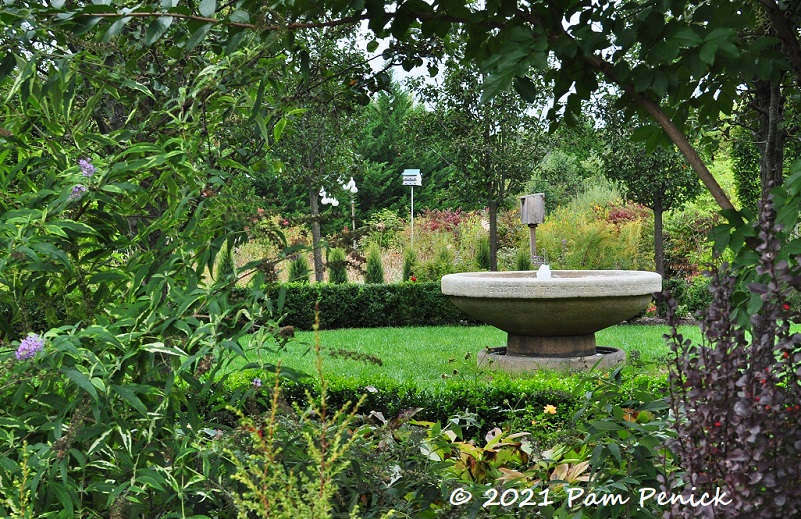 A peekaboo glimpse of the Temple Garden's fountain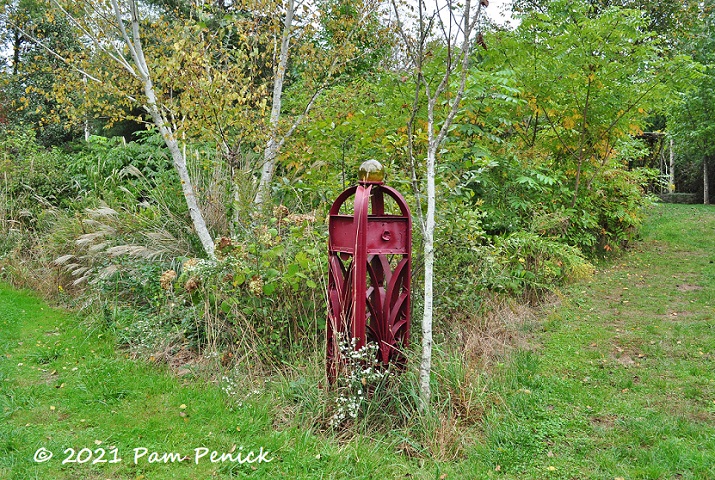 I really like how the paths are laid out in the naturalistic gardens (and in the crossroads, seen in Part 1). You're always coming upon diverging paths marked by upcycled objects like this red cupola thing, or beautiful planters, and you must choose which way to go. Where each path leads, who knows? They curve around shrubs and trees, and you can't see what lies ahead, but you are sure it will delight you.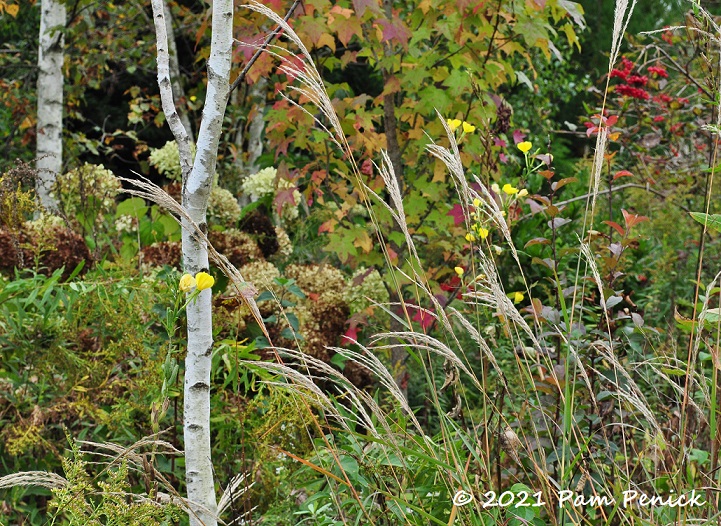 Autumn vignette
Amphitheater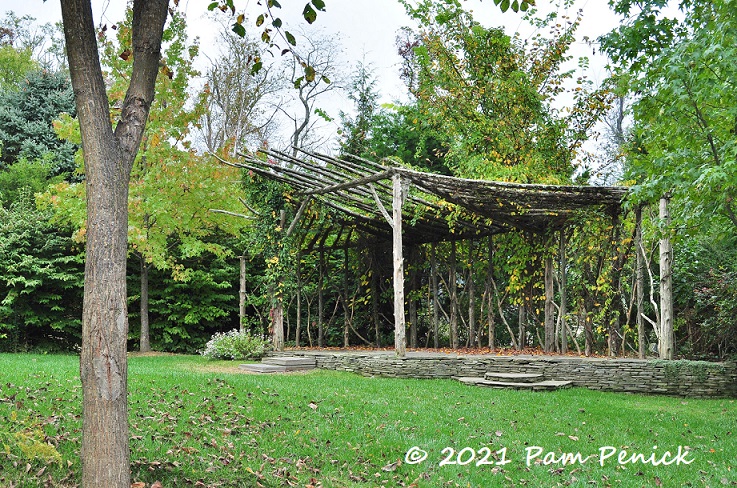 This path, it turns out, leads to an arbor-shaded stage and grassy amphitheater.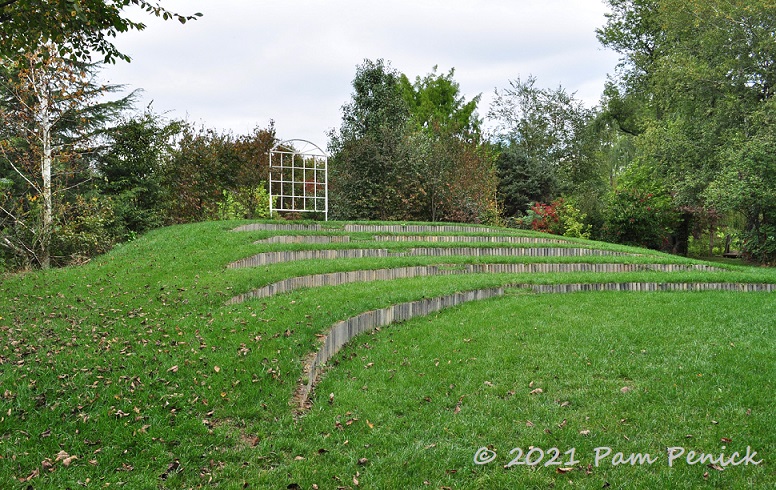 How fun would it be to see a performance here?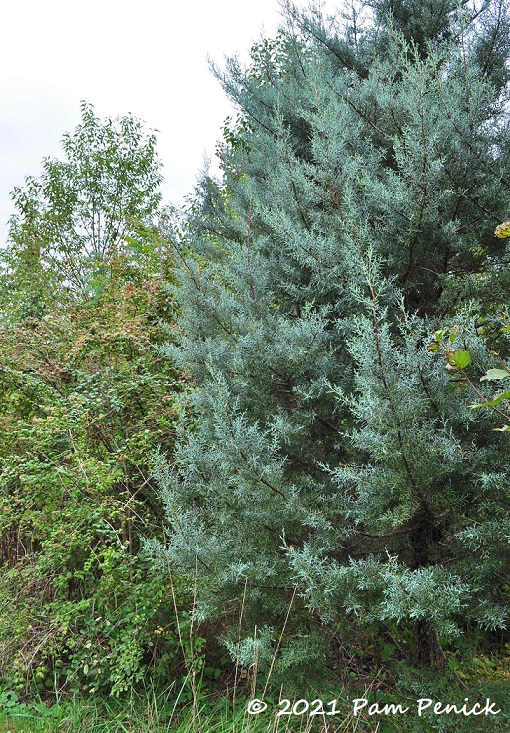 And check it out — a 'Blue Ice' Arizona cypress, I do believe. A plant from my own hot, dry garden in Texas.
Fairy woodland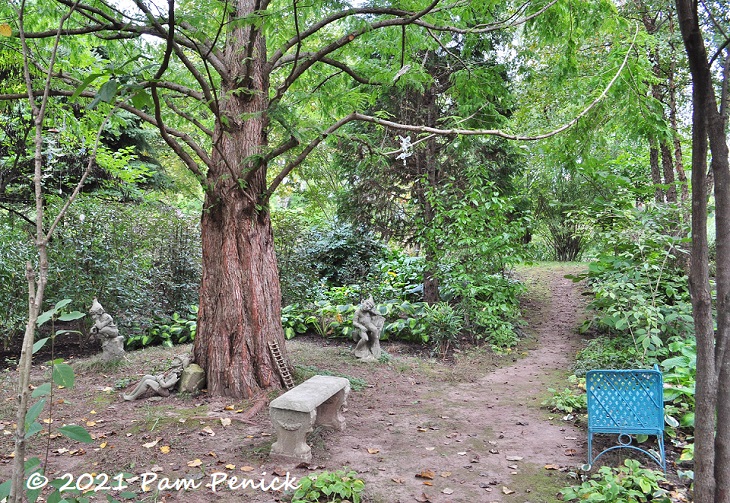 Paxson Hill's owner and designer, Bruce Gangawer, planted every tree on this 30-acre farmland, I read. Some of the trees are quite large, and along this woodland path, fairies make themselves at home, or so it seems.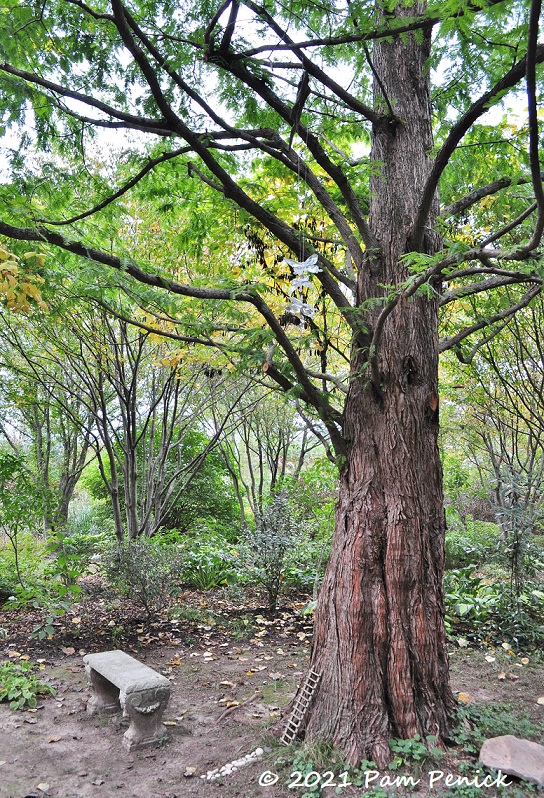 A white pebble path leads to a tiny ladder, and in the branches above, fairies may be flitting about.
Never Never Land swamp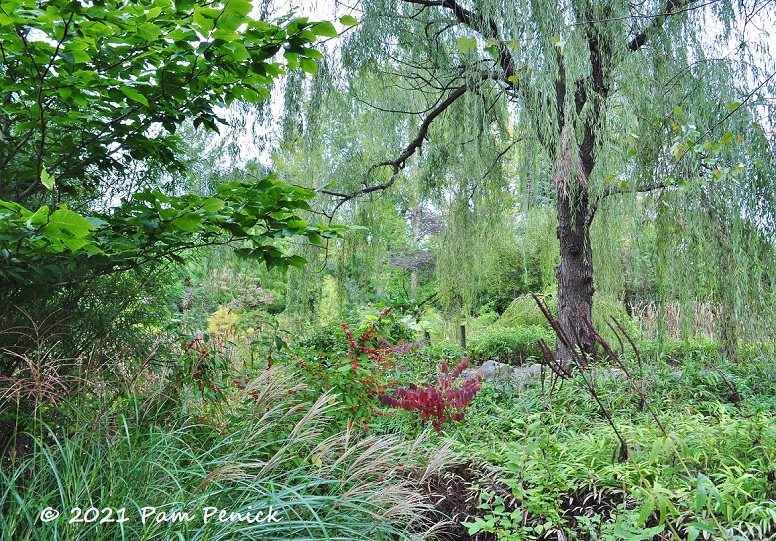 Just ahead in a clearing, rising from a swamp lush with grasses and cattails, a graceful willow beckons from its own little island.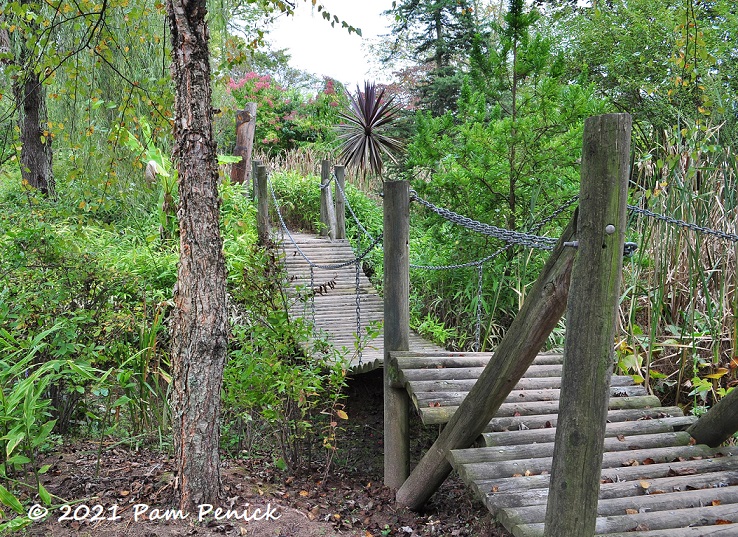 A swinging bridge of wooden posts offers playful access. It's like something out of Swiss Family Robinson.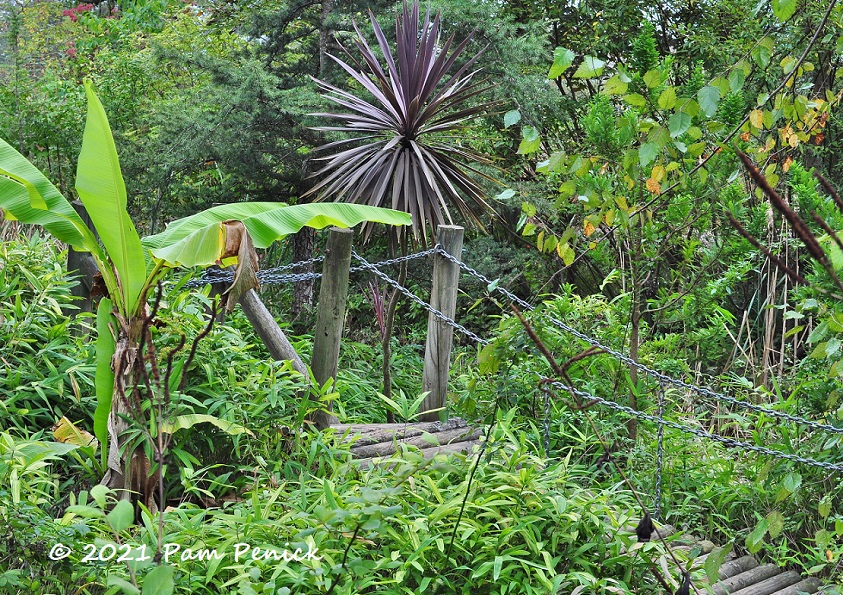 Tall purple cordylines and bananas give this garden a surprisingly tropical vibe.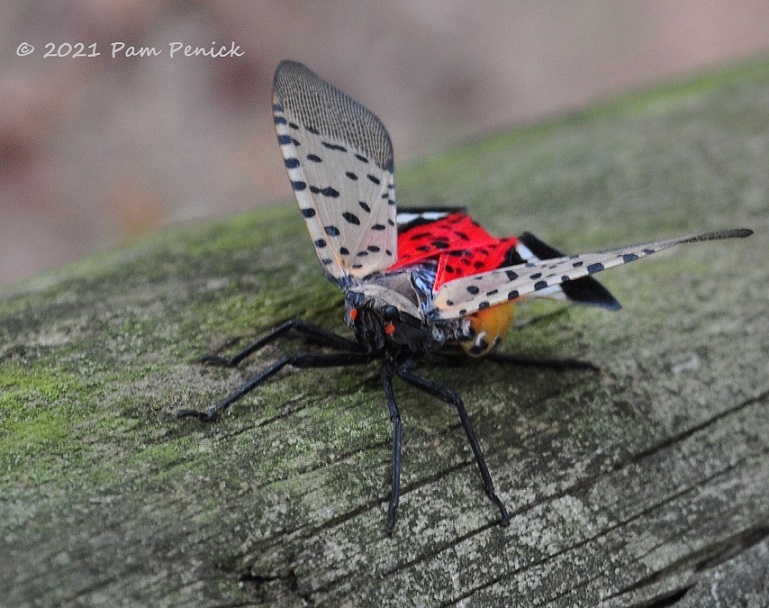 Stepping onto the bridge I saw a rather beautiful bug — but I was fairly sure it was a bad guy. In fact, James Golden had told me about it just a few days earlier. Later that evening I texted James a photo, and he confirmed: spotted lanternfly. This invasive and destructive pest from Asia was first detected in Pennsylvania in 2014 and has now spread to 11 states.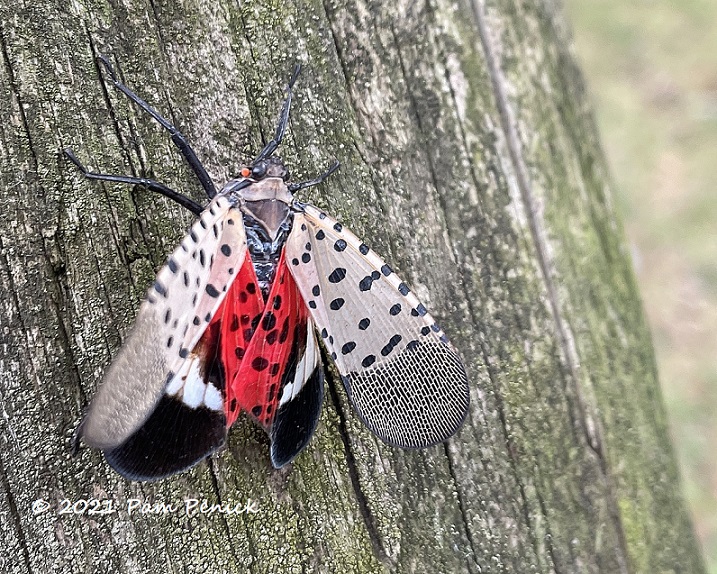 Spotted lanternfly feeds on the sap of trees and other plants. It can be spread long distances when its egg cases, laid in autumn, hitch a ride on materials being transported or on vehicles themselves. If I'd been sure when I saw this one, I'd have squashed it, which is the recommended (and urged) action, according to the Pennsylvania Department of Agriculture:
If you see a spotted lanternfly, it's imperative to immediately report it online or via phone by calling 1-888-4BADFLY.  Especially if you are not inside the quarantine zone. What else? Kill it! Squash it, smash it…just get rid of it. In the fall, these bugs will lay egg masses with 30-50 eggs each. These are called bad bugs for a reason, don't let them take over your county next.
Not to dwell on a garden pest, but others reading this may not know and should. So squash this bad boy or girl when you see it, and look online to see if you should report it to your state's department of agriculture.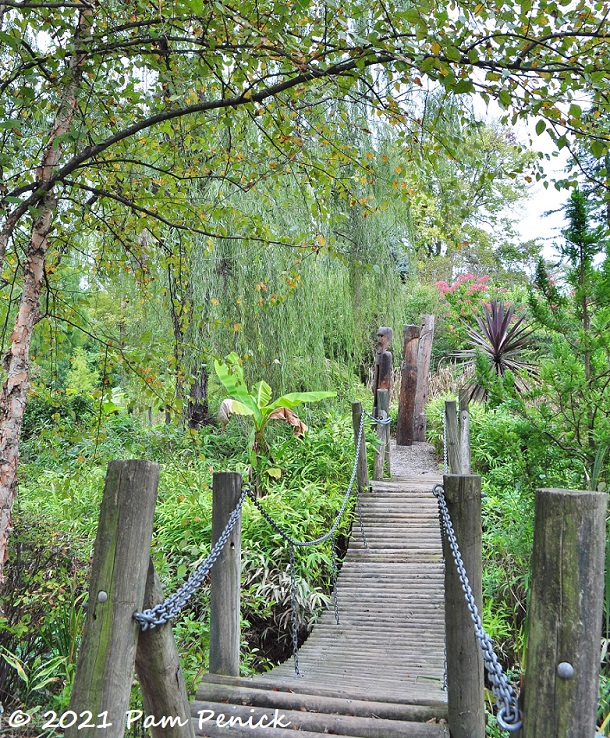 And now let's continue our tour of this exotic-feeling garden — undoubtedly the area Gangawer refers to as his Never Never Land garden. Across the swinging bridge!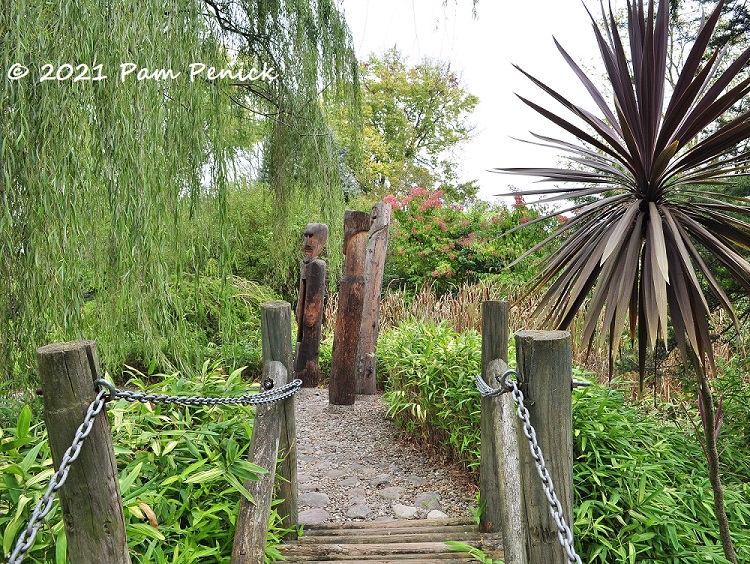 The impact of these fireworks-shaped cordylines on tall, skinny trunks was tremendous. I must have some for my garden! Am I willing to haul them into the garage during each winter freeze though? Hmm, that goes against my lower-maintenance game plan. Might be worth it though.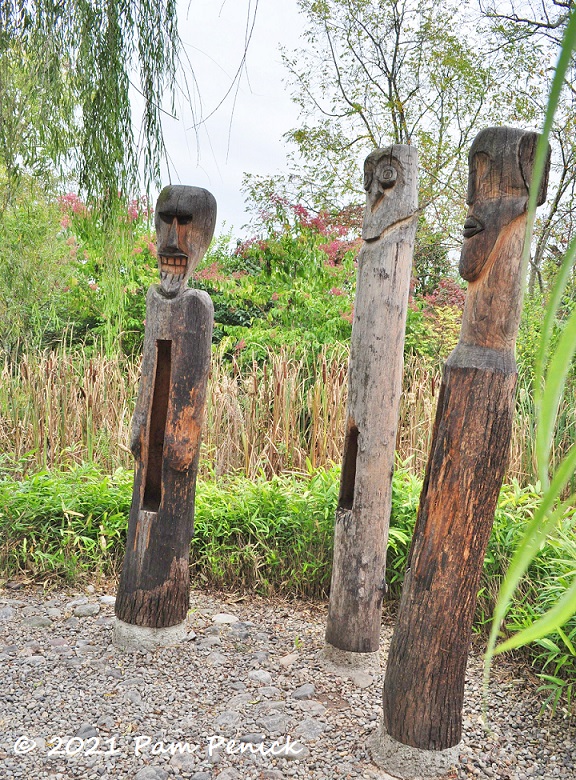 Three carved wooden figures greet you under the willow branches. I hope the natives are friendly.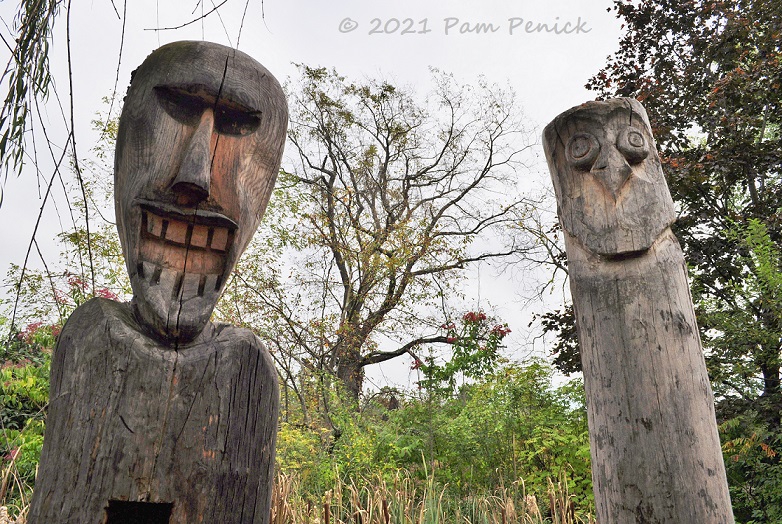 Hard to tell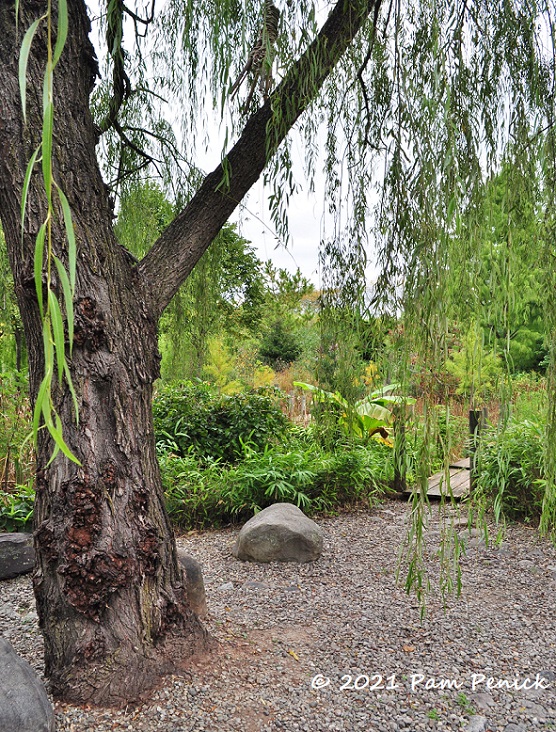 The gravel island is studded with gray boulders around the swaying willow tree. With water all around, a sheltering tree above, and those carved figures and adventurous bridges — I loved this space. I stood under the willow's canopy for a while and delighted in the fantasy-world experience. Check out a short video I made on Instagram.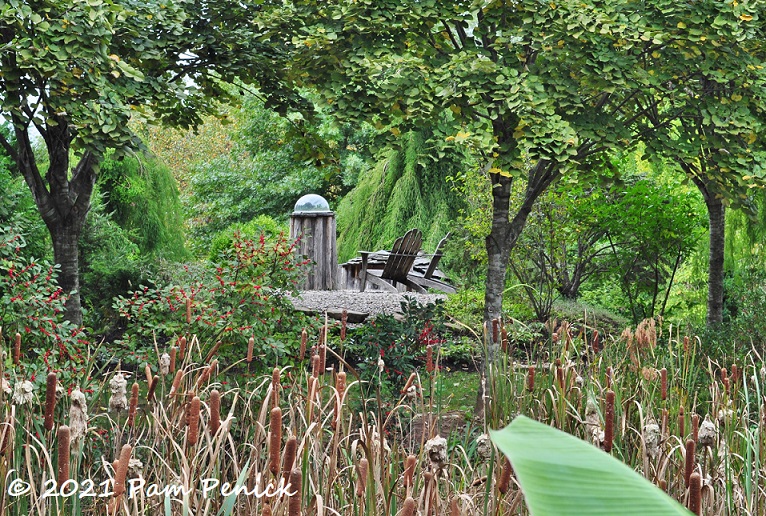 Glancing across the cattail-crowded swamp, I noticed a strange-looking structure and two chairs atop a gravel berm. How to get there?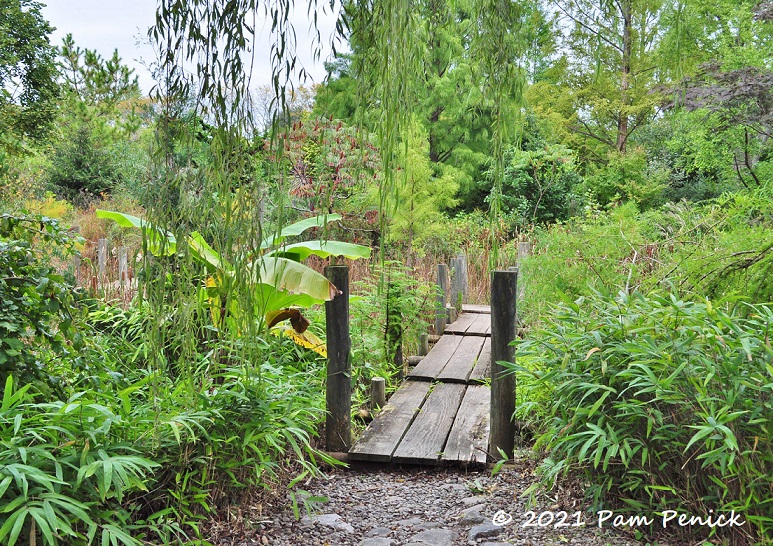 A zigzagging plank bridge leads the way off the island.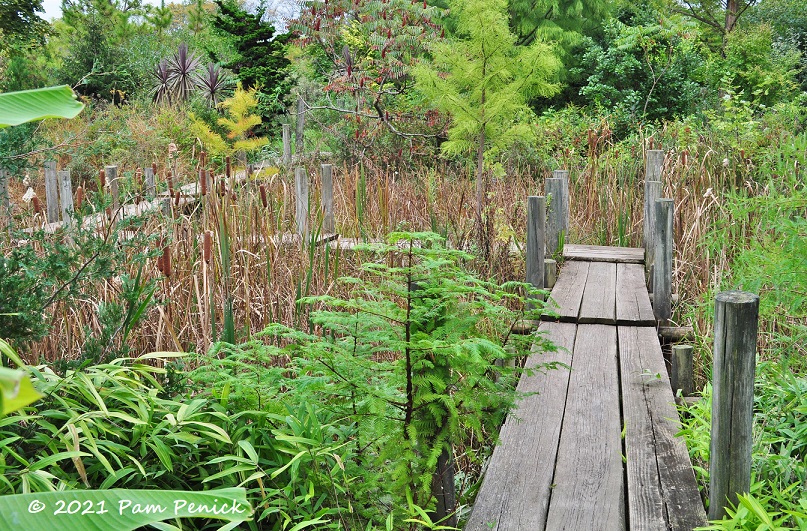 Pines and bald cypresses add feathery foliage amid the cattails. More tall purple cordylines beckon at the end of the bridge.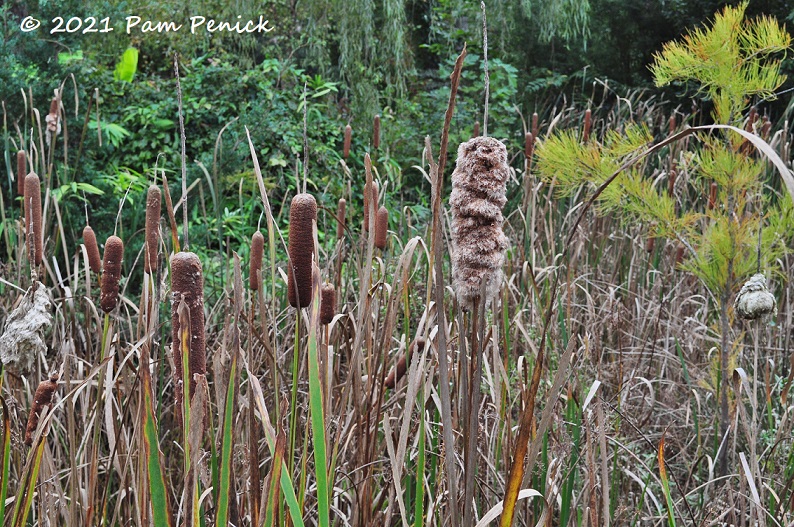 Cattails remind me of corn dogs at the state fair.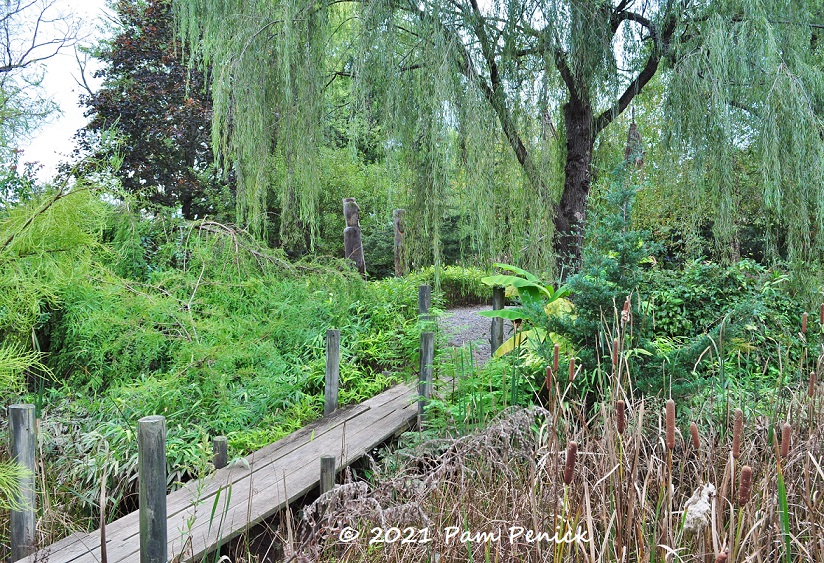 A pause to look back at the willow island
A wider view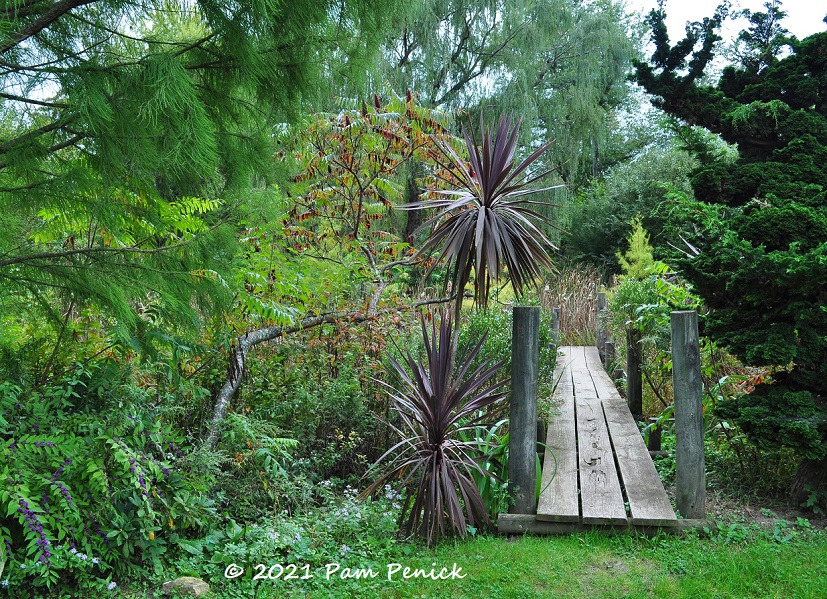 The plank bridge entrance. I'd love to go back through this garden in reverse to see everything from a new perspective.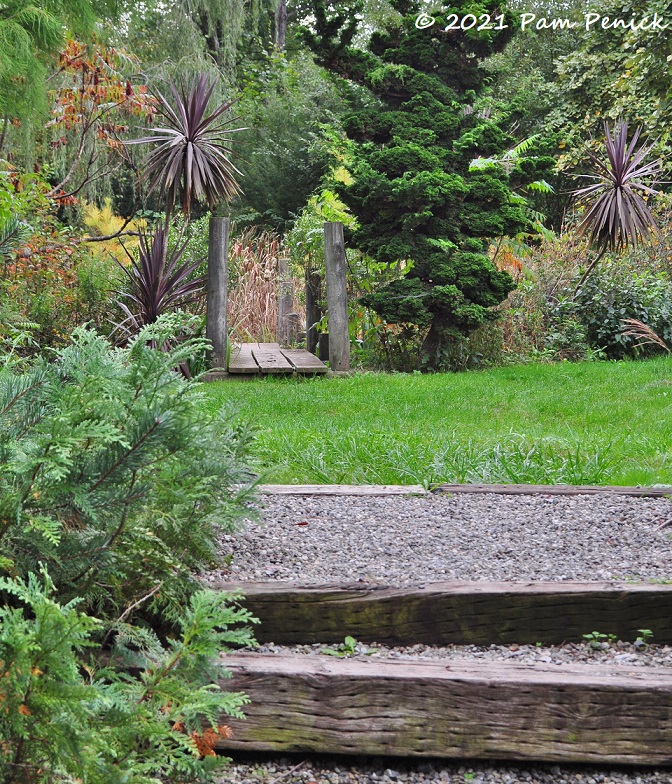 And those cordylines!
Hobbit House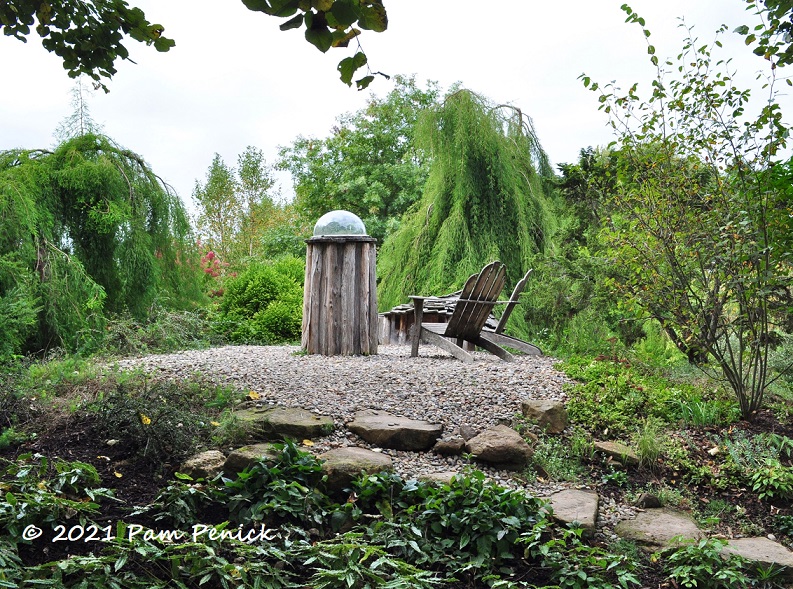 I soon found the berm with the chairs and strange domed object and climbed up to look. The clear bubble top is a skylight for a cave-like space below. That's intriguing!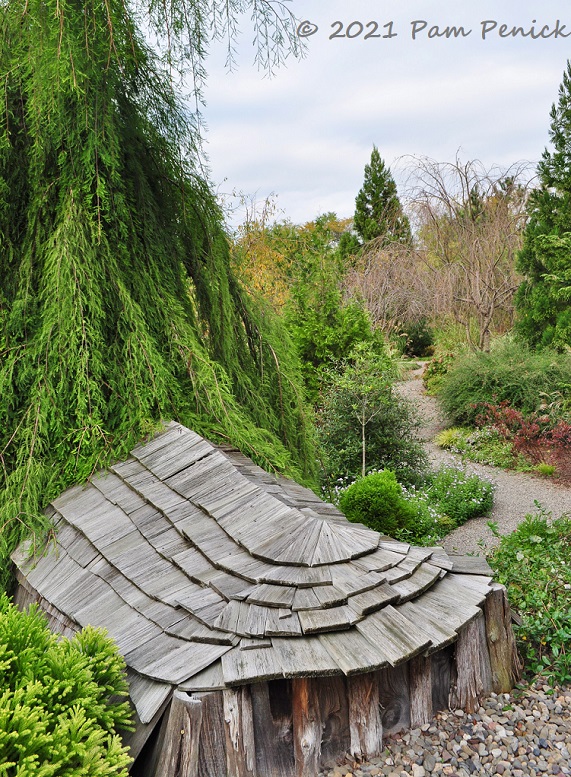 Below the berm, a wood-shingled structure shelters under a tall weeping tree.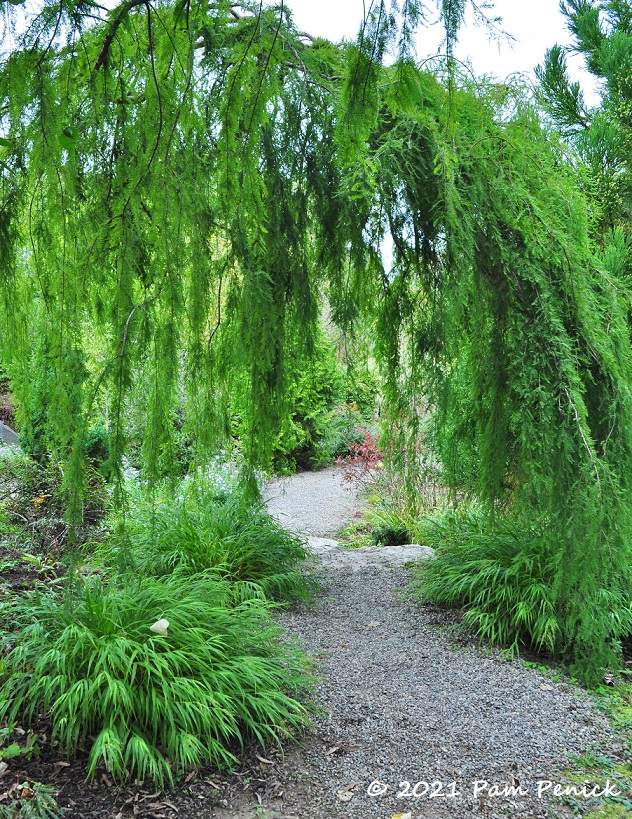 The path down there is magical, lined with fluffy Japanese forest grass, with an arch of weeping tree foliage overhead.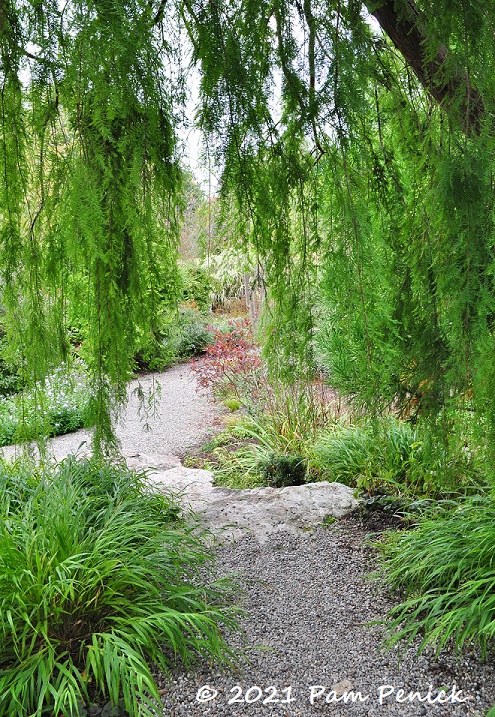 Under the canopy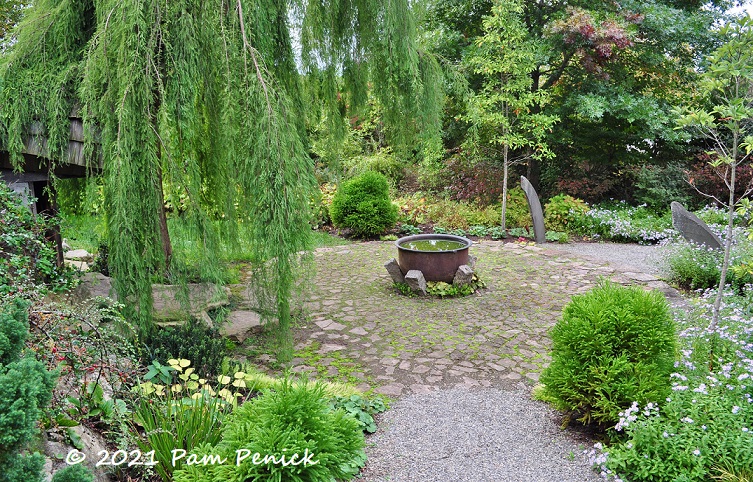 Ahead a circular stone patio with a cauldron vessel of water invites you into another creative space.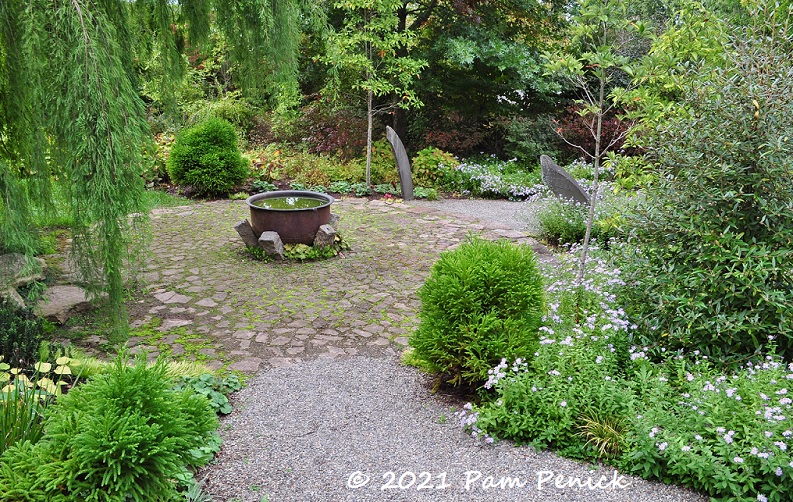 Stone half-arches mark a path on the far side.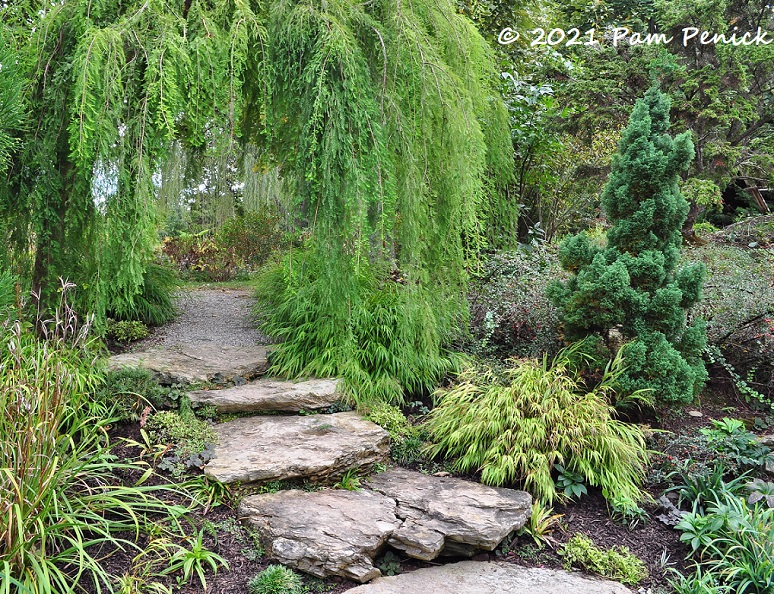 Looking back, I admired the weeping tree arch again.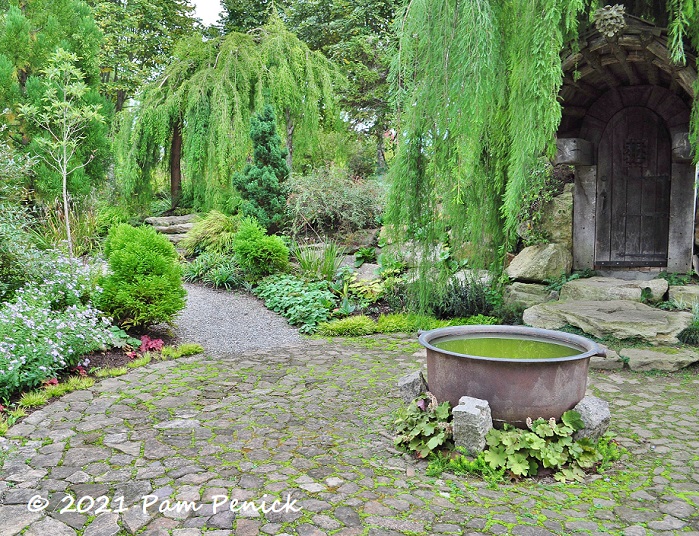 The circle felt like a place of enchantment, especially when a timber doorway appeared under the weeping branches of a tree.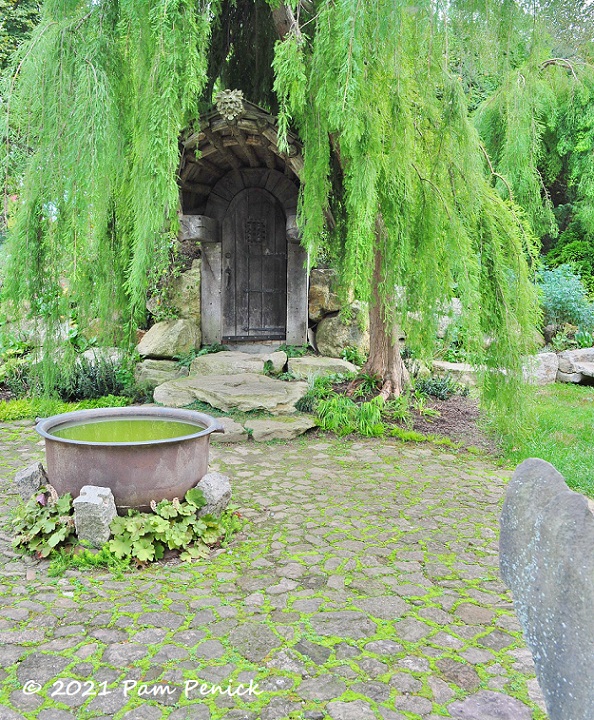 What is that, I wondered.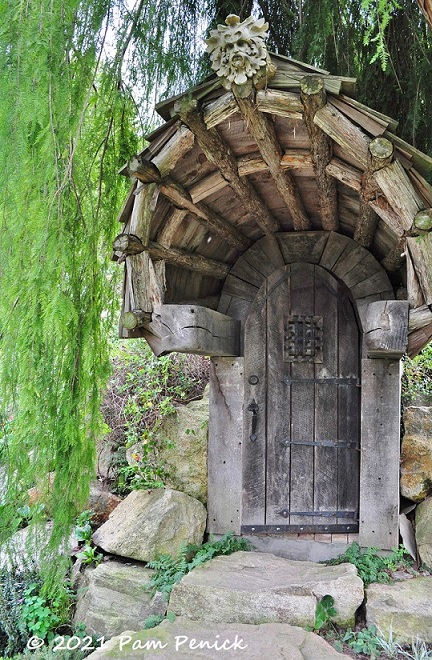 Let's try the door, especially since I see no sign declaring, No admittance except on party business.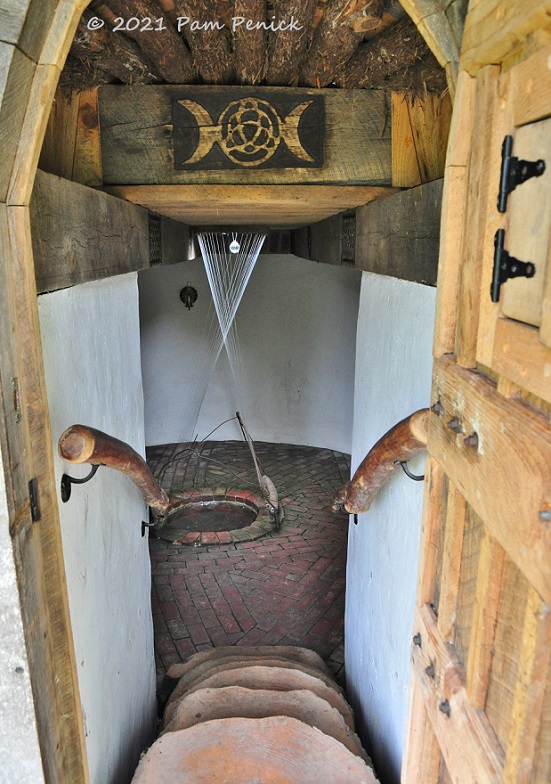 Inside, steps made of sliced logs lead into a dim cellar. Under the skylight, luminous strings make a loom-like pattern above a shallow basin in the brick floor. This, it seems, is the hobbit house.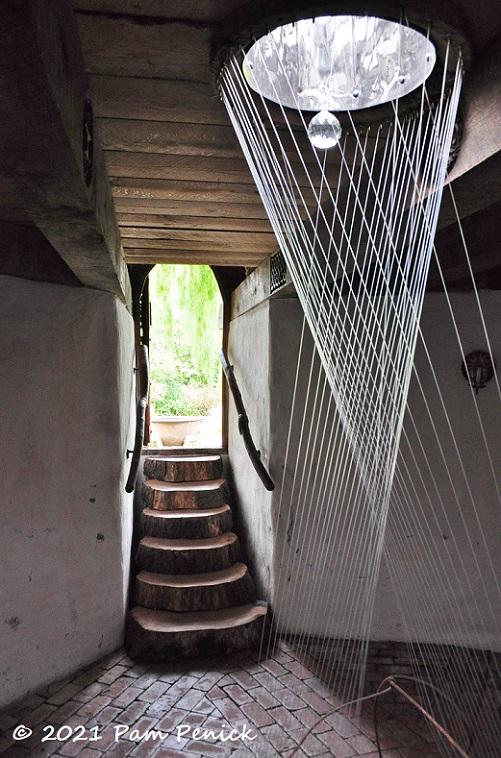 I went inside to have a look around. Sconces on the wall indicate the room can be used at night as well.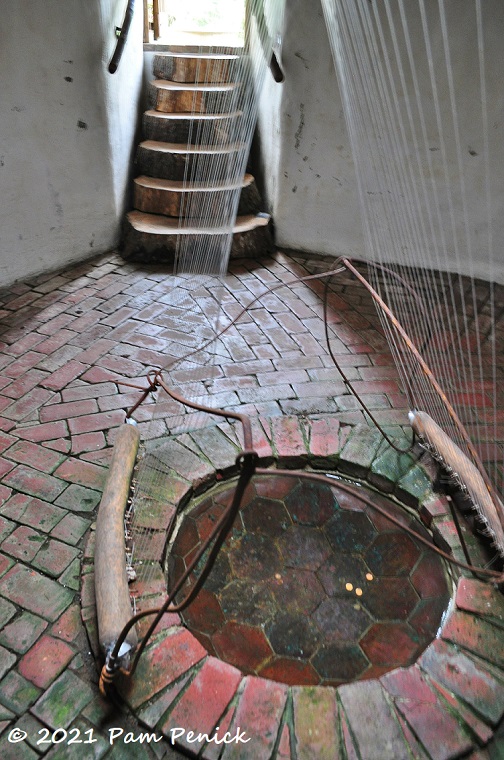 A few wishes have been made in the shallow well.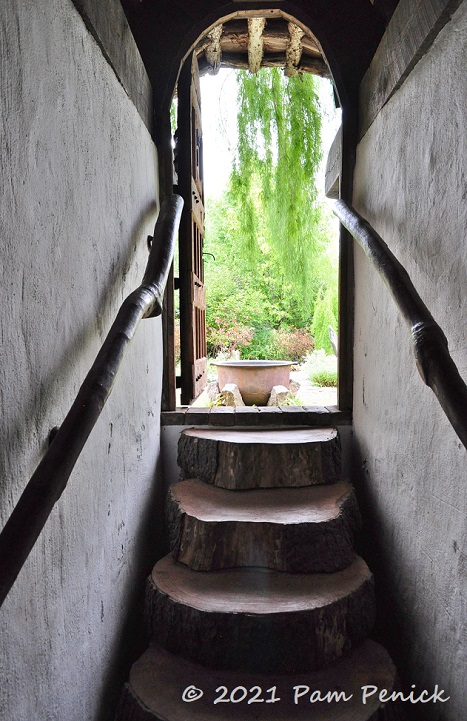 Back up and into the light. What a garden in which to set one's imagination loose!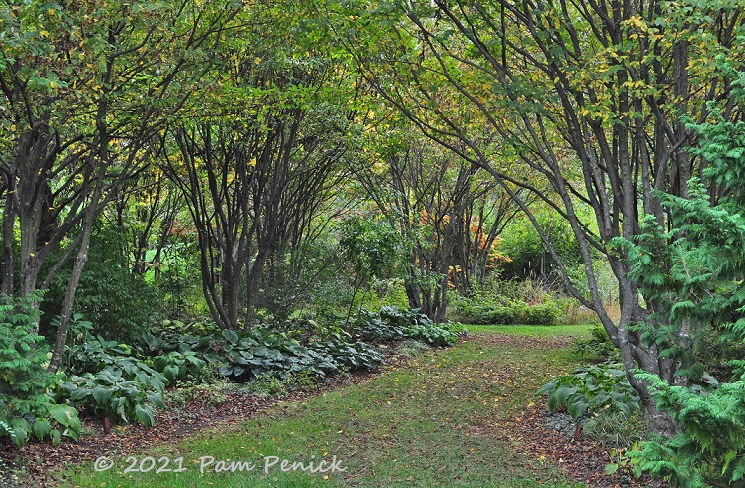 An informal allee leads back toward the woodland garden. But I turned the other way, toward the remaining gardens I hadn't yet seen. What's next? Who knows, but you can be sure it will delight you.
Up next: Part 3 of Paxson Hill Farm, including the Bridge Garden and Asian woodland. For a look back at Part 1 of my tour of Paxson Hill Farm, click here.
I welcome your comments. Please scroll to the end of this post to leave one. If you're reading in an email, click here to visit Digging and find the comment box at the end of each post. And hey, did someone forward this email to you, and you want to subscribe? Click here to get Digging delivered directly to your inbox!
_______________________
Digging Deeper
Need design help with your yard? Hire me as your personal garden coach! Maybe you need replacement plant ideas after the big freeze. Or maybe your landscaping has grown tired, and you want fresh curb appeal. Or perhaps you're ready to get rid of some lawn and create a pollinator garden, bird habitat, or hangout space for you and your friends. I'm here to help! Contact me to let me know what's going on, and let's figure it out together. My range is Austin and suburbs within a 25-min. drive of NW Austin, but I'm flexible and can travel farther with a surcharge, so let me know where you are. Weekday morning appts. only.
Attend the John Fairey Garden's annual Budding Out Plant Sale & Festival on Saturday, March 19 in Hempstead. Rare and distinctive plants from the garden's nursery and other vendors will be available, plus art, ceramics, jewelry, food, music, and entertainment for the whole family. Open 10 am to 4 pm. Members get first dibs at the plant sale with 9 am entry (memberships available at the gate). Check the webpage for a continually updated vendor list.
Join the mailing list for Garden Spark! Hungry to learn about garden design from the experts? I'm hosting a series of talks by inspiring garden designers, landscape architects, and authors a few times a year in Austin. Check out the 2021-22 schedule. These are limited-attendance events that sell out quickly, so join the Garden Spark email list to be notified in advance. Simply click this link and ask to be added.
All material © 2022 by Pam Penick for Digging. Unauthorized reproduction prohibited.
The post Fantasy gardens at Paxson Hill Farm, part 2 appeared first on Digging.
Fantasy gardens at Paxson Hill Farm, part 2