Fortlandia wrapping up at the Wildflower Center
January 10, 2022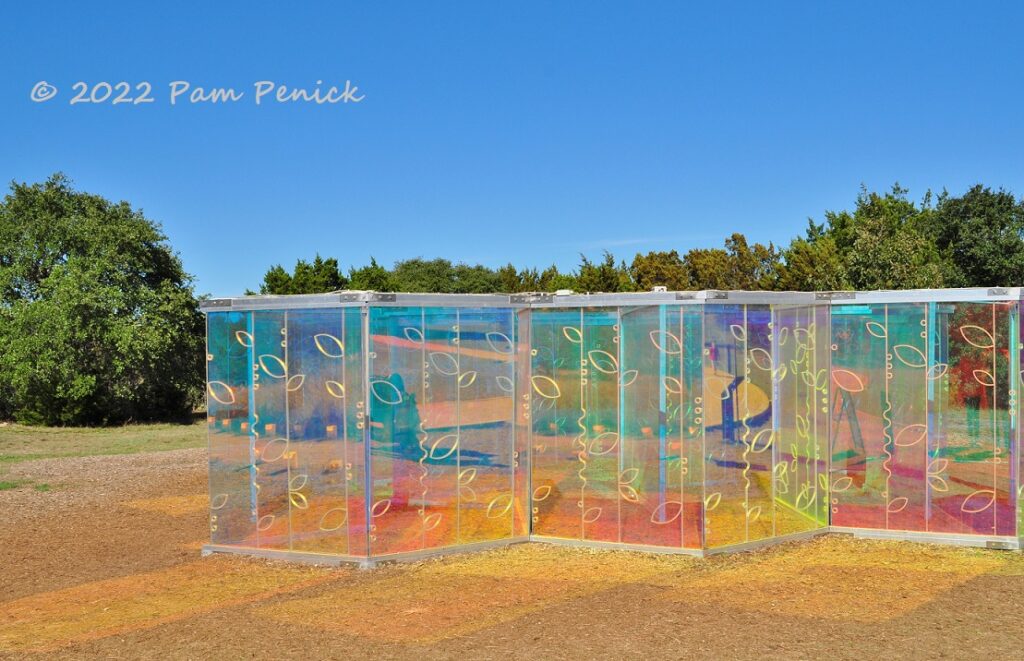 With Fortlandia ending soon at the Lady Bird Johnson Wildflower Center, my daughter and I popped over last week to check out the annual installation of creative, nature-themed, designer-made forts. This year at least one of the forts is also lit up at night as part of Luminations, the garden's winter light show, which runs through the end of January.
Silvana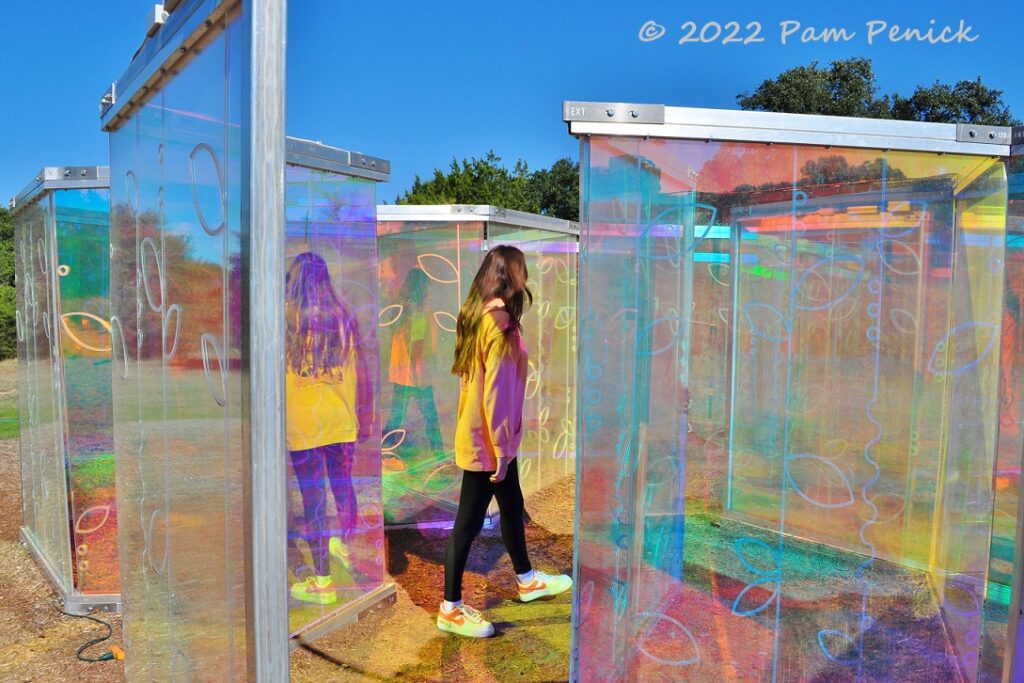 Silvana (by Ben Busche/Brut Deluxe) is my favorite for visual effect and adult fun, with rainbow-hued plexiglass panels inset with stems and leaves. Built like a funhouse maze, you roam the reflective walls and try to find your way out.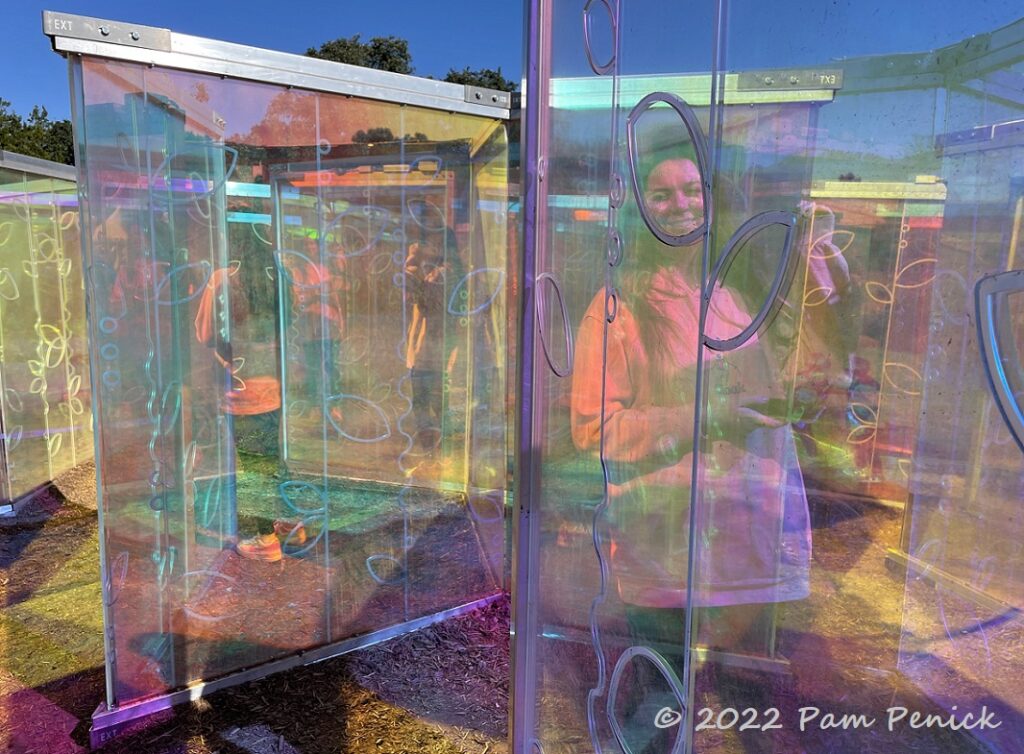 At night the structure comes to life with colored lights.
Critter Café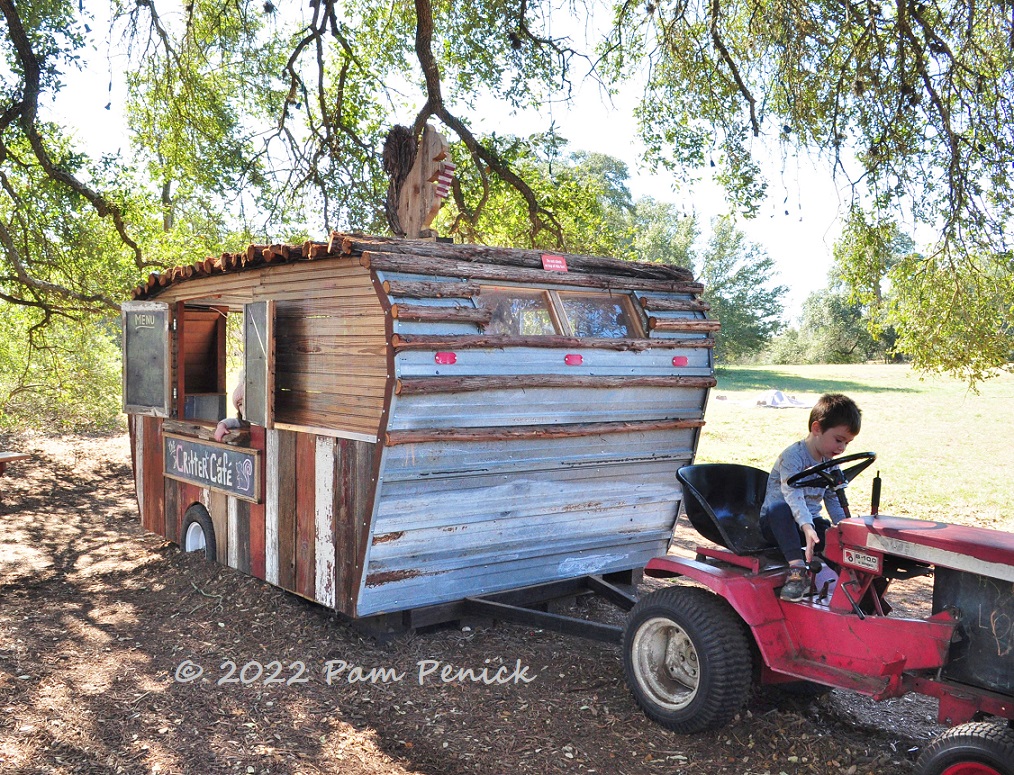 The Critter Café (by Floopalina) is a super-cute, camper-style play kitchen or food truck "pulled" by a tractor.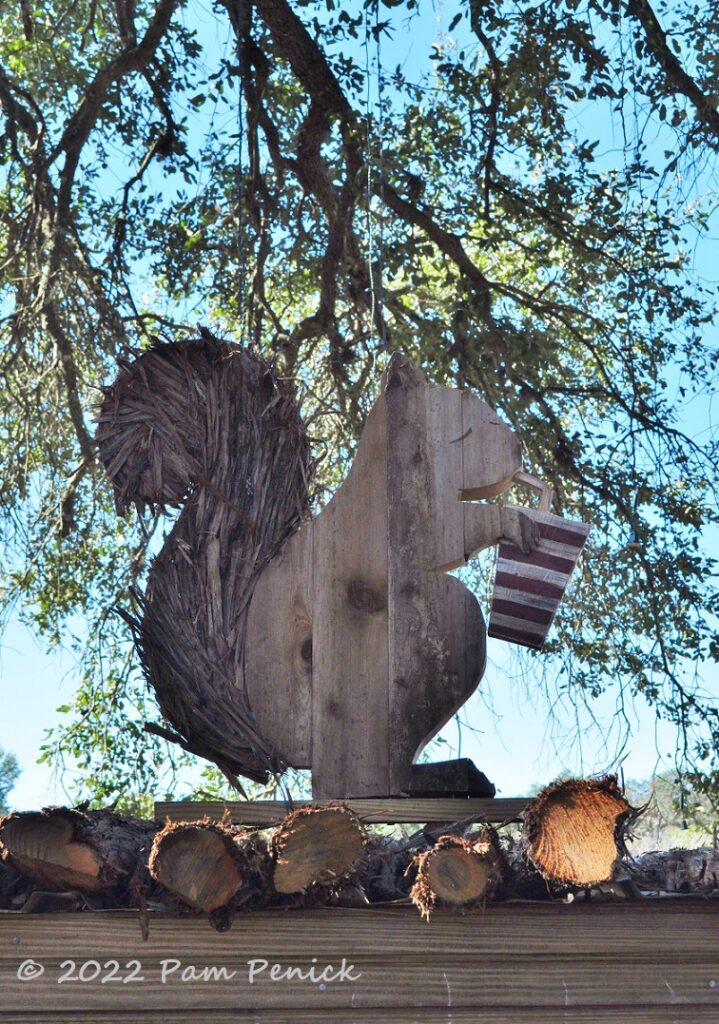 A drink-sipping squirrel perches atop the cedar-post roof, advertising the kitchen to passersby.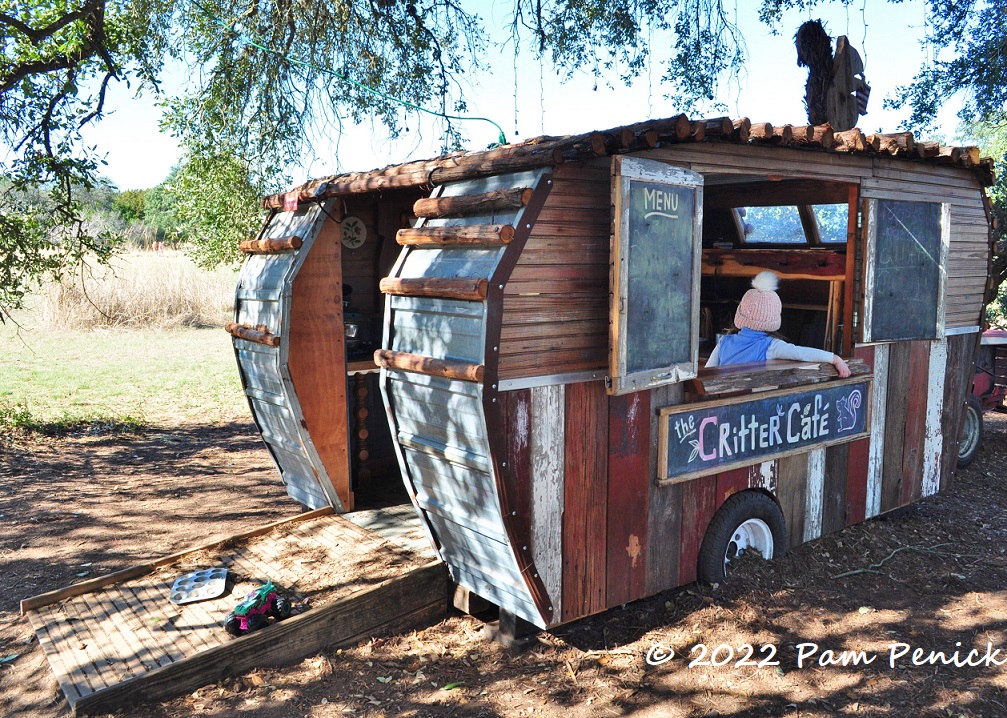 Two young girls were busy whipping up some tasty imaginary treats when we stopped by.
Critter Stack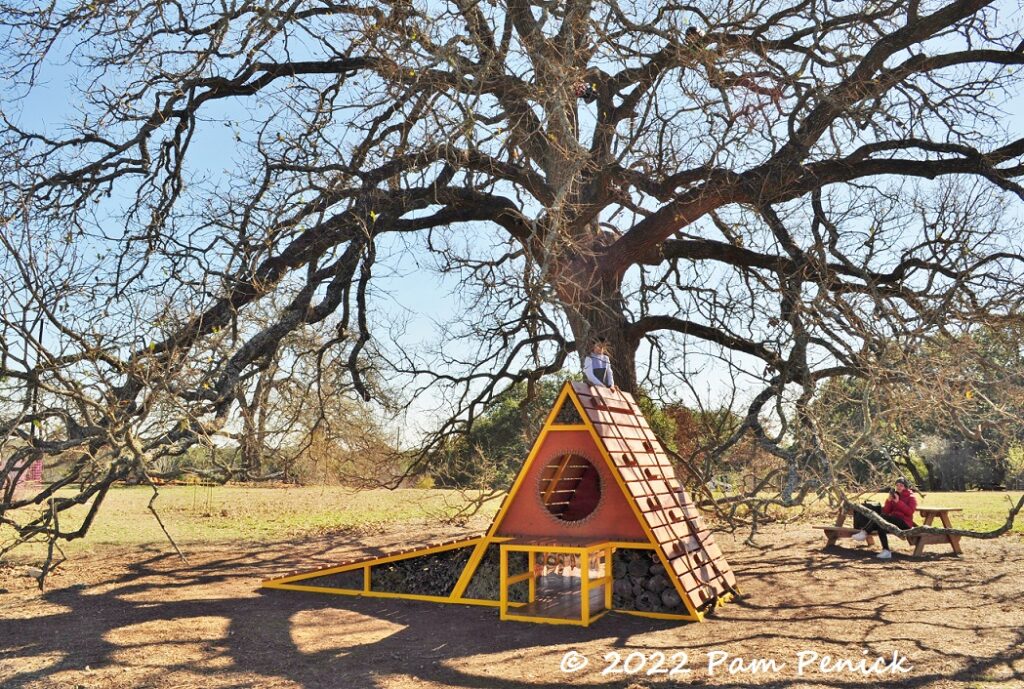 Similarly named Critter Stack (by Colorspace and Texas State Wildlife Society) is an A-frame hideout with a climbing wall and ramp.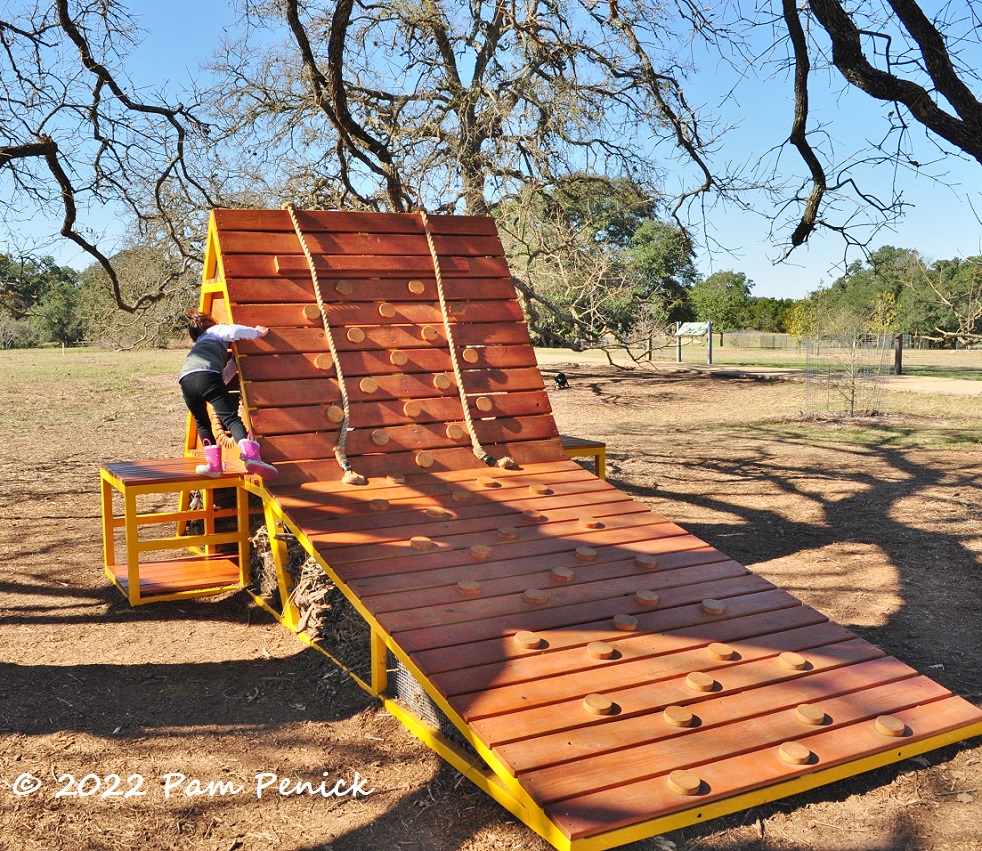 It reminds me of the obstacle course in An Officer and a Gentleman. Remember that character arc? Anyone?
Connect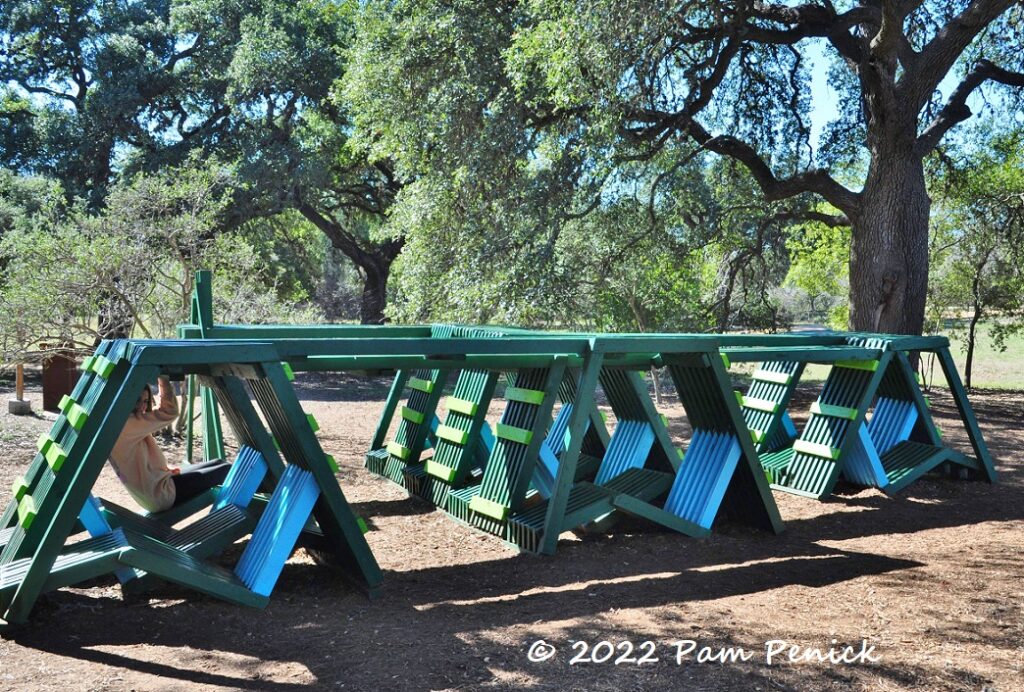 With facing lounge seats for relaxing and a top level for climbing and balancing, Connect wins for best overall design, in my opinion, and best story. According to the garden's Facebook page, the fort "was born in the sketchbook of Jack Wilson, a teenager with Down Syndrome. Perhaps the greatest challenge of disability is loneliness and isolation. Jack wanted to create a space where people could 'chillax' together, so he collaborated with Reach Architects and StoryBuilt to do exactly that. The final result is a wooden, two-level structure with tunnels, ladders and loungers — all designed to foster play and connection."
Go, Jack, and great job!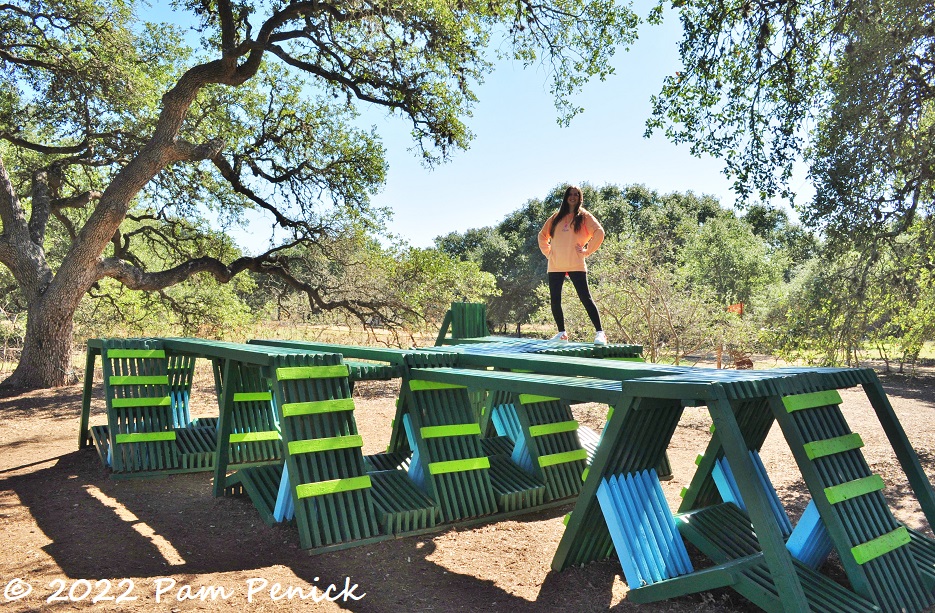 The green and blue color scheme is nice too, as is its setting in a grove of oaks.
Across the Rooms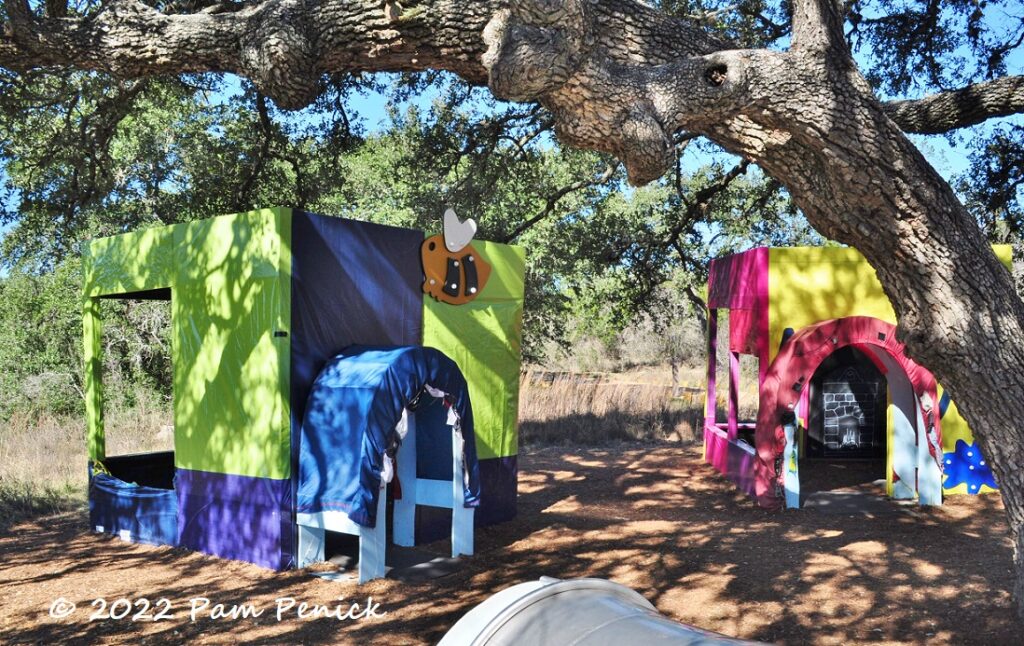 Across the Rooms (by the Masketeers) is a more conventional fort, at least from the outside.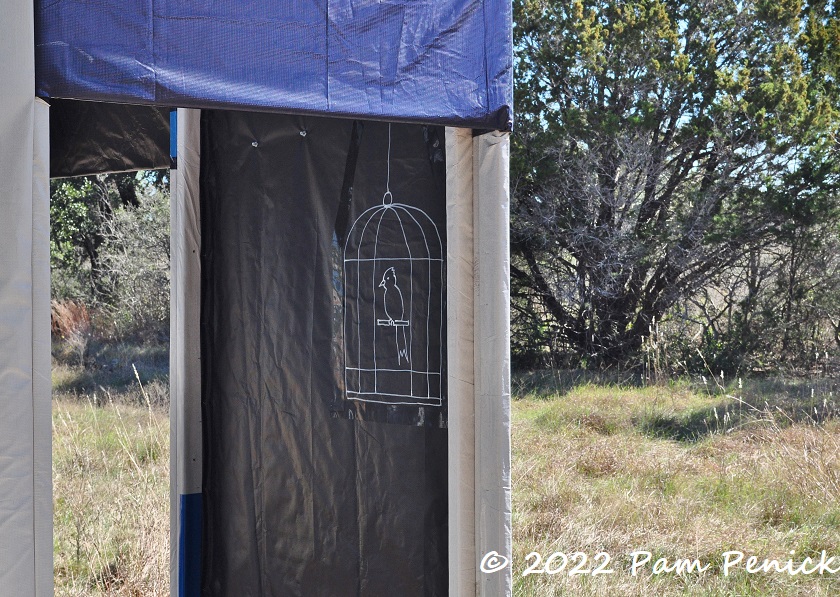 But the inside is different with black tarp walls adorned with white sketches of decor and pets, like this bird in a cage…
…and a potted plant.
Capillary Action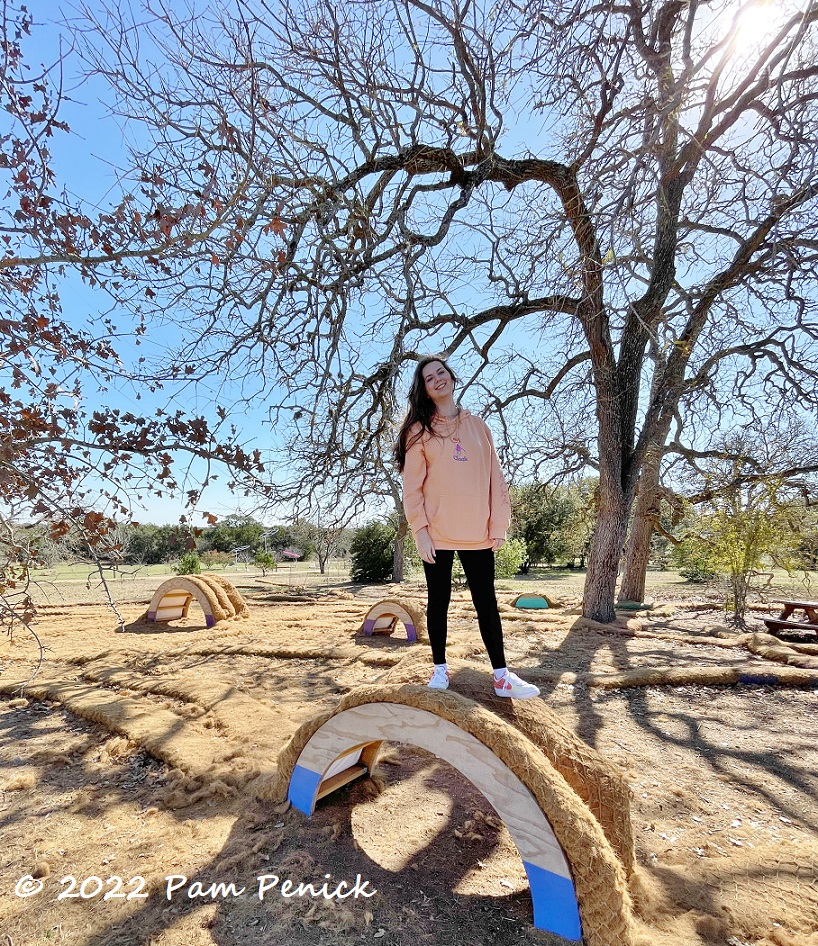 Capillary Action (by Asakura Robinson), a straw-tube representation of tree roots, is a bit flattened after months of hard play, but the concept is intriguing. I imagine lots of kids have had fun balancing on the meandering tubes and climbing its arched bridges.
I didn't get pics of Fort Build, a build-your-own space with all kinds of fort-building materials, nor Builder Boards, another build-your-own construction. But in both places, kids were having fun creating their own hideaways.
Globe lights (not a fort, just cool)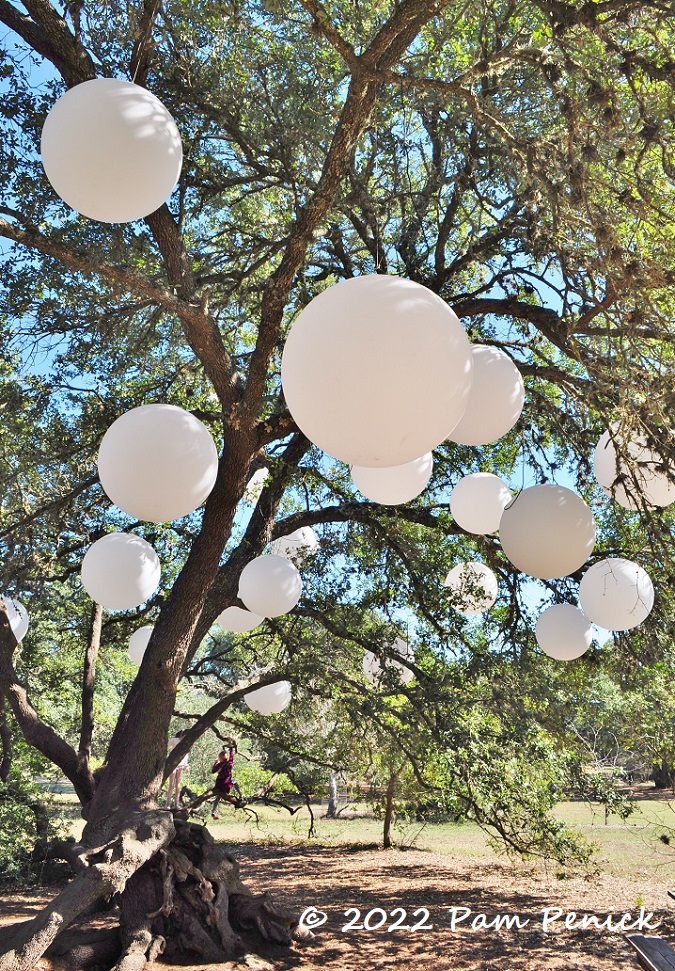 I can't resist showing this tree all decked out for Luminations with moon-like globes. It's beautiful even in the daytime. At night it must be wondrous…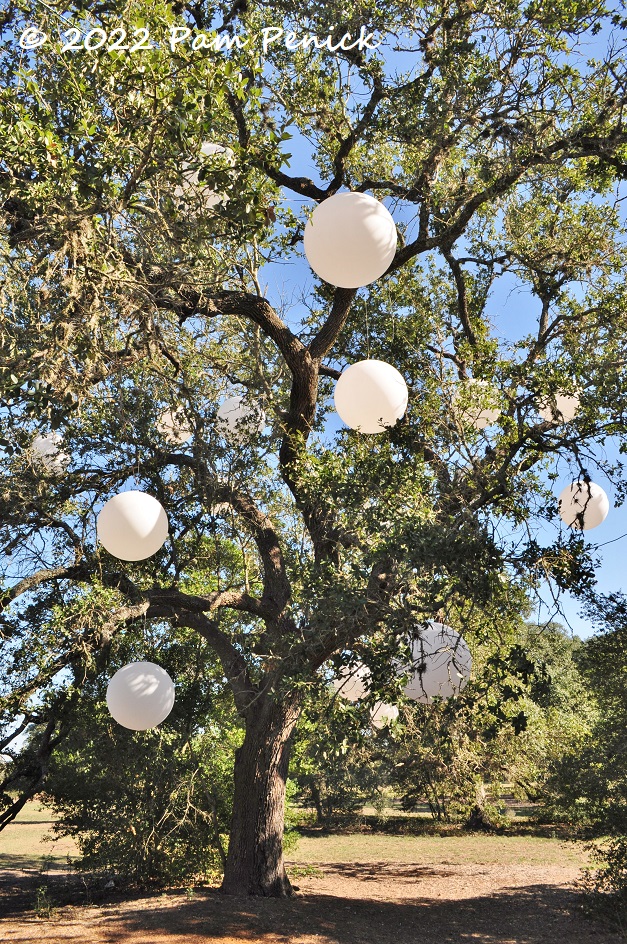 …especially because online pics show the globes glowing in pastel colors. I'm sorry to have missed seeing Luminations this year, but my family and I just ran out of time.
If you would like to go play at Fortlandia, it runs through January 30. You must make a reservation in advance. (How I look forward to the day when the reservation system ends, allowing for spontaneity again). Unfortunately, due to a just-announced staffing shortage, the Wildflower Center will be closed this week until Saturday the 15th, when they plan to reopen. So factor that into your planning. And best wishes to the Wildflower Center in getting up and running again soon, especially if people are out due to covid.
I welcome your comments; please scroll to the end of this post to leave one. If you're reading this in a subscription email, click here to visit Digging and find the comment box at the end of each post.
_______________________
Digging Deeper: News and Upcoming Events
Need design help with your yard? Hire me as your personal garden coach! Maybe you need replacement plant ideas after the big freeze. Or maybe your landscaping has grown tired, and you want fresh curb appeal. Or perhaps you're ready to get rid of some lawn and create a pollinator garden, bird habitat, or hangout space for you and your friends. I'm here to help! Contact me to let me know what's going on, and let's figure it out together. My range is Austin and suburbs within a 25-min. drive of NW Austin, but I'm flexible and can travel farther with a surcharge, so let me know where you are. Weekday morning appts. only.
Join the mailing list for Garden Spark! Hungry to learn about garden design from the experts? I'm hosting a series of talks by inspiring garden designers, landscape architects, and authors a few times a year in Austin. Check out the 2021-22 schedule. These are limited-attendance events that sell out quickly, so join the Garden Spark email list to be notified in advance. Simply click this link and ask to be added.
All material © 2022 by Pam Penick for Digging. Unauthorized reproduction prohibited.
The post Fortlandia wrapping up at the Wildflower Center appeared first on Digging.
Fortlandia wrapping up at the Wildflower Center