Superliga 2018/19 Review: Newell's Old Boys
Superliga 18/19 Record
Won 7, Drawn 8, Lost 10 (29 points)
Superliga 18/19 Position
15th
Relegation Average
1.304 (107 points/82 matches)
Relegation Position
18th
Copa de la Superliga Result
Lost in First Round to Gimnasia
(La Plata) (2-3 agg)
Goals Scored
(own-goals not included)
26 (17 open, 4 set-piece, 5 penalty)
Goals Allowed 
(own-goals not included)
22 (12 open, 8 set-piece, 1 penalty)
Leading Goal Scorer
Héctor Fértoli, Luis Leal,
Alexis Rodríguez (4 goals)
Leading xG
Mauro Formica (5.26 xG)
Leading xA
Víctor Figueroa (2.65 xA)
Primary Goalkeeper
Alan Aguerre
(0.65 GA/90, -7.8 GAAx)
Team Disciplinary Record
50 yellows, 4 reds
Newell's chance creation metrics, which were on the wrong side of league averages offensively and defensively, improved significantly by the end of the year, but not quickly enough to save Omar De Felippe his job. The start of Héctor Bidoglio's tenure was marked by a jump in expected goals per 90 minutes (xG/90), a drop in expected goals allowed per 90 (xGA/90) below the league average, and a seven-match unbeaten streak. The last five matches of the season saw an uptick in xGA/90, driven by the 2-4 result at River but also by poor defending in other matches. Coincidentally, Newell's won just one of their final five matches (W1 D1 L3).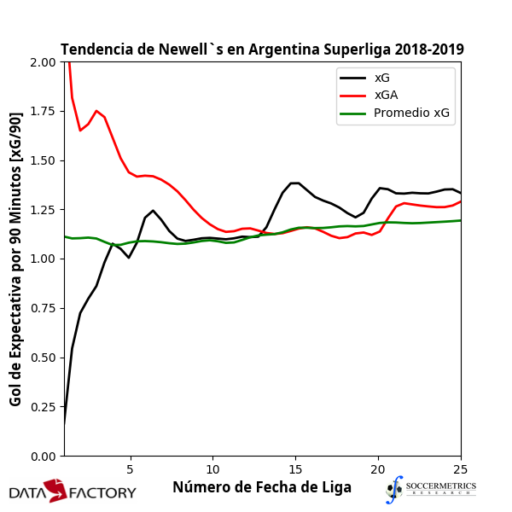 Managers: Newell's had two long-term managers — one for the second half of 2018, the other for the first half of 2019.
Omar De Felippe, who had been in charge of Newell's since March 2018, returned to lead the team out for their first thirteen matches of the 2018/19 season. He resigned after Newell's lost to Aldosivi on matchday 13. During De Felippe's tenure, los leprosos won three and drew three of the 13 matches, earning 0.923 points per match. Newell's performed 2.0 goals worse than expected, allowing 3.7 fewer goals than expected but scoring 5.7 fewer goals than expected. De Felippe made 35 squad rotations during his 13 matches.
Héctor Pablo Bidoglio completed the remainder of Newell's matches in Superliga this season. Newell's went on a seven-match unbeaten streak and would go on to win four and draw five of their twelve matches with Bidoglio on the touchlines, good for 1.417 points per match. El Lepra would score and concede much fewer goals than expected, resulting in an overall goal performance 3.7 goals above expected goal difference. He made a total of 30 squad rotations over his 12 matches.
Formations: The formation of choice for both De Felippe and Bidoglio was the 4-2-3-1. One example of this formation under De Felippe was the match against Tigre on matchday 9. Hernán Bernardello and Braian Romero formed the defensive midfielder pair but Romero had more freedom to move forward and connect with the advanced midfielders Joel Amoroso, Mauro Formica, and Héctor Fértoli. Combined with the other players, this was the Newell's lineup that appeared most often in Superliga matches.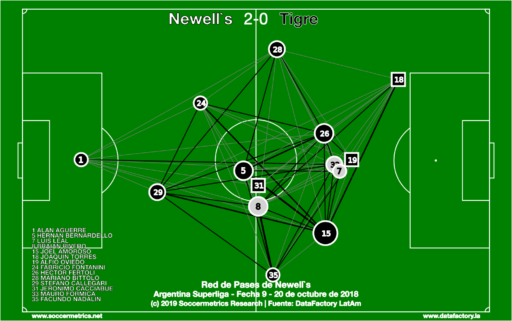 Bidoglio kept the back four in his starting lineup, as well as Luis Leal as the first-choice striker up top. But he changed the personnel and the positioning of the two lines of midfielders. Rivero, who had been more forward in De Felippe's lineups, dropped back into a more defensive role, and 20-year-old Jerónimo Cacciabue slotted into a more forward position. Formica, who by now had been switched to the number 10 shirt, continued to play attacking midfielder. Víctor Figueroa and Maxi Rodríguez entered in place of Amoroso (who was transferred in early February) and Bernardello (who was loaned to Belgrano in January).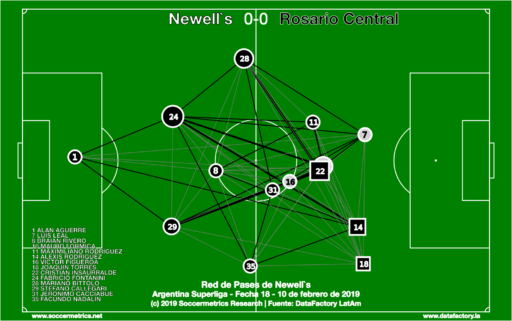 Over the whole of the 2018/19 season, the possession statistics of Newell's and their opponents were almost identical. The average number of (estimated) possessions per match differed by 1.8 possessions, and the average time on-ball differed by 1.7 minutes. Newell's started 31% of their possessions in the opposing half; their opponents started 32% of their possessions in Newell's half. El Lepra tended to rank around 15th to 17th in offensive possession metrics, and 18th to 20th in defensive possession metrics.
Expected Play: Newell's were cursed, but also blessed, by the inability of themselves and their opponents to put away their goal scoring opportunities. Newell's took a high volume of shots (sixth-most in total, and fourth-most from open play), and they created the fourth-most expected goals per 90 minutes in the division. Yet they converted 9.7% of their shots, the 16th-best in the Superliga. Defensively, Newell's allowed 1.29 total xGA per 90 minutes, 19th in the division, and a league-worst 0.67 xGA/90 from set piece opportunities. Yet Newell's opponents scored goals at a 8.8% rate — the fourth-lowest in the Superliga. Moreover, the 12 goals that opposing teams scored in open play were tied with Racing and Defensa y Justicia for the lowest in the top flight.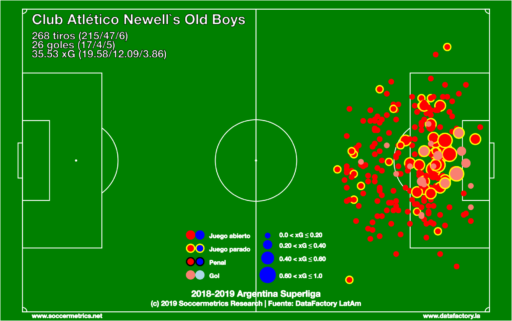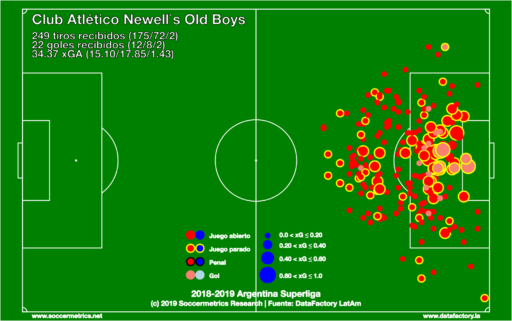 Turning to individuals, Mauro Formica and Víctor Figueroa were the leaders in expected goals with 5.26 and 3.69 xG, respectively. Newell's scoring problems were illustrated by the fact that Formica and Figueroa were on the field for at least 1400 minutes, took more shots than almost all other teammates, yet scored just four times between them. Héctor Fértoli and Luis Leal, who scored four goals each from open play, were among the team leaders in xG from those scenarios, while Fabricio Fontanini generated the most xG (2.27) from set pieces.
Figueroa, who was deployed often as an advanced midfielder, led the team in expected assists with 2.65 xA. Braian Rivero created more expected assists from open play (2.27 xA), but played for almost 200 more minutes and completed over 100 more passes. Formica and Jerónimo Cacciabue also provided support in midfield and made significant contributions through their passing.
Alan Aguerre was el Lepra's number 1 goalkeeper and emerged as one of the leading goalkeepers of the Superliga. In his 1924 minutes, he allowed 0.65 goals per 90 minutes, allowed 7.8 fewer goals than expected, and recorded 10 clean sheets. Only Esteban Andrada of Boca Juniors had more clean sheets or allowed fewer goals than expected.
Best Match: Newell's 3-1 Huracán in matchday 24. There were other matches in which Newell's produced more xG (with penalties, nach), but this was Lepra's best performance against a top ten side.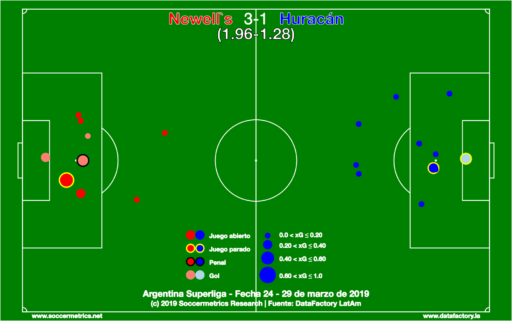 Worst Match: Newell's 0-0 Rosario Central in matchday 18. Newell's worst xG production of the season in a depressingly familiar Rosario derby.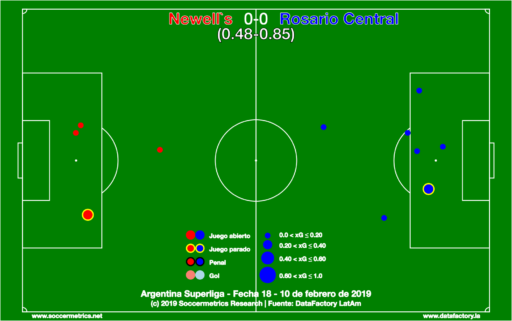 Best Player: Mauro Formica, for being Newell's most threatening player from open play, set pieces, and penalties. He was a better creator than a finisher.
This review has been prepared with match event data supplied by DataFactory Latinoamérica.

Superliga 2018/19 Review: Newell's Old Boys