Grilled Veggie Skewers with Balsamic Glaze
Take your veggie skewers to the next level with this recipe for Grilled Veggie Skewers with Balsamic Glaze. The garlicy-tangy sauce puts these veggies over the top!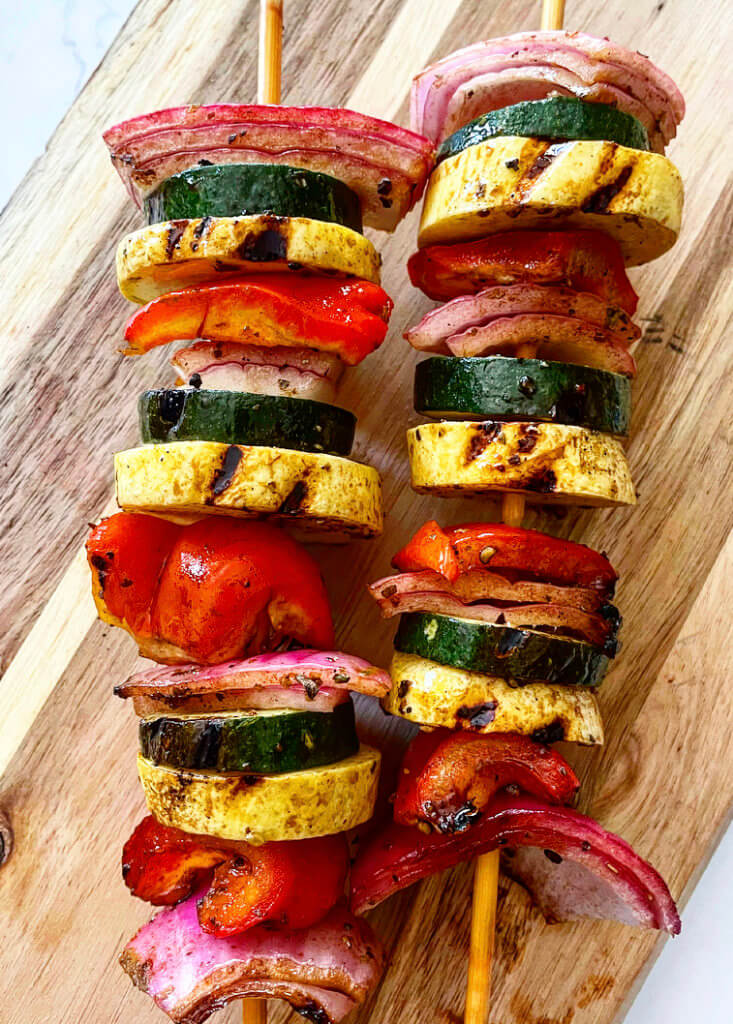 Since we're heading into BBQ season, I figured it's time to start sharing some of my favorite side dishes for the grill.
Classic sides like potato salad, pasta salad, and slaw are all great, but if you're already firing up the grill, it's nice to have a side that can be cooked right next to your burgers and hotdogs.
Enter the best vegetable kabobs you'll every try! There's a little secret that separate these from the boring, flavorless kabobs that you might have had in the past…
taking your veggies to the next level
If you're new around here, there's something you should know about me: I take my sauces very seriously. I'm convinced that a good sauce can transform a dish from just-okay to fantastic. That is definitely the case here!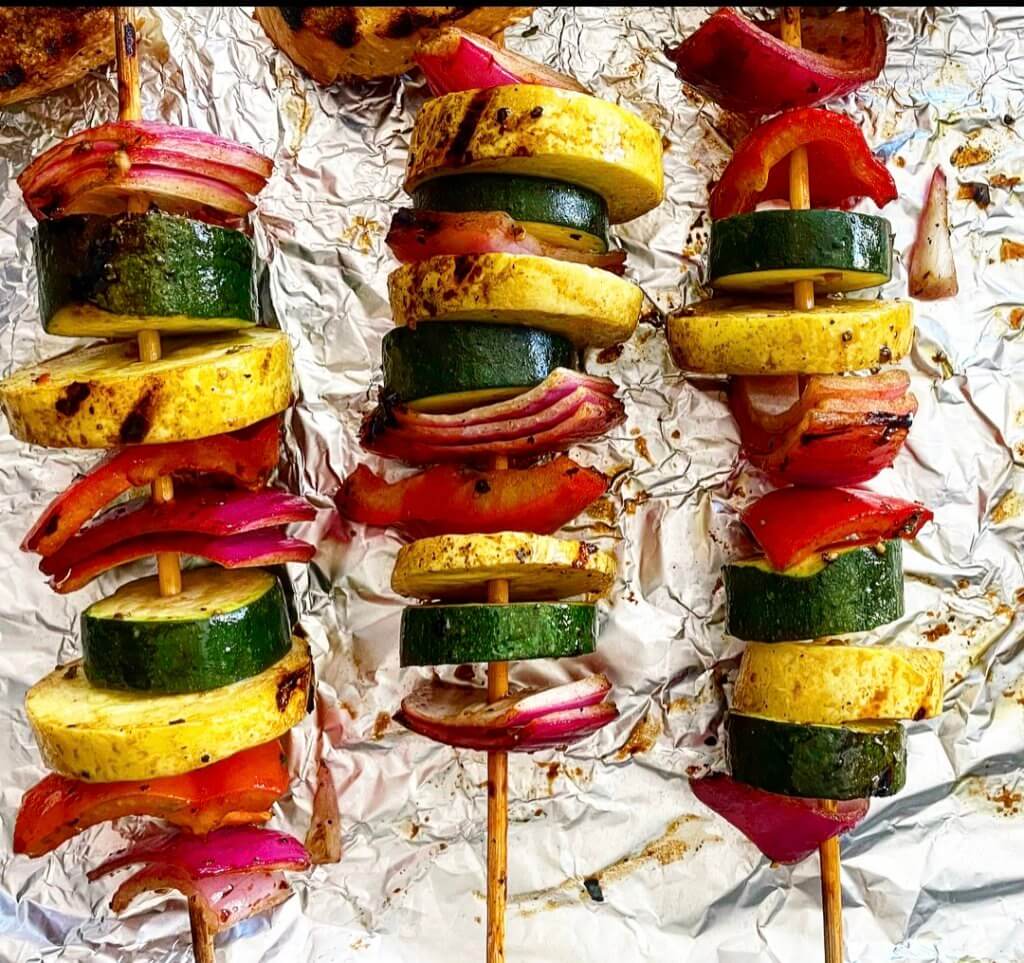 This balsamic-based vinaigrette is phenomenal! You brush it over the skewers as they cook, and the results are a caramelized glaze that perfectly seasons the vegetables.
You can also use the sauce as a salad dressing or meat marinade. Or, do what I did last weekend–throw some sliced baguette on the grill and dip in the leftover sauce! The veggies and grilled bread make for a perfect, light summer meal.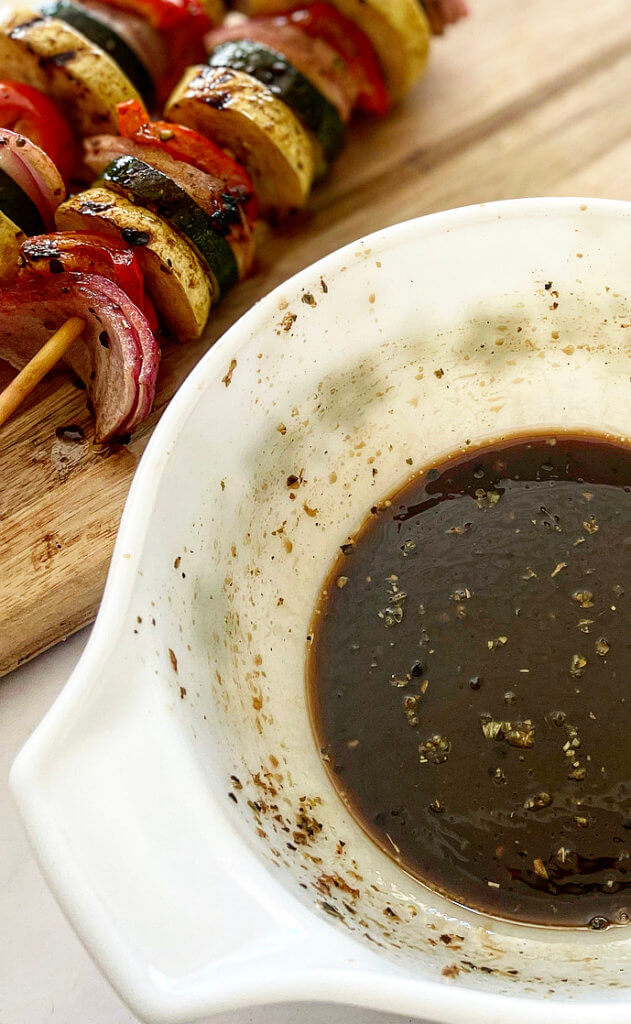 Prepping and Storing Grilled Veggie SKewers
All you need to do is chop your veggies and whisk together the sauce ingredients before grilling. I've found that with the vegetable listed in this recipe, I can chop everything and assemble the skewers up to 2 days in advance without them getting mushy. Just make sure you cover them and refrigerate.
These are also great for weekly meal prep! Jeff loved them so much the first time i made them that he said he wanted them around all week for a quick veggie side.
I grilled up a big batch on Sunday, removed the skewers, and stored them in a big bowl with leftover dressing on the side. I'm writing this on Thursday, and the veggies are still delicious (and almost gone)!
It makes it so much easier to get my veggies in throughout the week this way!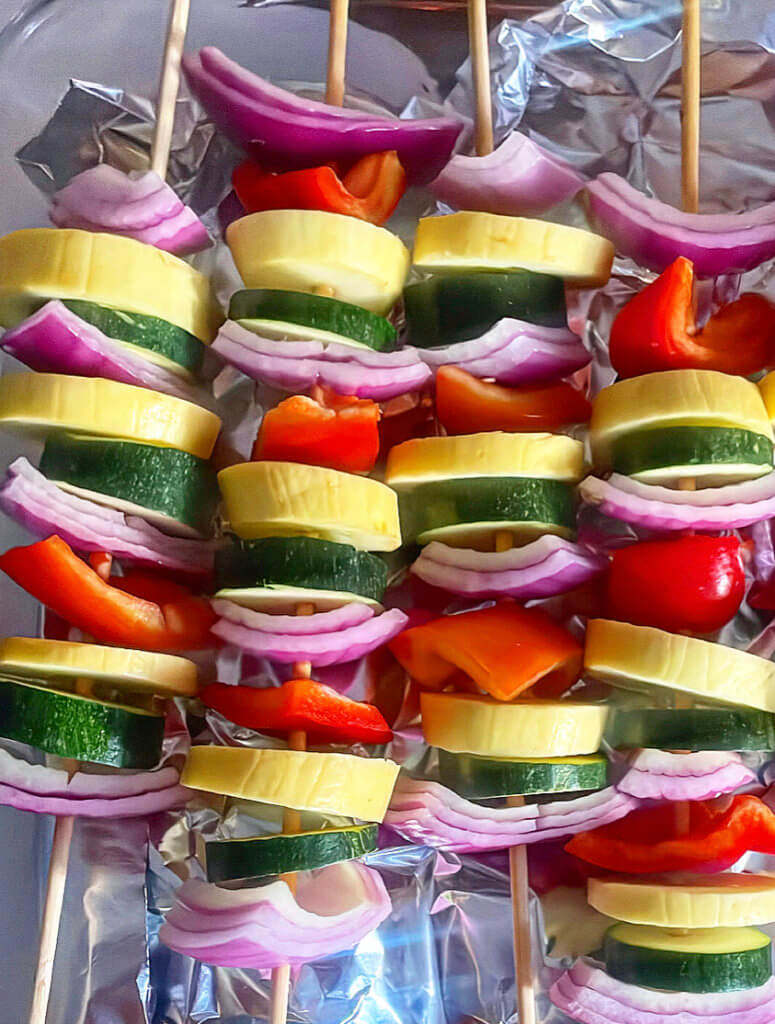 MOre recipes for the grill
Any of these recipes would pair perfectly with the veggie skewers:
I'd love to hear from you if you make this recipe! Leaving a starred review and comment below helps my blog grow. I'm always grateful when you can take the time to do that!
It also makes my day when you share your pics on Instagram and tag me (@litecravings). Don't forget to use #litecravingsrecipes to make sure I see it. If I don't get a chance to scroll through my tags quickly enough, I won't see your post. I always make a point to look through the hashtags, though, so I'll see it there!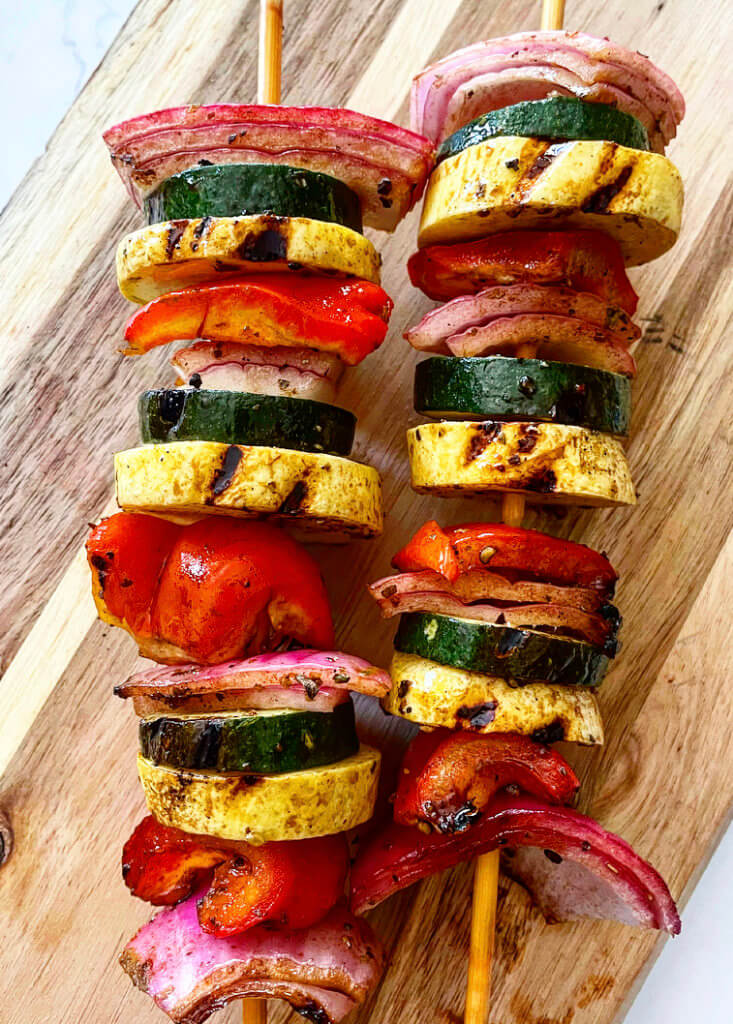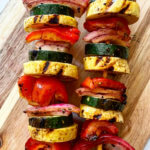 Print
Grilled Veggie Skewers with Balsamic Glaze
Course
Appetizer, Side Dish
Ingredients
2

medium

red onion

2

medium

zucchini

2

medium

summer squash

2

red bell pepper

(other potential veggie/fruit choices: mushrooms, cherry tomatoes, pineapple, etc.)
FOR THE BALSAMIC VINAIGRETTE
1/2

cup

balsamic vinegar

1

tbsp

extra virgin olive oil

1/4

cup

water

2

cloves

garlic, finely minced

1

tbsp

dijon mustard

2

tsp

maple syrup

1

tsp

Italian seasoning

1/2

tsp

salt

freshly ground black pepper
Instructions
Soak at least 10 wooden skewers in water for at least 20 minutes. The total number of skewers will vary depending on the size of your vegetables and how big you chop them.

Whisk all vinaigrette ingredients together in a small both and set aside.

For the red onion, cut the ends off, peel, then slice in half length-wise. Chop each half into fourths.

Seed and chop each bell pepper into about 1-inch pieces.

Chop the zucchini and summer squash into rounds. All of your veggie pieces should be approximately the same size.

Skewer the vegetables by alternating between red onion, zucchini, and the different colored bell pepper. Lightly coat skewers with cooking spray.

Grill the skewers over medium-high heat for approximately 5-8 minutes per side, or until vegetables are just softening and browning around the edges. Continually brush with vinaigrette while cooking.

Remove skewers from heat and drizzle with a little more vinaigrette before serving.
Notes
Click here to calculate WW PersonalPoints (must be logged in to your app). 
WW Green, Blue, and Purple SmartPoints: 1 per skewer
Nutrition
Sodium:
142
mg
|
Sugar:
7
g
|
Fiber:
2
g
|
Calories:
57
kcal
|
Fat:
2
g
|
Protein:
2
g
|
Carbohydrates:
9
g
The post Grilled Veggie Skewers with Balsamic Glaze appeared first on Lite Cravings.
Grilled Veggie Skewers with Balsamic Glaze